It's not difficult to build a nice e-bike if your budget enables you to use the finest of everything. Making a nice e-bike at a low price is even more challenging. This is a nice bike at a decent price, as you discovered during the Propella 7S E-bike. Even if you don't have the most expensive components, the 7S is quite useful and enjoyable to ride.
It's also rather light for an e-bike, weighing only 37 pounds. That means riding the bike even without the motor switched on isn't a chore. However, the Propella 7S is one of the finest electric bikes for the money, however, if you want a fully integrated experience with front & rear lights, a battery concealed in the down tube, and other extras, you'll have to pay more.
What you will see here?
Price and availability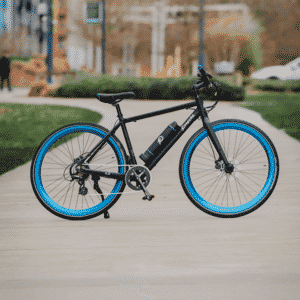 The Propella 7S e-bike may be purchased directly from Propella's website. The bike costs $1,299 and will be delivered within one business day, according to Propella.
Propella offers a 7-day risk-free return policy and costs $50 in the United States ($100 in Canada). A one-year service warranty is included as well.
The bike is sent half-assembled. You'll either have to put it together yourself or take this to a bike shop to finish it. Propella provides instructions and a Park Tool multi-tool, which includes the majority of the tools you'll need to finish assembling the 7S right out of the box.
Design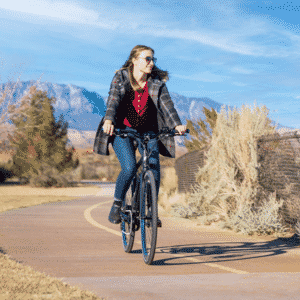 A Propella 7S e-bike is made up of an aluminum frame and fork, as well as 700c aluminum wheels in a bright blue color. The 7S is only available in one size, and it's best for riders who are 5'4″ to 6'2″.
Place the battery outside the down tube of a bike and is detachable. It resembles a giant high-tech water bottle. It drives its Bafang rear hub motor & provides assistance up to 18.5 mph. There are five different degrees of pedal help to select from, as well as the LCD display will tell you which one you're in. Battery life, speed, time, & odometer are all displayed on the display.
Shimano Altus 7-speed drivetrain is provided by Propella. This enables you to choose your cadence and resistance level. It also makes riding the bike without the motor simple. That's more likely with the 7S, which Propella claims is indeed the lightest e-bike in its category, weighing in at just 37 pounds. That's nearly as lightweight as the GoCycle G4i+, a four-times-as-expensive e-bike intended just for commuters.
Aluminum Handlebars
Shimano mechanical disc brakes, aluminum handlebars & stem, with puncture-resistant CST Xpedium 700 x 35c tires complete the components package. Propella's lock-on grips, for example, stop your handles from rotating with time. This is a thoughtful and high-quality touch.
Propella offers instructions on how to put the bike together as well as a good quality Park Tool multi-tool to aid in the process. This is a wonderful touch, because this is the sort of bike that people with little or no bicycle assembly knowledge will buy, and as a result, they may not have the necessary equipment on hand.
Because the 7S lacks integrated lights, you'll need to invest in a pair of the finest bike lights to improve your visibility on the road. (Also, want one of the top bicycle helmets while you're at it.)
Accessories
Several accessories for the iPhone 7S are available on the Propella website. With obvious website navigation buttons, Propella makes it simple to search particularly for accessories that correlate directly to the 7S.
The 7S may be outfitted with a rear rack as well as other useful commuting gear as part of the entire Commuter Bundle ($285). You may also customize your bike with SKS Fenders ($70), an Axiom Rear Rack ($65), additional lights, a battery pack ($249), phone mounts, as well as other accessories.
Performance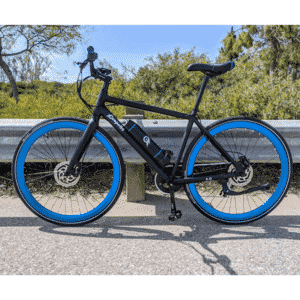 According to Propella, the 7S is ideal for riders ranging in height from 5'4″ to 6'2″. The 5'11" and the 7S are a good fit for you. They believe the supplied range is accurate, albeit neither end of the scale will be flawless. It's excellent for riders that are around my height if not a little shorter.
The 7S impresses right away with a rather powerful motor for one hub-driven system. A mid-drive system such Bosch's Active Line, which would be situated near the cranks, can't compete with the Bafang back hub motor. However, in comparison to non-branded hub motors, the 7S system seemed more powerful. With considerable ease, you were able to climb a steep slope in the easiest gear.
The 7S was a lot of fun to ride. It has a robust feel to it and accelerates through curves while responding promptly to steering input. The 700c wheels also make it simple to accelerate swiftly. The 7S has the sensation of a real city bike that can also handle badly maintained roads.
The controls on the handlebar are simple to operate, as well as the display is straightforward and easy to see. It contains all of the necessary information for your journey, albeit there isn't much data beyond the essentials, such as speed, assist level, battery life, & odometers. If you require more, the 7S is probably not the device for you.
The battery mount is the one flaw you have with the 7S. For starters, an externally placed battery just cannot compete with a battery incorporated inside a down tube in terms of aesthetics. As a result, the Propella 7S has an "early e-bike" appearance to it. The Ride1Up Core-5, for example, which costs about the same as Propella, has a considerably nicer appearance.
Battery mount
However, the battery mount isn't fastened to the down tube at its lowest location, which is more crucial. This permits the battery & mount to shift about when you're riding, resulting in a rattling noise. This was my main gripe with the 7S in general.
Another little quibble: Propella paints its chain white to give it a stylish look, however, the chain didn't even appear to properly lubricate when it arrived. This is easily remedied with some chain oil, which can purchase at any bike store.
Aside from such two flaws, the 7S is a fantastic budget bike for city commuting. Upgrade to a commuter package so you can add racks if you'll be lugging any stuff. Aside from that, the 7S is a rather basic, no-frills bike designed to get you from point A to point B swiftly.
Battery life and range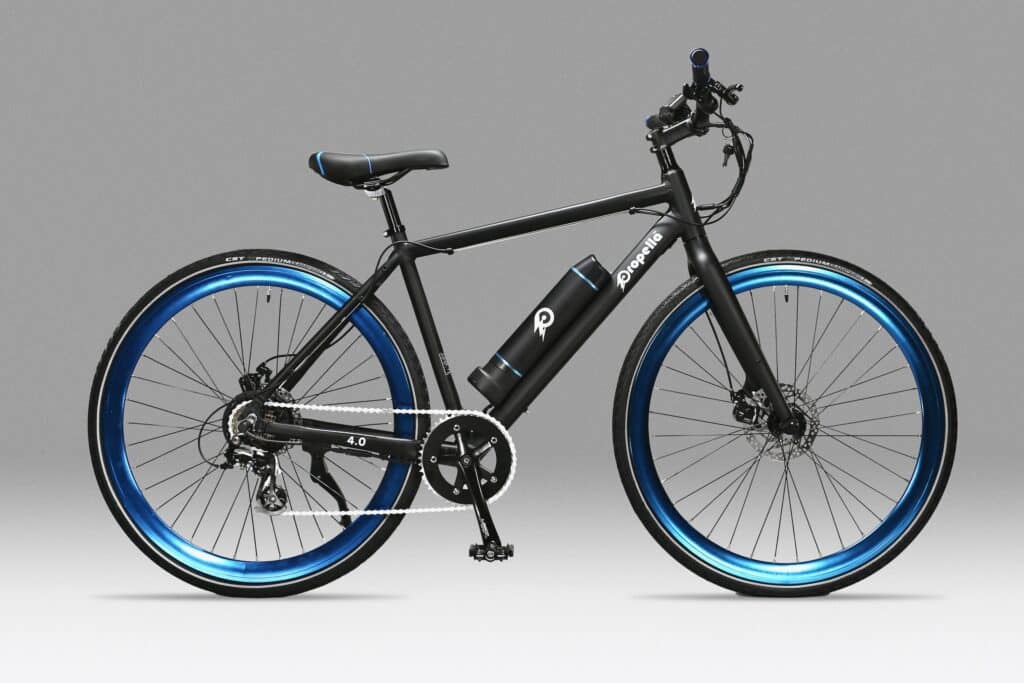 Samsung Lithium-Ion cells make up the detachable 36V, 250Wh battery. Propella claims that the 7S has a distance of 20-40 miles, based on the assist level and to use, and the terrain on which it will use. In 2.5 hours, you must be able to fully charge the battery.
On the first excursion, you can ride for 7s for slightly over 5 miles and can utilize a mix of level assist 4 and 5. (the two most extreme options). During that trip, you can use up one of the four bars of battery life. The promised distance of 20-40 miles seems acceptable given the use of the top two settings on the bike. Keep in mind that if you're on hilly terrain or wish to go faster, the higher help levels will deplete the battery quicker than lower assist settings.
Competition
The Propella 7S e-bike is a good example of an economical commuter bike. The Ride1Up Core 5, which costs $1,200 and features an inbuilt down tube battery, is its most direct competitor. It also has a speed limit of 28 mph, which is higher than the 7S. The 7S hub motor, on the other hand, engages faster and feels more powerful altogether. The Core 5 weighs 49 pounds, but the 7S is just 37 pounds.
The Roadster V2, a 700c commuter from Ride1Up, costs $1,100 and also has a range of 20-30 miles with help up to 24 mph. It's built similarly to the 7S, except a battery is incorporated into the down tube for a much more streamlined appearance. It also has a belt drive system instead of a chain drive for quieter operation. It also has a minor weight advantage over the 7S, weighing in at 33 pounds. To be fair, the Roadster V2 has a single-speed transmission, but the 7S has a seven-speed transmission.
Read more:
Summary
Propella's 7S e-bike is a nice electric bike at an affordable price. It lacks the frills seen on more costly e-bikes, such as integrated front & rear lights, and a frame-mounted battery. However, if you're on a budget and want a reliable bike that will get you to your city destination swiftly and easily, The 7S is the bike for you.
It might use some polishing, especially around the battery mount, which rattles as you ride. However, when riding the 7S, there was little to complain about. This e-bike is ideal for those on a tight budget.