Apple Watch comes in multiple variants and specifications, distinguished by the casing's material, color, and size. The special bands and digital watch faces available for certain variants co-branded with Nike and Hermès. Sometimes ,they also come with other unique extras, like stainless steel charging pucks, premium packaging, and exclusive color basic bands. Apple Watch models with stainless steel or an aluminum case. The metallic portions of the Hermès bands, and the magnets in the watch and bands, each contain some nickel. Let's know more about Apple Watch- Design, Specifications, Bands, and much more!
Apple Watch Design and Specification: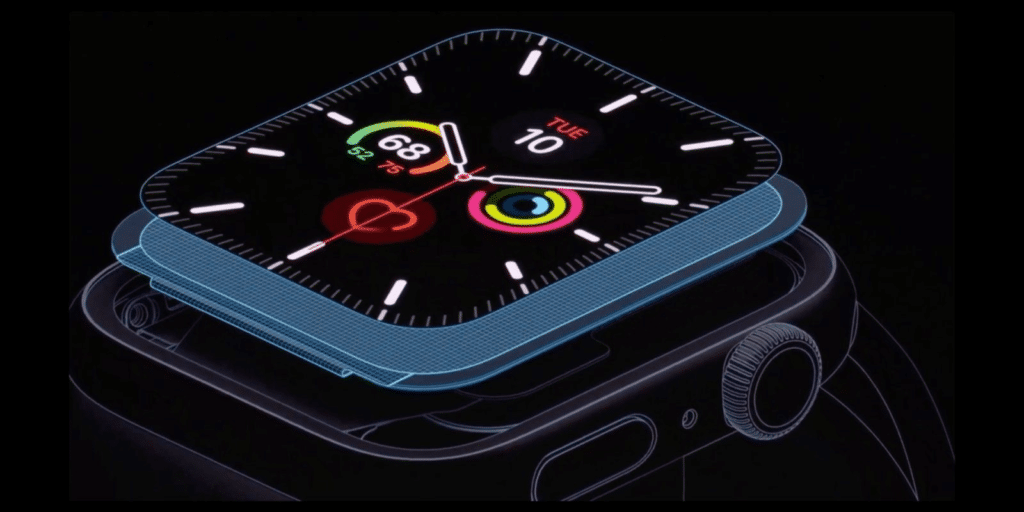 Apple originally launched the Apple Watch was Originally in 3 collections. They made the Case out of different materials:
Aluminium case
Stainless steel case
Titanium case
Since Series 2, Apple dropped the "Sport" moniker from the branding. "Apple Watch Edition" branding still exists.
They haven't changed the Apple Watch's design and specification significantly since its release. So customizable bands and accessories are typically compatible with any Apple Watch of the same size, while 38 mm straps also fit 40 mm watches, and 42 mm straps fit 44 mm watches. The casing of the watch includes a mechanism to enable the straps to be interchangeable. the 38 mm and 42 mm sizes of the original, Series 2, and Series 3 models, and Series 4 and Series 5 have been made available two sizes, 40 mm and 44 mm.
The Apple Watch includes a "Digital Crown" .
We can turn this to Scroll or Zoom and press to return to the home screen. Also there's a touchscreen that features Force Touch technology. The digital crown makes it pressure-sensitive and capable of distinguishing between a tap and a press. The watch also has a side button, which we can use to display recently used apps and access Apple Pay. The Apple Watch battery rate is 18 hours of mixed usage.
If the watch's battery depletes to less than 10 percent, it alerts the user and offers to enable a "power reserve" mode, which then allows the user to continue to read the time for an additional 72 hours. The watch then reverts to its original mode when recharged. The charging cable is similar to the MagSafe cable from Apple's MacBook family of laptops.
Bands: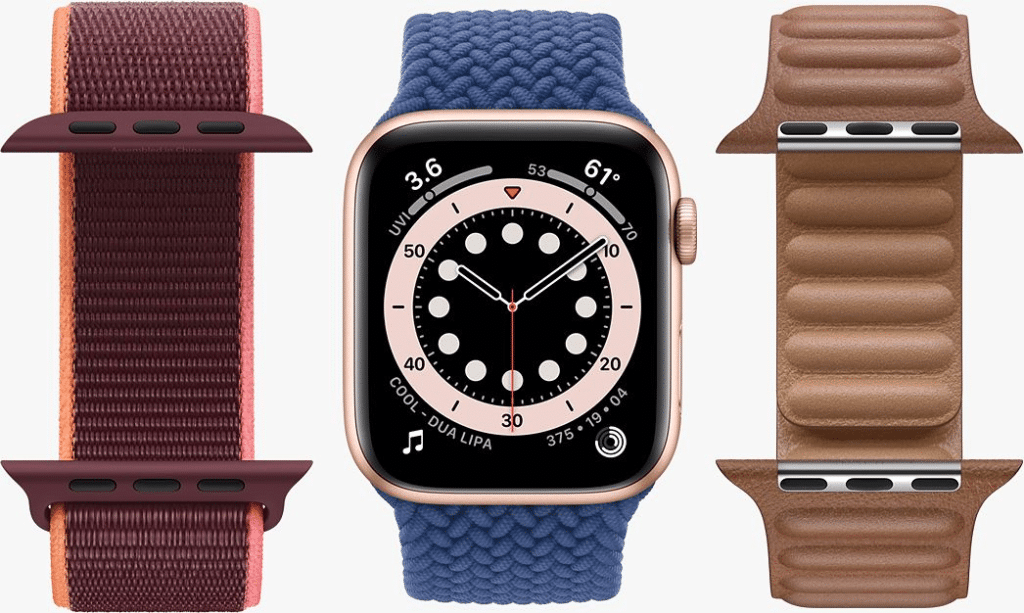 The Apple Watch Design comes with a changeable band to attach it to the user's wrist. We can easily change it to other types. Apple has its own batch of options but there is a booming third-party Apple Watch strap market with a dizzying number of options. Each season Apple update produces bands in a variety of materials and colors. Bands designed for the 38mm and 42mm cases are completely compatible with the 40mm and 44mm cases respectively.
These are the Apple Watch band materials that come into contact with your skin:
Sport Band:
The sport band is made of fluoroelastomer with stainless steel, ceramic, titanium, or 18-karat gold and pin‑and‑tuck closure. It's specifically made for an active lifestyle. It was originally available in five colors including green, yellow, pink, white. The black color was also produced which only shipped with the space grey case. It's available in 2 sizes, S/M and M/L.
Classic Buckle:
Leather with stainless steel or 18-karat gold strap which is reminiscent of traditional wristwatch straps includes a metal buckle and fastener. It is available in a range of colors including black and brown.
Modern Buckle:
Leather with stainless steel or 18-karat gold band which uses a quick-release mechanism to attach the strap to the wris.t You can wrap this symmetrically around the wrist.
Leather loop:
Made from Venezia leather with stainless steel, the quilted fit of the strap. It has a series of hidden magnets in it, allows it to be infinitely adjustable. The strap is designed to attach to itself in a loop fashion .And you can wear worn snug to your wrist.
Milanese loop:
The Milanese loop is made of stainless steel with a magnetic fastener and Reminiscent of mesh watch straps from more premium brands of watches. It is infinitely adjustable making it suitable for a variety of wrist sizes.
Woven Nylon:
The discontinued band which was similar to the 'classic buckle' band but made from nylon with stainless steel.
Sport loop:
The sport loop is made of Woven nylon. The watch secure by the features of hook and loop closure no the wrist. It is quick-fastening and designed for fitness as it is marketed as being breathable and lightweight. It is worn similarly to the leather and Milanese loop bands and is infinitely adjustable.
Link bracelet:
Link Bracelet are Apple's one of the most expensive band available. It's mirrors high-end watch bands and includes a butterfly closure for fastening to the wrist. It contains more than 100 components. It's made from the same stainless steel alloy as the Apple Watch case. For a larger fit, 6 additional links can be purchased separately, which can be installed using a simple release button.
Solo Loop and Braided Solo Loop:
The Apple Watch Series 6 and Apple Watch SE, the Solo Loop, and Braided Solo Loop have no buckles or clasps. Both loops, stated by Apple,are compatible with Series 4 and above plus Watch SE, come in 12 sizes and a variety of colors. However, only six of the sizes are compatible with all watches that are otherwise compatible—the three smallest sizes are incompatible with a 44 mm case, while the three largest are incompatible with a 40 mm case.
Nike Sport Band and Sport Loop:
The Nike Sport band is the signature band that ships with Apple Watch Nike Series 2 and later. It is made from fluoroelastomer with stainless steel. It has compression-molded perforations for breathability. The perforations often have a contrasting color in them.
The Sport loop is the same fit and wears to the normal. It is made from Woven nylon with reflective threads. The Nike sport loop bands contain a reflective thread that shimmers when light strikes it. Although both Nike bands are designed to complement the Nike Apple Watch, they can also be purchased separately.
Software:
Apple Watch runs watchOS, whose interface is based around a home screen with circular app icons. You can navigate the OS using the touchscreen or the crown on the side of the watch. During its debut, the first-generation Apple Watch needed to be paired with an iPhone 5 or later running iOS 8.2 or later. This version of iOS introduced the Apple Watch app. It is used to pair the watch with an iPhone, customize settings, and loaded apps. Also, highlight compatible apps from the App Store. The Apple Watch can receive notifications, messages, and phone calls via a paired iPhone.
" Glances" allowed users to swipe between pages containing widget-like displays of information. However, a new Control Center replaced this feature.
The watchOS also supports Handoff to send content from Apple Watch to an iOS or macOS device. Siri is also available for voice commands. It's capable of responding with voice prompts on the Series 3 watches. Apple Watch also supports Apple Pay and enables its use with older iPhone models that do not contain near-field communication (NFC) support.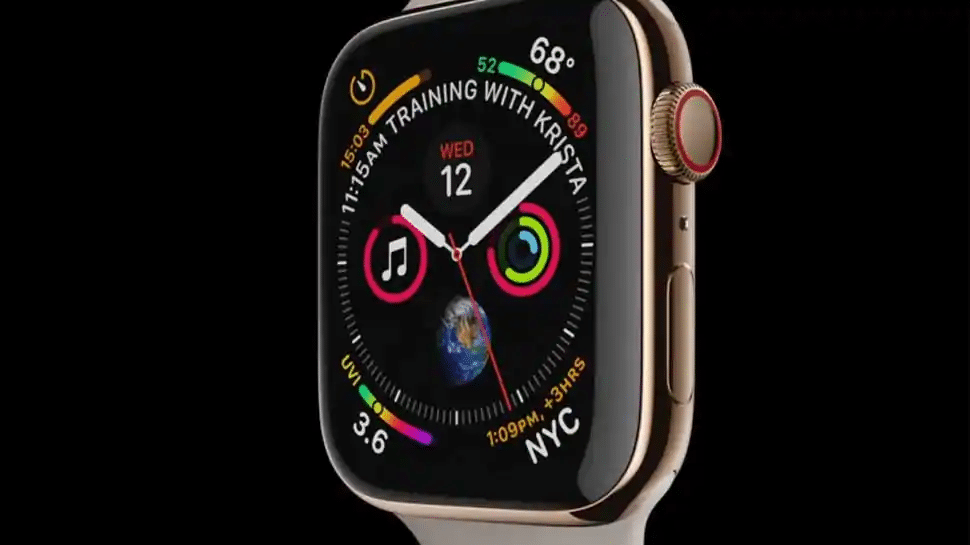 Apple Watch's default apps can interact with their iOS counterparts, such as Mail, Phone, Calendar, Messages, Maps, Music, Photos, Reminders, Remote, Stocks, and Wallet. Using the Activity and Workout apps, a user can track their physical activity and send data back to the iPhone for use in its Health app and other HealthKit-enabled software. With watchOS 3, added to the stock apps are ,Reminders, Home, Find My Friends, Heart Rate, and Breathe.

The releases of watchOS 4 and the Series 3 Apple Watch, it dropped the iPhone 5, and iPhone 5c support , requiring users to use an iPhone 5s or later with iOS 11 or later to use watchOS 4. Apple Watches still running watchOS 3 or below remain compatible with the iPhone 5 and iPhone 5c. Further, watchOS 5 dropped support for the original Apple Watch. WatchOS 6 requires iOS 13 and was the final version to support the Series 1 and Series 2 Apple Watch. WatchOS 7 requires iOS 14.
Third-party apps:
In watchOS 1, third-party WatchKit applications run in the background on the iPhone. The application extension while a set of native user interface resources are installed on Apple Watch. Apple WatchOS apps must be bundled within their respective iOS app. The watch either manually, or automatically upon installation of the phone app.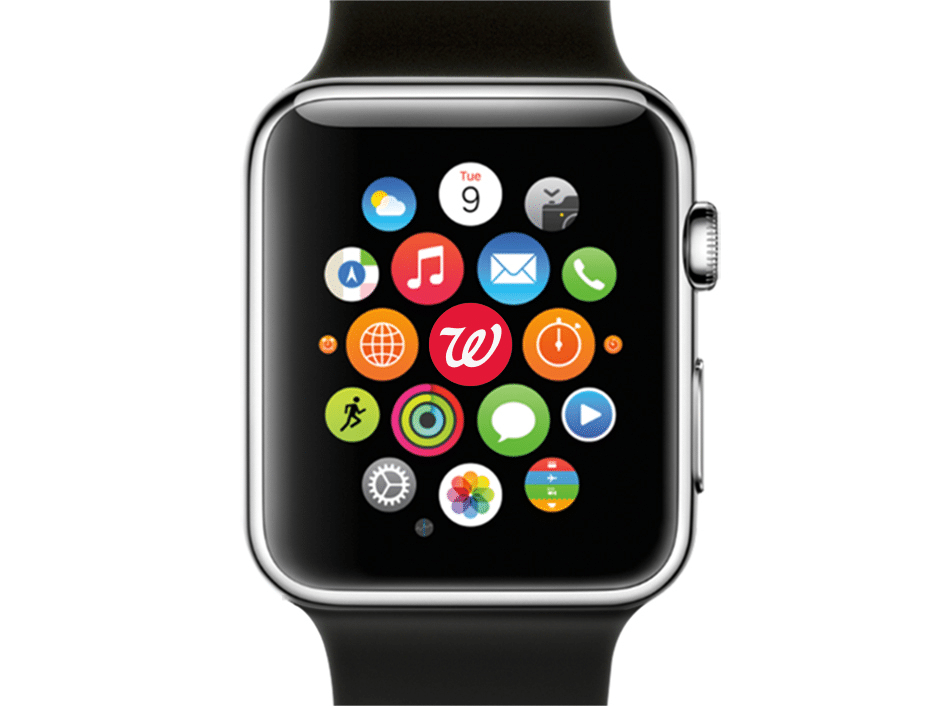 Your Apple Watch includes apps for a variety of communication, health, fitness, and timekeeping tasks. You can also choose to install third-party apps you have on your iPhone and get new apps from the App Store. Apple Watch or from your iPhone. All your apps are on a single Home Screen.
All of them take advantage of Apple Watch's features. Mint, ESPN, Target, GPS, OneDrive, Twitter, OpenTable, Evernote, BMW I Remote, eBay, PayByPhone Parking, Sky Guide, etc. These apps are tied more to information, travel, automotive, productivity, social media, fitness, shopping, and some entertainment.
Conclusion
Apple Watch has the potential to change and enhance the mobile device market. We especially like it for texting, notifications, and quick e-mails. Be sure you are comfortable using iOS VoiceOver. The Apple Watch design and specification is the only thing that Apple Watch will be in high demand and widely used because of its sleek and edgy look, efficiency, and compatibility. Overall, the target market of Apple Watch is the current and upcoming generation. Also, let us know your reviews on the topic.
If you have any more queries, please do comment .Like share and subscribe.