Protecting your iPad Mini 5 is most important because it keeps looking good from everyday wear and tear, and it'll retain its value if you choose to sell or trade it in later. Hence, We've rounded up the best iPad Mini 5 screen protector/screen guard to make it easier for you.
A screen protector is an additional sheet of material commonly polyurethane or laminated glass that can be attached to the screen of an electronic device and protect it against physical damage. So now you make sure your iPad is protected with a screen protector because investing a little amount of money on a screen protector is far better than losing an entire phone costing a lot of banknotes.
If you are using an iPad it is necessary to protect its screen. If ain't done the screen may break down or scratches may also appear on your screen. So to avoid this, a screen protector is very useful for safety of your iPad.
You'll find protectors in a variety of materials including:
Tempered glass – Offers decent protection against impact as well as scratches
PET plastic – Generally covers basic scratch protection
TPU plastic – Scratch protection only
Multi-layered screen protector – Very durable and can also withstand significant amounts of shock
We have listed some of the most suitable screen protectors for your iPad Mini 5 with best user reviews.
JETech Screen Protector for iPad Mini 5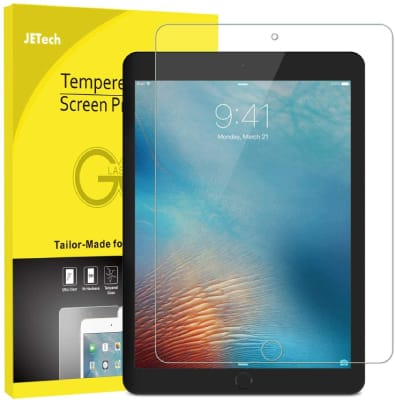 Made with high-quality 0.33mm thick premium tempered glass.
Comes with rounded edges.
Resists scratches up to 9H (harder than a knife).
High-responsive and also high-transparency.
Dust-free.
Fingerprint-free.
Bubble free
One-push super easy installation.
Fit for iPad models: A1538/A1550
The screen protector keeps the screen sensitive to all your operations.
The 2.5D curved corners make the figure swipe smoothly across the edges.
HD clear screen protector.
Package Includes:
1-Pack tempered glass screen protector.
Cleaning cloth.
Dust removal stick.
Guide stick.
Instructions.
Customer service card
amFilm Glass Screen Protector (2 Pack)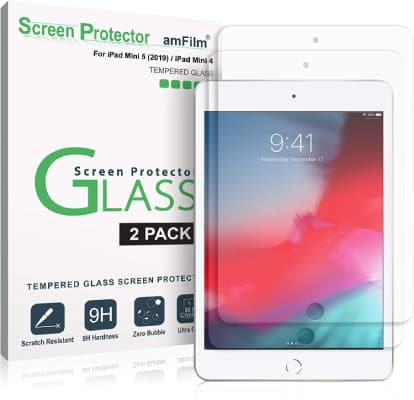 0.33mm thin screen protector.
Reliable and resilient.
Promises full compatibility with touchscreen sensitivity.
Ultra-clear with 99.9% transparency.
Allow an optimal natural viewing experience.
Highly durability and also scratch-resistant.
Resist scratches up to 9H (harder than a knife)
Topped with oleophobic coating to reduce fingerprints.
Easy, simple and quick installation.
High responsive.
It also comes with a bubble-free technology.
Designed to preserve the display as it came in the box.
Package Includes:
2X Glass Screen Protector.
Micro-Fiber Cleaning Cloth.
Plastic Squeeze Card.
Installation and Use Guide
ESR Glass Screen Protector for iPad Mini 5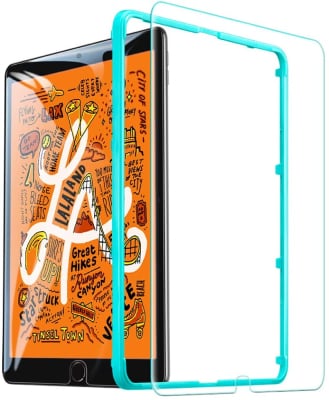 The screen protector is only 0.3mm thin.
It works just like it did without the screen protector.
Premium tempered glass.
Resist scratch up to 9H (harder than a knife).
Protects your screen from unwanted scratches caused by keys or other hard objects.
The glass is up to 99% transparent.
Preserving your screen's Original HD Retina quality.
The screen protector covers the front camera.
But it won't affect your photos.
Shatter-Resistant and also fingerprint-Resistant.
Original touch sensitivity.
This screen protector has also passed 11-pounds force-resistant test.
Free installation frame.
Installation is effortless, giving you perfect alignment without bubbles.
Crystal clear screen.
ESR provides you with professional customer service.
It is also supported by ESR lifetime Warranty.
MANTO iPad Mini 5 Screen Guard(2 Pack)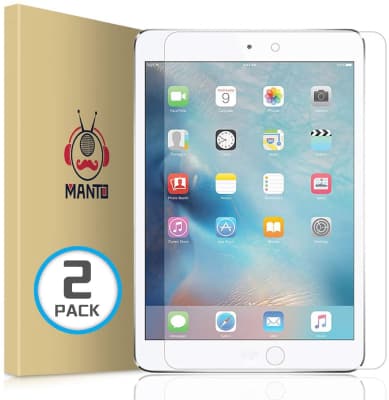 0.33mm thick temper glass with curved edge.
It is durable enough and gives the best protection to your iPad.
9H hardness (harder than a knife) surface with rounded edges.
HD transparency.
True touch sensitivity.
Scratch-resistant.
Anti-shatter.
Easy installation.
It also comes with a bubble-free technology.
Oleophobic coating.
Anti-oil and also fingerprint-free.
Dust-free.
Scratch-Proof Hard Coated Surface.
Anti-blue light technology protects your eyes.
3D touch-sensitive.
High light transparency.
Customer support 365 days / 24 hours.
Package Includes:
1x MANTO Screen Protector.
1x cleaning kit.
30-day warranty.
Worry-free replacement.
Ailun Screen Protector/Guard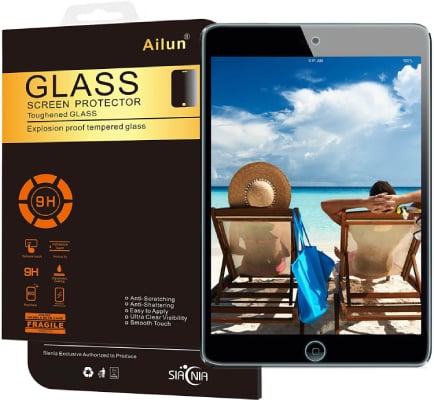 9H Hardness (harder than a knife) screen protector with special tempered processing.
Maintain the original response sensitivity.
Ensures quick and accurate typing, smooth games, and video playing.
High-Transparency.
Maintains the original viewing experience.
Oleophobic coating on the surface effectively prevents smudges and fingerprints.
Provides clear screen environment.
Effectively withstand the external scratch and impact force.
Reduces screen damage.
Easy installation.
It also comes with a bubble-free technology.
Supershieldz iPad Mini 5 Screen Guard (2 Pack)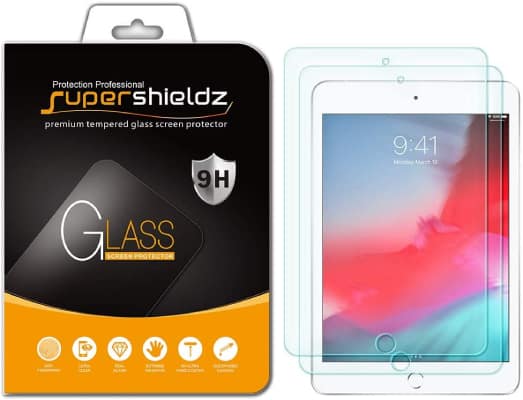 0.3mm thin screen.
9H hardness (harder than a knife) protection.
Anti-Scratch.
Anti-Fingerprint.
Made from the Highest Quality Tempered-Glass.
It also comes with a bubble-free technology.
Adhesives for easy installation and no residue when removed.
99.99% HD Clarity.
Maintains the original touch experience.
Hydrophobic and Oleo-phobic coating.
Protects against sweat as well as oil residue from fingerprint.
2.5D Rounded Edge Glass for comfort on the fingers and hand.
Package Include:
2 PCS Tempered Glass Screen Protectors.
Protected by Supershieldz No-Hassle Lifetime Replacement Warranty
Conclusion
Conclusively, by observing and also distinguishing between all the above screen protectors, the JETech brand sells one of the best screen protectors for your iPad. It has all the essential features for an iPad screen protector. Also have some extra features including Self-Installation, Delicate touch, Bubble Free, Whole transparency, Anti-scratch, Anti-fingerprint, and many more features. Regardless of which screen protector you go with, the most important thing is that your phone is well protected.
We would like to hear your reviews. Do comment and share. Also do subscribe to stay updated With All The Latest News, Offers, and Special Announcements.
*Prices was correct as on 11th June 2020