The HDMI (High-Definition Multimedia Interface) cables that most of us now use to connect TVs and other devices in our living rooms, family rooms, and home theaters were once a major step forward in the way we experience video and audio entertainment. HDMI made it possible to deliver perfect digital high-definition picture and sound, as well as control signals, and even computer data, all on a single cable. Here we will be discussing about Mini HDMI Cable/Connector.
HDMI cables became the replacement for analog cables connecting equipment produced during the first decade of the 21st century. The switch to uncompressed digital signal transmission was a huge step forward, and HDMI got better overtime to keep up with quickly-improving video and audio standards.
Types Of HDMI Cable
HDMI Type A Connector:
The Type-A connector is the one that is the most familiar to users of AV equipment and it is found on a huge number of items from televisions, DVD players, etc.
HDMI Type B Connector:
This type of HDMI connector was also launched with the original standard in 2002 and it is aimed at carrying dual-link DVD-I video. This connector has never been used in products because with the introduction of HDMI 1.3 (Mini HDMI), the speed of a single link exceeded that of the old dual link.
HDMI Type C connector – Mini-HDMI connector:
This is the mini-HDMI connector and is smaller than the Type-A connector, measuring 10.42 mm × 2.42 mm but still retaining the 19-pin configuration. The mini-HDMI retains all the functionality of the larger HDMI Type A, but the connector is much smaller.
The HDMI mini connector was introduced in HDMI Version 1.3 as the HDMI standard became more widely accepted and the need for a smaller connector was recognized.
HDMI Type D connector – Micro-HDMI connector:
The size of the HDMI Type D connector is very similar to the micro-USB connector and as a result, the Type D is often known as a micro-HDMI connector. The measurements are just 6.4 mm × 2.8 mm and within this outline, the micro-HDMI retains the 19 pins of the other connectors, although the pin assignments are different.
HDMI Type E connector:
The Type E HDMI connector is aimed at automotive applications. This connector was introduced with HDMI Version 1.4.
What Is A Mini HDMI Cable Used For?
A Mini HDMI is used on DSLR cameras standard-sized tablets. We already know what a regular HDMI cable is used for, and with the Mini, you can expect the same quality resolution with video and audio.
What Does A Mini HDMI Looks Like?
The Mini–HDMI connector is much smaller than a standard Type-A plug. It measures 10.42 mm x 2.42 mm. It still has the same 19-pin configuration of the HDMI Type A, but much smaller.
Difference Between Micro HDMI And Mini HDMI?
A Mini HDMI is used on DSLR cameras standard-sized tablets, etc. The Mini HDMI has a smaller connector and is easily used for smaller sized ports found on DSLR cameras, high-definition camcorders, and standard-sized tablets. Smaller portable devices such as smartphones and smaller tablets use Micro HDMI.
Let us see some of the most suitable Mini HDMI cables with best user reviews.
AmazonBasics High-Speed Mini-HDMI to HDMI TV Adapter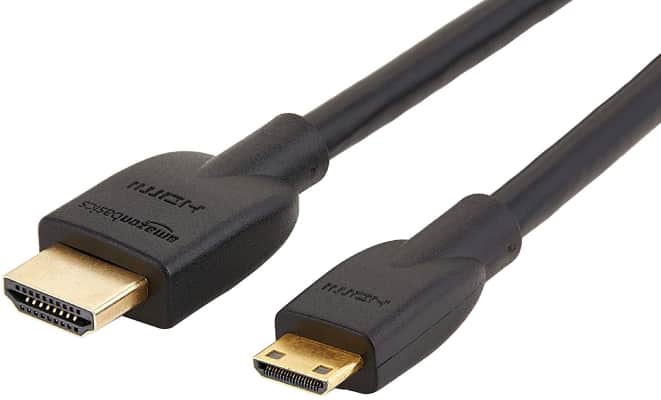 High-speed Mini HDMI to HDMI cable, A to C type.
Works with HDTVs, digital cameras/camcorders, MP3 players, and other HDMI devices.
Supports Ethernet, 3D, and Audio Return.
No separate cable required.
Meets the latest HDMI standards (4K Video at 60 Hz, 2160p, 48 bit/px color depth).
Supports bandwidth up to 18Gbps.
Backward compatible with earlier versions.
Outer jacket made of PVC helps protect the cable from damage and fraying.
Aluminum foil and mylar shielding provides an additional layer of protection.
Prevents wear and reduce interference.
High-resistance insulation protects each set of wire.
24K gold plated contacts protects against corrosion.
Copper foil shielding reduces interference.
High-quality copper wire maximizes signal quality and increases durability.
Not a bi-directional cable, marked with a monitor logo on monitor connector.
It comes in a pack of 10.
It is available in various lengths of 0.9,3,1.83,… meters.
Rankie Mini HDMI to HDMI Cable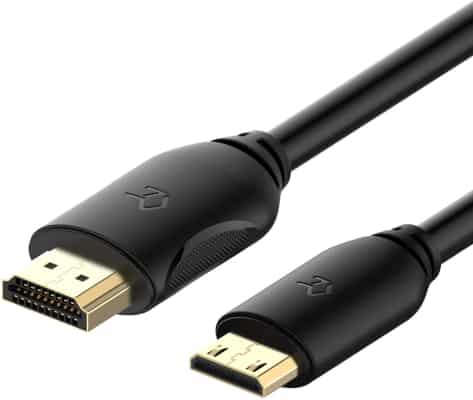 The 6 feet Mini HDMI to HDMI cable.
It connects a Mini HDMI-enabled device to an HDTV, monitor, and projector with HDMI input.
The gold-plated conductors resist corrosion and increase connectivity.
The inner braided foil shielding reduces interference and improves signal quality.
It meets the latest HDMI standards (4K Video @ 30 Hz, 2160p, 48 bit/px color depth).
Supports bandwidth up to 18Gbps and backward compatible with earlier versions.
Ethernet, 3D, and Audio Return.
Supports bidirectional transmission.
Multi shields ensures stable signal transmission.
Universal Compatibility.
CBUS 5ft HDMI To Mini HDMI Cable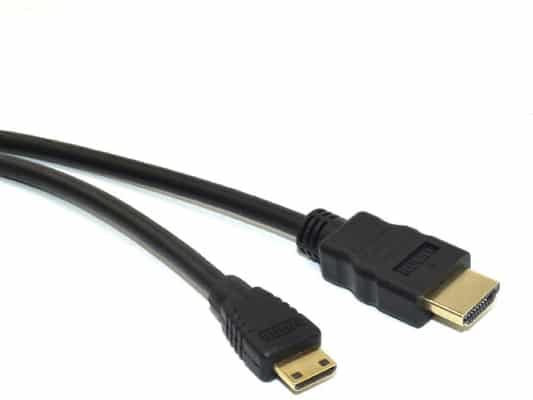 High-Speed Mini HDMI (HDMI-C) Male to HDMI 2.0 Male input.
5-foot cord length.
No lag, glitch-free viewing of your video and photos.
Also suitable for HD, Ultra HD, 4K & 3D.
Supports Video & Audio Playback.
Audio Return Channel (ARC), HDMI Ethernet Channel, HDMI 2.0 4K, 60fps, 4:4:6.
Great for connecting your DSLR or Mirrorless Digital Camera to display video on your TV, monitor, projector, Atomos Shogun, or Ninja Blade.
It also can be used as a camera to Wi-Fi wireless transmitter.
Stable transmission flicker-free screen.
CBUS 18-month warranty.
UGREEN Mini HDMI Adapter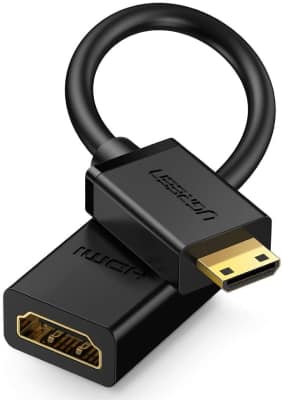 It is a mini HDMI male to HDMI female adapter.
This adapter converter easily converts mini HDMI port on your laptop and other devices.
Compatible with D3200,GT430,HDR-XR500.
An ideal choice for HDMI-mini devices.
Support Audio Return Channel (ARC), HDMI Ethernet Channel (HEC), 32 channel audio, Dolby True audio.
This mini HDMI to HDMI cord supports up to 4K UHD 3840×2160 60Hz.
Backward compatible with Full HD 1080P or 3D video to external HDTV display, monitor, or projector.
Utilizing aluminum foil and tinned copper braided.
UGREEN Mini HDMI connector with double shielding transmits a lossless signal between two devices.
Triple-layer shields ensures the stable signal transmission.
Better stability.
Corrosive resistance.
Cable Matters (2-Pack)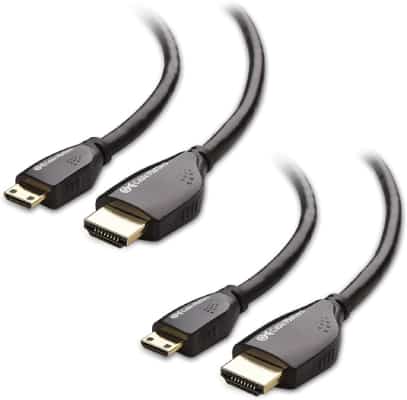 MINI HDMI CABLE connects a tablet, Pico Projector, NUC barebones desktop, camcorder, DSLR, or other devices with Mini HDMI to a 4K UHD TV, monitor or projector with HDMI input.
Video resolution support up to full 4K including 4096×2160, 3840×2160, 2560×1600, 2560×1440, 1920×1200, and 1080p.
HDMI 2.0 COMPATIBLE with HDMI support for an Audio Return Channel (ARC), HDMI Ethernet Channel (HEC).
It also supports 48-bit color depths, 32 channel audio, Dolby True HD 7.1 audio, and 3D video.
Fully compliant with the HDMI 2.0 standard.
This Mini HDMI to HDMI cable is capable of carrying the increased bandwidth of HDMI 2.0 at 18 Gbps.
A Cost-effective 2 pack provides a spare cable to take along with your device.
Flexible cable jacket with easy-grip treads on the connectors makes the installation easier.
Plug & Play directly without connecting any adapters.
Superior construction combines gold-plated connectors, bare copper conductors, and foil.
And braid shielding for reliable cable performance, static-free video transmission, and noise suppression.
It includes a lifetime warranty for peace of mind when purchasing.
Available in 2 sizes: 3 feet and 6 feet
LinkinPerk Connector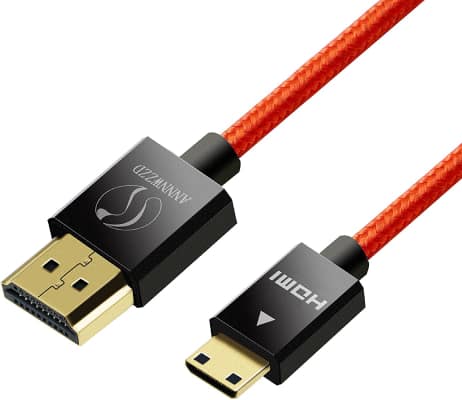 HDMI type A to Mini HDMI plug type C.
24K gold plated.
Perfectly shielded according to HDMI specification.
Mini HDMI 1.4A cable 3D and Ethernet (Network) capable.
Max. resolution: 4K ULTRA HD (4096 × 2160 Pixel).
Ideal for 3D capable devices such as: Tablet-PCs, digital cameras, HD-Camcorder & PC-Systems, PC-Graphic Cards, Media Center.
Metal shell and braided.
Conclusion
Conclusively, by observing and also distinguishing different Mini HDMI cables, the AmazonBasics Cable is one of the best according to us. There are various reasons we consider it best. It provides all the essential features that a Mini HDMI Cable should have. This cable meets the latest HDMI standards (4K Video at 60 Hz, 2160p, 48 bit/px color depth) and many other essential features. It comes in a pack of 10 so if anyone is damaged another one can be used. Regardless of whichever Mini HDMI cable you go with, the most important thing is it should have all the essential features.
We would like to hear your reviews. Do comment and share. Also do subscribe to stay updated With All The Latest News, Offers, and Special Announcements.
*Prices was correct as on 11th June 2020