Universal Serial Bus (USB) was developed in the 1990s in an effort to simplify the connections between computers and peripheral devices. It has become widely popular due to its compatibility with many platforms and operating systems, its low cost of implementation, and its ease of use. Most computers that are built today come with several USB ports, and USB is the interface of choice for most home and office peripherals including printers, cameras, modems, and portable storage devices. Here we will discuss about best micro USB cables/connector.
Although USB-C cables and connectors are becoming the standard for charging and data transfer, Micro USB cables are still used in many smartphones, tablets, and other electronic devices, and it will still remain in use for a longer period of time.
What Is A Micro USB Cable?
Micro USB is a miniaturized version of the Universal Serial Bus (USB) interface developed for connecting compact and mobile devices such as smartphones, Mp3 players, GPS devices, photo printers, and digital cameras.
How Does Micro USB Works?
When plugged into a source of power, whether that be a wall outlet or your computer (and usually you'll have an adapter that plugs into a wall outlet and has a USB-A port for the micro-USB cord to plug into), power is transferred through the micro-USB cord to charge your device.
Where Are Micro USB Used?
Micro USB connectors are typically used by compact, portable electronic devices, such as smartphones, digital cameras, GPS devices, and some external storage peripherals.
How Does Micro USB Looks Like?
Ones using Android technology are fitted with Micro USB ports. And while the Micro USB looks slightly smaller than the Mini USB, it offers a comparable high-speed transfer rate. Micro USBs are fairly easy to identify. They come with black-colored receptacles and feature a compact 5 pin design.
Types Of Micro USB Cables
1) Micro-A USB
Newer mobile devices like GPS units, cell phones, and digital cameras use the micro-A USB.
Despite its small size, it's still able to support On-The-Go features and a high-speed transfer rate of 480 Mbps.
Micro-A USB has a white receptacle and a 5-pin design. This micro USB cable has a female (receptacle) connector only, rectangular in size.
2) Micro-B USB
It is similar to its Micro-A counterpart, as it is also used in modern gadgets.
It's commonly found in small electronic devices like cell phones.
While it's also smaller than Mini-B USB, it can support On-The-Go features and the same transfer rate as micro-A.
In fact, USB 1.1 and USB 2.0 devices have micro-B ports that look identical.
Aside from those, micro-B USB has both male (plug) and female (receptacle) connectors on micro USB cables.
This allows different devices to utilize either of the two connection types.
It has a black receptacle and a 5-pin design.
Its ports and connectors feature tapered corners, which give them a half-hexagon shape.
3) Micro-B USB 3.0
You can find this type of micro-USB on devices running on USB 3.0.
It's made to work with USB SuperSpeed applications, carrying power and data.
Unfortunately, this type of micro USB cable is not backward-compatible with devices that run in USB 1.1 and USB 2.0.
Micro-B USB 3.0 is very much similar to micro-B.
The main difference is that it has an added pin group on its side, which gives it twice the number of wires.
This also enables USB 3.0 to function at its normal speed.
How To Choose The Best Micro USB Cable
Since the micro USB cables are not too complicated, their important aspects can be summed into the following aspects:
Fast Charging :
Although fast charging is a function you can live without, its existence makes life much easier and gives you flexibility, and more importantly, it saves time. In other words, it is not mandatory but is surely a good option.
Length :
Another important characteristic of micro USB cables is their length. The cable that is too long may get tangled in your bag, while one that is too short may present difficulty and prevent its easy usability. For that reason, think through what will suit you best and choose in accordance with that.
Warranty :
Micro USB cables warranty isn't that important as is the case with other, more expensive products; however, it should be a good indication of products durability. Therefore, if a cord has a lifetime warranty, there is a large chance you will never again need another one.
Let us see some of the most suitable Micro USB cable with best user reviews.
iSOUL Nylon Braided Micro USB Cable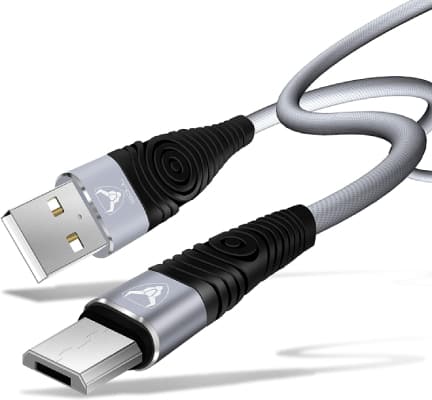 Heavy-duty built with tested bends provide a long life span.
Standard Micro USB cable 1m length.
Designed to fit perfectly with Micro USB port enabled devices.
Stainless steel Micro USB head slots in easily and tightly that will not fall out from your device female port and provides your best connection.
Lightweight high-speed USB 2.0 Micro USB cable.
Great built quality.
Ensures the performance of maximum charging speed up to 480 Mbps.
Faster than the most standard cables with Micro USB 2.0 compatible devices.
Allows your devices to sync and charge simultaneously.
Built with an environmentally-friendly rubber shell.
Convenient for moving around at home, hotel, office, car, travel, camp, restaurants etc.
It comes with a 1-year hassle-free warranty and universal compatibility.
VIBE Premium Cable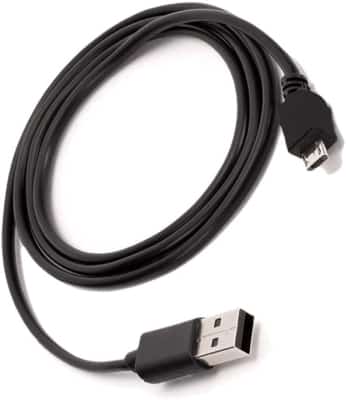 Durable, flexible cord lets you connect and extend your devices further.
Fast charging and High-speed Uploading or downloading files.
Better than many other cables that can only be used as a charger.
Sync and charge the most popular smartphones, tablets, cameras, and other Micro USB-charged devices via your computer or USB charger.
You can backup the phone book and contacts.
Organize pictures, music files, download pictures, music, ring tones and games between computer and cell phone.
3 Meter length.
Premium black color.
Agvee 3A Heavy Duty Charger Cable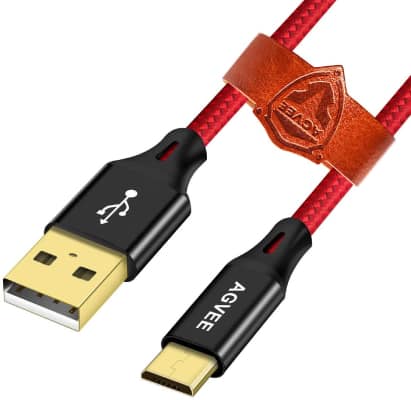 Powered by quality tinned copper conductors.
Measured loop resistance less than 280mΩ.
Voltage drops less than 0.6V when current is 2.4A.
Data Sync Speed is 480Mbps.
Lifespan 10x longer than other Micro USB Charging Cords.
The TPE cable sheathing survive even at -50℃.
Each Agvee Cable model passed the toughest industry tests.
5000+ Times Bending Test.
It won't get too hot like other cables.
The minimum size of the Micro USB end design is slim enough to compatible with most waterproof cases.
Just plug and charge without removing the case.
The premium nylon fabric & enough pure copper secures a 100% durable and efficient charging.
Gold-plated connectors, corrosion resistance, and high-speed transmission.
Anker Powerline+ Micro USB Cable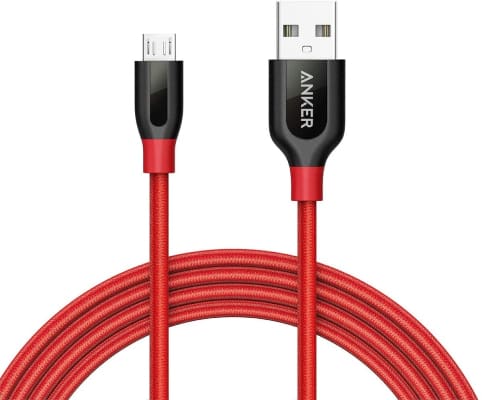 Premium design with double-braided nylon exterior and toughened aramid fiber core.
Laser-welded connectors ensure PowerLine+ has superior toughness from end-to-end.
Includes an innovative carry pouch that allows you to neatly adjust cable length for any situation.
It also provides high protection when transporting PowerLine+.
Reinforced stress points with a 10000+ bend lifespan makes it many times more durable than other Micro USB cables.
10X more durable.
18-month warranty and friendly customer service.
Strengthened stress points prevents splitting.
UGREEN Fast Charge Cable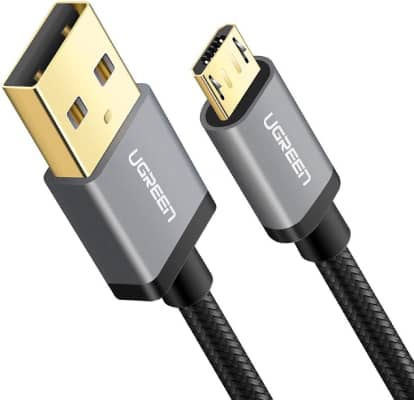 This USB charger cable is with premium nylon braided housing, gold plated connectors, and phosphor bronze contacts.
This extends its service life to a large extent and makes it withstand 10000+ insert and extract test.
High-Quality Charging and Data Transferring Cable.
Great performance ensures your device syncs and charges simultaneously.
480Mb/s transferring speed.
It is ideal as a spare cable or replacement whether you are at home, in the office, in your car, or travel.
It supports quick charge technology.
For QC 2.0/3.0 enabled devices, output up to max 18W.
For standard Non-QC 2.0/3.0 devices, output up to max 5V/2A.
This micro USB charger cable is compatible with most Android cell phones, tablets, etc.
Conclusion
Conclusively, by observing and also distinguishing different Micro USB cables, the Vibe USB Cable is one of the best according to us. There are various reasons we consider Vibe as best. It provides all the essential features that a Micro USB Cable should have at a very budget-friendly price of just £2.45. Also, have some extra features such as it can sync and charge your phone simultaneously, fast charging, and it comes with a very suitable length of 3 meters. Regardless of whichever USB cable you go with, the most important thing is it should have all the essential features.
We would like to hear your reviews. Do comment and share. Also do subscribe to stay updated With All The Latest News, Offers, and Special Announcements.
*Prices was correct as on 9th June 2020