You never know when you will drop your expensive smartphone and once you drop your phone may suffer from some damaging which will cost you a lot. To overcome negative consequences during such instances, you need to get a case for your phone. Here we will discuss best selling cases for iPhone 6.
But before buying a phone case you must know what exactly a phone case is and what type of cases are available and sold in markets.
A cell phone case is nothing but an accessory that is used to cover a cell phone. A cell phone case not only brings a modish and stylish look to your phone, but also gives you protection while it falls on the ground or into the water.
Like we humans need clothes to have protection from heat, rain, and many more environment changes. So does our phones. They also need same protection from around the environment whether it is from accidentally dropping your phone or from water damage. Hence, cases just act like clothes for our phones.
Phone covers are of various types such as
Transparent silicon back cover
Plastic case
Rubber cover
Flip case
Hybrid back case
Fabric case
Bumper case
Pouch
Metal back case.. etc
So Let us see which brands are dominating the list.Have a look!
iSOUL Crystal Clear Case For iPhone 6
Super Transparent TPU Gel Case.
Made from durable high-quality TPU+silicone hybrid gel.
Flexible soft rubber case, but robust and impact-absorbing like a hard case.
Protective TPU case cover.
Raised bezels to offer protection for screen and camera.
UV resistance.
Anti-Yellowing.
Advanced shock absorption technology with air-cushioned 4 corners.
Ultra-Thin protective gel case.
Perfect cutouts for camera, controls, speakers, charger and all other buttons.
Soft gel case is the perfect fit for your phone.
It enhanced the original beauty of your iPhone 6.
Package Includes:
SOUL invisible gel skin case for iPhone 6.
Black touch pen.
It comes with peace of mind warranty from iSOUL.
JETech Shock-Absorption Case
Made with PC and TPU.
Slim design.
Ultra transparent and scratch-resistant back.
Raised bezels to offer protection for screen and camera.
Unique shock-absorption design: 4 corners effectively absorb shocks.
Easy access to all the controls and features.
Perfect cutouts for speakers, camera and other ports.
Raised back cover by 0.4mm to protect the camera.
Raised screen by 1.2mm to protect the screen.
Resistance to dropping.
Highly protective and clear.
Adequately protect your iPhone in an ultra-transparent case.
Package Includes:
iPhone 6 case.
Customer service card.
TENOC iPhone 6 Case
Made of flexible and soft TPU material.
Slim and clear.
Keeps the original look of the phone in display.
Not bulky, not flimsy, but this bumper case can provide adequate protection.
Anti-scratch and absorb the pressure.
UV resistance and anti-yellow.
Easy to install and remove.
Complete camera and screen protection.
Precise cutouts for speakers, power port, audio port, and buttons.
Strong bumper guards offer shock protection from accidental drops.
Package Includes:
Spigen Ultra Hybrid Case For iPhone 6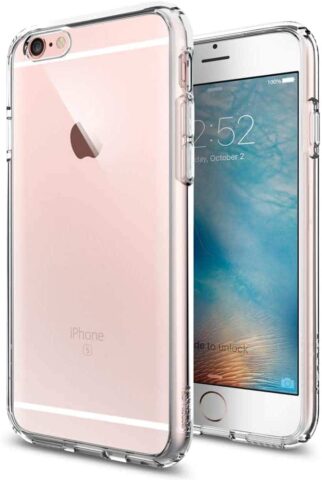 Clear hard PC case and TPU bumper offer grip and a slim profile.
Intense transparency flaunts original phone design.
Military-grade drop test certified.
It offers perfect shock absorption protecting from drops and falls.
Corners equipped with air cushion technology.
Raised bezels lift screen and camera off flat surfaces.
Pronounced buttons are easy to feel and press, while large cutouts fit most cables.
Complete camera and screen protection.
SDTEK Transparent Case for iPhone 6
Premium SDTEK Silicone case for iPhone 6.
Crystal clear.
Flexible TPU silicone provides great protection.
Prevent scratches and bumps to your phone.
Your phone remains visible thanks to highly transparent material.
Access all features for charger, speaker, headphones and camera.
Shamo's iPhone 6 Case
Made from high-quality soft silicone rubber gel material.
Thin slim design.
Crystal clear material.
Soft rubber material to protect your iPhone from scratches, dirt, and bumps.
Precisely cut openings to allow full access to all the functions of your phone.
Easy snap on/off installation.
Provides complete camera protection.
Conclusion
You should definitely keep your phone well-guarded and protected in tip-top shape with a case and these are some of the best options we found. Conclusively, We think TENOC Cases have the best cases for iPhone 6 because their cases come with all essential features. It has Ultra transparent and scratch-resistant back which is UV resistance and anti-yellow. It is not bulky, not flimsy, but this bumper case can provide adequate protection. Complete camera and screen protection, and many more features. Regardless of which case you go with, the most important thing is that your phone is well covered and protected.
We would like to hear your reviews. Do comment and share. Also do subscribe to stay updated With All The Latest News, Offers, and Special Announcements.
*Price was correct as on 29th May, 2020