While you are engaging with others or performing at an event by using your headset microphones, recording a clip, teaching, wires sometimes become a problem. But with the wireless headset microphones, you don't have to worry about this and can completely focus on your performance. Here are the best wireless headset microphones in 2021.
Shure BLX14/P31 Headset Wireless System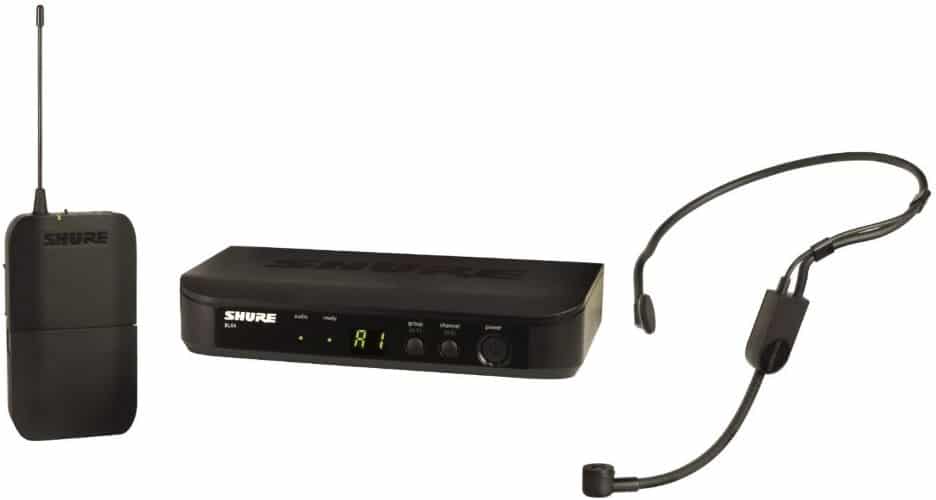 If you are performing at a smaller scale, Shure BLX14/P31 Wireless Headset Microphones are a great choice. You get professional-quality sound with a simple setup. Also, it's a one-touch QuickScan frequency selection. This lets you quickly find the best open frequency just in case of interference. Moreover, you get the option for Single-channel, dual-channel, and rack mount receivers. It offers a range of up to 300ft (91m) and the battery lasts up to 14 hours. The system comes with a BLX4 wireless receiver, BLX1 bodypack transmitter, PGA31 wireless headset microphone. Also, you get a power supply, clothing clip, windscreens, and a user guide. It is precisely designed for long-wearing comfort. Also, you get a great off-axis rejection for higher gain-before-feedback when using a stage monitor.
Bietrun Wireless Microphone Headset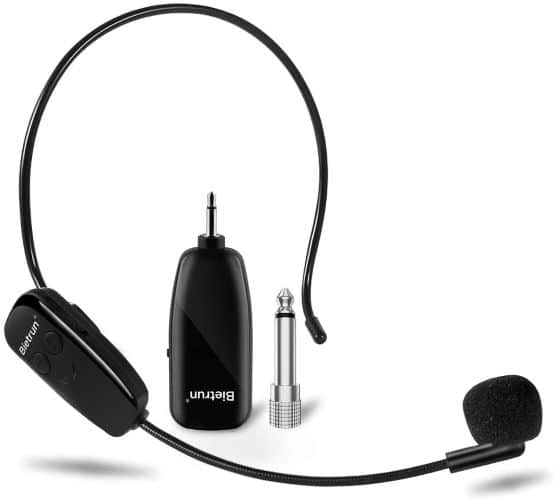 If you don't want a high-end system, you can go for Bietrun Wireless Microphone Headset. This headset can also be used as a handheld wireless microphone. With a transmission range of 160ft (50m), it has signal stability, no delay in transmission and does not emit any kind of radiation. Moreover, it has an anti-howling and anti-jamming system with constant frequency and clear sound quality. You can even enjoy Karaoke nights with this portable set.
To use the set, firstly, turn on the transmitter and receiver power switches. You will see a blue light flashing for two seconds. When you connect to a system, the indicator light will stop flashing. Although, remember that this system is not compatible with android phones, iPhones, Macbooks, laptops, Bluetooth Speaker. The rechargeable lithium-ion batteries last for up to 6 hours and only takes 2.5 hours to fully charge. The interesting part is, you can use up to 15 microphone headsets at the same time. With the built-in cardioid polar pattern condenser microphone, the system can be used for various purposes. You can use it for conferences, speeches, podcasts, Youtube, Google, yoga instruction, voice amplifiers, dance instruction, promotions, games etc.
SAMSON XPD2 USB Digital Wireless System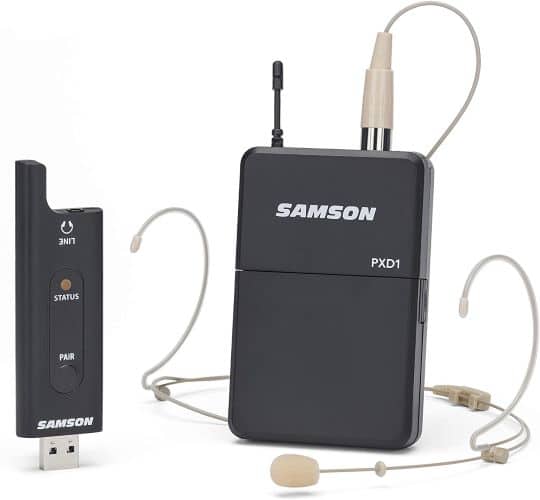 If you are a content creator or work on a digital platform, then this wireless headset is a great choice. The SAMSON XPD2 Headset USB Digital Wireless System has a simple setup and professional full-range audio. It has a remarkably designed USB stick receiver that connects with computers, smartphones and XPD Wireless-enabled Samson portable PA systems. Thus giving you a performance that sounds as good as using a wired microphone.
The line output allows for headphone monitoring or connection to any mixer or powered speaker that has an analogue line input. It can connect to your Windows, Mac or Chromebook. You can use it to record podcasts, voiceovers and lead presentations with professional sound quality. You can do this even while walking around your room without any sound discrepancy. The charge will last for up to twenty hours. Moreover, it gives you a working range of 100 feet (30m) in line of sight.
FIFINE Wireless Microphone System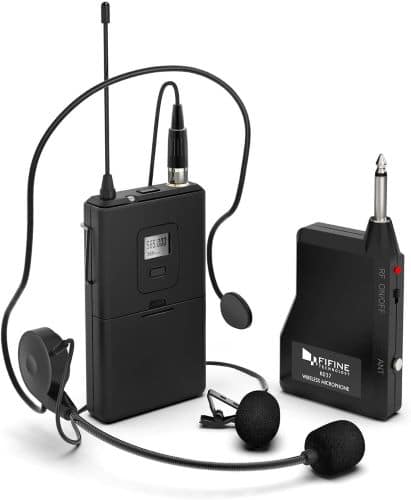 This system features a 20 frequencies selection for seamless, interference-free operation. Moreover, with the easy-to-read LCD information display, you get constant monitoring for system operation. It is easy to use the system and work to a range up to 40-65 feet. The paired ID synchronization for each wireless transmitter and receiver makes the setup easy. The headset microphone fits securely for active speakers and vocal performers. Whereas the Lavalier microphone with included tie clip offers low visibility and hands-free use. You can work with mixers, PA speakers, electric guitars, amplifiers and soundboards with a 1/4″ interface to output the sound. It is a great choice for teaching lectures, conference speeches, visiting guides, recording songs, etc. Although, note that it is not compatible with laptops and MacBooks.
XIAOKOA UHF12 Wireless Mic Headset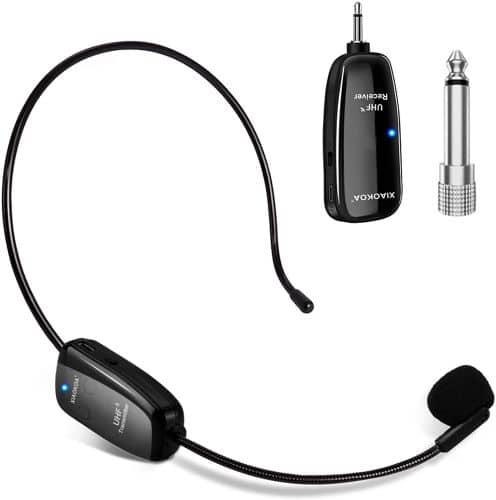 The XIAOKOA UHF12 Wireless Mic Headset has advanced UHF wireless transmission technology. It gives a 160 ft (50M) stable wireless connection at open areas. You can use this for teaching, stage performances, meeting, podcasts, etc. Not only this, you can use it as a handheld wireless mic. Thus, gives you the freedom to move around and make a better performance. You can connect the UHF wireless microphone with a voice amplifier, large power speakers, portable PA system, mixer, karaoke microphone speaker system. Also, the dual Micro USB cable can charge both the wireless transmitter & receiver in the meantime, taking 2-3 hours to fully charge. The charge lasts for up to 6 hours. Although, remember that the system doesn't support Android & IOS phones, Macbook and laptops.
Shure SM35-TQG Wireless Performance Headset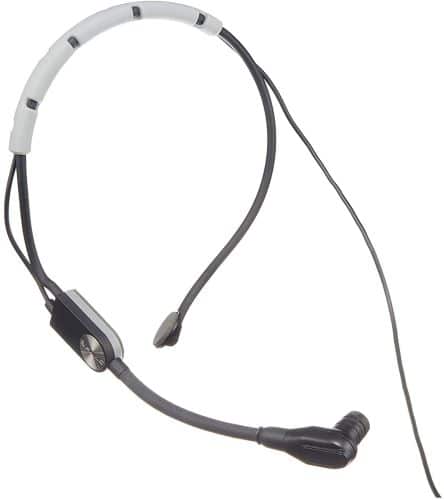 With this system, you get the freedom to express yourself without sacrificing sound quality. The unidirectional cardioid polar pattern gives you great rejection of off-axis sound sources. This prevents feedback and signal bleed onstage. It works well in even a small club or a large arena. The microphone goes with Shure wireless bodypacks and connects to the bodypack via a 4-pin TA4F connector. Also, the wireframe headset gives a secure fit for active performers and multi-instrumentalists. Moreover, it has a flexible gooseneck design. Thus, allows for optimized placement that further improves source isolation. The lightweight and low-profile design give a comfortable experience for longer use. Locking snap-fit windscreens remove the sound of breath and wind noise for clean and intelligible sound.
Shure PGA31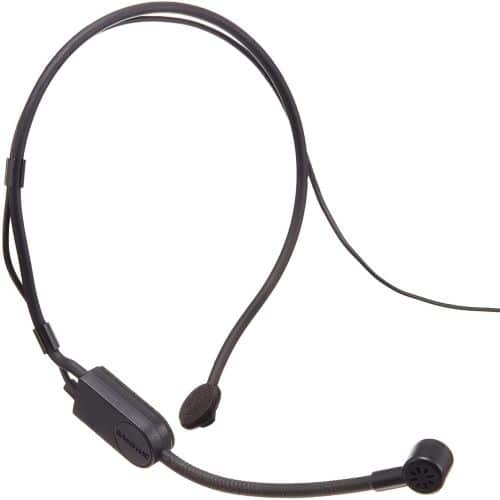 The Cardioid headset condenser microphone offers clear and reliable hands-free audio at an inexpensive price. The permanently charged electret condenser element allows detailed and crisp vocals. Moreover, the unidirectional (cardioid) polar pattern rejects unwanted noise. Thus, you get improved sound quality and higher gain-before-feedback. It has a flexible and adjustable gooseneck design, thus optimizing the microphone positioning for further source isolation. The windscreen gives clean and intelligible sound reproduction. Also, the TA4F (TQG) connector seamlessly integrates with Shure wireless body packs. It can be used for general speaking for teaching, meetings, interviews, podcasts and performances. The system gives maximum versatility. It allows reliable performance in a wide range of conditions at a pocket-friendly value.
AKG C520 Professional Head-Worn Condenser Microphone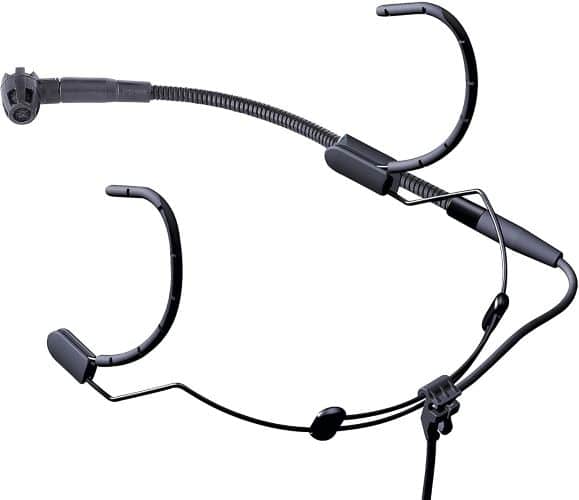 You get the utmost dynamic range for the vocal sound with the C520 L professional head-worn condenser microphone. If you are a performer, singer, keyboardist, drummer, guitarist and dancer, this system is a great choice for you. Moreover, it has a moisture shield that prevents perspiration from penetrating the transducer element. Thus, you get a high degree of humidity protection for the microphone with these wireless headset microphones. It provides a transducer shock mount that reduces body noise to a minimum. The microphone arm sits on either the left or the right side of the headband. Also, it effectively rejects unwanted ambient noise. It has a professional mini XLR connector for all AKG wireless body-pack transmitters.
Conclusion
If you perform on small-scale events and want to invest in a good wireless headset microphone, the Shure BLX14/P31 Headset Wireless System is a great choice. It gives a range of up to 300 feet and the battery lasts for 14 hours. It is easy to use and has a design that is comfortable for long time usage. Moreover, the system includes a wireless receiver, a BLX1 bodypack transmitter and a PGA31 headset microphone. Another great choice is the SAMSON XPD2 USB Digital Wireless System. The unique factor for this set is the USB stick which connects to your computer, smartphone and XPD Wireless-enabled Samson portable PA system. The battery lasts up to 20 hours and gives you a range of 100 feet.
Which is your favourite wireless headset microphone? Tell us in the comments section below.
Read More!