Logitech has always given us the best keyboards and mice for people with every kind of need. Even the new Logitech MX Keys Mini won't disappoint you and will let you adapt to flexible working. But before buying the keyboard, you need to go through all the factors. Here is everything you need to know about Logitech MX Keys Mini before buying.
What you will see here?
Logitech MX Keys Mini
The Logitech MX Keys Mini may not be your style if you are a gamer or fixed office worker. But if you want a flexible working keyboard packed with features that help to make things then MX Keys Mini is for you. Regardless of what device you have paired with or where you are setting yourself up does not matter with this keyboard. Moreover, this keyboard comes in handy for people working from home and don't want a full-size keyboard.
Pros
Portable size
Stylish design
Ergonomic keys
Decent battery life
Pros
Permanent tilt
Unhelpful function keys
Expensive
Bluetooth only
Design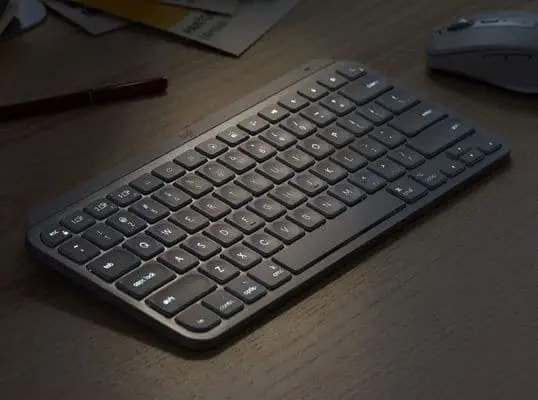 This mini keyboard is only at 11.7 x 5.1 x 0.8 inches and weighs 17.9 ounces. It has a sleek design that will fit on your desk easily. You can choose from three colour options, pale grey, rose and classic graphite. Moreover, you can choose from the Apple-specific version or one that works with both Windows and macOS. The one that works with both will come with control keys that are clearly marked. With the mini keyboard, Logitech has tried to make the product eco-friendly. The Graphite model uses 30% recycled (PCR) plastic, whereas the other two models use up to 12% because of the lighter color.
To fit everything into this mini keyboard, Logitech did sacrifice some keys which you might feel uncomfortable with. You will find the three dedicated Bluetooth channel keys over the F1, F2 and F3 keys. Moreover, app switcher keys, window view and track skip media controls have been removed from the mini version. In their place you get a screenshot key, a dictation key, mute/unmute microphone key and an emoji key. Although the dictation key is important, other keys could easily be navigated through the OS. Also, the keyboard is designed to have a permanent tilt. You cannot adjust this tilt so it will take some time to get used to this.
Software
Even though you don't need any specific app for the MX Keys Mini to work, you can install the Logitech Options. With this app, you can set app-specific presets across office apps, Photoshop, Final Cut Pro, battery level indicators, button and key customisation and much more. This gives you the versatility of shortcuts for each app you use. Also, a shoutout to Logitech Flow allows you to switch the mouse cursor and keyboard between devices. You can do this by moving it to the edge of one screen and onto the other. Moreover, you can simply click and hold and drag items between them. This acts as a lifesaver if you are working with more than one device like a personal computer and a work laptop.
Lighting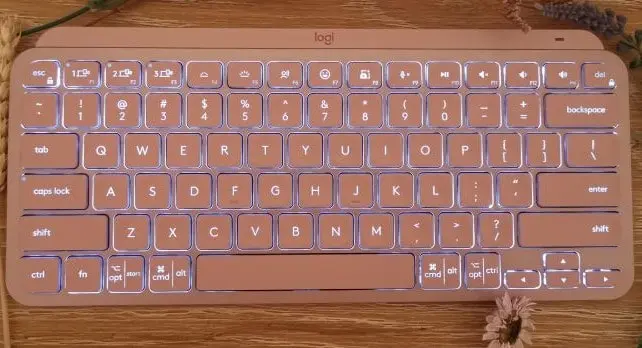 The lighting setup is similar to the regular MX Keys. You get backlit chiclet keys with variable brightness. According to Logitech, the backlit keys does not affect the battery life of the keyboard. For backlighting, the keyboard uses a motion detection feature. This illuminates the keys automatically, so you don't need to press any key for the light to start. Moreover, the lighting is soft letting you use the keyboard in dark without hurting your eyes.
Battery Life
Logitech promises a great battery life giving you a long-lasting battery of 10 days with backlighting on. Whereas, if you turn it off, you can forget about charging your keyboard for up to five months. You can check the battery life on the Logitech Options software. It will automatically switch off the backlighting to extend the battery life.
Performance
At first glance, you might think, MX Keys Mini to a simple keyboard. But as you dive deeper, you will understand the details between each key, the dish indents that your fingers fall into, and the matte finish on every key. Every detail makes using the keyboard a joyous experience. The switches are quiet and springy with a scissor-style compression giving you a better tactile response for each key. Moreover, you don't have to worry about a reduced typing speed due to the smaller size of the keyboard.
On the function row, you will find the system mute, emoji key, and dictation key. The mute button instantly mutes your microphone, so you don't have to move around to find the mute option while on a video conference. It works on everything, from Microsoft Teams to Discord. The emoji key opens up the emoji selection window. This is a time-saving option as emojis are now essential for chats. The dictation key opens your system's default dictation application.
What you might not like?
Expensive– You might feel the MX Keys Mini is a bit costly for a compact keyboard. Even though the features are worth the money, if you are on a budget there are other good options available in the market.
No RGB lighting– If you prefer a RGB lighting than the solid white, this keyboard might not be for you. The Mini keyboard has only one colour for backlight and you cannot customize it.
Permanent Tilt– The keyboard is fixed at a slight incline, so you might feel a bit uncomfortable with it if you're used to writing on a flat keyboard.
Conclusion
MX Keys Mini is the latest addition to the keyboard series from Logitech. Unlike other keyboards available in the market, you can choose from three different color options. The sleek and lightweight design makes it easier to carry the keyboard anywhere and fits perfectly at your desk. Although, the function key choices are a bit different and the inclined angle can take time to get used to, in terms of performance it is incredibly comfortable to type on. The design focuses on small details like key size and in-between distance to keep your fingers away from any discomfort.
If you have any questions, you can ask us in the comments section below.
Read More!