The Apple Magic Keyboard is an amazing keyboard, but it's not for everyone. Also, it's not that cheap. While you might have got a keyboard with your brand new Mac, it's not the only option you have. If you're looking for a new keyboard to pair with your MacBook Pro or Mac Mini, here are the best alternatives for Apple's Magic Keyboard.
Logitech K380 Multi-Device Bluetooth Keyboard
Logitech K380 Multi-Device Bluetooth Keyboard is a compact keyboard to go along with your Mac. Also, it has plenty of useful additional features like it is specially designed to control features on your iPhone or iPad (navigating to the Home screen or switching apps). With one button, you can switch between three distinct devices, including Windows and Android items.
This is one of the best alternatives for Apple Magic Keyboard.
Features
M

ulti-Device Connectivity

: Pair up to 3 wireless devices at once with the Easy-Switch button.Simple Switch allows you to interface with any Bluetooth device that supports an outer keyboard.
C

ompact and Lightweight

: This keyboard is lightweight and small-sized. It gives you full functionality within a minimalist layout so you can take it wherever you need.
E

xtended Battery

: You don't need to frequently replace batteries with up to 2 years life for this Bluetooth keyboard(depending on use).
T

ype on Anything

: You can use it on a mobile, tablet or laptop as it perfectly adapts to Windows, Mac, Chrome OS, Android, iOS or AppleTV.
C

OMFORTABLE

LAPTOP-STYLE TYPING: It has low-profile scissor key with scooping which matches the shape of your fingertips to provide a fluid, quiet and familiar laptop-style typing experience.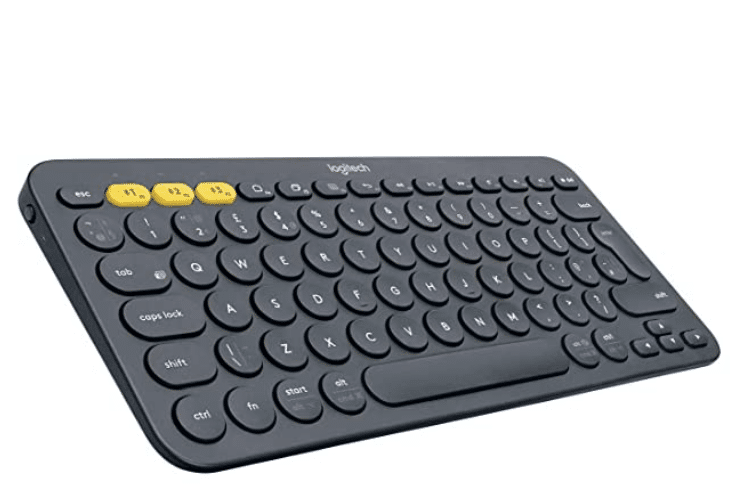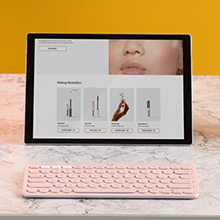 Satechi's Bluetooth Backlit Keyboard
Satechi's Bluetooth keyboard has convenient backlighting and a handy number pad. The amazing part is it charges over USB-C. Also, it can pair to up to three devices and quickly switch between them with the click of a button. This is a good alternative for Apple Magic Keyboard.
Features
WIRELESS BLUETOOTH 5.0 – Bluetooth 5.0 is compatible with a simple setup for a seamless connection process.
USB-C RECHARGEABLE – It has a rechargeable USB-C port to keep your keyboard powered for minimal downtime. And, it includes USB-C charging cable.
BACKLIT ILLUMINATION – It has backlit keys with ten levels of brightness, so you can continue to work comfortably in a variety of environments.
MULTI-DEVICE PAIRING – It can connect up to 3 Bluetooth devices and can switch and type across multiple screens with a press of a button
COMPATIBILITY – As 2011 & earlier Mac devices have older Bluetooth versions (2.1), it is not recommended for them. it is suitable with 2020/2019/2018/2017/2016 MacBook Pro, 2020/2018 MacBook Air, 2020/2018 iPad Pro, 2019/2017 iMac, iMac Pro, iPhone 11 Pro Max/11 Pro/11, XS Max/XS/XR/X, 8 Plus/8.
Apple Magic Keyboard with Numeric Keypad
In case that you truly need the Magic Keyboard yet with a mathematical pad, Apple Magic Keyboard with Numeric Keypad is for you. It is almost indistinguishable from the Magic Keyboard with the exception that it has a 10-key number pad, a couple of extra function keys, and committed control keys. Thus, this is one of the comparative options for the Apple Magic Keyboard.
Features
extended layout

– It has an extended layout, with document navigation controls for quick scrolling and full-size arrow keys for gaming.

increased stability

– The scissor mechanism beneath each key allows for increased stability.
COMPACT – Optimized key travel and a low profile provide a comfortable and precise typing experience.

rechargeable battery

– The built-in, rechargeable battery is incredibly long-lasting, powering your keyboard for about a month or more between charges.

FENIFOX Wireless Keyboard and Mouse
FENIFOX's keyboard is practically like the Magic Keyboard with Numeric Keypad, however it accompanies a mouse also. The set is accessible in both Pink and Silver tone. The slanted point makes typing more agreeable.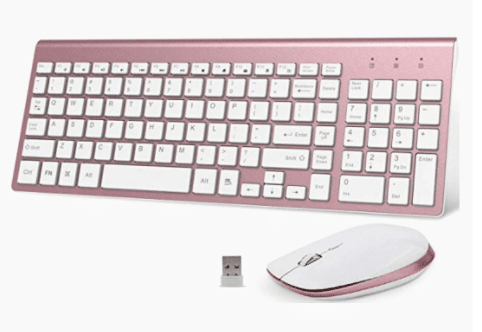 Logitech Wireless Solar Keyboard K750
This keyboard is a popular alternative to Apple's Magic Keyboard due to its full-sized keyboard with a similar spacing pattern. Although Logitech Wireless Solar Keyboard K750 says "solar," it charges up using any light, including a desk lamp.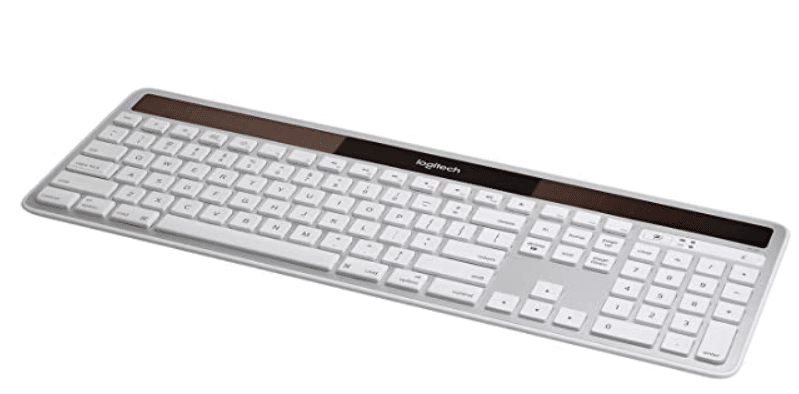 Arteck HB030B Universal Slim Keyboard
Arteck Bluetooth keyboard is slim, portable, and is compatible with your Mac or iOS device as well as non-Apple computers. You can choose from seven backlight colours and two brightness levels on this keyboard. The battery-powered lithium battery can go as long as a half year on a solitary charge.
This is one of the best alternatives for the Apple Magic Keyboard with 7 different backlit colours to choose from.
Features
7 Unique Backlight Color: It has 7 Elegant LED backlight alternatives with 2 brilliance level and auto sleep highlight to boost power utilization.
Compatibility: You can use it with all four major operating systems supporting Bluetooth (iOS, Android, Mac OS and Windows), including iPad Air 3 10.5-inch (2019) / iPad mini 5 (2019) / iPad 9.7 inch iPad
Battery Life: It has a rechargeable lithium battery with an industry-high capacity that lasts for 6 months between charges (based on 2 hours of non-stop use per day and backlit off)
The package contains Arteck Backlit Bluetooth Keyboard with a USB charging cable.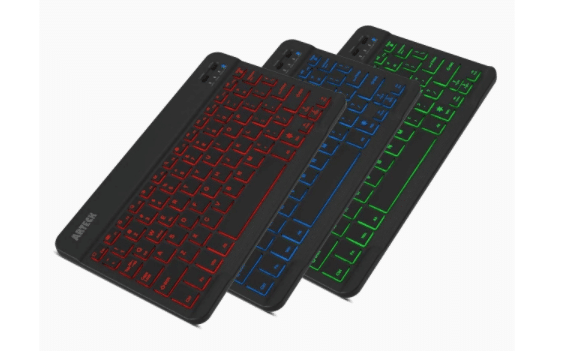 Conclusion- Alternatives for Apple's Magic Keyboard?
With all these options in mind, the question comes which one to select? So, if you want the look of the Magic Keyboard but want some extra features, then you will love any of the keyboards on this list. They have a similar design but offer something different. However, if you want something inexpensive that you can carry in your bag, then pick up an Arteck HB030B Universal Slim Keyboard. It's compact, just 9.7-inches-by-5.9-inches-by-0.24-inches. The battery will go six months between charges with typical use. Also, you get all of those fun backlighting colours.