Apple never fails us to amaze us with its new products. Who would have thought a blank slate looked as good as the Magic Trackpad 2? But for an extra $50, is it worth buying over the Magic Mouse? If you're in the market for an iMac or a new workstation accessory, you've probably found yourself comparing these two gadgets already. Let's see Magic mouse vs Magic trackpad, which one is better?
What you will see?
Stationary clicker – Apple Magic Trackpad 2
Stationary hand- Apple Magic Mouse 2
Mouse vs. trackpad: What are the differences?
Arm saving vs. space saving
Gestures vs. Force Touch
Haptic Feedback Gives You Control Over Clicks
Price
Charging while working
Conclusion
Stationary clicker – Apple Magic Trackpad 2
The Magic Trackpad has a large and almost flat surface which makes it easier to navigate your Mac's system. You can simply use the Force Touch to access Look Up for additional information.
Pros
Larger surface
Force Touch support
Low profile design
Comfortable clicking
Cons
Large footprint
More expensive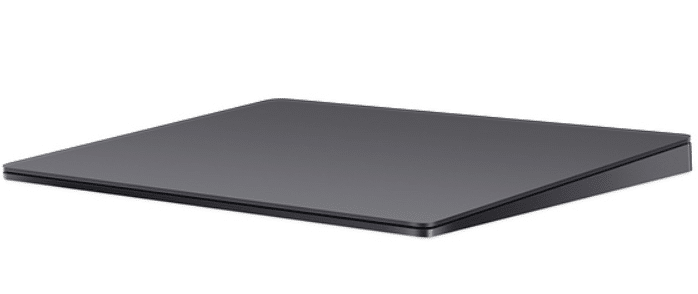 Stationary hand- Apple Magic Mouse 2
The Magic Mouse is in its 2nd generation and comes with every iMac which perfectly suited to macOS. Moreover, the multi-touch gestures make it an ideal choice for quick pointer actions. Although it is smaller than the Magic Trackpad, Mac's specific side-swiping features can be used easily.
Pros
Small footprint
Free with Mac desktop
Multi-touch surface
Apple aesthetic
Cons
Not ergonomic
Bad charging port placement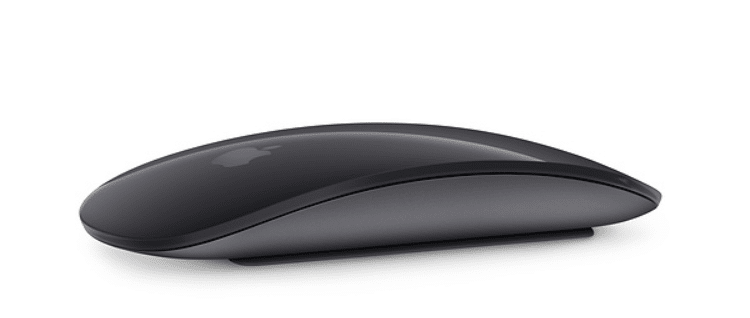 We can't deny the fact that Apple's products are just amazing. Both these devices are computer navigation devices featuring multi-touch gesture support. They move the pointer around on your Mac, which allows you to swipe up, down, left, and right, and you can also customize the settings according to your personal experience. Thus, the Magic Mouse is better for small spaces, while the Magic Trackpad is better for full gesture movement.
Mouse vs. trackpad: What are the differences?
To decide between the Magic Mouse vs Magic Trackpad, you need to know that with the mouse, you can rest your hand on the curved surface and move your arm around to move the pointer up, down, to the left, and to the right. Whereas with the Magic Trackpad, you move the pointer around by swiping with one finger on the surface.
In terms of design, the Magic Mouse 2 is almost like its predecessor. The top material made of plastic, while the bottom is made of aluminium. The only difference is that the new model is slightly longer. Moreover, due to the integrated battery, the battery lid is no longer present. If we compare, the design of the Magic Mouse 2 hasn't changed much, but the Magic Trackpad 2 has changed a lot in comparison to its predecessor. The surface of the Magic Trackpad 2 is much larger. Moreover, the surface isn't made of aluminum, but of matte glass. Also it is much less slanted than its predecessor. This means your wrist lies on the desk in a much more comfortable position.
Before buying any of the above you should ask yourself which suits your needs better? If you have a larger space for a trackpad that is about 6 inches wide by 4.5 inches deep? If not, the Magic Mouse is better. Also if you suffer from finger cramping when using a mouse? A trackpad solves that stationary finger issue.
| | | |
| --- | --- | --- |
| | Magic Mouse 2 | Magic Trackpad 2 |
| Battery life | 2 months | 1 month |
| Charging | Lightning | Lightning |
| Use while charging | No | Yes |
| Multi-touch | Yes | Yes |
| Force Touch support | No | Yes |
| Weight | 3.52 Ounces | 8.16 Ounces |
| Wireless | Yes | Yes |
| Bluetooth | Yes | Yes |
Arm saving vs. space saving
If you are someone with a larger space on your table to accommodate a trackpad measuring about 6 x 4.5 inches, the Magic Trackpad is just for you. Since it is more comfortable from an ergonomic standpoint, the trackpad is recommended. Moreover, if you are someone you uses desktop for a longer duration of time and experience pain in the fingers while using a mouse, then choose the trackpad. You will not have to keep your hand resting in the same place for long periods of time, which will be better for on your hands. You don't have to move your whole arm around to move the pointer. With a mouse, the surface of your desk (or a mouse pad) is what you use to move around on the screen. Furthermore, with a trackpad, your finger does everything.
But if you're someone with limited space on your table, the Magic Mouse is for you. Obviously, you will need some space to move the Magic Mouse around on, but the level of flexibility that can be achieved through Magic Mouse can't be done with the Magic Trackpad. Moreover, if you're using the Magic Keyboard with Number Pad there may not be enough room on that tray for the keyboard and trackpad, so you can go for the mouse.
In addition to this, the Magic Mouse is more portable. You don't need to use both your hands to lift and navigate or move it to some other place. The best part is you can easily put it in your pocket. The Magic Trackpad is a little too big to lift with one hand easily, and it definitely doesn't fit in your back pocket. Thus for the deciding factor of Magic Mouse and Magic Trackpad, it comes down to the space you have and your needs.
Gestures vs. Force Touch
Both the Magic Mouse and Magic Trackpad support almost all the same gestures, like swiping between pages and full apps, scrolling with one finger, and double-tapping to access Mission Control. But if we look closely, the Magic Trackpad has some more cool gestures, like pinch-to-zoom and image rotating. It also supports Force Touch.
Force Touch was introduced with the original Apple Watch. Basically, it recognizes the difference between a gentle tap and a hard press. You can use this to get hold of some extra functions across Apple's native apps and several third-party ones. Moreover, there are lots of useful things you can do with Force Touch. You can use it to look up definitions, peek at websites, and preview documents in Finder. But you can also use it to create pressure-sensitive drawings or to dynamically fast-forward videos in QuickTime.
Moreover, none of these gestures are present in the Magic Mouse, it only uses regular clicks. So if you are looking forward to using Force Touch, go for Magic Trackpad.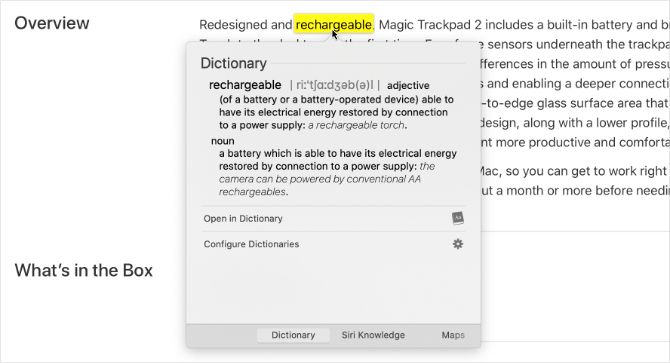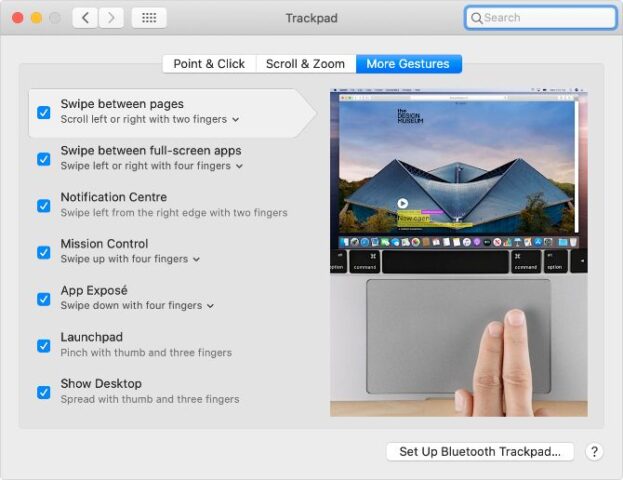 Haptic Feedback Gives You Control Over Clicks
Unlike the Magic Mouse, in the Magic Trackpad, you don't actually click. Basically, it senses pressure as you push down on it and uses haptic feedback to give the sensation of clicking. Now you know the reason why it keeps on clicking during Force Touch and doesn't click at all when it's off. Moreover, there are three reasons why this is a great feature: fewer moving parts, entirely clickable surface, and customizable clicks.
Since the Magic Trackpad doesn't move when you click it, there's less chance it will wear out over time or suffer physical damage. Thus, you're also not as likely to clog the mechanism since all the moving parts are sealed inside.
Price
Whenever you buy a gadget, you are always worried about its cost. Going with this principle, if you want to save some money, you should go for the Magic Mouse. Whereas, the Magic Trackpad will charge an additional $50. If you want both the Magic Trackpad and Magic Mouse, you'll pay a total of $129 for both. That's if you're buying a new Mac desktop.
If you're buying a Mac laptop or already have a desktop, the price of both goes up. Moreover, if you select the Space Gray colour for either Magic Mouse or Magic Trackpad, it will cost you extra $20. Thus, if you want to save money while buying a Mac desktop, choose the Magic Mouse as it will cost no extra dollars.
Charging while working
This is the biggest downfall with the Magic Mouse 2, the charging port is placed on the bottom of the mouse. Thus, you will not be able to use the Magic Mouse 2 while charging. Although, it maintains the same sleek design of the Magic Mouse. This was done to keep the iconic low-profile design. You have to wait at least 15 minutes for it to charge it enough for you to finish your current project, and then you can plug it in for the night.
In contrast, the Magic Trackpad 2 has a sensibly placed port on the back. It's easy to plug it in without interrupting your work and you're never forced to take a 15-minute break for recharging. All without compromising the aesthetics.
But the biggest problem about the charging port position is that it will shorten the lifespan of the Magic Mouse. Eventually, the built-in batteries for both devices stop holding a charge. At that point, the Magic Mouse becomes completely useless but you can still use the Magic Trackpad while it's plugged in. Thus, in this scenario of Magic Mouse vs Magic Trackpad, Magic Trackpad wins the game.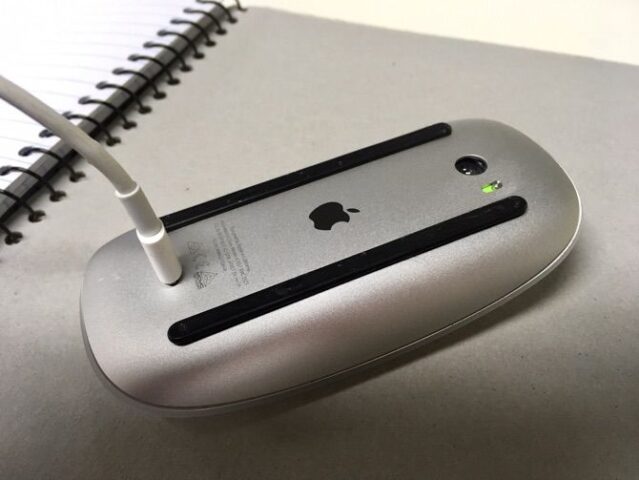 Conclusion
The Magic Mouse and Magic Trackpad are both ideal on Mac because they support certain gestures that no other mouse or trackpad support. But everything comes down to the specific need you will have, to choose between Magic Mouse vs Magic Trackpad.
The Force Touch and the nice, large surface, makes the Trackpad 2 more preferable. Still, the Magic Mouse 2 is the most user-friendly. The user-friendliness of the multi-touch movements in combination with being used to regular mouse movements is the deciding factor.