The right earphones can make all of your music sound its absolute best and with the advancements in technology, they can do so much more. Here, We will see the best selling wireless headphones. But choosing the best headphones for your needs can be a bit challenging with all the options out there, in all different price ranges. Here's a short guide featuring all about earphones.
Types of earphones
When you first head online or to the store, it can be a little bit overwhelming seeing the different options out there for the first time. To give you a primer of sorts, we thought it would be a good idea to highlight each of the different types out there to make them easier to spot as well and easier to choose.
On the basis of wearability:
In-Ear Earphones-Also known as earbuds, in-ear headphone inserts into the ear canal, or sits just outside, and provides sound in a very portable format.
On-Ear Earphones-They headphones rest on your ears. Are smaller and lighter than over-ear headphones, making it easy to carry around. Ambient noise is still audible to a limited extent, making in-ear earphones safer in traffic. Because the earpads press on your ears.
Over-Ear Earphones-These headphones fall over your ears. Because the ear cups are a lot bigger than those of on-ear headphones, you can't carry them in your coat or bag as easily. They're big and clunky — meant to be worn at home or at work, not on-the-go, but most of the best-sounding and most comfortable headphones are over-ears.
On the basis of wires:
Wired Earphones: They connect to an audio device, through the cord or the wire. In short, Wired earphones are attached to an audio source by a cable and not by a Bluetooth or any other wireless transmission.
Wireless Earphones: These earphones connect to a device, such as a smartphone, stereo speaker, television, gaming console, computer, or other electronic devices, without using a wire or cable. They work by connecting or pairing with the device you want to use through a radio or infrared signal.
Wireless Earphones can further be classified into:
Bluetooth wireless
True Wireless
Bluetooth Wireless earphones-Many different styles of earphones are available with the option to be used wireless but this option does tend to add more in terms of the price you will pay. Wireless headphones are the best option available, especially if you are using them with a portable device or tend to listen to music or other programs while exercising.
True wireless earphones(TWS)– refer to Bluetooth earbuds or IEMs that have neither cords or wires between them nor to an audio source (smartphones, MP3 players, tablets, etc.). Since they have no wires, the mic, controls, and battery are built into the housing of the earbuds.
What's featured here?
Here we will see Wireless Headphones. Headphones typically are small speakers that can be worn in or around your ears. Traditional headphones have two ear cups attached by a band that is placed over your head.Wireless Headphones meaning here you will find no cords.Easy-to-go Headphones!
Why prefer wireless headphones over wired?
The biggest problem most people have with wired headphones is the cable itself. Desk job workers or anybody who's stationary for extended periods won't have an issue with the wire. Also, the cable can get in the way when you're exercising, cleaning the house, or just being mobile. Cords can also get tangled easily.No longer are you shackled to your device. With wireless headphones, you can freely walk to 30 feet without missing a word of your music or podcast. Plus, the lack of wires makes it easier and more comfortable for joggers, commuters to get to work, and gamers to play video games without sitting to close to the TV. Also, Wireless comes with added features. They can connect to your virtual assistant of choice. The compatibility of wireless is even high.
What To Look For When Buying Wireless Headphones?
Sound quality-Before committing to any single pair of wireless headphones, considering audio quality is of paramount importance. These days, many wireless headphones are equipped with aptX technology. With aptX, compression is done differently so that audio quality is a lot more similar to CDs.
Form, comfort, and size-In reality, these three areas are what most people focus on when looking at wireless headphones, and for good reason.
Controls and pairing-Many wireless headphones have controls on the earpieces themselves.The control method and style is far more important than you might think.Another thing to consider is how the headphones can pair with an external device.
Battery life-Most wireless headphones will give you a good few hours of battery life so you will most likely be able to use them for quite a few hours every day.
Price-Having gone through most of the things you should always consider price as the most significant factor before making a purchase.
We have rounded up a good selection and we are happy that our guide should give you all the essential information you need to make a savvy wireless headphone purchase. We're here to help you choose the best wireless headphones for your needs – and your budget. Let's See.
COWIN E7 Active Noise Cancelling Headphones
Put years of research, our Active Noise Cancelling (ANC) mainly focuses on canceling out lower frequency sounds like engines, aviation environment, trains, traffic noise, etc, so our valuable customers can focus on their music, movies, or books without being disturbed by outside noises.
Significant noise reduction for travel, work, and anywhere in between.
Proprietary 40mm Large-aperture Drivers. Deep, accurate bass response. The Active Noise Cancelling around-ear headphones from COWIN give you crisp, powerful sound and quiet that helps you enjoy your music better.
COWIN E7 provides high-quality built-in microphone– Answer the call, volume, ANC on/off, tuning control located on the headphones.
Hassle-free wireless is simpler than ever: Bluetooth and NFC connections are quick and easy.
NFC pairing aided by voice prompts promises quick and stable connection with your Bluetooth enabled devices, Powerful Bluetooth Function. (Here,NFC stands for "Near Field Communication" and, as the name implies, it enables short-range communication between compatible devices. )
Headphones are lightweight with pillowy-like softness on the headband and ear cushions, while 90° Swiveling Earcups rotate for a fine-tuned fit
30 Hours Playtime Per Charge at Bluetooth Mode.
A built-in 600mAh battery won't allow your headphones' power off, you can enjoy your world without noise.
Don't need to worry about the power shortage problem on the long travel.
18-month warranty and quick response & friendly customer service.
Experience world-class performance and superior comfort without any wires in your way. Great gift for your family.
Mpow H19 IPO Active Noise Cancelling Headphones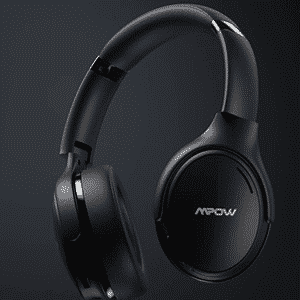 Brand Mpow proudly stands behind every product offered. It has sold more than 12,000,000 headphones. Amazing, right?
These Active Noise Cancelling headphones will help you slip into audio nirvana in all kinds of situations.
Whether you're commuting and trying to escape the sound of traffic, on a long-haul flight and need to drown out the noisy cabin or just want to get away from everything and get comfy with your favorite music.
Bluetooth 5.0 boasts reduced power usage, much better connection quality, wider wireless range, better sound quality.
From commute to class to the coffee shop, listen on the go without missing a beat.
500mAh large capacity battery delivers up to 30-35 hours Playtime. And when you don't have a place to recharge, listen uninterrupted with a 3.5 mm backup jack.
Don't just hear your favorite music, feel them. Mpow H19 IPO active noise-canceling headphones feature 40mm large-aperture drivers and advanced acoustic technology that delivers Hi-Fi sound, bringing you a fantastic music journey
Annoyed with muffled sound when making a phone call? These comewith CVC 8.0 noise-canceling headphones will help you out.
Compared with CVC 6.0 noise-canceling microphone, CVC 8.0 microphone features 1.5x faster-processing speed, which brings less distortion when transmitting speeches.
Flip the ANC switch when you want to immerse yourself in favorite tunes and leave all the trifles behind.
Want music that will move with you when you do exercise? Mpow wireless headphones will be a perfect companion for your active lifestyle.
Weighs only 8.47oz (240g), these lightweight headphones will never weigh you down.
Soft memory-protein earpads, comfortable around-ear fit, adjustable headband for maximum comfort
LETSCOM Bluetooth Wireless Headphones
LETSCOM H10 Bluetooth headphones are passive noise isolating, NOT active noise cancellation(ANC), it can't cancel the noise completely.
Using these headphones for 3 hours a day can give you a massive 40 days of total usage.
Up to 100 hours of playtime.
No more worries about power even when traveling for a full month.
Deep Bass Function: The wireless headphones with 40mm large-aperture drivers and Deep bass function deliver premium playback with superb bass depth and HD clarity.
Hassle-free wireless connections, making stable music streaming easier than ever. Note: You need a separate Bluetooth Transmitter when connected with TV or PC.
H10 headphones use Bluetooth 5.0 technology that ensures easy and stable connections and seamless audio/video syncing.
The 3.5mm audio cable included is provided to give you an even longer music listening experience.
Unparalleled Comfort with A Portable Design: With an ergonomic design and ultra-soft ear cups, Letscom H10 Bluetooth headphones ensure all-day listening comfort.
The foldable design and user-friendly carry bag make storing and carrying easy peasy.
Packaging contains:
Bluetooth headphones
3.5mm Audio cable x 1
USB charging cable x 1
Storage bag x 1
User manual x 1
Jabra Move Bluetooth Wireless Stereo Headphones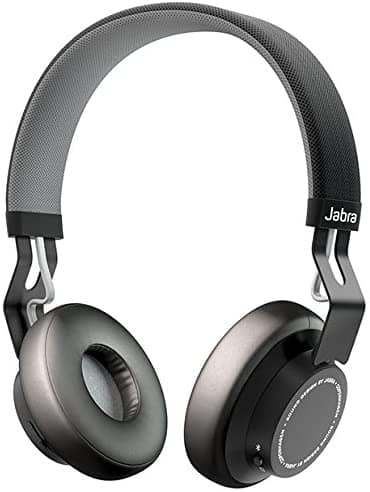 Engineered by some of the world's leading sound experts, the Jabra MOVE Wireless Stereo Headphones provides unrivaled sound quality.
Delivers a crisp digital sound that is bound to bring out the true depth and clarity of the music you love.
MOVE Wireless is easy to connect and allows you to leave your phone in your pocket and easily control your music and phone calls from your headphones.
Listen to your tunes and never miss a call.
Ultra-lightweight and adjustable headband. So, it perfectly fits all head types.
Durable stainless steel headband and dirt resistant fabric for life on the move.
40 millimeter Dynamic Drivers deliver superb music experience.
Connects to all Bluetooth ready devices, phones, computers, tablets, and more; includes optional cord so you can use your headphones on flights.
Easy pairing.
Choose from four modern colors: Cayenne (Red), Cobalt (Blue), Coal (Black) and Gold.
Up to 8 hours of talk time/music time and up to 12 days of standby time.
Stream Two Devices with Multi-use.
Uses Bluetooth 4.0 Wireless Connectivity.
Bose QuietComfort 35 II Wireless Headphones with Alexa Voice Control
What happens when you clear away the noisy distractions of the world? Concentration goes to the next level. You get deeper into your music, your out, or whatever you want to focus on. That's the power of Bose quiet comfort 35 wireless headphones II.
Quiet comfort 35 wireless headphones II are now enabled with Bose AR — an innovative, audio-only take on Augmented reality.
This product has Amazon Alexa functionality built-in, providing a voice forward experience that uses Alexa to play music, control smart home devices, provide information, read the news, and more.
Use the Bose Connect app to adjust the level of noise cancellation, enable music sharing, manage Bluetooth connections, and access software updates.
Three levels of world-class noise cancellation for better listening experience in any environment
Embedded inside your headphones is a multi-directional motion sensor.
Noise-rejecting dual-microphone system for clear sound and voice pick-up
Adjust your level of noise-canceling between three settings using the action button or the Bose Connect app
Volume optimized EQ gives you balanced audio performance at any volume, and a noise rejecting dual-microphone system provides clearer calls, even in noisy environments.
Hassle-free Bluetooth pairing, personalized settings, access to future updates.
And with easy Bluetooth pairing, 20 hours of battery life, and a durable, comfortable fit — you can keep the music or the quiet going all day long.
ZIHNIC Wireless Over-Ear Headphones with Deep Bass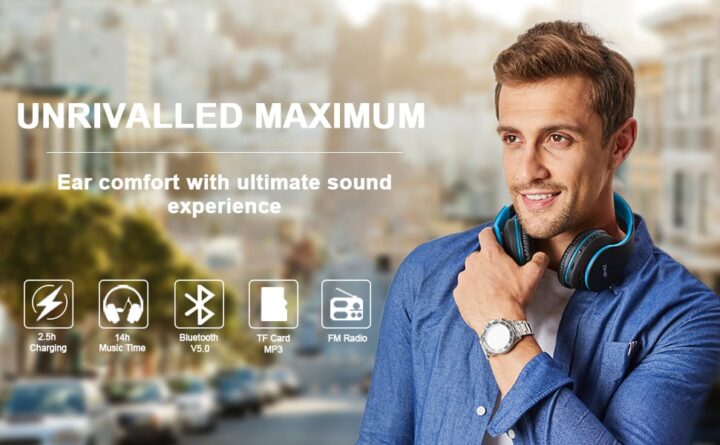 High Definition Stereo Headphones, specially developed software and noise reduction technology designed to prevent you from heating ambient noises and makes you focus on what you want to hear.
Zihnic headphones are built from materials that are extremely nice to touch which provides the model premium outlook.
The super-soft memory-protein foam leather earmuffs and headbands contribute to maximum comfort regardless of how long you use them
Earmuff imitates human skin texture, ensuring lasting comfort.
They are foldable and stretchable, which allows you to find the perfect fit without constraint and excellent durability.
Zihnic headphones also come with a protective Premium Case – a great way to reduce wear and tear.
Best Choice for Travel, Sport, and Everyday use by Kids, Teens, and Adults.
Communicate without taking your headphones off. The earcup control allows you to easily switch between calls and Music/ Movies on your smartphone. You can also receive calls and have hands-free communication through the special noise reduction technology microphone.
Built to provide a quick and stable Bluetooth connection.
Just slide the on/off button and the headphones will be in ready to pair mode.
Headphones are compatible with all iPhone X, 8 Plus, Samsung S9, S8, iPad, iPod, Huawei, Nexus, Amazon Alex device. It is also compatible with other functions on your android and IOS Devices. Also are compatible with all Bluetooth or 3.5mm plug cable enabled devices!
450mAh battery, 14 hours of music time, 2.5 hours Fast Charging. After 20 hours of playtime, you can switch to wired mode and enjoy your music NON-STOP.
By choosing Zihnic You are covered with 24 Months warranty and 100% Customer satisfaction in addition to 24/7 Customer Support service.
Conclusion
Headphone sets are in such high demand that companies are selling them like hot-cakes, so the good news is you won't be short of options when looking for a suitable wireless set. The essential thing to think about is your intended use which will help you to determine what kind of headphone set you need and the capabilities it should be graced with.
Looking at the customer's true comforts as well as giving standard quality, we truly believe and anticipate the Cowin E7 Wireless Headphones. It is ranked 1st and top bestseller on Amazon! Truly the best active noise canceling, as it reduces noise at a great rate. In addition to that, it also supports NFC Pairing. As compared to the other extravagant big-budget headphones, you will find this very low-priced and economical. Also, you will find them the most comfortable with 30 hours of playtime, there's no need to compromise. In a nutshell, Sony delivers you a marvelous and sublime listening experience with absolute portability. Nevertheless, many other companies are now emerging and are trying out their best to deliver the finest high-end performance.
Any feedback you can give us on this would be greatly appreciated. If we can be of any further assistance, please let us know. If we can be of any further assistance, please let us know. Do like, comment, and share. Best Regards
*Price was correct as on 27th May,2020.