When most people are looking for an alternative to a huge PC casing, they turn to laptops and all-in-one PCs. However, they may be dissatisfied in the future by the machine's attached screen, which limits your alternatives. What should you do if you don't want to use a full-size PC, don't want to be limited by a laptop or all-in-one, and want to keep your display options open? You can go with a Mini PC or a Mac Mini because that's where they excel.
Mini PCs can be installed with a variety of monitors (typically one at the low end, but up to four in some devices) and peripherals like a webcam and printer. These Mini PCs, on the other hand, can be tucked away beneath the desk or behind a monitor. Mini PCs are as functional and software compatible as standard PCs, despite their diminutive size.
Some detail about Mini PCs
Mini PCs come in a wide range of sizes and configurations. They are designed for a wide range of applications. Some Mini PCs are designed to fit under a desk flat, while others have a unique vertical design that allows them to sit on top of your desk next to your monitor and within reach. If they have VESA mounting holes, you can also totally hide them behind your monitor.
Mini PCs are an excellent alternative to unwieldy full-size desktops and all-in-one systems for a wide range of applications including data entry by administrative workers, customer service specialists and contact center offices, creative professionals, and student learning at home.
We've researched so you don't have to, and we've compiled a list of the top Mini PCs in every size, form format, and application scenario. There are entries from major PC manufacturers such as Dell, Intel, and Lenovo, as well as Zotac, one of the category's pioneers. Finally, in this competitive market category, you'll find rising stars like MinisForum and Beelink, as well as lesser-known niche businesses.
Best Mini PCs you can choose from:
MinisForum UM700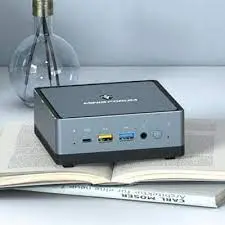 This powerful mini PC is square and less than the size of a mouse pad. This makes it ideal for office workers, students, and home-based creative professionals. It looks nice on your desk, but thanks to the mounting plate, you may hide it from view if necessary. Its small size also makes it simple to transport: simply unhook the wires and throw the workhorse, together with its power adaptor, into a bag to carry it with you wherever you go.
On the front, the device contains one USB-C connector, two USB 3.2 Type-A connections, a 3.5mm headphone jack, and a power button. On the back, there are extra USB ports, as well as HDMI and DisplayPort ports for connecting a monitor. You can easily run three 4K screens with this tiny laptop, but you'll need three distinct cable types for each: USB-C, HDMI, and DisplayPort.
The basic configuration includes dual-band Wi-Fi and a Gigabit Ethernet connector, which provides good connectivity.
Minisforum sells this model in a variety of RAM and storage configurations, with two Gigabit Ethernet ports on some models and a 2.5Gbps Ethernet port on the Linux preloaded version. If wired networking is crucial to you. Keep this in mind while ordering and double-check the kind and number of Ethernet ports offered.
Lenovo ThinkCentre Tiny M720q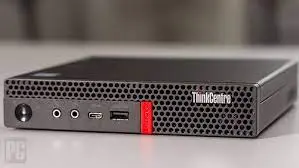 Lenovo's M720q shouts "professional" from all angles. This unit has a small footprint, may be used horizontally or vertically, and is 7 inches by 1.35 inches in size. It features rubbing pads to keep it from sliding around on the surface. It can be positioned vertically with the use of a stand. If you acquire the optional but inexpensive VESA mounting bracket, it can also be put behind a monitor.
A six-core Intel i5-9400T processor with a 3.4GHz clock speed is housed in this strong metal casing. The Mini PC has a desktop-grade processor rather than a low-power mobile processor. An Intel UHD 630 integrated graphics card handles the graphics. The back's wide air vents keep the CPU and system cool without noise and overheating them.
To access the inside, unscrew one screw from the back and slide the top and front off. After you've gotten that out of the way, you'll notice an empty 2.5″ inch storage bay where you can install a SATA SSD or HDD. The SSD is connected through an M.2 PCI express connector to the bottom panel. This also has two RAM slots using SODIMM memory.
Because it's a business laptop, it comes with several features that IT administrators will appreciate, such as Lenovo Vantage software. This allows performing everything from hardware assessments to software updates and warranty status checks. Another feature that makes it suited for business situations is its "Smart USB Protection,". This allows network administrators to regulate which USB devices (other than mice and keyboards) can connect to its USB ports.
Dell Optiplex 3090 Micro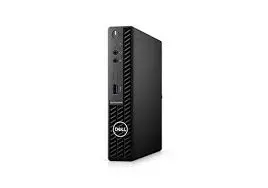 Dell has been making Mini-PCs for a long time. The business has developed its Optiplex line into full-size PCs, SFF (Small Form Factor), and "Micro" models since debuting it many years ago. The Optiplex 3090 Micro replaced the 3080 a year ago in late 2021, with the main improvements being its capacity to accommodate 64GB of RAM on its two memory slots and the fact that both of its USB ports are 3.2 Gen 1.
This item is meant to rest vertically next to a display, allowing easy access to the front USB port and power button. It's a wonderful video conferencing tool because it has microphone and headphones ports. Windows 10 is preinstalled, however, you can upgrade to Windows 11 Pro installed.
The integrated processor is a 10th-generation Intel Core i5 10500T with six cores and speeds up to 2.30 GHz, making it ideal for business use. Watching HD videos, working in office apps, and altering graphics are all made easier with the Intel UHD Graphics 630 shared graphics. Two DisplayPort video connections on the back let you connect two monitors with a resolution of up to 4K. (60Hz). Despite the CPU's power, the cooler generates very little noise.
Inside, there's a 2.5-inch storage port for a SATA-based HDD or SSD. As well as two M.2-based slots for the supplied PCI SSD and the Wi-Fi and Bluetooth card.
There is one USB 3.2 port on the front and four USB 3.2 ports on the back, all of which are capable of speeds of up to 5Gbps, as well as two video outputs and an RJ45 Gigabit Ethernet port.
Mini Pc Beelink GTR-7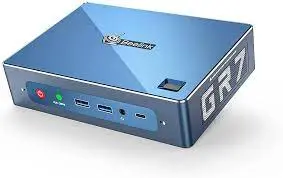 Beelink has created a workstation-class desktop in a small, glossy container with some added perks and functionality that raises eyebrows. This makes a strong PC challenger to the Mac Mini with some extra perks and functionality that raise eyebrows.
One of its main advantages over nearly any other Mini PC is its fingerprint scanner at the top of the case. This makes it a good choice for the security conscious and well-suited for both business settings and your home working area. Its two Gigabit Ethernet ports also make it an effective firewall, allowing you to operate an Intrusion Detection System (IDS) like Suricata or perform other edge-of-network tasks.
One of its finest features is its connectivity, which includes six USB 3.0 connections and one USB Type C port with video compatibility. If you need an incredibly large workspace, you may use four monitors at once with the USB-C in addition to the DisplayPort and HDMI connectors. The device is Wi-Fi 6 compatible, as well as Gigabit Ethernet and Bluetooth 5.0.
Inside, there's an AMD Ryzen 7 3750H CPU clocked at up to 4GHz, as well as 16GB of DDR4 memory that upgrades to 64GB with two 32GB modules. Expect lower graphics performance than a separate GPU due to the Radeon Vega 10, but it can still run multiple monitors at full resolution.
It's ideal for image editing, video monitoring, digital signage, or just the news junkie who wants to watch live news TV on one display while working on three others. This level of flexibility is unmatched by the 2020 Mac Mini, which can only accommodate two monitors.
Mac Mini (2020)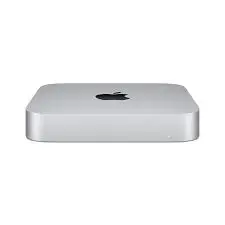 Overall, the 2020 Mac mini with its M1 CPU is still excellent and provides you with a portable computing alternative without abandoning your favorite Apple OS and software environment.
It boasts a small, beautiful form and the capacity to run the most recent operating system. As well as legacy Intel and iOS apps. Many fans expected Apple to unveil a new Mac mini powered by the M1 Pro or M1 Max CPUs at their Unleashed event in October, but it didn't happen both times.
One of its disadvantages is that memory doesn't go above 16GB, and the 8GB model can't be increased to 16. Those coming from Intel-based Mac Minis will be disappointed to learn that external graphics cards are no longer supported (GPUs). Aside from that, it's a good way to enter the Apple world with minimal desk space.
Mini Pc Zotac ZBOX CI329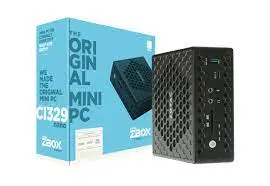 Depending on how much money you want to spend on a Mini PC, "building your own" is sometimes the best option because you can reuse components you already have, such as a 2.5″ HDD or SSD from an old laptop, or buy SODIMM memory online for a good price.
Because cases and motherboards in this form factor are difficult to match. Some businesses sell just the case with the motherboard. This model from Zotac comes with the processor fully installed, so all you need to do is add RAM and storage.
With the first Mini PC in 2008 and the Zbox series a year later. This company was a pioneer in the mini-PC market. It's no surprise, then, that they're now selling a ready-to-assemble kit that says "simply add RAM and a hard drive". It has a tiny, square form factor with enough connections to satisfy even the most demanding users, and it can be connected to both old and new monitors.
The system is completely silent and perfect for video playback, web browsing, and office work. Thanks to an Intel Celeron N4100 quad-core CPU with passive cooling. The Intel UHD 600 graphics card supports 4K output and H.265 and H.264 video decoding, making it ideal for use as a small media center or home office.
This case contains two RJ45 Ethernet connections for wired networking in addition to the power button, an SDHC/SDXC card reader, one Type-A and one Type-C USB 3.0 port, and a hard drive/SSD activity led. It has display interfaces that support all three commonly used standards: HDMI 2.0, DisplayPort, and VGA. If you want to mount this unit to the back of a display, a VESA mount is included.
Intel NUC 11 Extreme Kit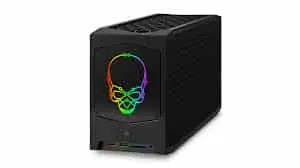 It's more of a Compact Form Factor (SFF) than a Mini PC. But we included it in this lineup for two reasons: first, it's still small, roughly the size of a toaster with a little more length. Second, it is one of the few methods for a "small" PC to have full-blown graphics, making it ideal for creative pros who edit video, do CAD, or render 3D.
The gamers-inspired shell with RGB lights and a skull on the front, the compute module with Intel i9 CPU. But no RAM, hard disc, or SSD, and no OS is included in the DIY kit. There are no restrictions on which components you can use.
Regarding the enclosure, we admit that the gaming vibes with the glowing skull may not be for everyone. Intel seems to agree, as it's on a removable plate when it comes to raw horsepower and expandability, the NUC 11 Extreme kit is a clear victor. It is, however, an expensive choice.
On the front, there's a card reader and two USB 3.1 Gen 2 connectors. Six USB 3.2 Gen 2 ports and two Thunderbolt 4 Type-C ports are located on the back of the device. A 2.5 Gbps Ethernet port is the cherry on top. Attach smartphone with the most up-to-date Wi-Fi 6E and Bluetooth 5.2 wireless technologies.
Although we chose a high-end kit, it only includes an 11th Gen Core i9-11900KB CPU with eight cores and a large power supply capable of supporting a full-size graphics card.RAM and SSD variants are available at different prices at retail. The amount of DIY you want to perform will determine this.
Mini Pc Intel NUC 11 Enthusiast Kit (NUC11PHKi7C)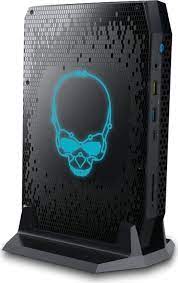 The NUC 11 Enthusiast kit has everything you'll need to satisfy your gaming needs. It has a discrete Nvidia GPU, as well as compatibility for multiple displays, Thunderbolt 4, 2.5 Gbps Ethernet, and the latest Intel Wi-Fi 6E.
If you want to go all out, the NUC 11 Extreme kit allows you to install any graphics card you want. But that machine is more of a Small Form Factor than a Mini PC. However, the Enthusiast Kit stays true to the "Mini PC" aesthetic. It is only 1.6 inches thick vertically on its stand.
Within is a quad-core Intel i7-1165G CPU with 16GB of DDR4 RAM. We chose the 256GB SSD version, however, it is also available with a 512GB SSD. It can run games like Far Cry 5 at 60 frames per second thanks to this arrangement.
It comes with HDMI and mini-DisplayPort connectors for connecting two monitors, two USB-C/Thunderbolt 4 ports, an SD card reader, two USB-A ports on the front, four USB 3 ports, and one Type-C port on the back.
In conclusion, if you're searching for a tiny form factor PC. This Pc can handle mainstream AAA games, this could be the machine for you. This is not, however, a substitute for a gaming console or a full-size gaming system. You may install the graphics card of your choosing to meet newer gaming needs.
Mini Pc Protectli Vault FW4B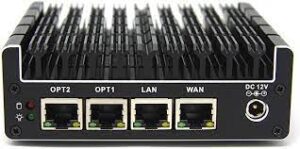 When implementing edge-of-network security equipment, network managers will appreciate this Mini PC's flexibility. You can install your favorite solution while attaching an external monitor through HDMI however, there is no OS preloaded. Remove the monitor and hang the Mini PC somewhere out of the way where it won't be seen: on a wall, beneath a desk, you name it. It has been tested with common firewalls and network security solutions such as pfSense, untangle, and OPNsense, according to the manufacturer.
The internal components of the device can casually choose to ensure that it performs at its best. The Intel i210 Gigabit Ethernet ports. For example, are completely compatible with most Linux systems, so there's no need to look for drivers. Furthermore, for improved performance, the CPU supports AES-NI hardware-aided encryption and the BIOS updates with the open-source Coreboot, but you would have to do so yourself. Fortunately, the maker offers excellent technical assistance.
By downloading the OS from the Pfsense website and booting it from a USB flash drive, you may set it up as a PFsense firewall. The default boot choice in that instance is legacy, according to the reviewers, and you must alter it to UEFI. If you install the popular Suricata software, you may also utilize it as an Intrusion Detection System (IDS). The 8GB device, use 25% memory and 25% less use by CPU. In that instance, the Celeron will act as a bottleneck, limiting throughput to 300 to 500 Mbps. There is also a six-port variant with an Intel Core i5 processor. This is more suitable for IDS with data rates.
Conclusion
Before we get into our selection criteria, let's go through the wide range of configurations that the term "mini PC" covers: The largest mini PC is around the size of a toaster oven. The majority, though, is around the size of a stack of a few CDs – if you remember what those were. There's also the appliance type, which is usually a thin rectangular box with no fans and no fans.
Appliance-type Mini PCs frequently include a metal casing for passive cooling and many wired Gigabit Ethernet ports. The Mini PCs are ideal for leaving unattended in a small network cabinet, rack, or locker, where they can operate as fixed-function mini-servers as a firewall for an office network or file storage for a small business.
There's also a subcategory of micro PCs that are small. These are specially made to attach to the back of a TV or monitor for entertainment or web browsing on a large screen. The range in size is from palm-sized to somewhat larger than a flash drive.
As a result, choosing a "Mini PC" is not a simple operation; first, we had to sort them by size. We began with the smallest, thumb drive-sized PCs, progressing to palm-sized devices, and then to TV-box-sized workstations. This examined usage scenarios for each size jump based on the CPU's capabilities. The quantity of RAM, and included ports, then weeded out the ones with sub-par specs, removing many dozen entries with the identical Celeron CPUs and little RAM.
Read more: