The Tribit MoveBuds H1 is the latest product from the budget audio brand. The aptX Bluetooth connectivity, IPX8 water-resistant rating, customizable sound via EQ, and some of the longest battery life we've seen from a truly wireless model are all attractive performance qualities for the price. The fact that they have an ear-catching design and a condition arises adds to their attractiveness.
The MoveBuds H1 seems to be excellent competitors for cheap wireless earbuds, best running headphones, and best athletic headphones categories based on specs alone. However, a number of issues restrict the earbuds from defeating the competition, including poor audio quality, poor call quality, and average overall sound quality.
Check out our entire Tribit MoveBuds H1 review to discover whether these buds are right for you.
Pricing and What's in the Box?
Tribit's MoveBuds H1 costs $89 and may be ordered straight from the company. There is just one color available: black. A charging case, USB-C charging cord, six different-sized pairs of ear tips, and a user guide are included in the box.
Design and comfort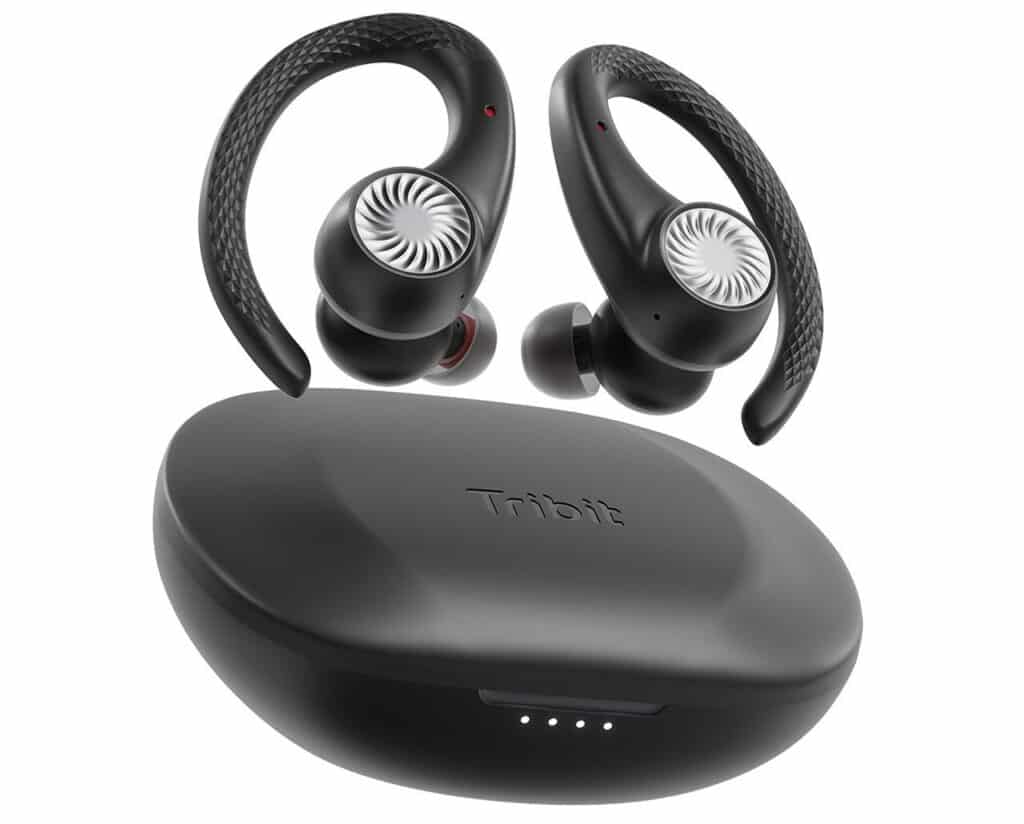 1. Sweat and waterproof
2. Bigger-than-average charging case
3. Secure ear-hook design
Tribit put a focus strongly on security while designing the MoveBuds H1. These earbuds are made of strong plastic and have flexible hooks that wrap around the ears easily. Antibacterial tips are also included to prevent bacterial growth in your ears due to sweat, earwax, dirt, or water. The MoveBuds H1 can withstand up to 5 feet of water for an hour, due to its IPX8 water-resistant rating.
The charging case is large in comparison to most competitors, although it is still smaller than the charging case for the Beats Powerbeats Pro, which is now the largest in the market. Its length makes it uncomfortable to carry in pockets, but you can put it in a workout bag and not feel weighed down.
The hook and gel tips keep the buds in place on your ears, ensuring a comfortable fit. When jogging and doing lateral workouts, the buds showed sufficient stability. Users can narrow down the best option for an ideal fit by having multiple different-sized tips; people with big ear canals will like this.
During exercises, the oval sound port bends to the inner part of the ear, sitting comfortably on the lower jaw. After wearing the buds for more than 2 hours straight, fatigue sets in, but a 10-minute break is enough to get them back on.
Tribit MoveBuds H1 – Controls and digital assistant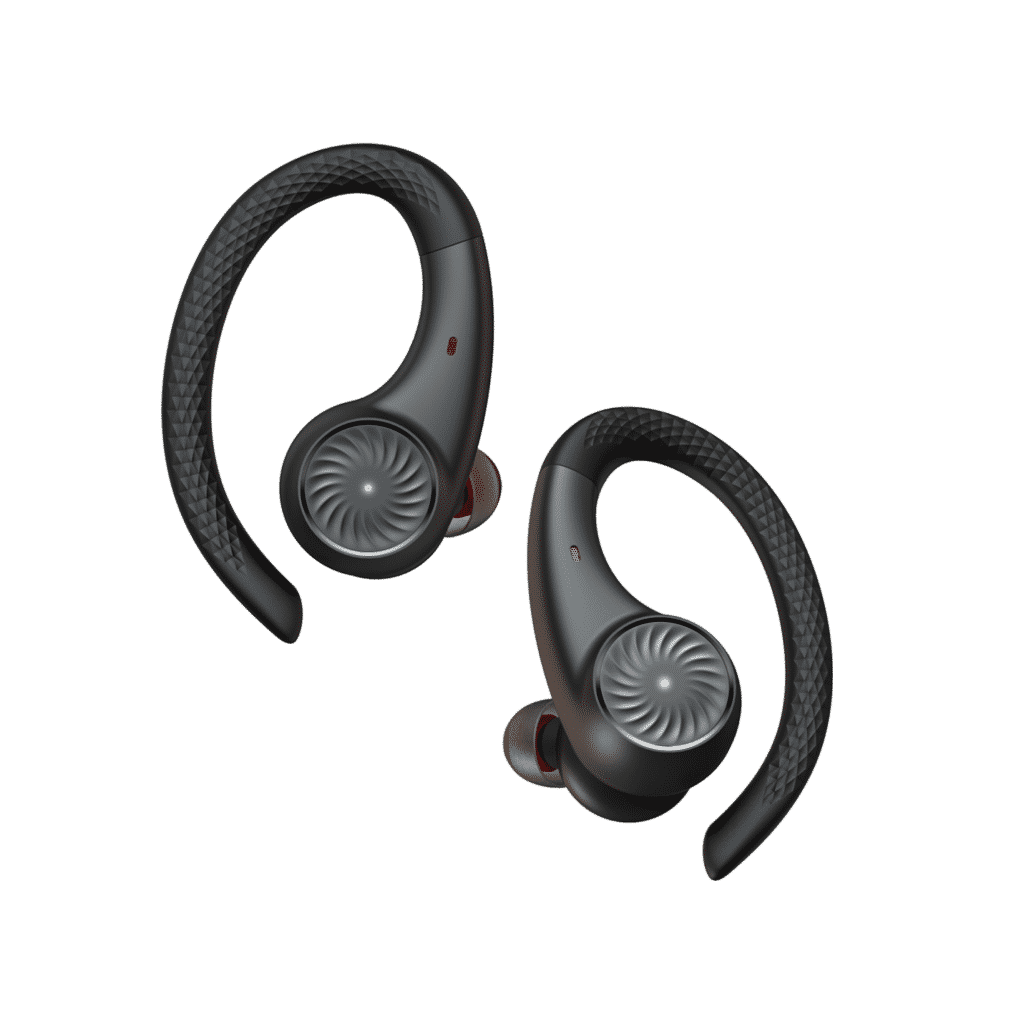 1. Extensive control scheme
2. Digital assistant operates smoothly
Tribit created an extensive set of media controls that can be controlled using single/multi-tap and long-hold actions. Playback, call management, loudness, digital help, and background sound activation are just a few of the features. For smooth usage, the touch panels efficiently detect input methods.
Tribit's friendly software doesn't allow you to change the control scheme, which is a problem. Another feature that would have benefited the MoveBuds H1 is on-ear recognition for auto-pause/play while removing or replacing the buds.
By triple-tapping the left earbud, users may effortlessly activate their personal digital assistant. All three assistants, Siri, Google Assistant, and Bixby, are connected and perform perfectly. Tribit's four-mic array is clear and specific in picking up vocals, while still providing excellent noise reduction, allowing each AI bot to better realize spoken requests in noisy surroundings.
Tribit MoveBuds H1 – Sound quality
1. Punchy, but bloaty sound
2. Hit-or-miss EQ settings
3. Supports aptX AAC, and SBC codecs
The best sports headphones produce powerful music to get your heart racing before a tough workout, and some high-end versions, such as the Beats Fit Pro, can even balance out sounds to fit your listening tastes. The MoveBuds H1 achieves its aim of blasting out powerful, powerful lows, but at the expense of the soundstage, which sounds packed with little space to breathe and loses high details.
These buds come pre-programmed with the Default EQ, but you may change it in the Tribit app to one of seven different options: Customized, Bass, Classical, Hip Hop, Jazz, Popular, and Rock. If only they were more well-designed. When you select Bass and Hip Hop, you'll get a little more kick out of the bottom end, but everything else sounds like bad efforts at sound personalization.
For high-quality streaming on mobile devices, AAC, SBC, and aptX are available.
The MoveBuds H1 doesn't include noise cancellation technology, but they do a good job of passively separating other noises. When I was listening to music in a busy location like the kitchen or a garden tent, I was hardly disturbed. Even the noisy construction next door didn't take away from my attention.
Tribit MoveBuds H1- Special features and application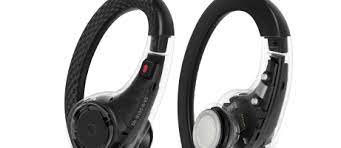 1. Lacks a wide feature set
2. Disappointing ambient sound mode
3. Users must create an account to use
The Tribit app doesn't have as many features as the Jabra Sound+ or Zepp control applications, but it does have battery level displays for each bud, as well as the EQs and Transparency Mode, noted above. Specific background noises, such as the barking of a dog or the use of maintenance tools. Were also not brought to my attention, making the Tribit's visibility mode a surprise.
The app is appreciated for its sharp, eye-catching design. It's also simple to navigate. Tribit, on the other hand, needs you to create an account in order to use the app.
Battery life and charging case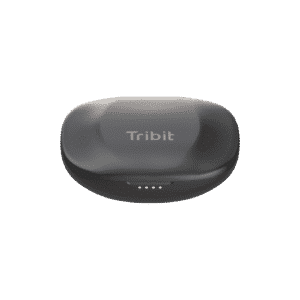 1. Category-leading battery life
2.No quick charging
Although Tribit MoveBuds H1 has the "world's longest battery life. The spec sheet claims that each charge would provide 15 hours of music listening. When you consider the high volume and Transparency Mode, it takes around 13.5 hours. The Epic Air Sport ANC claims the same amount of playing per charge, yet with ANC turned off, it only lasts 12.5 hours. You'll also receive more than twice as much playtime as any other AirPods model (5 to 6 hours).
When completely charged, the charging case may last up to 55 hours. There are no complaints here. However, wireless charging is not included in the package.
Call quality and Connectivity – review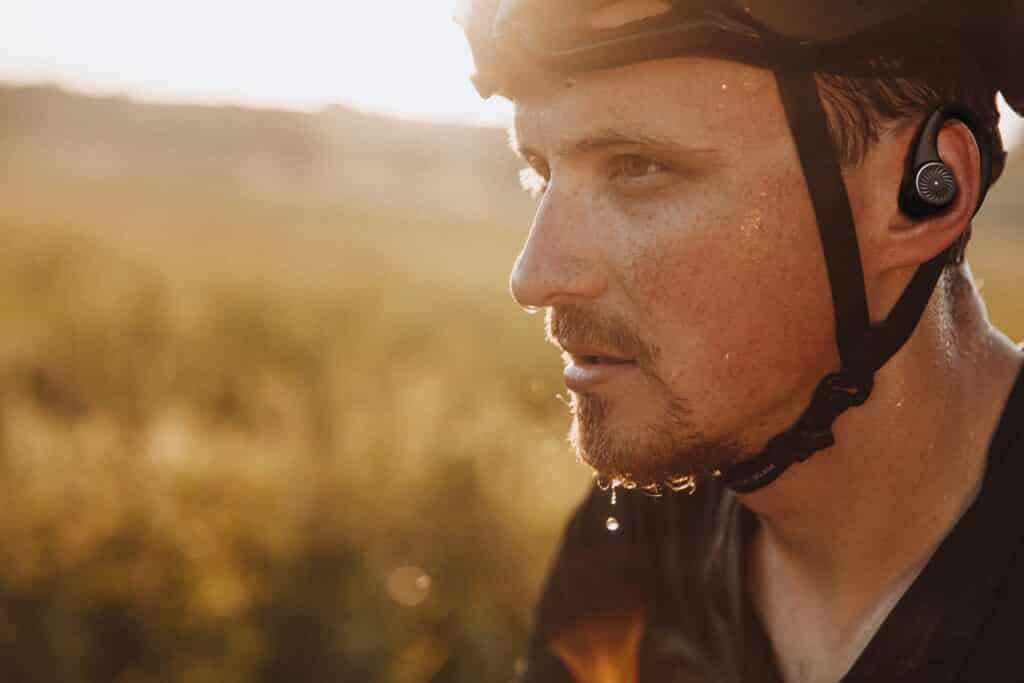 1. Muffled call quality
2. Stable connectivity
The MoveBuds H1 is an example of an affordable earphone that does not make a good calling headset. To achieve crystal-clear call quality, these buds use an "upgraded 4 mic CVC 8.0 setup with noise reduction technology," according to Tribit. Noise-cancelling was a severe issue in all voice and video conversations, despite calls sounding loud and clear.
The buds pair to your last registered devices the minute you open the charging case, allowing for lightning-fast connectivity. Google Fast Pair and multipoint technologies (pairing to two devices at the same time) aren't available.
Conclusion
Movebuds H1 are earbuds that are lightweight and comfortable for active lifestyles. Tribit Movebuds H1 is a great choice for people who are looking for quality sound and good noise isolation. They also come with a handy carrying case and six pairs of ear tips in different sizes. So if you're looking for a great pair of earbuds that won't break the bank, the Movebuds H1 is a great option.
Read More