The Kingston HyperX Cloud Alpha is a higher-end headset priced at $100 that will round out the company's line. This headset uses dual-chamber technology, which is similar to Logitech's G Pro. In a nutshell, it isolates the sound-generating drivers in their separate chambers, allegedly isolating high and low frequencies for better output tuning. The design isn't revolutionary, and it isn't necessary for excellent acoustic performance. The HyperX Cloud Alpha, on the other hand, is one of the best gaming headsets. It not only has good sound quality but also has a sturdy build and comfortable fit.
What's in the box of HyperX Cloud Alpha Headset?
The headset, a clip-on microphone, a 1.32m cable with an inbuilt control unit and headphone/mic jacks, and a 2m extension cable that functions as a splitter for the separate 3.5mm jack plugs are all included in the box. The braided cloth covers the cable, which is relatively soft.
You can store any items you don't need in the kit's carrying bag, along with the small instruction manual.
Look wise: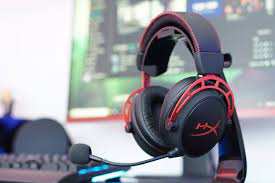 The red metal band, matte black ear cup shells, and anthracite-colored accents with the red HyperX logo make the headset stand out. Everything works well together. Furthermore, we're relieved to see Kingston foregoing flashy accessories and distracting LEDs.
The company's build and material quality are excellent.
This isn't an ultra-light headset, weighing over 300 grams without the wire. It isn't obnoxiously hefty, though.
Comfortable Design of HyperX Cloud Alpha Headset

Pulling out and pressing in on the headband is simple, and the various steps are accompanied by a tactile response. Regardless of how big or little your head is, you'll have no trouble finding a comfortable fit.
Because the hinge mechanism is only attached to one axis. The headband must be flexible enough to allow for vertical adjustment. In practice, this works fairly nicely. Of course, you could argue that a different hinge, such as Roccat's Khan Pro, would be preferable. However, there is one less part that could fail. So a metal bracket isn't any worse than a hinged plastic headband.

The substantial padding and fake leather on the headband make it quite comfortable. Furthermore, the red-stitched seams are a wonderful complement to Kingston's overall idea.
The same material is used for the replaceable ear pads. They're also comfortable enough to wear for extended periods. The cushions stay neatly sealed thanks to a quilted seam on the outer edge that eliminates wrinkling. The inside covering is also wrinkle-free and thin enough not to interfere with the sound. These are little elements to which not all manufacturers pay attention.
HyperX Cloud Alpha Headset with a wired connection:
HyperX Cloud Alpha Headset with a wireless connection:
Functionality and Interface
Because the HyperX Cloud Alpha is a wired headset, Kingston's cord. It includes a control unit with a volume wheel and a sliding switch to mute the microphone. The mute switch takes some getting accustomed to, but the wheel is easy to reach and control.

The wires on this headset, like the mic, are detachable. Its plugs are extremely tight, so you'll have to use a lot of force to fully seat them. Simply wait for them to click into place loudly.
Tear-Down & Drivers
What makes the HyperX Cloud Alpha unique is that it uses. A similar double-chamber design is already used by several other headphone manufacturers. Kingston does create several tweaks that aren't found anywhere else. There are some little apertures on the top edge of the ear cups that we assumed were for pressure equalization. However, the mechanism on the inside is far more advanced. We can get a better peek inside by unscrewing the cups.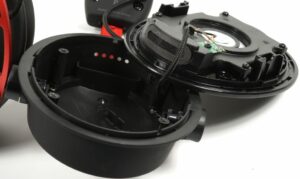 Looking inside, we can see that the chamber responsible for bass tuning has a unique form. Masking over this opening almost totally removes low-frequency response, according to experiments. The outside openings have an impact on low bass and its nature.
The cones transmit high frequencies from the 50mm neodymium drivers directly to your ear. Meanwhile, below the drivers, a rear opening is primarily used to shape the lower mids and mid-range frequencies, giving them a pleasant tone.
Experimenting with reducing the big cavity in the shell makes the headset sound "colder," which won't appeal to everyone.
Individual appeals for 65-ohm impedance are decided on a case-by-case basis. Manufacturers favor 32 or 16 ohms for most mobile devices to maximize the volume levels that may be achieved. However, listening to this headset through Google's Pixel 2 XL. At maximum volume for an extended period can cause hearing damage.
Microphone of HyperX Cloud Alpha Headset

The flexible gooseneck microphone from Kingston is long enough for our preferences. It holds whatever position you bend it into rather well. If the mic is superior to the headset, it should not fall out during use.. Pop protection also serves to reduce the effect of fast-moving air on the element.
Headphone Measurement
Except for a slight depression at 4.25 kHz and a peak at 6 kHz. The curve appears to be in fair shape. However, there is no other option to adjust the sound, and we can tell this isn't a bass-heavy boombox. The HyperX Cloud Alpha, on the other hand, is a neutral and finely calibrated headset. It also has a resemblance to the earlier Creative Sound BlasterX H5, but with a stronger bass base. Although high-end headphones aren't available for under $100, the Cloud Alpha gets close.
Bass Reproduction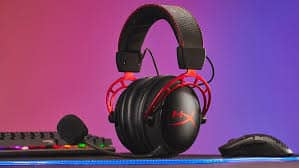 Unlike many rival headsets, the bass is deep, mellow, and reserved. However, it is always present in sufficient quantities for our tastes. The contra octave is also audible, however, it will not make you jump. If you like to feel rather than hear your music, spend some time adjusting the equalizer or hunt for something different.
Large bass drum impacts are precise enough, and level consistency is remarkable for this price point.
The male voice fundamental speaking frequency is found in the upper bass, up to 150 Hz. As a result, it has a significant impact on the realistic reproduction of male vocals.
Female vocals are pleasing to the ear. The tone of record instruments can describe as warm across this range. We like these outcomes because they fill the sound stage with even tiny groupings of classical instruments. The performance of the HyperX Cloud Alpha makes us want to curl up in front of a fireplace on a cold winter evening, which we didn't expect from a $100 headset.
This assortment seems natural and very well. The instruments are not affected, and male vocals render with a lot of warmth. Overall, the resolution is still adequate, allowing single sources to function satisfactorily.
Mid-Range of HyperX Cloud Alpha Headset
The lower mid-range (sometimes known as the "basic range") covers a frequency range of 150 to 400 Hz. This range, together with the upper bass, contributes significantly to the subjectively perceived warmth and fullness of sound. This is also where you'll find the most basic spectrum of female vocals.
The 1 kHz point in the upper mid-range. Its frequency range of 400 Hz to 2 kHz is used as a reference for the various experiments. Unfortunately, because manufacturers try to overstate it, this is often highly obvious, especially with cheaper devices. This frequency range is also important in gaming, and its well-balanced reproduction helps to achieve good spatial resolution.
All of the instruments have the nuances we're looking for, and the resolution is decent for this price range. The use of detailed playback ensures a convincing performance. A well-organized sound stage is also enjoyable to listen to. Some headsets and good hi-fi headphones, on the other hand, just provide more (though that's just us nitpicking).
The group's instruments set sufficiently away from one another, in my opinion. As a result, Kingston's HyperX Cloud Alpha is capable of excellent music playback. In comparison, gaming is a piece of cake.
High-Frequency Range
The human ear is particularly sensitive between 2 and 3.5 kHz. Especially since the lower levels of this range are crucial for overtone reproduction in the human voice. The recognition of a voice or an instrument depends on this frequency range. As a result, it also refers to the tone color, or timbre, in this context.
The Cloud Alpha has a natural and neutral tone to it. Sound source placement is critical in games, and Kingston's latest succeeds admirably. Although we've tried models that perform even better, there are also cheaper alternatives. The musical reproduction is still excellent, albeit some vocalists have lost some of their expressiveness. Even so, this headset is significantly superior to the norm.
Sibilant sounds (like the letter "s") and hiss noises fall into the mid-high range (3.5 to 6 kHz). That influences the success or failure of voice replication as a whole. The top trebles go up to around 10 kHz, where we enter the super-high frequency zone.
At the lower end of this range, the slight dent seen in our frequency study persists. It becomes a peak as the frequency grows. Anyone familiar with the "Beyer peak" feature of some Beyerdynamic headphones will understand what we're talking about.
Some sibilants are louder than we'd like, and corresponding instruments are pushed too far into the foreground. Blow-out noises that are over-emphasized are not the lesser of two evils. This is a one-of-a-kind interpretation that you will either enjoy or dislike. Thankfully, it doesn't detract from the headset's generally excellent overall performance.
Conclusion
While $100 is more than most gamers are willing to pay for a headset, it is not excessively expensive. When it comes to materials, build quality, and acoustic performance, we demand a lot from a premium gaming headset.
However, it is in these categories that Kingston's HyperX Cloud Alpha excels. In certain places, the corporation uses metal rather than low-cost plastics. Earpads and headbands are soft but not weak, and the shells are solid plastic.
In terms of sound, this is a no-brainer for anyone looking for the most natural reproduction possible (instead of amplified bass and exaggerated highs). The dual-chamber technology is effective. However, it is not revolutionary. Consider the functionality as a natural progression of previous solutions.
From this perspective, our honor is very well. While the HyperX Cloud Alpha may undoubtedly improve, the greater price tag would quickly put budget gamers out of the game. Kingston manages to find a happy medium that we can live with.
Read more: