The Reavon UBR-X200 is a coveted high-end 4K Blu-ray player with military-grade construction and a gorgeous appearance. While this player can play CD, SACD, DVD, or Blu-ray, it cannot play the lossless layer on a DVD-Audio disc.
In every other way, though, it's a highly powerful deck that guarantees UHD content is presented flawlessly while low res material is upscaled to 4K with artifact-free processing and pixel accuracy. There is HDR10 and Dolby Vision compatibility, but not the less common HDR10+ standard. However, aside from that tiny problem, the video performance is perfect.
The X200 has audiophile Burr-Brown DACs, as well as balanced XLR and 7.1-channel analog audio outputs. This provides an excellent sound performance. The end result is a player that will appeal to both music and movie aficionados. Even though the lack of Wi-Fi compels you to utilize a cable connection. Moreover, the media file compatibility is broad, but there are no built-in streaming programs.
Finally, the X200 is a competent entry to the high-end UHD Blu-ray market that, however, falls short of universal playing. In summary? Unless you're crazy about the appearance, there are cheaper and more efficient alternatives.
What will you see here?
Price and Availability of Reavon UBR-X200

Archisoft, a French firm that also manufactures Zappiti media players, has created the Reavon trademark. This is to fill the hole in the high-end 4K disc player market left by Oppo's exit and the general unavailability of Pioneer's disc spinners.
The UBR-X200 is the firm's flagship product. It is available through respectable audio and video merchants in the United States, United Kingdom, Europe, and Australia. UBR-X200 is the most costly model in the Reavon lineup. It comes with a price tag of £1,599/ $1,699/ AU$2,899/ €1,799.
If that's a little too much, the Reavon UBR-X100 is the lowest entry in the Reavon lineup. However, it lacks SACD compatibility and analogue outputs. The price of this model is £799/ $799/ AU$1,399/ €899.
Finally, Reavon just introduced the new UBR-X110, which is identical to the X100 save for the addition of SACD playback and costs / £899/ $999/ AU$1,499/ €999.
Design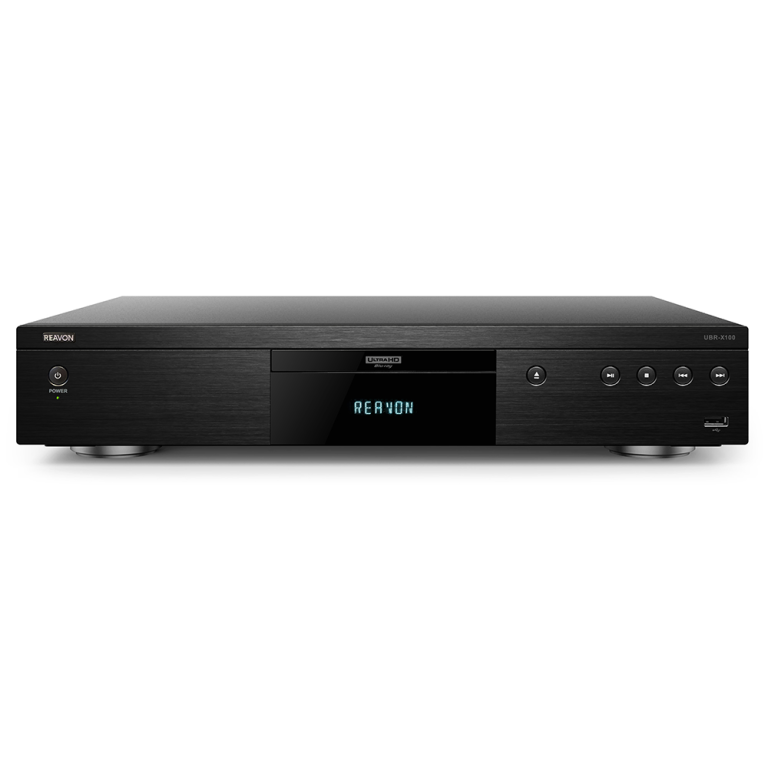 The Reavon UBR-X200 has the same futuristic style and weapon-grade build as the rest of the line-up. It has a thick aluminum front plate with a black brushed metal finish that is both eye-catching and functional. In the front, there's a disc tray in the center with a screen under it, a power button on the left, and some basic controls on the right.
The 1.6mm chassis foundation is strengthened by a 3mm steel plate to decrease vibrations generated by the disc spinning. There are also huge feet that provide additional support and seclusion. In terms of size and weight, the X200 measures 430 x 85 x 300mm (WxHxD) and weighs 6.8kg. It is very substantial when compared to Sony's smaller disc spinners from a few years ago.
Other than a USB 2.0 connector on the front, all connections are on the back. There are two HDMI outputs here, including one picture and sound and the other with audio only for those who need to link to a sound system that can't pass capabilities like 4K and HDR.
There are coaxial and optical digital audio outputs, an Ethernet port, and a USB 3.0 port among the various digital connectors. The incorporation of high-end analog capabilities, including 7.1-channel phono outputs and discrete stereo outputs through phono and balanced XLR connections, is one of the X200's main selling features.
The included remote is large but comfortable to grasp and operate with one hand. All of the basic controls are there and proper, with large buttons, set out in a logical manner. It also has a handy backlight that activates when you click the 'light' button.
Features of Reavon UBR-X200
The Reavon UBR-X200 can play CD, SACD, DVD, Blu-ray, 3D Blu-ray, and UHD Blu-ray discs, but it isn't completely universal because it can't access the lossless layer on a DVD-Audio disc. However, Reavon promises this functionality will be included in a future firmware update.
The X200 supports MKV, FLAC, AIFF, MP3, JPG, M4A, AIF, DSF, OGG, and APE file formats. If you want to stream files from the home network, you'll need to use a cable connection because there is no Wi-Fi functionality or built-in apps.
Because the X200 employs the popular Mediatek chipset featured in a variety of 4K disc spinners, it has the same basic home page with choices for discs, video files, audio files, photos, and configuration as the others. The latter has sub-menus for Screen, Audio, HDMI, Network, Language, Playback, and Settings.
Video Performance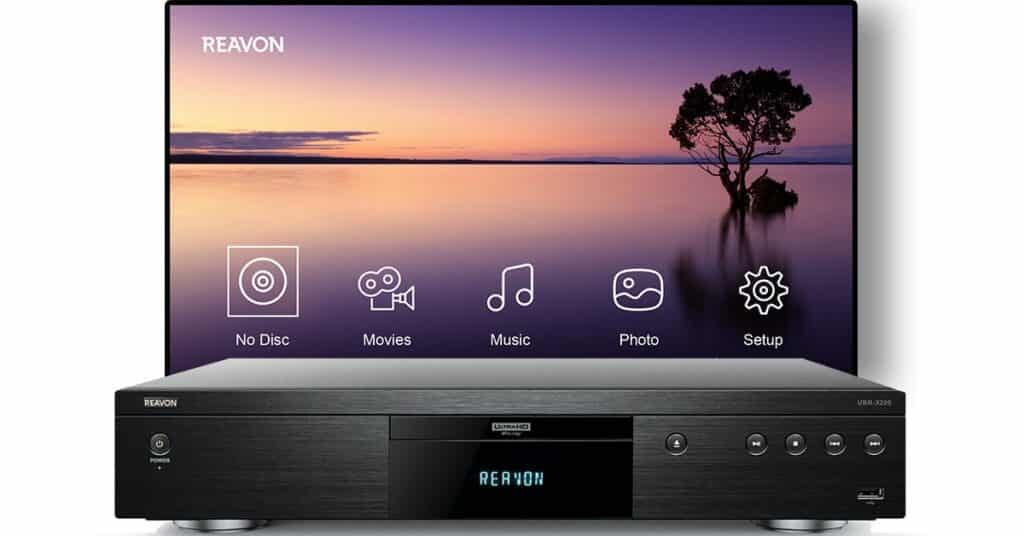 Its substantial chassis absorbs any disturbances from the disc drive. Hence, it operates quietly. This is one of the pricey players' main selling factors, and it emphasizes the sensation of a high-end product.
The player starts up quickly, and the loading times are also quick. As a result, you can immediately reach the disc's menu page and navigation throughout the disc's menus.
The Reavon UBR-X200 accurately detected and played CD, SACD, DVD, Blu-ray, 3D Blu-ray, and UHD Blu-ray platters. With a DVD-Audio disc, the player, as predicted, accessed the lossy Dolby Digital layer but not the better lossless option.
If you still watch DVDs, the outstanding deinterlacing and resizing will extract the most from the high-definition disc format, resulting in visuals that are shockingly good and devoid of artifacts. This processing is even more effective with standard Blu-rays, upscaling 1080p to 4K and giving an image that appears practically UHD but lacks the benefits of increased dynamic range and wider color gamuts.
The player can handle HDR10 and Dolby Vision without trouble, however as previously stated, HDR10+ is not supported. When it comes to HDR, the X200 outputs just what's on the disc and doesn't use any tone mapping. If you have a less competent display, such as a projector, you could be better suited with the Panasonic DP-UB9000, which includes a dynamic tone mapping function that can be quite beneficial in making the most of dimmer displays.
Audio performance of Reavon UBR-X200
The addition of high-end DACs and analog outputs is the Reavon UBR-main X200's selling point over its cheaper siblings. The player includes 7.1-channel phono outputs with an eight-channel Burr-Brown PCM1690 DAC, as well as separate stereo outputs with a Burr-Brown PCM 1795 DAC and balanced XLR and phono connections.
To increase analog performance even further, the Reavon UBR-X200 is driven by a toroidal transformer with minimal noise and electromagnetic interference. This is mostly due to its structure and symmetry, which guarantees that the amount of magnetic force that escapes beyond the core is kept to a minimum and confined within its doughnut shape. As a consequence, there is less audio distortion and a decrease in sound quality, guaranteeing that the analog outputs are clean and precise.
If you only want to use the digital outputs, you could get the cheaper UBR-X110, which is essentially similar, but the X200 is far more capable in this aspect. The HDMI outputs can bitstream lossless audio formats such as Dolby TrueHD and DTS-HD Master Audio, as well as decode and present them internally as 7.1-channel PCM. Furthermore, if you want to experience immersive audio formats like Dolby Atmos and DTS:X, you'll have to bitstream them via HDMI since analog outputs don't support them.
The audio is likewise clear and clearly defined, which is no doubt due to the toroidal-based power supply used by the X200. The player's near-silent operation helps the performance as well. However, there are no bothersome sounds to detract from the excellent audio delivery.
Conclusion
This flagship 4K Blu-ray player offers the high-end construction and finish you'd expect from a high-end standalone machine, as well as full disc playback, including SACD. There is no integration for HDR10+ or DVD-Audio, though Reavon claims an upgrade for the latter is in the pipeline, this luxury deck can handle everything you throw at it. The functioning is seamless, the upscaling is outstanding, and there includes Dolby Vision support as well as analogue outputs to satisfy audiophiles.
Read More: