You may now select from a wide range of devices ranging from low-cost to high-end. As a result, the new Acer Chromebook 714, a 14-inch model with a tweener price, leads the charge.
It is not a real luxury gadget, with prices ranging from $500 (£500) to $800 (£800) depending on specifications. But it's also pricey enough to raise some eyebrows. It's a touch less expensive, for example than the Google PixelBook Go. However, it is significantly more expensive than an Intel Celeron-based device such as the HP Chromebook 14.
What you will see here?
Overview
The Acer Chromebook 714 makes a strong first impression right out of the box. It's both nicely robust and rather thin, thanks to an all-aluminum design.
In terms of ports, there's a USB-C connector on either side of the chassis, both of which enable charging and video out, as well as a USB-A port, a headphone jack, and a microSD card reader. A fingerprint scanner is also included for more protection and faster OS access, as well as a twin microphone arrangement with Google Assistant support. When it comes to music, there are stereo speakers, however, the sound quality is poor.
The final, and most important, component of the equation is battery life. With almost 13 hours of movie playback available, the Acer Chromebook 714 is a clear winner. You'll definitely get a little less battery life from online browsing, but it is still a laptop that can last all day.
Design of Acer Chromebook 714
The all-metal and grey outside shell of the Acer Chromebook 714 definitely look the part, with colors that might be mistaken for a Space Gray MacBook.
Despite this, when given a small tap, this Chromebook feels a little hollow, and its rather large bezels on the top and bottom make it appear a little old. Having said that, it's just all outer shell means it still looks good and can carry a lot of weight.
In truth, at 1.6kg, the 714 isn't the lightest laptop in the world – but it's not too heavy, especially when carried in a backpack with other items. Acer has included a good number of connectors in the Acer Chromebook 714, including two USB-C ports for transfer and charging, one USB-A 3.2 port, a headphone jack, microSD, and a Kensington Lock for security. Although this laptop isn't very well-made, it's encouraging to see Acer attempt to address the issue of ports.
The speakers, like most cheap or mid-range options, are really nothing special; they're suitable for the rare amount of casual viewing. Moreover, the grilles are curved downward, which might affect overall performance if used on soft surfaces.
The keyboard has a solid feel to it, with keys that are both sensitive and robust. It's also backlit, making the 714 a good choice for working after dark. Security experts will be glad to find that Acer has included a small fingerprint sensor on the 714 as well.
Price and availability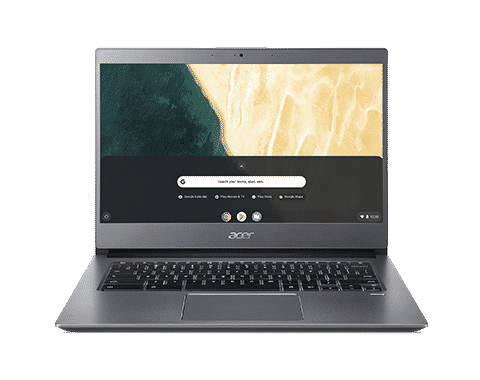 At $700 (£620), the Acer Chromebook 714 is similar to the entry-level Google Pixelbook Go, although it has a quad-core Intel Core i5 CPU instead of the Go's dual-core chip.
The Go has a more premium feel to it, but there's no doubting the speed boost from an extra pair of CPU cores. Of course, at this price point, several nice Windows laptops are available. You're almost there with an entry-level Ultrabook.
That'd make much more sense as an all-around workhorse. In this regard, the Acer Chromebook 714's major flaw is its 128GB eMMC storage as opposed to M.2 storage. However, if you don't need to run Windows software and are completely committed to the Google environment, they are utterly useless concerns.
Performance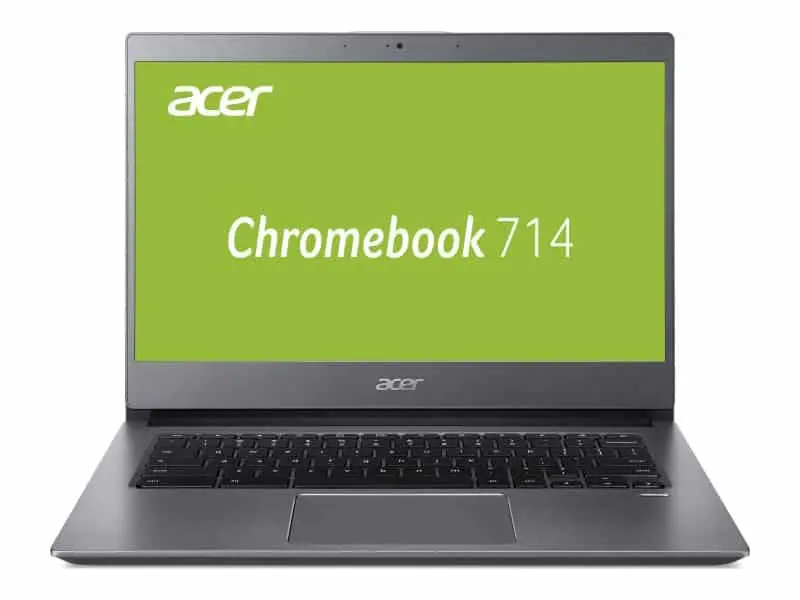 Another minor point is the 14-inch 1080p display. Because it's an IPS display, colour accuracy and viewing angles are good. However, it lacks punch, brightness, and colour. It's not a bad panel. However, it is not good enough to constitute a highlight or a feature in and of itself.
This Chromebook has actual performance chops thanks to the quad-core Intel Core i5-8250U CPU. It can do a lot more than just browse the web and watch videos. It's strong enough for quick content creation while on the go.
If there is a problem, it is the 128GB eMMC SSD. That is not a high-performance setup. To be sure, Chromebooks are built on the concept of cloud storage rather than local storage. Furthermore, the USB-C connections provide quick access to external devices. But it is still a restriction.
Battery life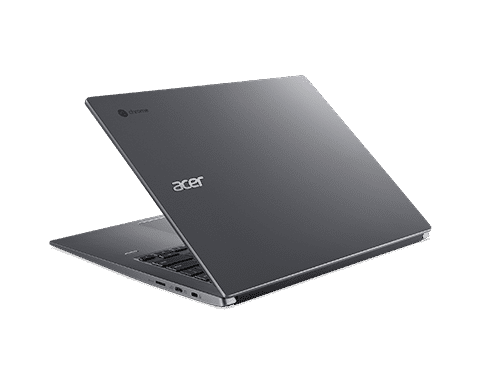 One of the Acer Chromebook 714's obvious features is its battery life. It kept going for nearly 13 hours. Okay, all-day working or online surfing will soon deplete the battery. However, in this context, this laptop has a genuine 10-plus hour battery life, making it a true all-day computer.
This excellent statistic helped it outperform the competition, with Microsoft behind by five hours and Honor's MagicBook 14 finishing at just under nine hours.
Display
Acer has supplied the 714 with a 14-inch 1080p IPS display. It's also touch-enabled, although the big bezels at the top and bottom mean that the overall screen-to-body proportion is a little low for personal tastes.
Given that the Acer Chromebook 714 is among the more costly Chromebooks, it's safe to conclude that its screen falls short of expectations in terms of visual quality.
When watching various shows on BBC iPlayer and Amazon Prime Video, colours looked to be a touch blurry and a little dull; the latter issue might be explained to the 714's paltry 254 nits of brightness.
However, viewing angles are rather good, as is the fact that the 714 has a matte display that is suitable for usage in brighter environments. Just keep in mind that the low light levels and muted colours may not be appropriate for lengthy binge sessions.
Conclusion
The Acer Chromebook 714 is a fantastic Chromebook with long battery life, a dependable keyboard and touchpad, and a vibrant display.
Chromebooks have gone a long way since their debut in 2011. They may be 2-in-1 devices that can run nearly any software in the world using Chrome Remote Desktop, play Chrome OS games, and run Google and Android apps such as Skype, Google Docs, Google Sheets, Google Assistant, WhatsApp, and many others.
It enables the use of full-featured Windows apps. However, it is primarily intended for corporate users and is not the ideal solution for daily consumer use. You may also connect to other computers that have the Chrome browser installed by using a Chromebook and Chrome Remote Desktop.
Read More: