Every year there is a better gaming laptop available in the market. This makes it quite difficult for anyone to choose a laptop that suits their style and has good features. There are laptops with powerful specs in sleeker, more portable, and have better designs. Here are the best gaming laptops in 2021.
How to choose the best gaming laptop?
When you have a good budget picking the finest gaming laptop is simple. Getting a quality gaming laptop becomes more difficult when your budget is limited. Luckily, there are heaps of more reasonable CPUs and GPUs on the way that don't hold back on execution. The latest internals, such as the Intel Comet Lake, AMD Big Navi, and Nvidia RTX 3000 series, are more competent than ever while also being more affordable. Other components, on the contrary, are more powerful or less expensive.
Nvidia is still the king of graphics cards when it comes to performance, but you should get the RTX card depending on the type of gaming experience you desire. The RTX 3060 is a fantastic mid-range contender with plenty of graphics power for 1080p gaming. However, for 4K gaming, you'll need an RTX 3070 or above. Also, remember about the RAM. A least 16GB is recommended if you plan on playing a lot of demanding AAA titles. Moreover, check the storage, display, and types of ports. Also, examine the battery life for longer gaming periods.
ASUS ROG Zephyrus G15
After the Asus ROG Zephyrus G14, it became one of the best gaming laptops as Asus did almost everything properly. However, the upgraded model, Zephyrus G15 is currently one of the best. It is one of the lightest 15-inch gaming laptops available, at slightly over four pounds. Moreover, you don't have to worry about missing performance for portability. It is powered by AMD and Nvidia's top CPUs, and it comes with a fast 165Hz QHD 1440p display. These components together can run even the most demanding AAA games in QHD quality.
Not only gaming, but the G15 also has everything you can ask for. The audio comes from a six-speaker array and has plenty of percussion and bass. Also, the keyboard and touchpad have a nice click, the port variety is adequate. Moreover, the battery can last up to eight and a half hours. Although, there is no webcam, which is a major flaw, and some people would prefer having a laptop with a webcam.
RAZER Blade Pro 17
The gaming performance of the Blade Pro 17 is among the best. But the best part about the laptop is how much power it crams into such a slim and appealing package. It is barely 0.8 inches thick and requires only one charging block. So you can keep it in a bag or briefcase without losing power. The latest model released this year has an FHD 360Hz screen. This is the fastest refresh rate available on a laptop. It also boasts a per-key RGB keyboard that can be customised to offer a splash of colour without being too distracting in the office. Although the Blade Pro 17 isn't cheap, if you want the best, this is the laptop to choose from.
ASUS ROG STRIX G15 AMD Advantage Edition
The ROG Strix G15 Advantage Edition is one of the few gaming laptops that includes an AMD processor as well as an AMD graphics card. The gaming performance is comparable to that of laptops equipped with Nvidia's best GPUs. It also has one of the best gaming battery life, with a battery lasting an average of nine hours and 16 minutes between charges. This makes it one of the most long-lasting gaming laptops on the market. That is even more amazing when you consider it's powering a group of dazzling LEDs, including a per-key RGB keyboard and a colourful light strip that wraps around the deck's front edge. The Strix G15 Advantage edition is a superb gaming laptop for you if you want a jazzy, bold design, powerful and low-cost laptop.
RAZER Blade 14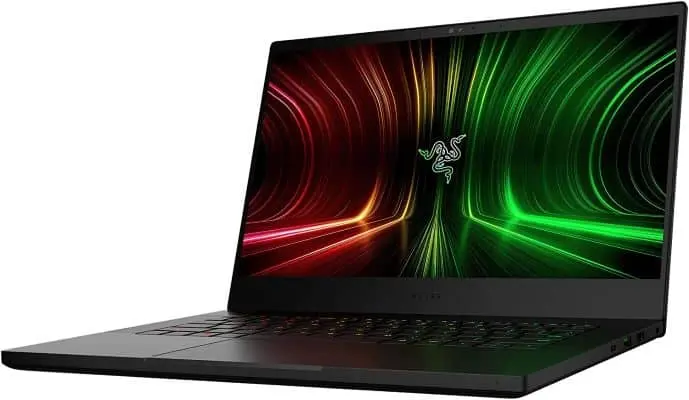 If you are searching for a powerful 14-inch gaming laptop that can compete with the best 15-inch gaming laptops on the market, you can go for the Razer Blade 14. This small and portable laptop has Nvidia's top-of-the-line GPUs, the RTX 3070 and RTX 3080, as well as a powerful eight-core AMD processor. Moreover, it features a QHD 165Hz display and a sophisticated RGB keyboard. For ports, you get HDMI 2.1 and two USB-C ports. This powerful gaming laptop with a slim and light design has a Ryzen 9 5900HX processor. As a result, you can pretty much play any AAA game on it. The 0.66 inches thick and slightly under 4 pounds form, makes it easy to travel with.
ALIENWARE X17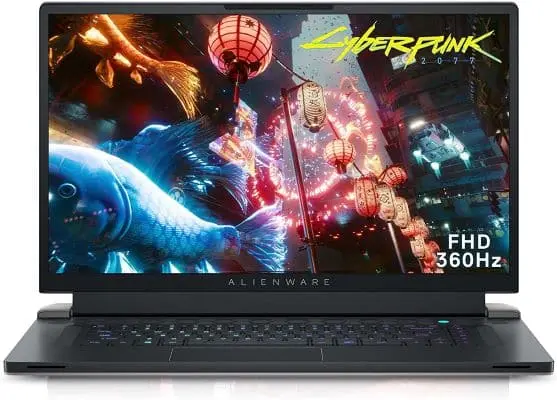 If you are looking for a laptop that can give you a great 4K gaming experience and are ready to spend some money, then the Alienware X17 is for you. It has a 3840 x 2160 resolution and can run a wide range of modern games at playable frame rates. With ray tracing enabled, it could even hit 60 frames per second. The company has also managed to fit all of this power into a chassis that is both slim and stylish. It is only 0.84 inches thick, featuring a non-obtrusive RGB keyboard and a touchpad that illuminates when you press it. Even under severe gaming loads, it remains cool and silent. Although, the webcam is average, and the touchpad is undersized. The biggest setback is that the battery life is only approximately four hours.
ASUS ROG STRIX Scar 15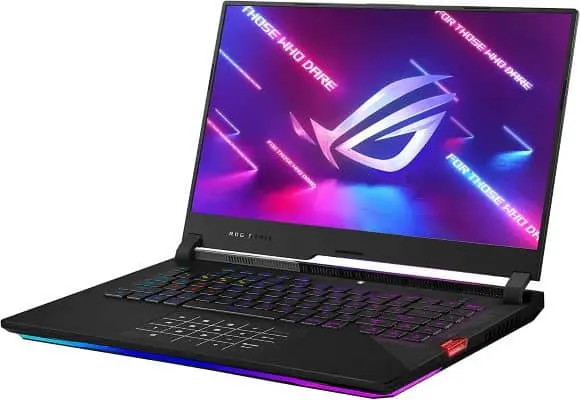 If you're searching for a "classic" premium gaming laptop with a vibrant, dazzling design, then the ROG Strix Scar 15 is for you. The keyboard on the Strix is not just one of the most comfortable keyboards for a gaming laptop, but it also includes some of the nicest per-key RGB lightings with a variety of effects. A colourful light strip wraps around the front of the deck, which can be customised, and a beautiful luminous logo appears on the lid. The Strix is amazing on the inside, too, with some of the greatest frame rates and the latest Intel and Nvidia processors. With a 300Hz screen option, you will get the most out of their power.
The Strix also comes packed with a number of apps that you may use to personalise your gaming experience. Depending on the game you're playing, you may customise colour profiles, bandwidth allocation, and more. The Asus ROG Strix Scar 15 is a colourful, flamboyant laptop designed for competitive gaming. It's small and powerful, with a great customizable keyboard.
RAZER Blade 15 Advanced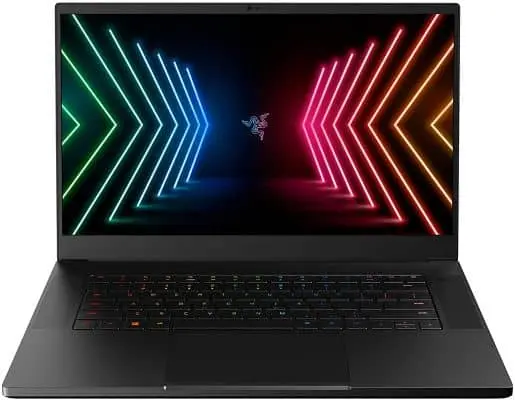 Although, the Blade 15 isn't as powerful as the 17-inch model, for many it may be a more practical choice. If you are searching for a balanced combination of performance and portability, this laptop is for you. It has the best processors and a 240Hz QHD display, but at just 4.39 pounds and 0.62 inches thick, it's smaller than a lot of 15-inch laptops. It is a productive laptop as well as a solid gaming computer. The keyboard, which is fairly easy to use and has per-key RGB illumination, and the touchpad is large and has a pleasing click. The only setback is it gets hot pretty quickly during the gaming sessions. Moreover, this is the best midsize gaming laptop that has a powerful processor, high-end GPU options, and a slim design.
ASUS ROG Zephyrus G14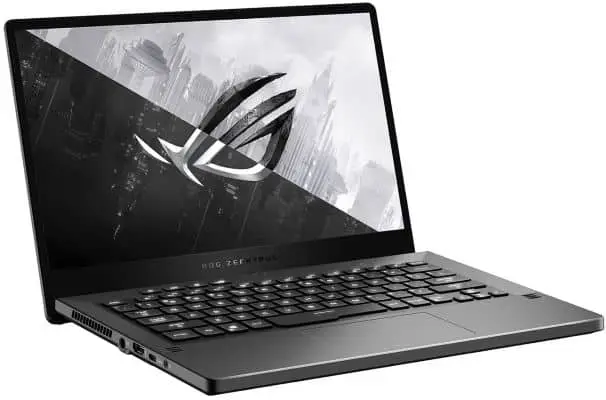 Even though the ROG Zephyrus G14 is no longer at the top of the list for the best gaming laptops, it is still fantastic. The laptop crams one of the most powerful processors on the market into an extremely compact 14-inch model. The laptop produces frame rates that you won't find in a laptop this compact before. This is all thanks to its capable cooling system. Aside from its gaming capabilities, the G14 is a fantastic daily use laptop too. The touchpad, display, and port options are all good, and the keyboard is one of the best available. Also, the battery life is exceptional, which is an uncommon compliment for gaming laptops.
The G14 has a few minor drawbacks in this laptop, at least for some users. One of them is that it lacks a webcam. So if you want to make video calls, you will have to use an external one. Moreover, there is also some backlight bleed, no Thunderbolt connectivity, and the fans can get louder when under load. Overall, the ROG Zephyrus G14 gaming laptop is incredibly powerful. With its QHD display, AMD Ryzen 9 processor and GeForce RTX 3070, it can deliver powerful, smooth graphics performance in games while being surprisingly efficient for other tasks.
Asus TUF Dash F15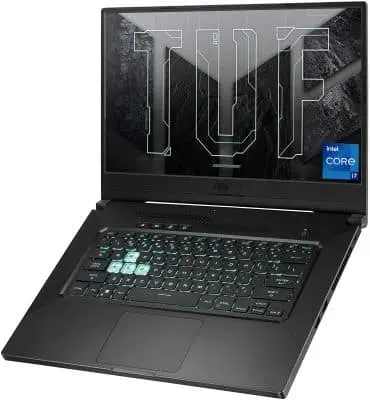 The Asus TUF series gives you exceptional performance at a low price. The predecessor, Asus TUF A15 was just outstanding while keeping things affordable for budget-conscious gamers. Similarly, the Asus TUF Dash F15 is keeping things affordable while yet delivering a lot of power. It features Intel Tiger Lake processors, Nvidia GeForce RTX 3000 GPUs, and a 240Hz 1080p display while remaining light, thin, and military-grade robust. It is a fantastic value gaming laptop with good features, including a Core i7 11th generation processor and RTX 3050 Ti GPU. This is sufficient for 1080p gaming, however the important aspect is the low cost, which makes it ideal for individuals on a tight budget.
Gigabyte Aorus 17G (2021)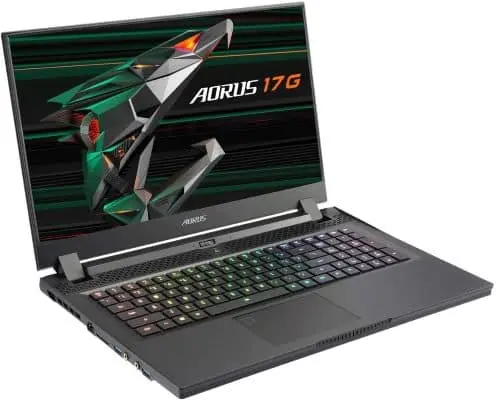 A haptic mechanical keyboard and a display with a refresh rate of 300Hz are just the top layer for the best features for this laptop. The gaming performance of the Gigabyte Aorus 17G (2021) is comparable to that of desktop gaming PCs. With one of the RTX 3000 GPUs, you will be able to play even the most graphically demanding games, including competitive ones. Moreover, you get a long battery life, allowing you to continue your games even when you are not near a power outlet. Features like an RTX 3070 laptop graphics card, 16GB of RAM, and a fast Core i7 processor on a 1080p display, make it a great choice.
Lenovo Legion 7 (Gen 6)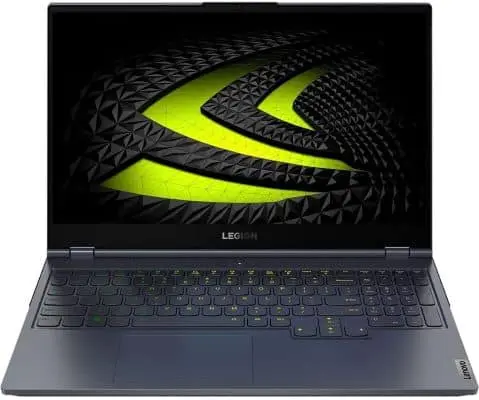 The Lenovo Legion 7 (Gen 6) delivers incredible performance across the board and is worth its hefty price. So, if you are ready to spend some hard money, you can definitely go for this model. The only drawback is the battery life, only approximately three hours of battery life, but if you're okay with something you wouldn't want to travel with, then go for it. Apart from its unrivalled gaming prowess, you'll also get a slew of RGB lighting options and an array of connections. This includes three USBs, three USB-C, one HDMI 2.1 port, and two DisplayPort 1.4 ports. Thus, you will never need a separate peripheral hub.
The Lenovo Legion 7 (Gen 6) isn't cheap, but you can surely modify one to make it more affordable. If you want to customize it, you can go for the Ryzen 7 RTX 3070 combination. This will get you through high-resolution gaming at 60 frames per second or quicker while saving you some money.
Alienware m17 R4 (2021)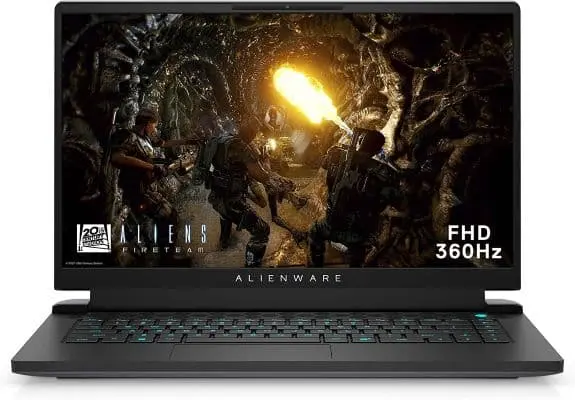 The new Alienware m17 R4 is a highly powerful gaming laptop with plenty of ports and an exceptionally attractive design that lights up. You can play all of the latest AAA games in comfort and luxury with this laptop. It is one of the fastest gaming laptops in 2021, but it is not cheap. If you have the funds, you can go for this laptop. This Alienware m17 setup offers RTX 3070 with a 1080p high-refresh panel. And the 3070's highest power will give you similar performance to most laptop-class RTX 3080s.
Conclusion
When you want to buy a good gaming laptop, you would not only be looking for great features but also your budget. If you are ready to spend a good amount of money, ALIENWARE X17 is a great choice. With a 4K gaming experience, you get a slim and stylish laptop that remains cool and calm even under a heavy load. But if you don't want to spend that much on your gaming laptop, you can go for the ASUS ROG Zephyrus G14. This 14-inch model is highly powerful and compact with good battery life. The smooth graphic performance in games is another factor that makes it a good choice.
Which gaming laptop are you planning to buy? Tell us in the comments section below.
Read More!