Purchasing a vacuum cleaner is a chore. What should you pay, and are some models overpriced? Aside from Dyson, it's difficult to know which other manufacturers to watch. This Shark DuoClean Lift-Away vacuum cleaner is a flexible but slightly pricy solution for many sorts of cleaning all around the house after using it.
Price and availability

The ultimate shark cleaning experience Shark DuoClean, Powered Lift-Away, and Zero-M technologies are included. Technology DuoClean: The dual brush roll technology deep cleans carpets while also directly engaging floors for a glossy appearance. Powered-Lift Away: the canister detaches to allow the cleaning head to reach further, especially under furniture. The Shark DuoClean's RRP in the UK is £329.99, however, it's frequently on sale for less.
Design of Shark DuoClean Lift-Away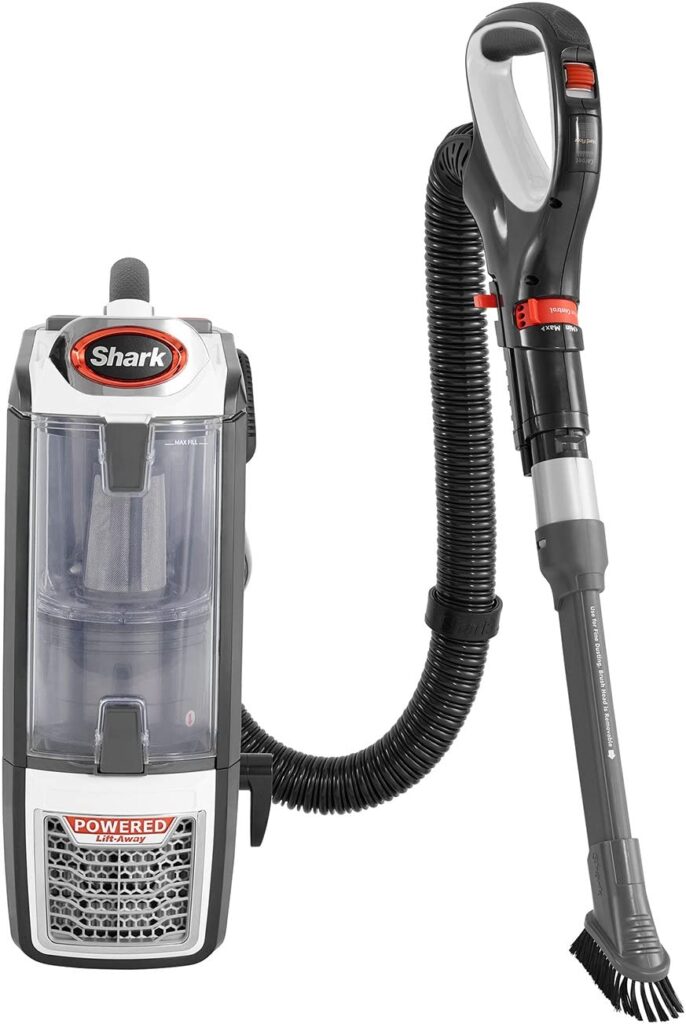 When you initially unbox the Shark, it feels a little light, but don't let that mislead you. The pieces must be this small for the item to be modular, and this is not a symptom of poor quality. It has a weight of 6.1kg.
The in-box instructions make assembling the wired device simple, so it takes less than five minutes. The upright lift-away vacuum cleaner comes with simple settings for hard floor and carpet cleaning, three different nozzle attachments, and suction control.
You may reach up to corners of rooms or under furniture, bookcases, and beds by releasing the handle or the entire upright piece. The physical clips are simple to use and stand out in orange, white, and black.
This vacuum cleaner is well-labeled, and while the color palette may not appeal to you, it is simple to operate without a handbook.
How to use Shark DuoClean Lift-Away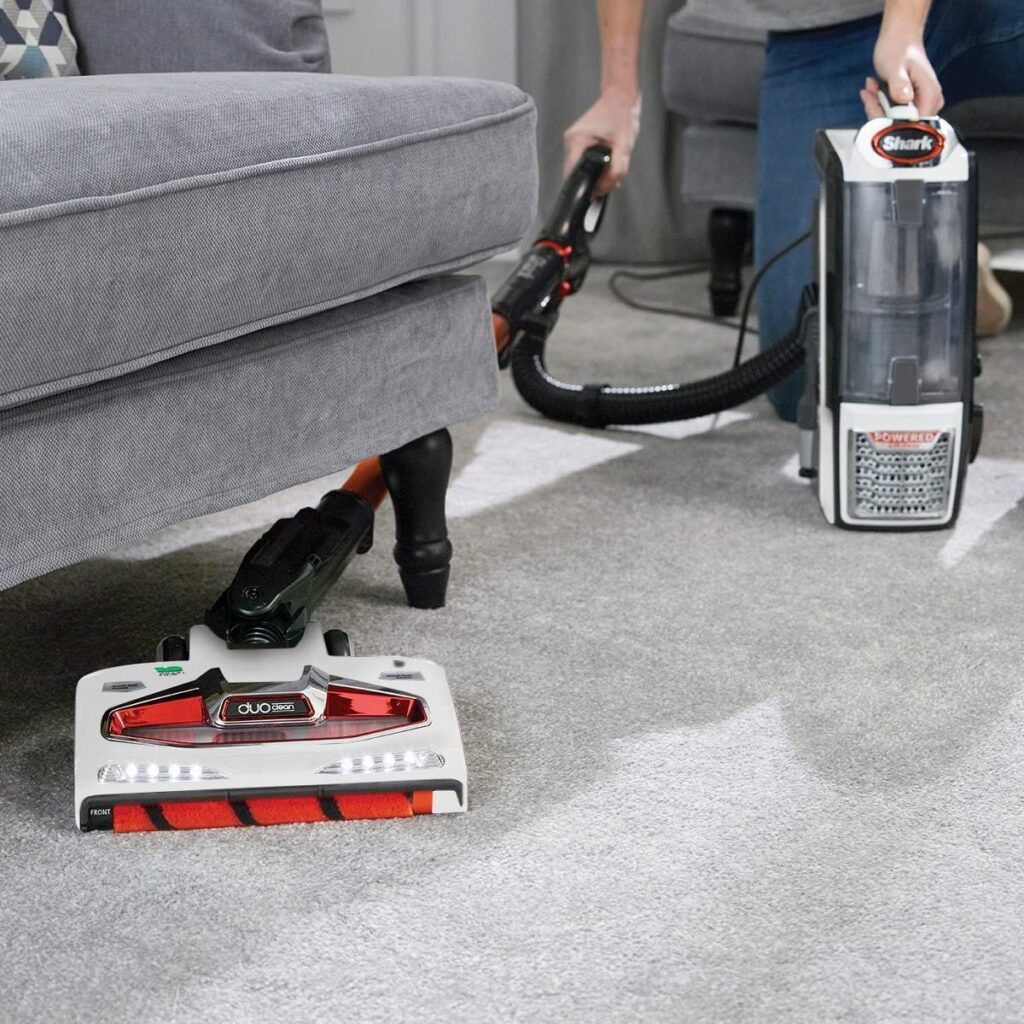 Detaching these components makes it simple to clean ledges, drapes, and other surfaces, and the tube is strong enough not to detach or break. You may either remove the grip or wand from the body or use the wand to pull the entire dust cup away.
The DuoClean technology on show here, on the other hand, is in the main floor cleaning unit and works quite well. Most vacuum cleaners have a single brush bar, but Shark has two here that function in tandem — a soft velvety brush that works best on hardwood floors to take up ground-in debris, and a standard brush roll that usually works on carpets to pick up hair and grime.
If you have hardwood floors or rugs, a physical switch on the wand allows you to rapidly convert between these two modes. There's also a suction control, which is important on some carpets because the Shark is so strong that it's difficult to push with suction cranked all the way up, despite its 750W capacity.
The vacuum is quite sensitive to twisting, It was corded, but with 8m of slack, you don't have to move its plug around too often in one area.
The headlights on the front of the main roller are a nice touch. They were surprisingly useful in dingy nooks to ensure you cleaned thoroughly and didn't leave streaks of dirt behind. It's also useful for detecting cobwebs.
Is Shark DuoClean Lift-Away performance lift away worth it?
The Shark Navigator Lift-Away works well on low-pile carpets. It easily removes pet hair and performs an outstanding job of sucking up small and big trash. Its bagless design has low recurrent expenses as long as you wash its filter according to the manufacturer's instructions.
Is Shark DuoClean Lift-Away safe for hardwood floors?
The DuoClean brush roll design works exceptionally well on hardwood floors. On lengthy carpet, the Apex handily trounced all others. Shark's motorized lift-away feature provides versatility. A well-designed product reduces dust and noise.
Can you use a Shark DuoClean Lift-Away vacuum on laminate flooring?
The Vacmop may be used safely on any sealed hard surfaces, including stone, hardwood, vinyl, laminate, tile, marble, and linoleum. It is really effective at cleaning. A Multi-Surface Cleaner would be ideal for your laminate floors.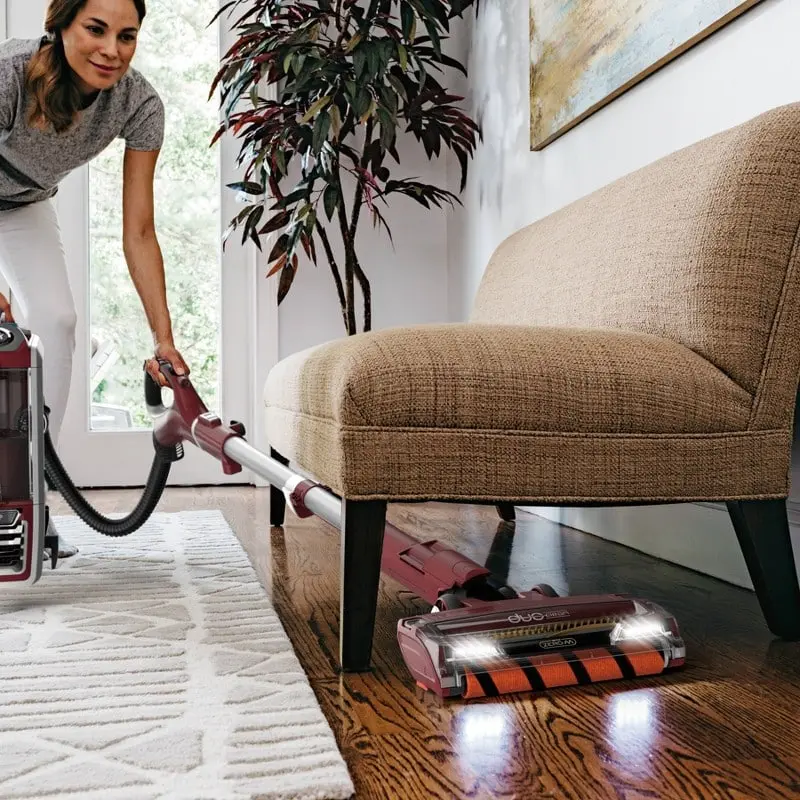 Conclusion
The Shark DuoClean Motorized Lift-Away vacuum cleaner NV801UK is a word however one of the better vacuums available in the UK today if you really can find it on sale. The Lift-Away system's flexibility means it's just one cleaner to have around the house for floors, under furniture, and even drapes. It's excellent on hardwood floors and carpet. It's simple to move and not very heavy and doesn't do anything wrong at all with a five-year warranty. A good, albeit pricy, purchase.
Read more