If you're considering purchasing an air fryer, you've got the information you'll need, as well as some purchasing alternatives if you decide to go ahead. Are you thinking to buy an air fryer to prepare healthier meals? We are here to help.
What do air fryers do?
Air fryers use convection heating, which means they circulate hot air over the meal. Without the necessity for deep frying, this method produces a crispy, crunchy coating.
Look for indications of the Maillard reaction in air-fried foods, which is a chemical process involving amino acids & reducing sugars that brown food & give it a characteristic flavor. In other words, the air fryer will give your supper the flavor and texture of fried food without the need to cook it in oil.
Is cooking with air fryers a healthier option?
It depends entirely on what you're comparing them to.
Cooking products like oven-ready, batter-coated, and crumb-coated fish, chicken nuggets, or oven chips in an air fryer will not make them any healthier than cooking them in the oven. However, whether you were going to deep- or shallow-fry your dish, you'll save a lot of calories.
Deep fryers use approximately 50 times as much oil as an air fryer. Even though your meal will only absorb a tiny amount of the oil, deep frying is the most calorie-dense method of cooking.
Food that has been fried releases acrylamide, a substance associated with cancer growth. Air-frying might assist to reduce the quantity of acrylamide in your meal. However, it will not affect the development of other hazardous chemicals linked to high-temperature cooking.
If you're cooking fresh food, you'll still need some oil, albeit it'll just be a teaspoon to a tablespoon if you're creating it from scratch. Oil is not required for pre-prepared foods like oven chips and nuggets.
In an air fryer, what can you cook?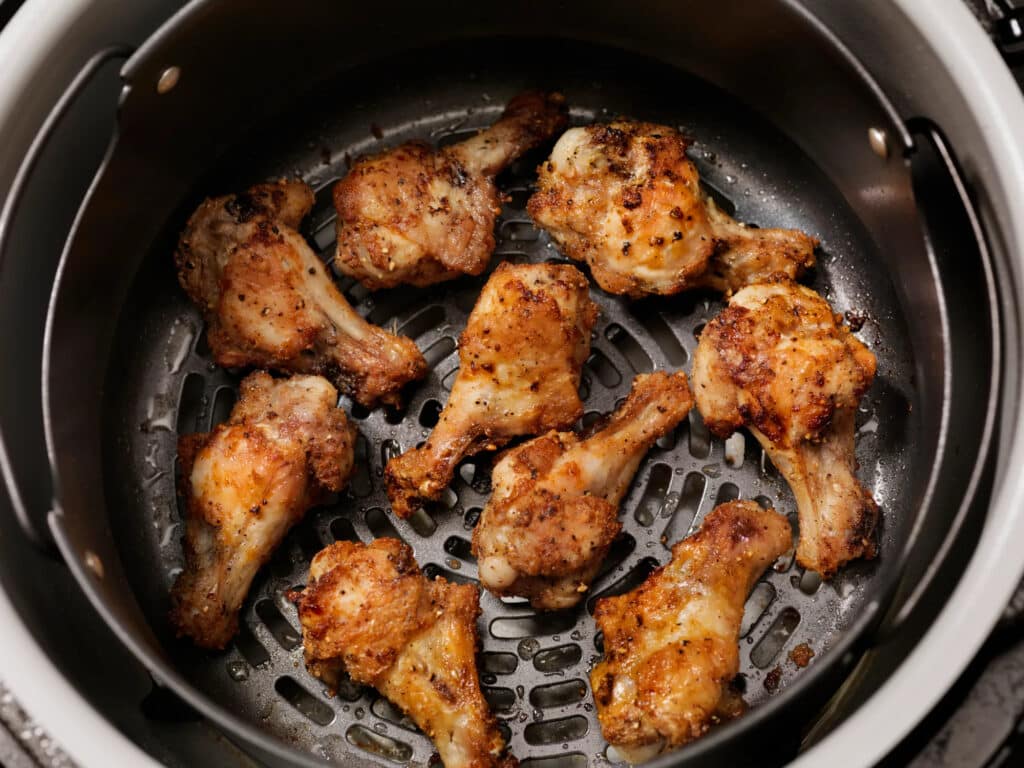 Frozen burgers, Chicken, chips, and other frozen foods like nuggets & fish fingers are obvious choices.
Salmon and other fresh fish can be air-fried. Bacon can, too. Most beef meals can be cooked in an air fryer, but you'll need to reduce the cooking time and adjust the temperature.
You may also use it to create handmade crisps, toasted seeds & almonds, and roasted vegetables like Brussels sprouts, among other things.
You can bake various baked items, such as cookies and desserts if you obtain an appropriate pan. They'll be done significantly faster and with far less energy than the oven.
It's also good for reheating leftovers.
What is the difference between baking and air frying?
Although cooking oven-ready things in an air fryer has no health benefits, you'll probably discover that you can roast dishes in an air fryer with less oil than you would in an oven. You can make crisp roast potatoes in twenty minutes if you parboil potatoes & coat them with oil before putting them in an air fryer.
Another benefit would be that air fryers get incredibly hot very quickly, as well as the circulating air ensures that the food is evenly browned. This implies you may reduce cooking time while increasing the crunchiness of the final result. It also makes dishes like sweet potato fries, which often become floppy in an oven, easier to prepare.
The air fryer is quicker than an oven for cooking. A fryer is more energy-efficient than your oven because of the shorter cooking time and smaller size. This means it's a more ecologically responsible cooking choice, as well as one that will save you money in the long term.
You'll need to keep an eye on your air-fried food and possibly turn it over once throughout the cooking time, just like you would with oven cooking.
What's the difference between deep-frying & air-frying?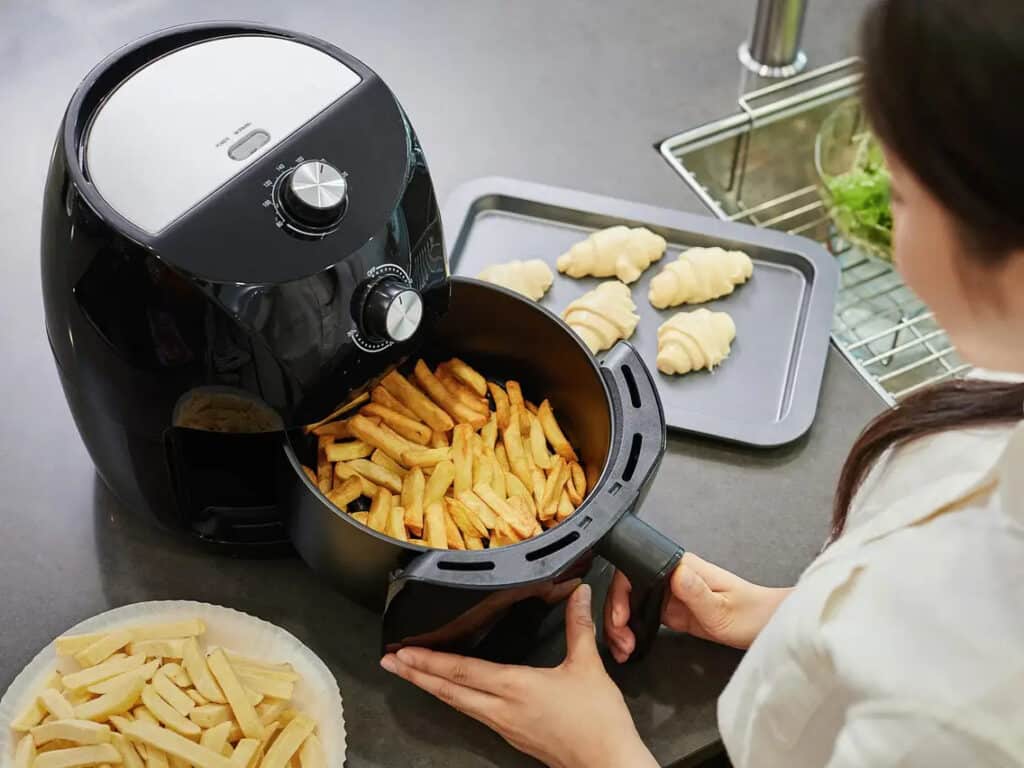 Air frying takes twice as long as deep-frying, yet is far faster than baking in the oven. On the bright side, it's so much easier to wash afterward, and the fried food scent will be contained in the device, rather than lingering about your house as pan-fried food does.
As previously said, there are health benefits to using a fryer, however, it's worth noting that fried food should not be consumed every day, and if you succumb to the convenience of an air fryer as well as its health promises, you may wind up eating too much-fried food.
In an air fryer, what can't you cook?
You won't be able to fry goods in a wet, handmade batter, but you can fry items in either a homemade breadcrumb mixture if you change your recipe. Avoid cheesy foods (except for frozen mozzarella sticks etc). Under the tray in your air fryer, the batter & cheese will just melt into a gloopy mass.
Broccoli and other similar veggies can dry out and become mushy if cooked incorrectly. Leafy vegetables might blow around again and cook unevenly.
Dry, seasoning-coated food will lose its seasoning as it cooks.
If you want a rare burger and steak, don't bother. The meat would be thoroughly done on the inside by the time the exterior has browned.
However, there are recipes for a variety of air-fried items, including several above, thus technique is crucial, and you may need to experiment to find what works best for you.
What is the best way to clean an air fryer?
Air fryers are simple to maintain and should thorough cleans after each usage. The pan, tray, and basket may the hand-washed or put in the dishwasher (for the most part). After each usage, the appliance should disconnect and cleaned off.
A fryer, like other counter-top appliances, should place on a heat-resistant surface.
What is the size of an air fryer?
Because air fryers come in a variety of sizes, you'll want to consider both external dimensions before you buy air fryer and the inside area (is it big enough to hold the portion sizes you'll use most often?).
One of the drawbacks of an air fryer is if there is too much food within, the frying performance suffers. Because it cooks by heating the air, it will not cook correctly if the air cannot reach the food.
Most air fryers have internal capacities ranging from 1.5 to 5.5 liters. You may make a side dish like fries for 1 to 2 persons on the smaller end. On a bigger scale, you'll be able to prepare a four-person main dish. If you're in the United States, its cooking capacity will see in kilograms or quarts.
Keep in mind that it will require several inches of open space around it when it is in use in terms of counter space.
Where can you get an air fryer?
The majority of internet stores now sell air fryers. The majority of costs are about £100, however, you may get them for far less. A simple fryer with a lesser internal capacity is available at the cheap end of the spectrum (1.5-2.5 liters). More internal capacity, preset cooking programs, and other culinary choices, like grilling and baking, are available at the top of the range.
Tower Air Fryer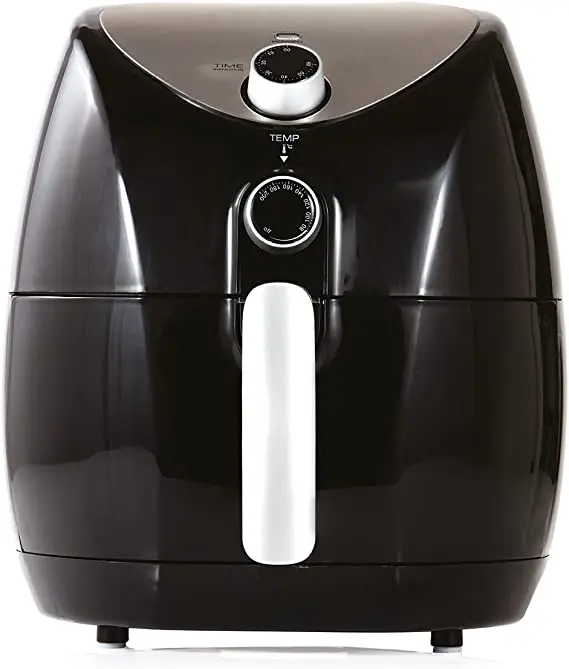 This Tower Air Fryer is available from Amazon UK for £49.99. It's a simple 1.5-liter fryer with a compact size of 32.2 x 27.5 x 27.5cm. It features a 30-minute timer as well as a temperature setting that may adjust. You'll have to keep an eye on it because it doesn't have an automated shutdown option.
Morphy Richards 480003 health fryer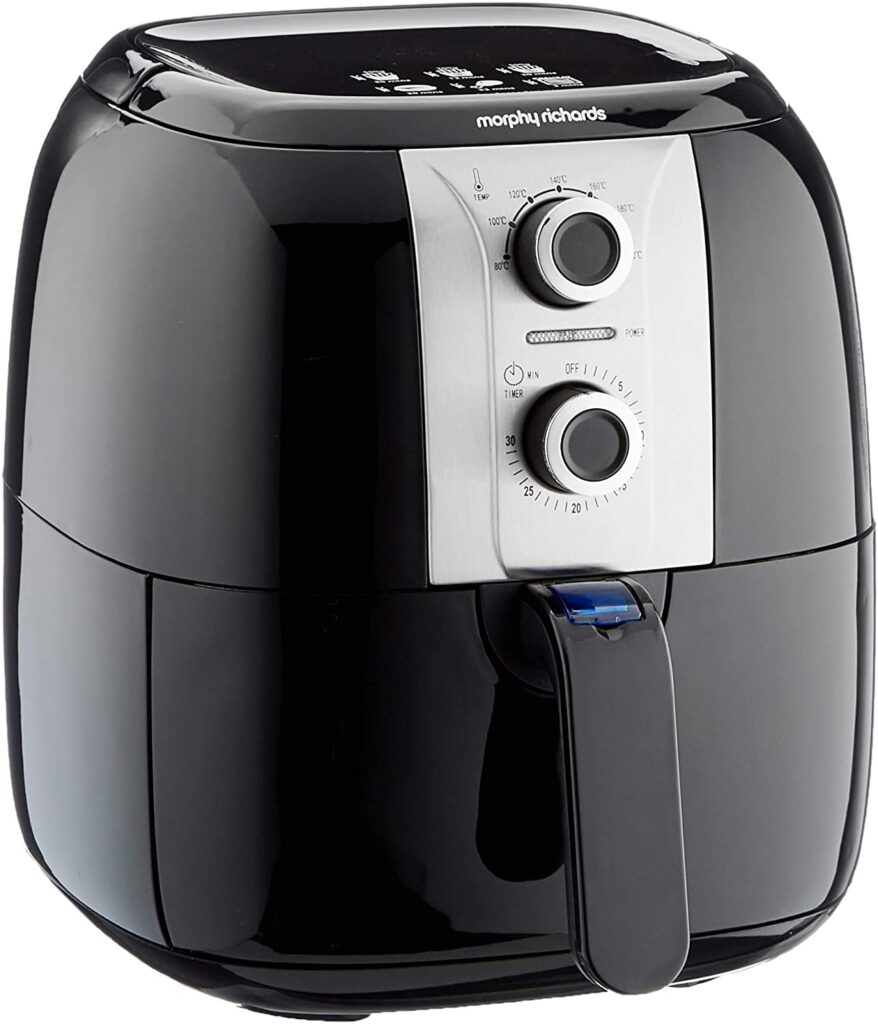 This Morphy Richards 480003 healthy fryer, which costs £69.95, is a step up in price. It includes a 3-liter capacity, manual time and temperature knobs, and an automatic shutoff.
Tefal Easy Fry Precision EY401840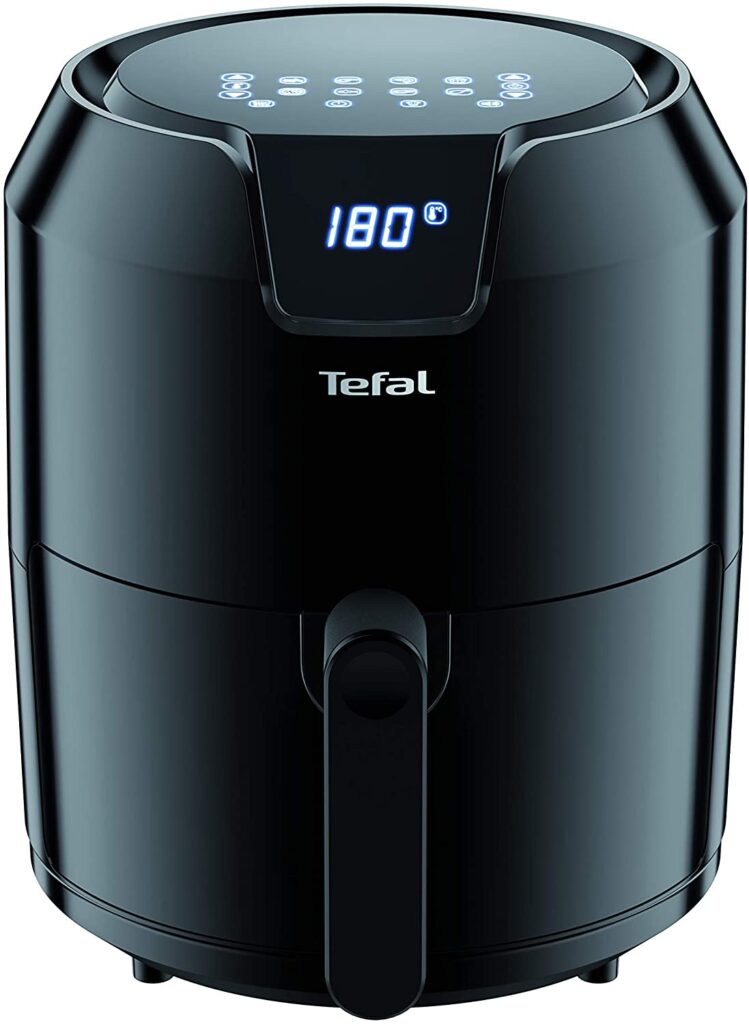 This Tefal Easy Fry Precision EY401840 digital costs £88.65 if you want something a little bigger. It comes with a 4.2-liter volume, a 1-hour digital timer, and eight automated cooking programs for cutlets, pizza, fries, shrimp, fish, and cake, and also roasting and grilling. The inner pieces are dishwasher-safe and detachable.
Proscenic T21 smart air fryer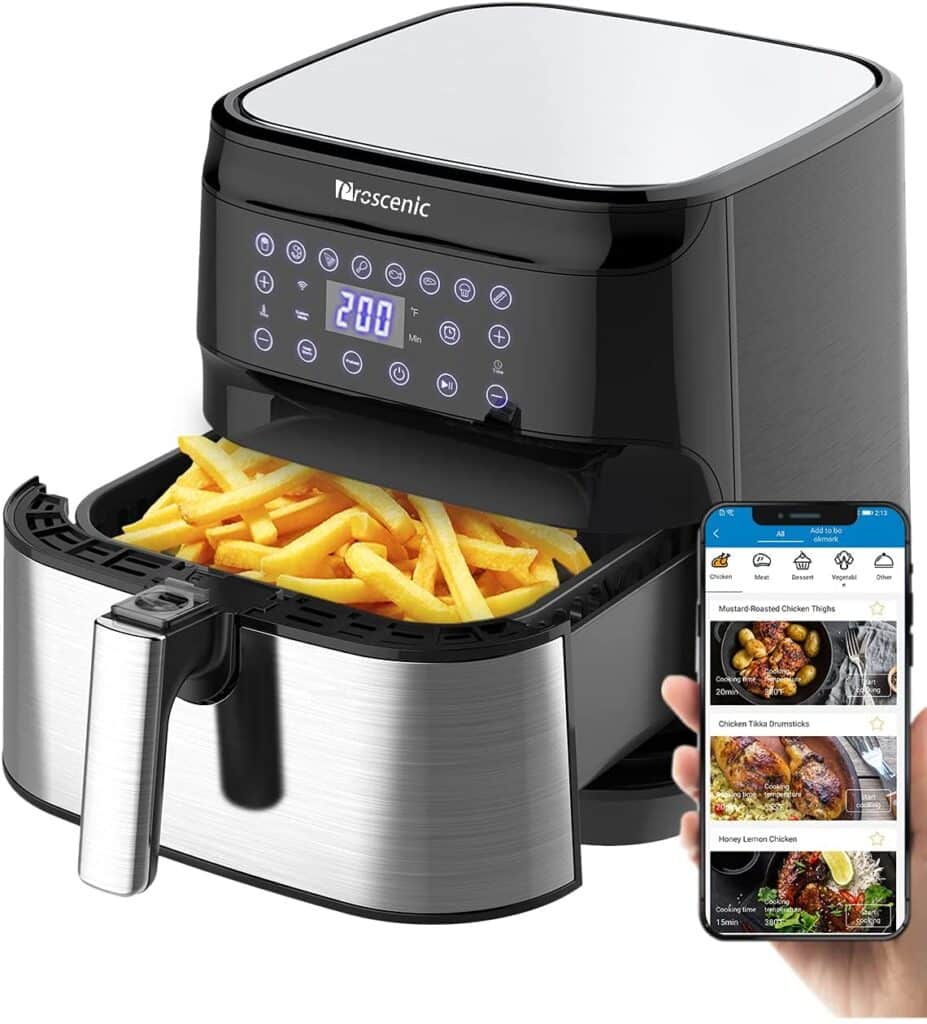 Finally, the Proscenic T21. It features a capacity of 5.5 liters, eight automated programs, and a dishwasher-safe basket and drawer.
As the name says, it's a smart link appliance with Alexa & Google Assistant compatibility, allowing you to cook using voice commands. The app also includes a recipe library and one-button cooking programs.
You can buy this air fryer that retails for £89 in the UK and $89.00 in the US on Amazon.
Conclusion
Over the last few years, air fryers have made noise in the kitchen appliance industry. If air fryers have piqued your attention, there are a few questions to ask before you buy the air fryer- easy kitchen equipment. If you're beginning from scratch, you'll need to understand what a fryer is and how to operate it. Do air fryers truly cook food? Is it real that air fryers are better for you than regular ovens? What can you produce in an air fryer, as well as which air fryer oven is appropriate for your culinary style? Most importantly, with so many different kitchen appliances to choose from, seems to be a fryer worth buying, or are these fashionable countertop cookers simply a lot of hot air?
Read more: