WD Black has been a solid challenger in a world with the greatest storage devices and super-fast SSDs. The WD Black SN850 SSD is a drive that catches your attention, and despite its expensive price, it's a drive that will definitely provide you with the best value for your money.
The SN750 was previously a favorite from the corporation, but the SN850 has confirmed its position as the frontrunner. It has the power to compete with heavyweights like Samsung. So, anyone searching for a dependable and speedy drive to slide into their PC should start here.
Price and Availability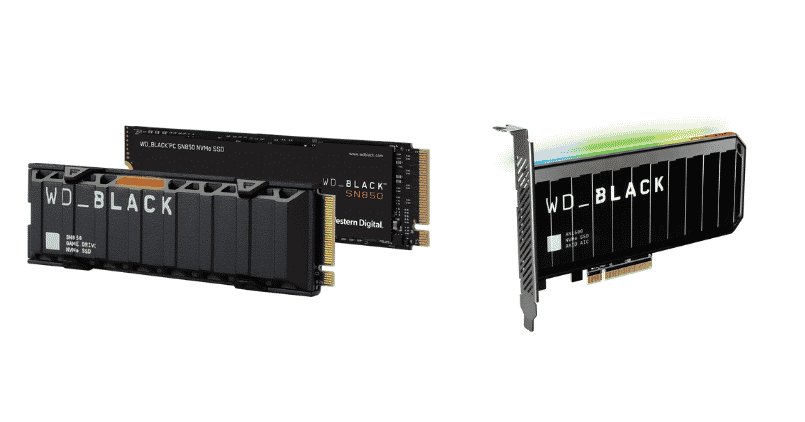 The SN850 starts at $99.99 for a 500GB version, but we're looking at the 1TB version, which costs $149.99. You can also get a variant with a heatsink already fitted for $189.99.
If your motherboard doesn't have heatsinks covering its M.2 ports, the heatsink is definitely something to consider, but if it has, the SN850 will be sufficient. If you're putting this drive in a PS5, however, you should obtain the model with a heatsink attached, as recommended by Sony.
Design and Features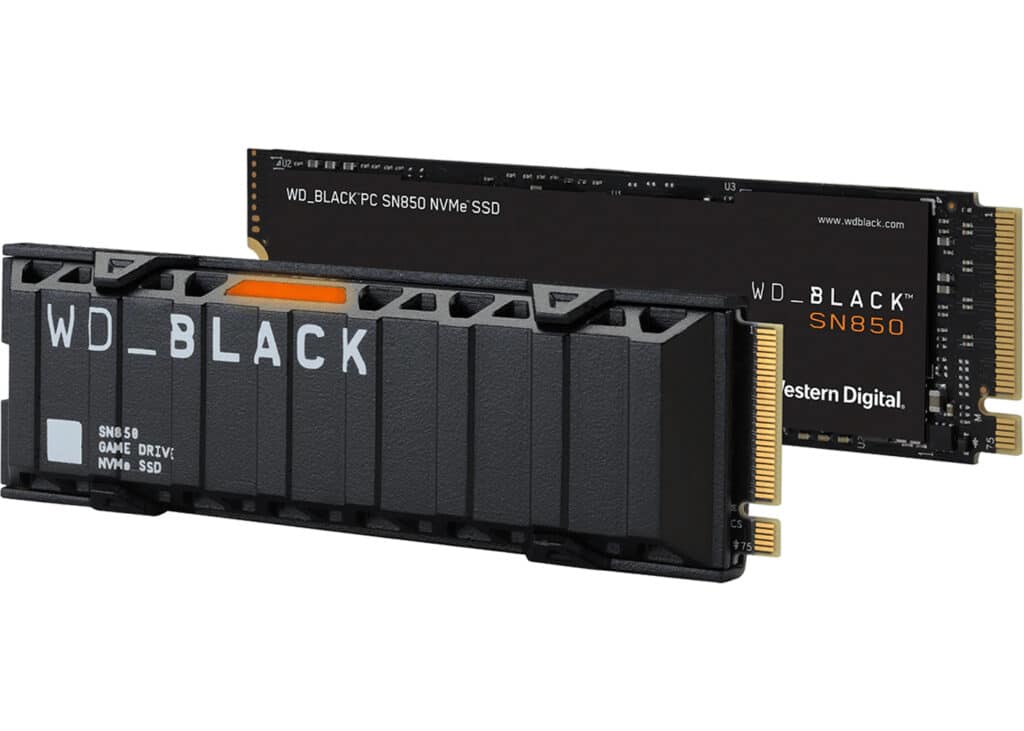 With the SN850, WD is clearly pulling out all the stops in terms of features and performance. Its 1TB model comes with a five-year limited warranty and up to 600TB of writing capacity. This should keep the drive running for years. The drive itself appears to be rather basic, and there's not much to see here unless you choose the heatsink version, which comes with adjustable RGB.
The SN850 is designed for a PCIe Gen 4 x4 M.2 slot for optimal performance. However, it is backward compatible up to PCIe Gen 2×1. Of course, at those speeds, you're really limiting what this drive can accomplish. So for the quickest speeds, we recommend using it in a suitable slot.
The drive uses WD's proprietary controller in conjunction with SanDisk flash memory for excellent read/write rates. For the 1TB unit we have here, WD claims a read speed of 7,000MB/s and a write speed of 5,300MB/s.
You may download the dashboard software, as with most WD Black hardware, to modify RGB lighting and examine statistics about your drive's performance, temperature, and other settings. There's also a "game mode," which can be set on or off. Basically, turning off the drive's low-power mode to make it more responsive. The only disadvantage is that you'll notice somewhat higher temperatures. So decide carefully if you want to keep this running all the time if it's not necessary.
Performance
The SN850 challenged itself to its limits for best performance. In CrystalDiskMark, it came near to the advertised 7,000MB/s read speed, clocking in at 6,992MB/s, while writing speeds were 5,160MB/s. That's fast enough to handle whatever task you throw at it, including launching Windows, playing demanding games, editing 4K video, and more. The SN850 excels at file copying as well, moving terabytes of folders from one disc sector to another in a matter of seconds.
This drive may be utilized in a PlayStation 5 (with a heatsink) and the performance is excellent. The PS5's read speeds were roughly 6,550 MB/s, and moving game data from internal storage to the SN850 took only a few minutes. Because the drive is so fast, it appears to have saved a few seconds off-game load times. This is impressive given how quick the internal PS5 drive is already. There were no stutters or difficulties opening games from the SN850. So it's definitely worth the money if you're buying it as an addition to your PS5.
The One exception
The one exception is that this drive gets hot, so make sure you get the version with a heatsink or check to see if your motherboard has a heatsink on the M.2 slot. It recorded high temps of about 62C when gaming, decreasing to around 40C when idle. Because this drive is in a tiny form factor enclosure with enough ventilation, you'll want to keep an eye on temps and make sure there's enough airflow to protect it from overheating.
Accessories and software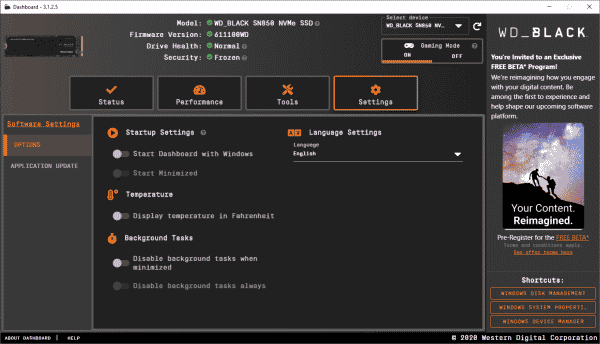 WD Dashboard, the company's SSD toolbox that includes analytical tools, a firmware updater, and RGB lighting control on the heatsink model, works with the Black SN850. Acronis True Image WD Edition is also available from WD for data backup and cloning. When asked about the hardware that powers the Black SN850, WD was tight-lipped.
When asked about the hardware that drives the Black SN850, WD was firm and didn't provide many specifics about its next-gen controller when asked. Despite this, you are able to discern a few things from the pieces and crumbs we were provided.
Because of the huge size of the controller package, which measures 17 x 17mm and takes up the majority of the PCB area. The drive comes in an M.2 2280 single-sided form factor with an NVMe flash controller, a DRAM chip, and just two flash packages, according to our external study.
Multi-core eight-channel SSD controller
WD employs a unique Arm-based multi-core eight-channel PCIe 4.0 x4 NVMe SSD controller to power the SSD. Which uses a Micron DDR4 DRAM chip to provide speedy performance. The controller is referred to as the WD BLACK G2 by WD. The addition of a faster Gen4 PHY to the WD Black SN850 improves performance. But with such high bandwidth, power consumption and heat production are concerned at 28nm. As a result, WD chose to construct the WD BLACK G2 on a newer manufacturing node, similar to competitor controllers, to better control those variables utilizing TSMC's 16nm FinFET technology.
The second-generation controller was combined with WD's newer Kioxia BiCS4 96L TLC flash. This runs at 800 MTps Toggle DDR3.0 rates.
The 500GB and 1TB variants use 256-bit dies, while the 2TB uses 512-bit dies. This flash contains two planes (regions of independent access) for higher performance than a single plane.
Although it isn't as fast as the company's next-generation quad-plane BiCS5 112L flash. Which will be more widely available next year. The new flash has double the performance and is implemented using Circuit Under Array (CUA).
In contrast to BiCS3, BiCS4 flash is not only quicker because of a string-based start bias management technique and smart Vt-tracking for enhanced reads. But it also has better efficiency thanks to a low-precharge sense-amplifier bus method that consumes just 1.2V rather than 1.8V. With this flash, WD's Black SN850 uses even-odd row decoding and shielded BL current sensing to improve read throughput.
The Manufacturing technique
The manufacturing technique includes string-stacking two 48-word line layer arrays on top of one another to scale the flash to unprecedented heights. While this is a simple approach to expanding the size of the cell array, inefficiencies arise from extra circuitry and unused fake layers. In addition, due to stack misalignments, there is a danger of low yield. Scaling up to 96-word line layers requires 109 levels in total, including dummy gates and selectors. This is less efficient than Samsung's V-NAND, which has yet to implement string-stacking at up to 128 worldline layers, which totals 136 layers.
WD Black SN850 has a heatsink
The WD Black SN850 is likewise accessible with an integrated heatsink, yet these models will quite often be in more limited supply and cost fundamentally more. Fortunately, it's simple and economical to get a post-retail heatsink assuming you'd like one – for instance on the off chance that you're going against Sony's suggestion for PS5 SSDs.
Is WD Black SN850 double-sided?
The WD Black SN850 1TB arrives in a double-sided M.2 2280 (80mm) form factor. Under the heatsink are two NAND bundles, a DRAM cache, and the WD controller.08
Conclusion
The WD Black SN850 is an ideal choice for anybody seeking a lightning-fast SSD for their PC, thanks to some impressive performance stats. Another benefit is that it can be used with a PlayStation 5. Although you'll need to make sure you get one with a heatsink.
The WD Black SN850 also comes with an integrated heatsink, although these units are in shorter supply and are substantially more expensive. If you want an aftermarket heatsink, for example, if you're following Sony's advice for PS5 SSDs, it's simple and affordable to purchase one.
The WD Black SN850 is one of the most well-reviewed NVMe SSDs on the market. A second-gen PCIe 4.0 drive capable of reading rates of up to 7000MB/s.
The WD Black SN850 1TB has an M. 2 2280 (80mm) double-sided form factor. Two NAND packages, a DRAM cache, and the WD controller are located beneath the heatsink.
Read more