Disconnecting Wi-Fi is one of the most annoying issues you can face especially while working or attending an online meeting. A fast and reliable network is essential in most households and workplaces. Here is how you can troubleshoot disconnecting the Xfinity Wi-Fi issue.
Why Xfinity WiFi keeps disconnecting?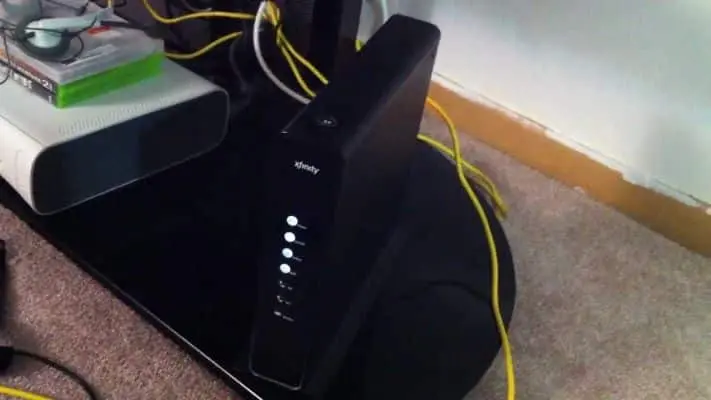 Despite the fact that the internet service provider provides the best internet experience to its consumers, there may be times when your Xfinity WiFi continues faltering.
Loose Cables
The majority of internet problems from your Wifi are caused by loose wires connecting your modem and router. When this happens, your equipment may not be in perfect working order. Moreover, it may not even provide you with the greatest internet experience possible.
Signal Interference
Apart from unsecured wires in your premises, probable signal interference could be the cause of your Xfinity internet disconnecting issue. Almost any device could be the source of the problem. However, items that release electromagnetic radiation, such as a baby monitor or any of your electronic kitchen equipment, should not be near the router.
WiFi Proximity
One reason your Xfinity internet keeps disconnecting at inconvenient times could be the vicinity of your internet router to your mobile phone, tablet, or gadget. Keep in mind that longer spans have a substantial negative influence on your internet connection and speed.
Service Outage
It's possible that the problem with your network connection is caused by your internet service provider. Service interruptions can occur as a result of broken cables or machines, particularly in severe weather. So, if your Xfinity WiFi continues dropping, the first thing you should do is check to see if your area is experiencing a service outage. Here are the strategies you can use to accomplish this.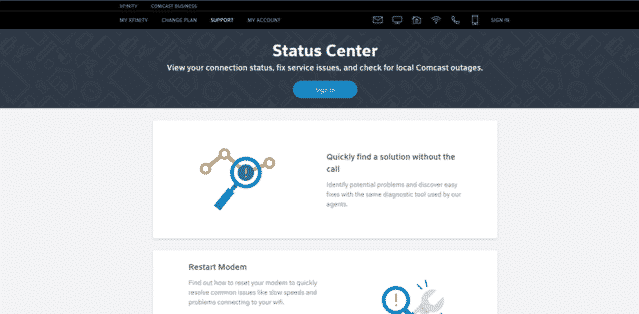 On your device, start the Xfinity My Account app.
To get started, go to the Xfinity Status Center.
Contact their customer care department.
If you have registered your phone for Comcast Alerts, you can send a message to your internet service provider.
Simply text OUT to 266278 or COMCAST.
Malfunctioning Router
Also, there could be a problem with your internet router if there is no signal interference or service interruptions in your neighbourhood and your wires are in perfect working order. In this case, you will need to go to the store and get a new one.
Troubleshoot disconnecting Xfinity Wi-Fi issue
Despite the fact that there could be multiple reasons for your network disconnecting, to get the most out of your internet service, there are a number of reliable troubleshooting procedures that you may use at home.
Inspect your Cables
Regularly inspecting all of your cables, coaxial lines ports, and splitters is an important step to solve the Xfinity Wi-Fi issue. Keep an eye on your cables and coax lines for significant bends or scratches. Aside from these two, you should also inspect your connectors and splitters for durability. Make sure they're tightened properly and safely, as signal leakage can occur if they're not. Keep an eye out for items that have rusted or damaged, and change them as quickly as feasible.
Move your Router
Ensure that the router is on a high shelf in a well-lit area. Avoid storing it in enclosed spaces such as your closet. Besides that, make sure your wifi router and device are not near any electrical appliances or physical barriers.
Clean your Router regularly
Aside from the position of your router, cleaning its ports on a regular basis can have a significant impact on your internet access. Dust particles might obstruct the inner workings of your gadget and damage your network connection. As a result, clean your ports and make sure they're dust-free.
Reduce connected devices
When multiple devices are connected to your router at the same time, you may encounter signal disturbance due to overloaded and scattered internet bandwidth. As a result, decreasing the number of devices connected to the network can help you avoid those pesky connection problems. Furthermore, it can also be used to fix poor WiFi speeds and improve quality.
Restart/Reset your router
You can indeed switch your router off and on again to restart it. This will refresh your network and may help you fix a range of problems. You can also conduct a factory reset if restarting your router does not solve the problem. Usually, restoring your device to its default settings can resolve a variety of issues and improve your network connection. Here's how to go about it:
Firstly, unplug your modem and router and turn off your device.
Return your modem or router to its original position and wait a few seconds until you notice the blinking status light.
Restart your device and reconnect it to your home network.
Disable Security Software
If you have security software installed on your device, it's likely that this is causing your connectivity issues. Most of the time, these apps will mark your network as dangerous, causing you to lose access. You can temporarily disable it and reconnect to your internet if this occurs.
Conclusion
There can be many different reasons for your Xfinity Wifi getting disconnected. However, you can even fix it yourself. Firstly, you need to make sure all the wires are connected tight and securely. If they are not, it can result in signal leakage. Make sure to regularly clean your router and change the damaged cables. Moreover, the position of the router plays an important role. Sometimes, connecting too many devices can cause discrepancies. You can even try restarting your router, if that doesn't work you can try a factory reset. Moreover, if you have some security software on your devices, it can cause the disconnecting issue by marking your network as dangerous.
If none of these things works, you can contact customer service and ask for their help.
Read More!