If you want to enter the world of smart homes, Amazon has the best product for you. With the Amazon Echo Dot 3rd Generation, you get a great Alexa device on a budget. Here is everything you need to know about it before you decide to buy the Echo Dot 3rd Generation.
Amazon Echo Dot 3rd Generation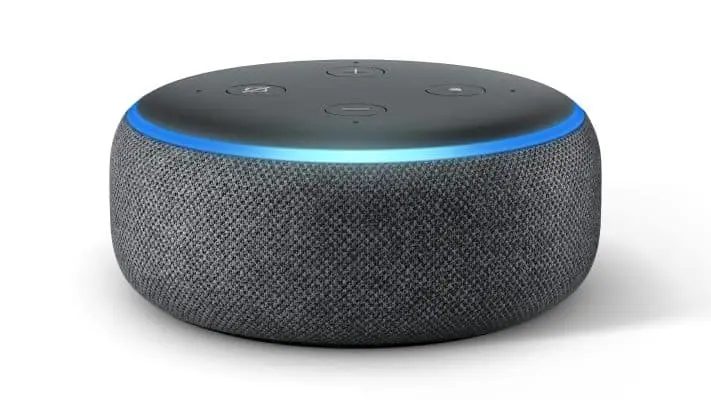 One of Amazon's most popular smart speakers, the Echo Dot 3rd Generation allows you to control your smart home with a few voice commands. In 2016, the 1st generation model was launched and since then Amazon has come up with a number of upgrades. Moreover, another update has come and Amazon already has the 2020 model, but the 3rd generation Echo Dot is still worth buying. With this device, you can not only control your smart home but even make calls almost anywhere in your country and also stream music.
Pros
Small fabric design
Easy setup and integration
Clear call quality
Improved Alexa app
Inexpensive
Vastly improved audio
Pros
No auxiliary cable included
Sound quality is still lacking
What is an Echo Dot used for?
The Amazon Echo Dot works as your own personal assistant. Even though it can't physically run your home, but it can do everything else. You can ask questions to the Voice assistant, Alexa. The questions can be about time, general knowledge, traffic, what today's weather is going to be like or anything else you need to make your day work smoothly. Not only this, your Dot can even connect to and control the smart devices in your home. All you need to do is give the voice command, like "Alexa, turn on the bulb". Moreover, you can ask for its help for playing games or even to wake you up in the morning.
What does the Echo Dot need?
Monthly Fee
There is no monthly fee for the Echo Dot. You only need an Amazon account for Dot. Also, with Prime membership, you get some added benefits, like being able to access Amazon Music.
Alexa
Alexa works like your smart assistant in the device. You can give her voice commands and for her help with different things. Moreover, there is no extra hassle to get Alexa, as it is built-in to your Amazon Echo smart speakers.
Wi-Fi
For the Echo Dot to work you will need Wi-Fi. Even though without Wi-Fi, you can use the Dot as a Bluetooth speaker, but to set up the device you will need to connect to the Internet.
Design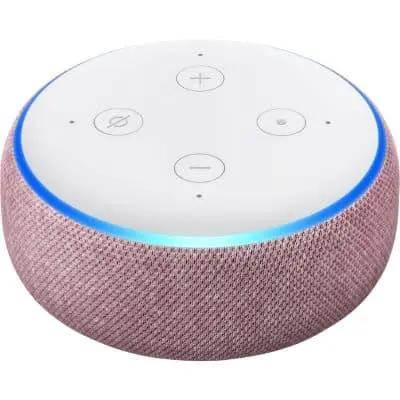 With the upgraded design, the 3rd Generation Amazon Echo Dot is much better than Amazon's two previous Echo Dots. The new design has rounded edges making it smoother for the eyes. Also, the fabric grille around the outer edge gives it a more modern and classy look. The new design of the Echo Dot removes the all-plastic sides of its predecessors and replaces it with a cloth-covered finish. You can even choose from colour options that include Charcoal, Heather Grey and Sandstone shades. The volume up and down, microphone mute and Alexa, as well as a four-microphone array, are present on the top of the Echo Dot. You can activate Alexa by pressing the button on the top or by saying its name. When you do this, a blue ring of light will flash that you can even see on other Alexa devices.
At the back, the power jack and the auxiliary 3.5mm jack are present. You can use it to connect to any speaker with a matching jack. Although, you don't get these cables with the Dot. The device is 3.9 inches in diameter and 1.7 inches tall, making it slightly larger than the second-gen Dot. Moreover, with the new design, you cannot use most of the third-party skins, cases and accessories designed for its predecessors. Another minor upgrade is that the Echo Dot 3rd-generation supports 802.11ac Wi-Fi.
Audio Quality
With a slightly bigger size than its predecessor, the Echo Dot even comes with a much better audio quality. The audio quality for the second-gen Dot gave a terrible experience, like music playing on a bad transistor radio. But with the 3rd generation, you can feel the superior audio quality from the very beginning. Not only this, the device is in most audio aspects as compared to other smart speakers. The Dot has much fuller bass and is louder. Although if you feel that the vocals are a bit muted, you can increase the treble to the max. Even after all these upgrades, the Echo Dot audio still comes second to the full-size Echo. But the fun does not end here, you get a very handy audio feature with your Echo. You can adjust the equalizer settings by simply asking Alexa, "Alexa, set the bass to maximum," or, "Alexa, reset the equalizer."
Setup and Alexa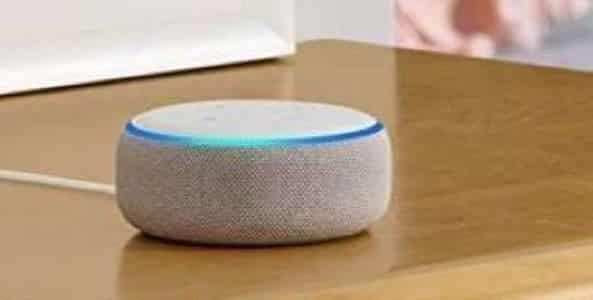 If you are worried about setting up the device, don't worry, it is quite a simple procedure. If you have one or more Alexa devices already set up in your house, here is what you need to do:
Open the Amazon Alexa app.
Go to the Devices section and click on the plus icon.
When you do this, the app will do a quick scan for nearby devices.
After that it will connect with your Echo Dot.
Although, if you do not have any other Alexa device, here is what you will have to do:
Download and install the Amazon Alexa app.
Sign in to your Amazon account. If you don't have an account, you can create a new one.
After, that you can follow the abouve steps to add your Echo Dot to the app.
The upgraded Amazon Alexa app makes it easier to group devices together into rooms. Moreover, it is much easier to add additional smart devices to your other appliances at home with the app. Although, Skills library for Alexa is still lacking the same and creating Skills for Alexa is still in the development phase. Still, Alexa is a fairly competent smart assistant and will help you throughout your day.
What you can do with Alexa?
The third-generation Echo Dot is equally sensitive and responsive as its predecessor. Currently, there are more than 50,000 skills available for Alexa. This wide array of skills include everything from playing Jeopardy to turning on your lights or getting a ride to your office. With your Echo Dot, you can stream music through apps like Amazon Music, Spotify, Deezer, SiriusXM, Pandora, iHeartRadio and TuneIn.
Amazon has added new smart home partners, so you don't have to work so hard to find a device that works with Alexa. From smart thermostats to smart lights to smart locks, smart plugs, and home security cameras, you can get almost anything. With the smart home, Routines feature you can control a group of smart home devices with a single command. With a command like "Alexa Goodnight", Alexa will shut off all your lights and lock your doors. Other simpler features help you to use Alexa to call and message others and broadcast a message to all the Echo devices in your home.
Performance
The improved audio system in the Echo Dot makes it a much better choice than its predecessors. So, some music does better on the Echo, but you will still have to connect it to an external speaker for heavy listening. Although, connecting devices to the Amazon Echo Dot is not as easy as you would want. Amazon relies on Bluetooth for connecting with devices. This isn't any kind of setback, but sometimes it can become annoying. Not only the audio quality has improved but the microphones and call quality has considerably improved too. The Amazon Echo Dot's microphone array and the noise-reduction makes calling one of the best features of the Amazon Echo Dot.
If you are not into calling much, then the Amazon Echo Dot's 'Drop In' feature might become helpful. You can use the Echo Dot for a wide range of actions like setting timers, having a news brief in the morning, or ordering an Uber. Recently Amazon has added new voices for Alexa, a Brief Mode that stops Alexa from constantly interjecting in conversations and voice shopping in the Amazon Store.
Conclusion
Amazon Echo Dot 3rd generation is a budget-friendly smart speaker that can perform a wide range of actions. It can control your smart home, play songs, make calls, answer your questions and act as your virtual assistant. The upgraded design and improved audio quality of the Dot make it much more popular. With the rounded outer edge and fabric grille, you can no longer add a cover to Dot's exterior. With Alexa, you can perform multiple functions and ask her to aid you to make your day smoother. You can ask her to give you a weather briefing, book a ride on Uber, play music, and even control your smart devices at home. With added Skills library, not only Dor but even Alexa has come a long way.
If you have any questions, you can ask us in the comments section below.
Read More!