The AstroAI is a small, light, and easy-to-carry tire inflator with a built-in handle. It may not use artificial intelligence, but it is a capable tire inflate at a terrific price. Because of the pump's maximum pressure of 100 PSI, it's only suitable for vehicles and small trucks, although it can easily fill a tire, raft, or ball. Unfortunately, while in operation, the AstroAI Air tire inflator makes a lot of noise & wobbles about. Despite its $32 price tag & three-year warranty, it may find a home in your trunk.
What you will see here?
Design and features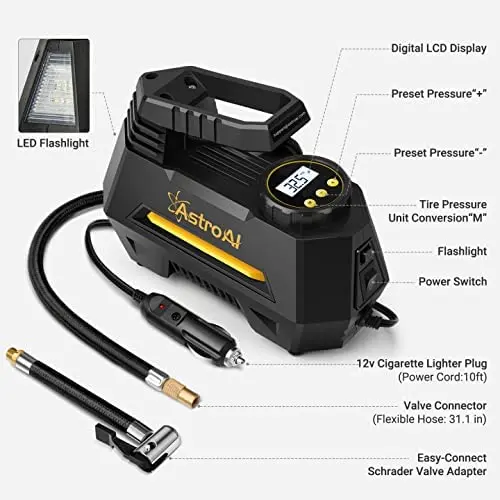 The AstroAI Air Compressor in black and yellow does a lot with a little. The AstroAI pump is approximately one-third the size of the Craftsman V20 Cordless Inflator, but it's limited to utilizing the car's 12-volt accessory socket for power; it doesn't have AC power or a battery. The inflator weighs roughly the same as the Carsun Portable Air Pump at 1.8 pounds.
The control center of the AstroAI is located beneath its strong handle, and the primary button is used to change the device's units. Unlike other pumps, which only offer two options, the AstroAI pump includes four: the standard PSI, KiloPascals (KPA), Bars, and also Kilograms per square centimeter (KG/CM2). The three-button interface contains an M button for changing units and "+" and "-" buttons for configuring the auto shut-off circuit, so you don't overfill a tire or beachball by accident. The device's 1.1-inch monochrome screen is modest, but it compensates with huge numbers.
The pump seems to have a maximum pressure of 100 PSI and can transport up to 9 gallons per minute, thus it might not be suitable for bigger truck tires. The pump is started by the On/Off switch, and the four-element LED headlight is turned on or off by another button. A fuse, as well as attachments for sports balls & inflatable toys, are included in the package. However, there are no USB or AC outlets.
Specifications
Size: 8.4 6.6 x 3.3 inches.
Weight: 1.8 pounds.
Time to fill a tire: 3:40.
Peak pressure: 100 psi.
Length of cord: 12.8 feet.
Battery: No.
Light: Yes.
USB, AC power ports: No.
Additional features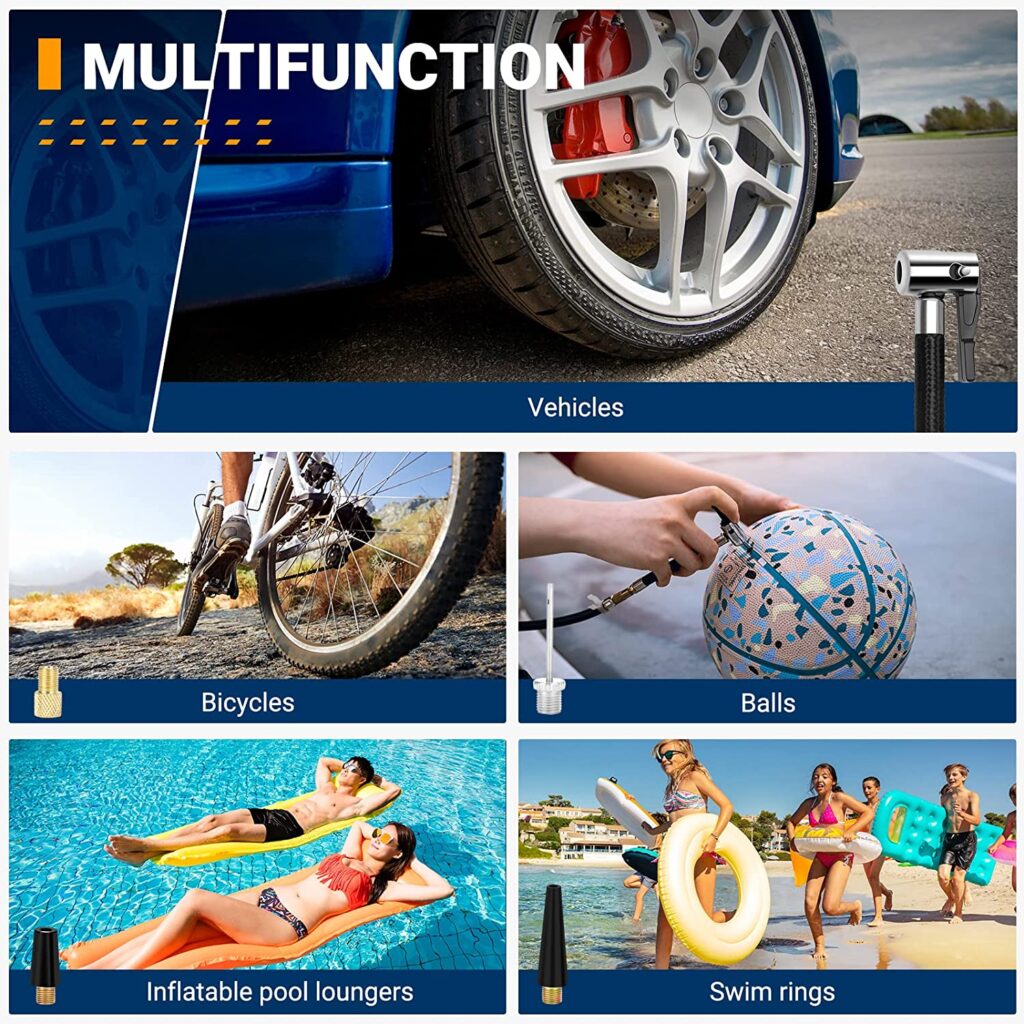 Increase Safety
Tires that are properly inflated perform better in all weather situations and avoid collisions, tire explosions, and premature tire degradation. The INTEGRATED IN-LINE FUSE protects the air compressor from being overloaded, making it safer for everybody to operate.
Easy and Quick
Simply start your car, connect the air compressor, & inflate! A high-flow pump inflates your tires up to 35 liters per minute, allowing you to get back on the road quickly; it also comes with a storage box for extra convenience.
AstroAI Air Compressor: Advanced Accuracy
Professionally calibrated to always give you a reading that is within 1% of your tire pressure. No more speculating! When inflation is complete, it fully overcomes the problem of lower pressure after disconnecting the valve connector, making inflation more precise.
Overheated Protection
When the temperature exceeds 100°C/212°F, the overheat protection will immediately turn off; the maximum continuous operation time: is 15 minutes.
Setup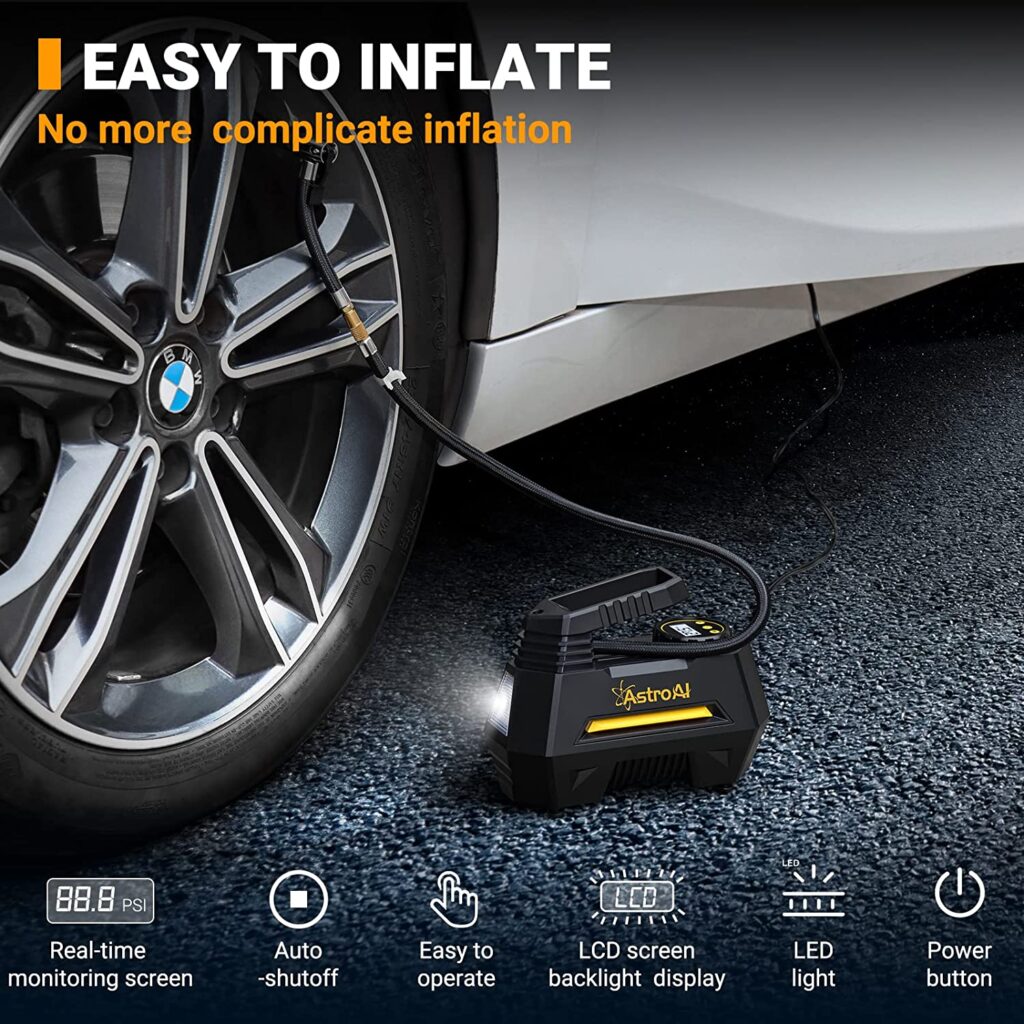 This AstroAI pump can go anywhere & effortlessly transfers from the tire to the tire thanks to its handle. It performs admirably on the road, but its absence of an AC cable limits its utility in a garage.
This AstroAI pump seems to have a reach of more than 12 feet when the power cable and airline are combined. For a vehicle or light truck, this should be plenty. AstroAI Air tire inflator also gives the option of a screw-on tire valve connector or a clamp-on connector with the provided extension. However, there is no place to tidy up or store the cable and hose.
Performance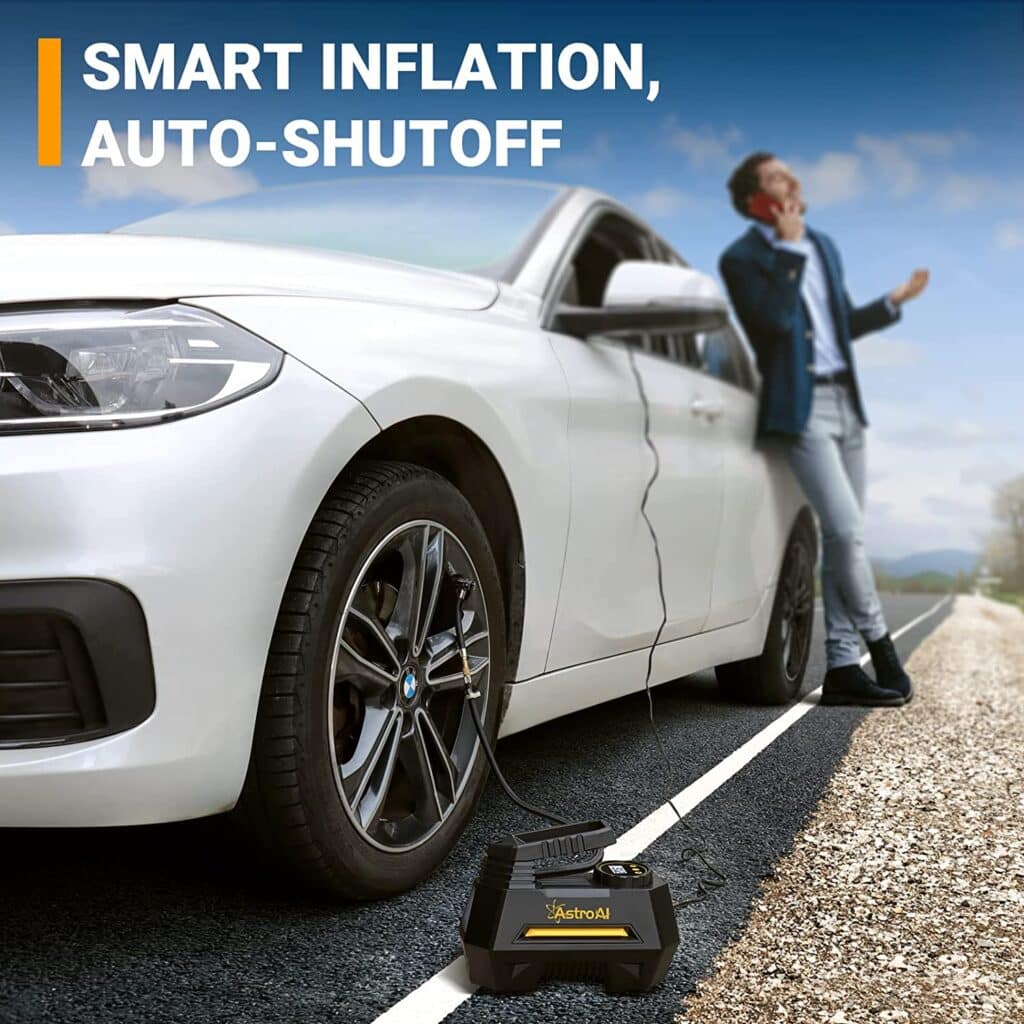 The pump came to life after inserting the AstroAI Air Compressor into the car's accessory port and turning on the power switch. It took 3 minutes & 40 seconds to fill the car's tire to 30 PSI, which was a little sluggish. In 11.4 seconds, the soccer ball fully inflated. When you want to answer the phone, the auto shut-off option comes in handy.
It's also a good thing, considering the pump's sticker on the side advises against using it for over 15 minutes at a time. After then, a 10-minute cool-down time is required.
Even when inflating a tire, the AstroAI pump's pressure gauge performed admirably and was rock solid. However, the handle may obstruct your view of the screen.
The AstroAI Air Compressor, like the V20 Cordless Inflator, comes with a three-year guarantee. The manufacturer generously placed a label on the device with the address of the company's help site.
Availability and Price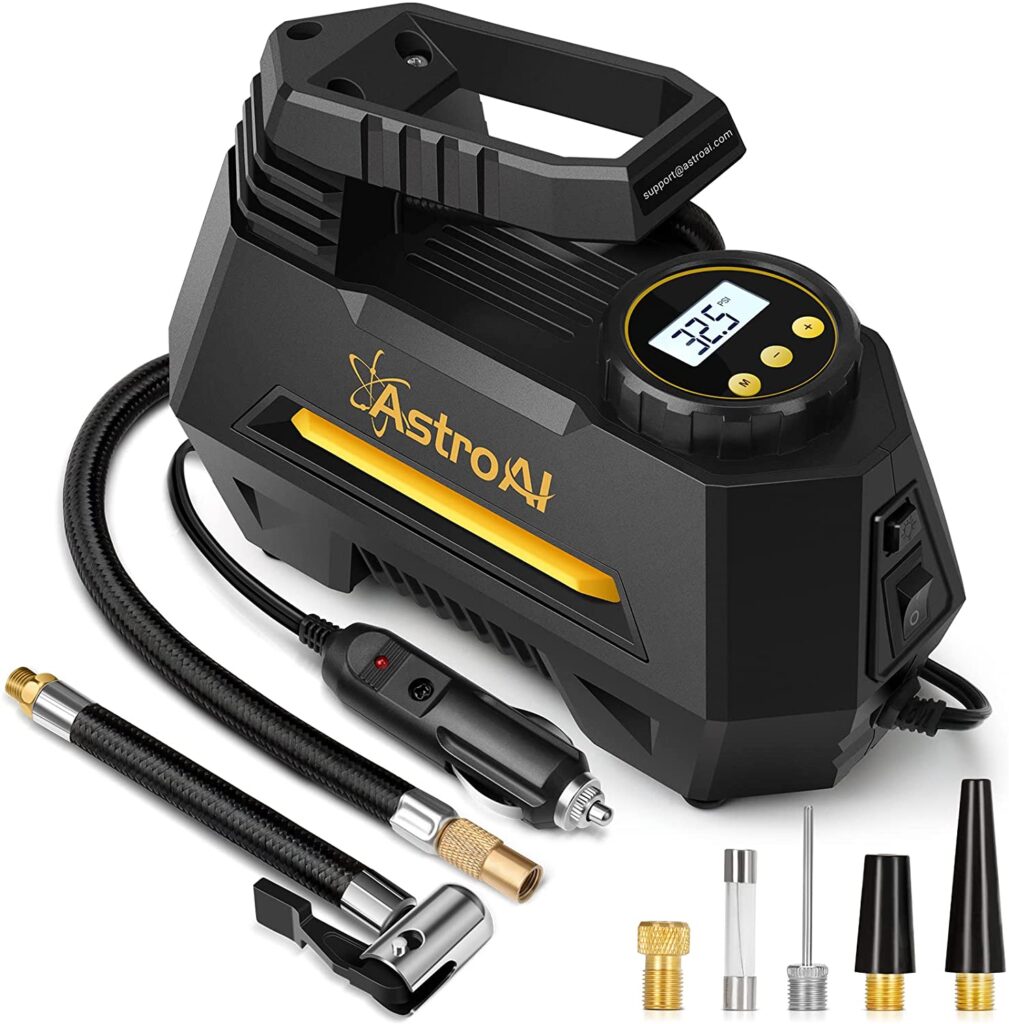 For $32, the AstroAI Air Compressor is one of the finest deals for individuals who need to fill their tires with air. Tires pressure gauges, jump starts, auto vacuums, and portable freezers are all available from the firm.
Conclusion
This AstroAI Air Compressor is a value king at half the price of others, even though it can only be fueled by a car's 12-volt accessory socket. Despite this, the AstroAI Air tire inflator can fill a vehicle tire or a basketball with more than adequate pressure.
There seems to be a light, which is a nice addition, but you don't appreciate having to cope with the pumping's continual swaying and shaking. For those searching for a budget, the AstroAI Air Compressor, at $32, provides acceptable performance.
Read more: