Google is here with its upgraded flagship smartphone, Pixel 6. But before buying it you need to know about all the aspects and features of the phone. So that you don't face disappointment when you actually get the phone. Here is everything you need to know about Google Pixel 6.
Google Pixel 6
With outstanding cameras, photo editing features, and new Google Assistant powers in Android 12, the Google Pixel 6 offers the best Android experience for the money. The Pixel 6 is unlike any other Google phone, from its distinct new appearance to the Google-designed Tensor processor. The best part is its low price of $599, which makes it quite affordable. The Pixel 6's Tensor chip not only allows the phone's camera to recognize text but also interprets it in a foreign language. Pixel features like voice-driven typing and robocall filtering, as well as the new photo editing features, are all enabled by the new CPU.
Pros
Tensor chip adds features to the phone
Excellent photo-editing features
Android 12
Unique design
Great price
Cons
Slow fingerprint sensor
Battery life can be short over 5G
Some color issues with photos
Quick Specs
| | |
| --- | --- |
| Screen size | 6.4-inch OLED (2400 x 1080) |
| Refresh rate | 90Hz |
| Display | AMOLED, 20:9 aspect ratio, 411ppi |
| CPU | Google Tensor with Titan M2 |
| RAM | 8GB |
| Storage | 128GB, 256GB |
| Rear cameras | 50MP wide (f/1.85), 12MP ultrawide (f/2.2) |
| Front camera | 8MP (f/2.0) |
| Battery size | 4,614 mAh |
| Size | 6.2 x 2.9 x 0.4 inches |
| Weight | 7.3 ounces |
| Body | Glass front (Gorilla Glass Victus), glass back (Gorilla Glass 6), aluminium frame |
| Colours | Stormy Black, Sorta Sage, Kinda Coral |
Price
The Pixel 6 pricing varies depending on where you purchase it. The 128GB variant will cost you $684, adding more storage adds an additional $100. The Pixel 6 is more expensive at Verizon and AT&T. The reason for this price difference is that Verizon and AT&T are both selling Pixel 6 variants that are compatible with their 5G mmWave networks. Only sub-6GHz 5G is supported by the lower-priced Pixel 6 versions.
Or you can subscribe to Google's new Pixel Pass service to get the Pixel 6. It will cost you $45 a month and includes not only a phone, but also Google One storage and YouTube Premium, YouTube Music Premium, and Google Play Pass streaming. Moreover, it also includes priority service for repairs and replacements. The Pixel 6 is a significant upgrade over last year's Pixel 5, but it costs less in many locations than its predecessor.
Design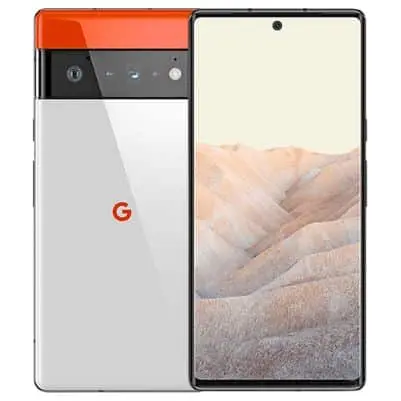 With the Pixel 6 model, Google has completely changed the design for its phones. In the new design, a horizontal camera strip runs across the back of the phone. In other mobiles, you will find the camera systems confined to the upper left corner of a device. The strip provides enough place for the two cameras, an LED flash, a laser AF emitter/receiver, a spectral and flicker sensor, and a microphone. You get an 8MP selfie camera in the center of the 6.4-inch display on the front, and a fingerprint sensor is beneath the glass panel on the bottom. You will need to press on the sensor and keep your finger against it firmly for it to work. Even though it is a setback, but still isn't a deal-breaker, as it could be fixed with a software update on which the company is already working.
The Pixel 6 is water-resistant to IP68 standards and contains Corning's Gorilla Glass Victus for scratch resistance.
The Pixel 6 measures 6.2 x 2.9 x 0.4 inches and weighs about 7.3 ounces. The likelihood for lint and dust to collect near the edges of the camera strip is quite less. Moreover, with each of the three color options, you get a two-tone appearance, with the area above the camera strip being a different color than the panel below. Moreover, instead of the colorful power button, you get a black power button, independent of the color option.
The SIM card tray is located on the opposite side of the phone, and accepts one nano-SIM, with an option for an eSIM if you desire two. Also, there is no support for microSD cards. The USB-C port is on the bottom and is plastic-lined on the inside. The primary speaker and mic are present in two identical-looking cutouts in the frame. The display is a flat AMOLED screen bordered by a bezel. Furthermore, the fingerprint scanner is under the display around a quarter of the way up the screen's central axis.
Display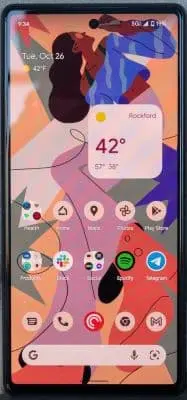 The Pixel 6 display stands at 6.4 inches, with 2400 x 1080p resolution and the thin bezels give you more screen space. Moreover, it has an adjustable 90Hz refresh rate. This scales up when your on-screen activity needs smoother navigation and gameplay and drops back down to 60Hz to save battery. Also, you get a new checkbox in Developer options that allows you to always force the maximum refresh rate. The AMOLED display has reasonably consistent colors. The screen measured 843 nits of brightness with the Adaptive Display function turned on. For color reproduction, the Pixel 6 comes with a three-position selection and no other settings. The Pixel 6's display supports HDR10+.
Cameras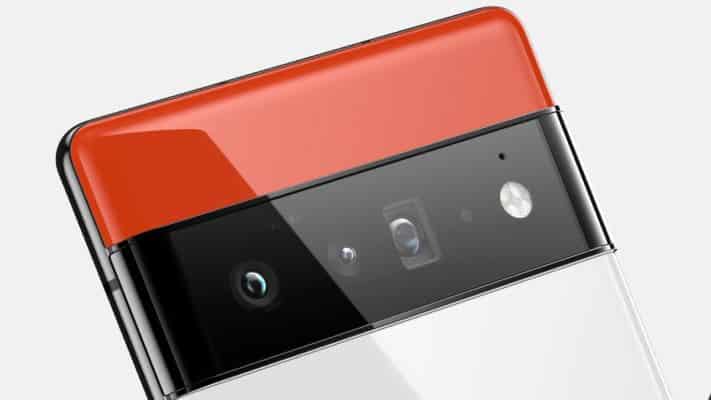 Tele-less rear setup, previous-gen selfies
The Pixel 6 rear camera is an upgraded successor to the Pixel 5, with a relatively wide camera and an ultrawide camera, but no telephoto. The black stripe on the rear has the main 50MP camera. The sensor is paired with a 24mm-equivalent lens with an f/1.85 aperture and optical stabilization. Even though the ultrawide camera has been upgraded from the Pixel 5, it lacks autofocus, which means it's useless for close-up shots. However, the lens has a 114-degree field of vision, which is a 14mm equivalent, but that's only while shooting RAW.
The selfie camera has a 24mm-equivalent lens with an f/2.0 aperture is an 8MP sensor with 1.12m pixels. Although, even this lacks autofocus. The redesigned camera app has the Settings icon in the upper left corner and a location choice in the upper right corner in the main viewfinder to choose whether to store photographs or videos shot to the Photo Gallery or the Locked Folder. By default, you are set with the "Camera" mode, if you swipe you can choose from Night Sight, Motion, Portrait, Camera, Video, and Modes. Translate, Text, Search, Homework, Shopping, Places, and Dining are all modes available in Lens.
Daylight image quality
With the Pixel 6, you can take excellent daylight shots. The pictures have a lot of contrast, but you also get a lot of dynamic range and well-developed tonal extremes. The pictures are vibrant with amazing sharpness, with a Pixel rendition of fine detail. It also handles scenes with a lot more contrast with a lot more grace. Although the Pixel 6 lacks a telephoto camera, it does include a 2x zoom option in the viewfinder. There are some setbacks like the ultrawide camera isn't all that wide as compared to its rivals. Moreover, the corner softness is so small that it's almost unnoticeable, but there is still some slight barrel softening. Even without autofocus, with Pixel 6 you get great wide-angle shots rather than close-ups or enhancing perspective on surrounding subjects.
Night Mode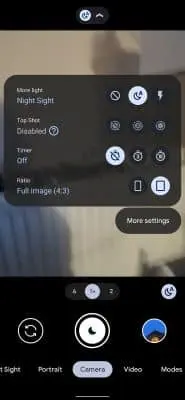 The default Camera Mode does not require the use of Night Sight to generate excellent photographs. The pictures have decent exposures with a wide dynamic range. The colors are precise and retain the vibrancy of daylight images without any loss of saturation. Night Sight enhances the game with adjustments like shadows and lower mid-tones to get a boost in sharpness and detail. So it allows you to see textures that were previously too soft to discern. You also get an option for Auto Night Sight capture. Most of the low-light scenes are automatically exposed but if the light is sufficient it goes for regular exposure.
Portrait Mode
You get two zoom levels in the Portrait mode, 1x and 2x, however, they don't correlate to the primary camera 1x and 2x. The 1x puts you far enough away from your subject to keep the distance from being uncomfortable while also improving the perspective without affecting sharpness too much. The pictures taken at 1x zoom are reasonably crisp on the subject, but with a Pixel-like roughness. Although, the default background blur level is a little high, and it gives the image an unnatural appearance. However, you can edit it in the gallery.
Selfies
The selfie camera is different and it can't cover quite as wide a field of view. However, you get the 24mm equivalent that is far from restrictive. With low noise and dynamic range, the scenarios with a lot of lighting will also look well. Your selfies will have the same colors, HDR on full blast, and sharp detail. Moreover, the subject separation is better in selfies than on the back camera, and the lower blur setting creates a more natural effect.
Video Quality
The primary camera can record video up to 4K60, and the ultrawide camera can capture video up to 4K30. At the 2x zoom level, you can get up to 4K60, but the results won't be that great. The 4K30 videos shot with the main camera have the correct exposure, excellent dynamic range, and vibrant colors. At 2x zoom, 4K is a little soft, but for a smaller screen, it's perfectly adequate. The ultrawide's 4K capture has excellent color and dynamic range match to the primary camera. Even in low light, the main camera performs admirably. However, shadows might be hazy, and the dynamic range is limited.
One of the major setbacks is that the ultrawide doesn't last long and starts shooting soft and noisy footage. You can toggle the global video stabilization toggle in the settings, or select a more granular stabilization mode picker in the viewfinder. Only the main camera can record in 4K and 1080p with 'Cinematic Pan.' It shoots at 60 frames per second but encodes the footage at 30 frames per second for a half-speed light slow-motion effect.
For strong movement, the 'Active' option only employs the ultrawide camera but still offers 1x and 2x zoom capabilities. There are no options for resolution or frame rate, only it's 1030p at 30fps. The Locked Mode helps to take pictures of faraway objects without having to move the phone. It has 2x and 5x zoom levels, 1080p or 4K resolutions, and 30fps and 60fps frame rates. Although at 2x, you get good quality and stability, it lacks sharpness.
Photo Editing Features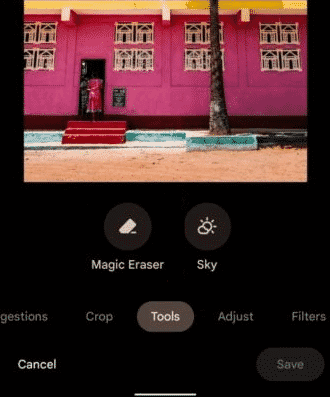 Google combines its computational photography expertise with picture editing tools that allow you to enhance your photos. These editing tools are quite easy to use too. You can find the Magic Eraser in Photo's editing tools. It can automatically select persons and things to delete, you can do it with a single press. Magic Eraser can recognize individuals, as well as any other objects in a photo, and offer to remove them automatically. You may even tap other locations to erase other objects in the picture. All you have to do is draw a circle around the object you wish to remove, and it will handle the rest.
Motion Mode
Motion mode adds a blurring effect to flat, static photographs to enhance the pictures. You can use it to click images of moving objects to bring them to life. Action Pan allows you to put focus on a moving item. You can even use Long exposure to blur the moving objects. The upgraded features also include the ability to process HDRnet in 4K films for more bright colors and a tool that unblurs the face of someone moving.
Performance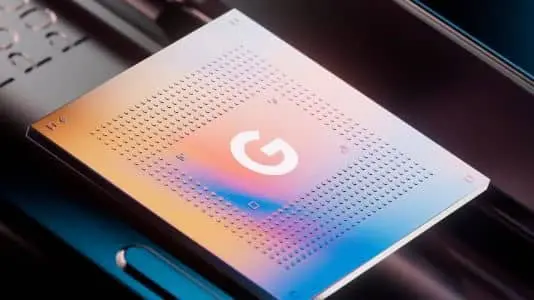 Tensor is the Google-built system-on-chip that enables many of the new phones' machine learning capabilities. It is used to power some of the photo-enhancing features in the Pixel series. The question on Tensor's capabilities is how it will compare to the Snapdragon 888 processor found in the majority of Android handsets. The tensor is similar to the Snapdragon 888 while being a few sections behind it. The mobile performs great even in a graphically demanding game, with sharp graphics and good response times. Other games offer Pixel 6-specific enhancements through the Game Dashboard. With this, you can choose whether you want the greatest visuals possible or want to save battery life.
The CPU is set up is different than other mobiles, with a 2+2+4 core layout rather than the 1+3+4 configuration. The TPU (Tensor Processing Unit) handles new camera capabilities and a revised language model for Google Assistant for better recognition. Instead of aiming for peak speed, Google's goal with the Tensor processor is for all of the components within to operate together efficiently.
5G modem
A 5G modem is included in the Tensor chipset, that's a step or two below Qualcomm's Snapdragon X60 modem, which is used in other mobiles. As a result, 5G speeds on the Pixel 6 are a little slower. This is not a deal-breaker, but when you consider that Pixel models differ based on the type of 5G network they can connect to, it adds to the complexity.
Battery and charging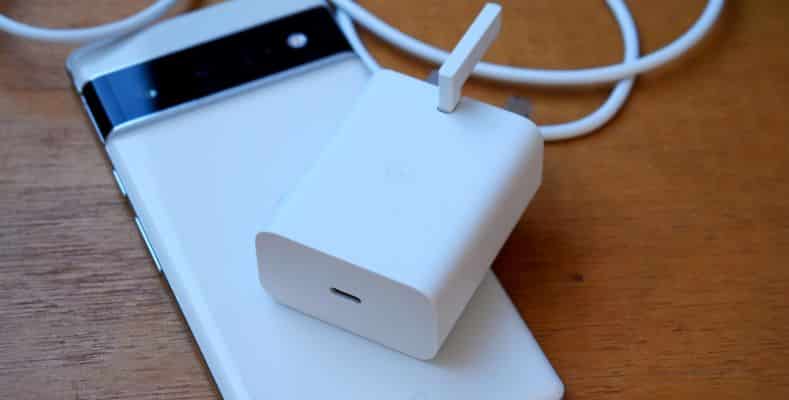 You get a battery capacity of 4614mAh in the Pixel 6, which is significantly less than the Pro's 5,003mAh but plenty for the display and CPU. The Pixel 6 lasts over 20 hours of offline video playback at 60Hz. However, it lasts for twelve and a half hours of Wi-Fi web browsing, locked at 90Hz. You can operate the Pixel 6 at 60Hz if you want some extra battery life. According to Google, the mobile charges 50% in 30 minutes using their 30-watt adapter. It supports USB Power Delivery 3.0 with PPS. Moreover, wireless charging is supported by the Pixel 6. According to Google's product sites, the second-generation Pixel Stand can deliver up to 21 watts of power.
Software and Special Features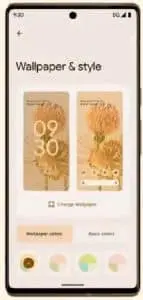 The Pixel 6 has Android 12 which includes Google's new Material You interface, which is pre-installed on the Pixel 6. This feature adjusts the wallpapers to your Pixel's color. Moreover, the built-in Google apps get customized icons, and even features like the keyboard take on the shading of your phone. Google Assistant is smarter than before and comes with some useful new features. You can dictate text messages to the assistant, it's smart enough to know where to put punctuations based on the sound of your voice, and can even recognize instructions like Clear and Send. All you need to do is to say "Hey Google, type" to send a message, and the microphone icon will light up to indicate that the assistant is listening for dictation.
Also, Google has removed the phrase "Hey Google" from the beginning of some assistant requests. You may snooze or stop an alarm by simply saying "stop" or "snooze." For an incoming call, you can say "answer" or "decline." When you enter a phone number into the Pixel 6's dialer, you'll see a graph with wait time trends, indicating when it's a better time to call. You can also change the settings in the Phone app to get real-time transcriptions of automated phone messages.
The most useful feature is an interpreter, which allows the Google Assistant to listen to and translate spoken text – it supports German and Japanese on the Pixel 6, and you can access 48 other languages if you have an internet connection. The interpretation tool is probably best used while traveling abroad and conversing with native language speakers.
Security and updates
The Pixel 6's Tensor chipset and dedicated Titan M2 secure enclave work together to keep your data safe. The Security and Privacy Features include a new Privacy dashboard that shows you a history of which apps are using your location, camera, and microphone. Also, you can even add a camera/microphone toggle to the quick settings to easily turn access on and off. A security hub allows you to manage your passwords, app permissions, and Google account all in one place.
User Interface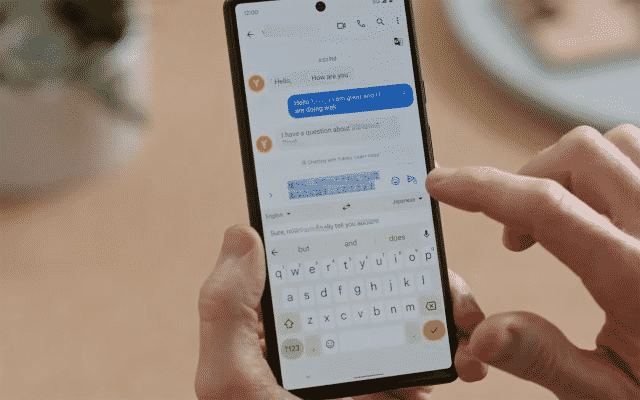 The Pixel 6 has some unique capabilities enabled by the Tensor chipset like Voice Typing, Live Translate, and Calling Assist. You could always type by voice in GBoard, but the Tensor chip has added Assistant Speech Typing. The language model analyses language instantaneously, thus working without an internet connection. For voice typing, you can press the microphone button or saying "Hey Google, type". Moreover, the Assistant will even add punctuations to your texts.
Live Translation
The new language model allows for considerably faster and more accurate transcription of voice to text. This even reduced the time it took Google Assistant to respond to voice commands. With the Google Interpreter, you can get help chatting in someone's native language. You could have a text discussion with someone in a different language, and Google would automatically translate both directions. You can find this option in the System Settings, also you need to manually download the language from which the translation is to be made.
Unfortunately, only a few chat apps allow Live Translate. Moreover, it only works in English, French, Japanese, Spanish, German, Italian, Portuguese, Simplified Chinese, Hindi, Polish, and Russian. It can even handle spoken-word content if it's in English, French, German, Italian, or Japanese (Beta). But the best part is it can transcript and translate the sound from a video or audio source in real-time. The only setback for this is that the actual translation remains slow and clumsy.
Speaker

The Pixel 6 comes with a stereo speaker arrangement that includes one bottom-firing speaker and one front-firing speaker above the display. This also works as an earpiece. In portrait mode, the left channel is assigned to the earpiece, whereas in landscape mode, the phone assigns the correct channels based on the accelerometer input. Regardless of whether you only feed one channel, the other will create sound as well, albeit at a considerably lower volume.
Problems and updates
Even though during testing, the Google Pixel 6 has been relatively free of problems. But there are some people who have faced issues while using the phone. These issues range from the display flickering when powered off to the phone randomly calling contacts at odd hours. The fingerprint sensor has the biggest problem because of slow response times. Some users have also faced the fingerprint sensor stops after the battery runs down. The good news is that most of the issues may be resolved with software updates. Moreover, since its launch, the Google Fit app has included a new Adaptive Sound setting as well as heart and respiratory rate tracking via the phone's camera.
Top features of Google Pixel 6
Machine learning features are powered by new Tensor chips on the Google Pixel 6.
The Pixel 6's main camera has a 50MP sensor, while the ultrawide angle camera has a 12MP sensor and a 114-degree field of view.
Magic Eraser makes it simple to eliminate people and objects from your photos' backgrounds.
Battery life varies, with poor performance over 5G connections and good performance over LTE.
Android 12 brings a new interface to the Pixel, with wallpapers and icons that match the aesthetic of your phone.
Several Tensor-powered capabilities are available in the Google Assistant, including calling assistants and voice-powered recognition.
A 90Hz adaptive refresh rate is featured on the 6.4-inch OLED display on the Pixel 6.
Conclusion
The Pixel 6 is Google's best phone to date, moving ahead of its predecessors. The mobile comes with good cameras and some useful photo editing tools. The Tensor chipset and Android 12 are a nice addition to the Pixel lineup along with its machine learning expertise. But some of the setbacks like less battery life and 90Hz display are not that much of a deal-breaker considering all the great features that come with the mobile. The camera strip on the rear is an appealing design choice in the Pixel series. The fact that the Pixel 6 is only available in a dozen countries is a serious flaw that can't be overlooked. But if you're in one of those countries where Google officially sells Pixel 6, then it would be a wise decision to get one.
If you have any questions, you can ask in the comments section below.
Read More!