The smart speaker race is picking up its pace and every other company is launching their smart speaker. Google is not giving up in this race too with its Google Home smart speaker. If you are not sure if you should get it for your home, here is a review of Google Home for you.
Google Home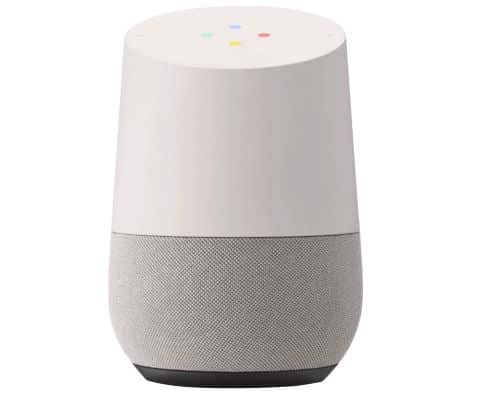 Even after the Amazon Echo, the Google Home is one of the most popular smart speakers today. Despite the fact that the Google Nest Audio has supplanted it, the original Google Home is still worth considering. Google has developed a variety of smart speakers after the launch of Google Home, including the Google Home Mini and Google Home Hub. Google Home speakers have recently undergone a rebranding. New Google speakers, such as the Google Nest Hub Max and Google Nest Mini, now go by the name Google Nest. Google Assistant is embedded into all of these smart speakers. Due to regular updates and machine learning capabilities, the voice assistant is getting smarter. This means you can ask your Google Home speaker to give you the weather forecast, lower your smart thermostat for you when you leave the house, or find a hilarious YouTube video and transmit it to your Chromecast.
Pros
Customizable base
Massive song library
Expanding hardware ecosystem
Cons
Missing Google's own services
Phrasing needs to be precise
Google Cast support needs work
Price
Voice assistants aren't perfect, and sometimes your questions get lost in translation. You can get Google Home for just $89 / £89. Technologies will become smarter over time, but for the time being, they make mistakes. Many Actions and Continued Conversation, both of which make it easier to ask multiple questions at once, are two ways Google has handled issues. Google Home isn't perfect, but it'll only get better as Google continues to improve its AI voice assistant technology, Google Assistant.
What's new for Google Home?
Because Google Assistant is updated on a regular basis, your Google Home is always changing. You may now teach the voice assistant to recognize your voice more precisely, resulting in more personalized responses to your requests and inquiries. The Google Home app is making it easier to use and control other smart home devices. However, this isn't the only Google Home update in the works. It is also experimenting with simplified controls for its Nest smart displays, such as the Google Nest Hub Max. Although, Google has removed Guest Mode, a valuable Google Home feature. You could use it to cast media to a Google Cast-enabled device without having to share the same Wi-Fi network. Guests without Wi-Fi access might receive a four-digit pin that could be used to connect to the speaker directly.
However, Guests will now require the complete Wi-Fi password instead. Moreover, Google stated that Assistant is now available on over 500 million devices. Simply set Pandora Premium as your default music streaming service. Then say "Hey Google, play" followed by the name of a song, artist, playlist, or station to activate Google Assistant. Also, just like with the Nvidia Shield set-top box, you can now use Google Assistant to speak with Netflix and ask it to play content if you have an Android smart TV. You may now assign reminders to different members in your household using Google Assistant's new feature. That implies you can evenly spread all of the different chores if you share your home with others.
Design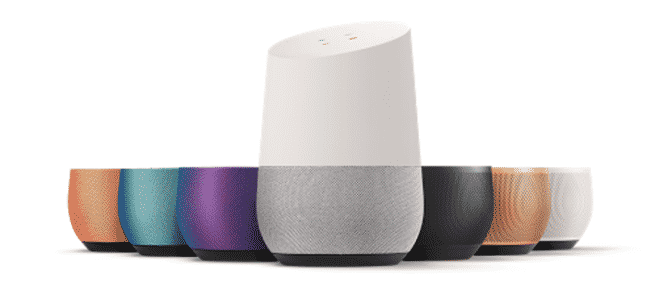 Google Home is shaped like a little vase, with a wide bottom and a tapering top. Each Google Home comes with a standard grey cloth base with a rubber bottom. Also, it can be replaced for roughly $20 for a different material or color. Google now offers two types of bases to complement your home decor: metallic and cloth. Both of these come in a variety of colors and finishes. Metallic bases are available in copper, snow, and carbon colors and are composed of either painted steel or polycarbonate. Mango, sea, and violet are the three fabric colors available, in addition to the normal white mesh. When compared to the Amazon Echo's all-black canister design, Google Home is a significantly more appealing alternative from an aesthetic standpoint. It's also smaller, measuring 5.62 × 3.79 inches, making it easier for the Home to fit in.
Shape and its purpose
This form, moreover, serves a purpose. The top, flat, inclined surface functions as a touch-capacitive panel. Thus, allowing you to adjust the volume, play and pause music, and activate the assistant with a single tap. Four multi-colored lights twist and spin to signify that you've captured its attention. You can do it either by touching the top panel for a few seconds or shouting the wake word ("OK Google" or "Hey Google"). Although, Google Home's touch controls are less exact. There is an actual mute button, which let you know when the speaker is listening and when it is not. With its two built-in microphones on the top half, it generally does a good job of picking up your voice, but it doesn't always work.
Whether it's due to Google's software or the fact that it only has two microphones, you'll sometimes have to repeat or raise your voice. When you remove the bottom base, you'll find a speaker and two passive radiators. Furthermore, the design is very simple, clean, and unobtrusive. The Google Home Mini, which has a Micro-USB port, can be charged by a power bank. Although, the normal Google Home is designed to stay stationary and has a special main power adapter that plugs in at the bottom.
Audio performance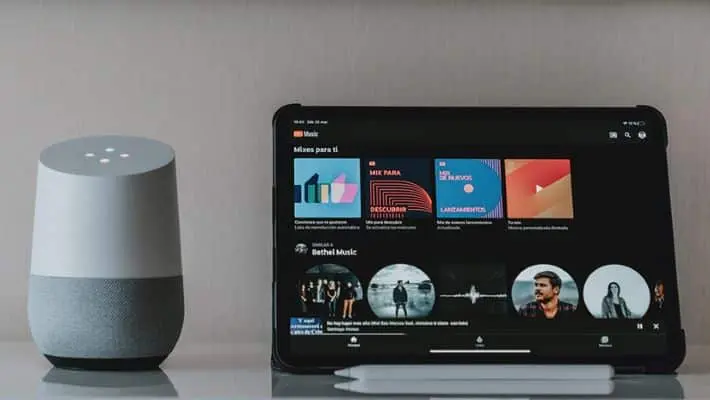 Google Home is also a capable audio device, besides the Google Assistant. It has access to a variety of streaming services, including Google Play Music, YouTube Music, Spotify, and Pandora. Also, you can use it as a WiFi speaker due to Google Cast. This means you'll be able to ask it to play almost any song you can think of, and it'll either discover it in Google Play Music's 30-million-plus collection or pull it up to YouTube Music. It has the largest song library. Music on the Google Home sounds less robust when compared to Bluetooth speakers in its price range. It's not completely bad, it does have some bass and some mids, but it can't replace your Hi-Fi setup.
However, it compensates for its subpar audio quality a feature that other speakers lack. It can receive and send Google Cast signals. Thus, making it the only audio device that can not only stream music from your phone but also send video streams to any Google Cast-compatible connected devices. For its size, the Google Home is surprisingly loud. The 360-degree speakers that fire in all directions are more than capable of filling a medium-sized room with sound. However, the sound quality isn't particularly impressive. A 2-inch driver and dual 2-inch passive radiators are present in the device.
When you're done listening to music, simply say "Okay Google, disconnect," and it will turn off. Also, any Bluetooth-enabled speaker can be linked to the Google Home, which is a terrific way to expand its audio capabilities. It might be great for playing music on demand, setting reminders, in the kitchen, or for someone with a lot of smart home devices.
Google Cast and Chromecast performance
With Google Home, you can simply give your Chromecast an easy-to-pronounce name, or tell your favorite songs to play or even videos on your Hi-Fi or TV. It supports a number of local streaming services. It's a terrific streaming solution, in theory, however, you might face issues with the functionality. You need to clearly pronounce everything to get the exact thing you are looking for. Then there's the problem of choosing specific episodes, which Google Home can't do. You can ask it to start playing a show from where you left off. However, you can't ask it to play a specific episode. Although, skipping between episodes works great.
Controlling playback once you've started casting is also a problem. Instructing the speaker to 'play' or 'pause' works fine. Although, telling it to play another music causes it to lose track of the casting and play the new song from the Home's own speaker instead. The main promise of Google Assistant was that it would be contextually aware. However, it still has a long way to go.
Google Home as the center of your smart home
Google Home can communicate with a variety of devices along with Chromecast. More than half of the items that can link are already available or will be available soon. Nest thermostats, Philips Hue lightbulbs, and Samsung's SmartThings network are among the first things Google Home was able to connect to, with support for LIFX lightbulbs and LG MusicFlow speakers anticipated soon. Thermostats from Netatmo and Tado can also work with it. Although you'll have to log in to these third-party programs on a regular basis. Giving commands is simple and intuitive. Google recently announced that Home would support numerous additional smart home ecosystems. The list includes August, Wink, LIFX, TP-Link, Rachio, Vivent, First Alert, Frigidaire, Logitech, Geeni, Anova, and Best Buy's Insignia brand in the United States.
This provides you with a lot more flexibility in terms of which gadgets you may connect. It also gives you more control over your growing smart home. One of the biggest issues is that it is unable to interact with many of Google's own services such as Gmail, Voice, and Docs. You'd think Google Home could recite the subjects of your top ten emails, but it can't. The same is true with Google Calendar, which is unable to create new events, make phone calls with Google Voice, or write some quick notes in a Google Doc. Google has a slew of services that the Home should be able to connect to, but it can't in its current condition. However, Google Home is only going to get better, smarter, and more robust in the future.
Setup and Performance
The setup procedure is pretty straightforward. If you have a reliable Wi-Fi connection at your home or business, the Google Home app will recognize the device quickly after running through a few simple steps. Google Home uses three far-field microphones to pick up voices from across a room. It is essentially a weather forecaster, DJ, game show host, encyclopedia, and scheduler all in one. You can ask it questions about random facts, the weather, directions to a specific location, and so on. You may also ask it to build shopping lists and set reminders and alarms. Google Home uses Google Assistant to get these results. Also, it can handle simple tasks like these with ease. However, doing most of these things on your smartphone is easier and more productive.
Performance
When you ask Google Home for movies showing near you, for example, you'll get a shortened list that you can't extend. While such results are great in a pinch, opening the app on your mobile is much easier. However, there are three areas where Google Home does a great job: finding recipes, listening to the news, and playing music on command. If you ask Google Home for a specific recipe, it will offer you step-by-step instructions. It's also really useful to have Google Home read the top news stories of the day aloud in the morning. The Google Home app even allows you to choose news sources. It can also play songs and performs a fantastic job at recognizing the names of songs and singers. Your questions are also saved in the Google Home app, which is really convenient.
Moreover, contextual inquiries are also understood by Google Home. Alexa from Amazon and Siri from Apple don't have the same contextual comprehension of text flow. Google Home may also serve as a game show host. Currently, there are two multi-player games built in – Lucky Trivia and Crystal Ball. Multiple activities can be combined into "routines." When you say "OK Google, I'm home," Google Home will switch on the lights and play some soothing music from Google Play Music.
What you would like?
One thing is for sure, without a Google Home, you may never realize how much music is available on YouTube. While some of the world's most popular music streaming services boast collections of 25, 30, or even 40 million songs, they are far from full. While Google Home is great at being a DJ, it's also a remarkably intelligent smart-home hub. It already integrates with some of the most popular platforms,. These include devices such as Nest, Philips, and Samsung's SmartThings, and in the future, that number will rise even more. Its Google Cast feature is also fantastic and has a lot of promise.
What you might not like?
The absence of interaction with Google's own services is a major problem. The fact that it can't send an email to someone in your contacts or help you arrange activities using Google Calendar are major flaws. This severely limits the Home's utility. Another issue with Google Assistant is the need for precision when asking questions. Also, when utilizing Google Home, be prepared to repeat where you want your music to play several times.
Conclusion
Google Home's language comprehension is a little too stiff, its range of smart home gadgets is growing, and it lacks many of Google's essential services. Google Home is a cool device with access to YouTube Music, built-in Google Cast, and the ability to turn on the lights without having to go to the switch. At the present, there isn't a compelling reason to choose Google Home over similarly priced Bluetooth speakers. Almost all of the functions of a smart speaker can be controlled manually. The Google Home, on the other hand, is a fantastic futuristic alternative to a standard Bluetooth speaker that could make your life a bit easier.
While the Google Assistant on a smartphone can do most of the duties of the Google Home, the Google Home's lack of a screen is a big part of its attraction. It just feels more natural to inquire about the weather or a recipe from someone. It not only feels less mechanical, but it also keeps you away from the numerous distractions that a smartphone provides. However, it is a useful device with a lot of potentials that has yet to be realized.
Are you planning to buy Google Home? Tell us in the comments section below.
Read More!