Google has launched the latest mobile in its Pixel series, Google Pixel 6 Pro. If you are planning to buy it, you would want to know all the factors relating to it. Here is a review for Google Pixel 6 Pro, so that you can decide if it is worth your money or not.
Google Pixel 6 Pro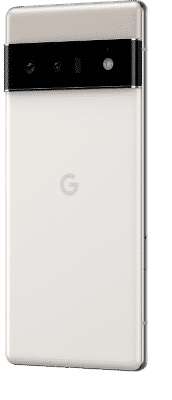 With the Pixel 6 Pro, Google has moved a step forward. This phone comes with enhanced cameras, a large 120Hz dynamic display, and the all-new Tensor chip. At an affordable price, it gives good features and displays. It comes with dual-tone glass finishes and a camera array on the back. The 120Hz LTPO AMOLED screen is the biggest of any Pixel smartphone, and an in-display scanner is currently available. The new CPU enables Google to deliver quicker and more efficient on-device language processing as well as faster computational photography.
All of the camera sensors on the Google 6 Pro are larger than their predecessors. Google also improved the camera's face detection and introduced Real Tone, a set of improvements that lets it reliably detect people of all complexions. A number of substantial changes have been made to Android 12 to align it with Google's new design identity.
Pros
Amazing cameras
Tensor performs well
New design
More affordable than other mobiles in market
Cons
Shorter battery life than competitors
Finicky in-display fingerprint reader
Price and release date
The price for the Pixel 6 Pro is quite modest as compared to other phones in the market. It starts at $799 for the 128GB model and $1569 for the 256GB model. The Pixel 6 Pro was announced on October 19 this year. You can get it through AT&T, T-Mobile, Verizon, and Xfinity Mobile, as well as the Google Store and Google Fi. Pixel Pass, which starts at $45 a month, comes with the Pixel 6 Pro. This Pass gives you devise protection, a 200GB Google One cloud subscription, YouTube Premium including YouTube Music Premium, and Google Play Pass. Due to great demand, phones are proving to be quite tough to obtain.
Design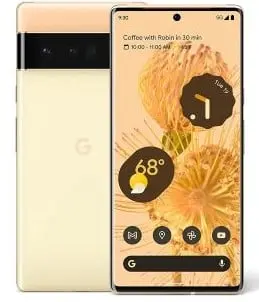 The Pixel 6 Pro is a stunning phone with a curved display, a glass back in three different colors, and a camera bar that runs the length of the phone. The phone is slimmer than the iPhone 13 Pro Max. The phone comes with a 6.7-inch display and an in-display fingerprint scanner. The back's dual-tone design gives the phone a gorgeous finish. The "glass window" on the back, in particular, appears to have evolved from its predecessors. Moreover, Pixel 6 Pro is Google's first phone to feature three primary cameras. The 48MP periscope camera with optical zoom is behind the rectangular opening in the camera bar. It even includes a new 50MP main camera, an upgraded 12MP ultrawide, and a new 50MP main camera.
Both back glass panels are protected with the Gorilla Glass Victus 3D glass and curve evenly along the edges of the frame. The glass has a glossy finish all around and has a fingerprint-resistant coating. The mobile measures 163.9 x 75.9 x 8.9 mm and weighs 210 grams. The hardware has an IP68 dust and water resistance rating, which means it can withstand 1.5 meters of water for up to 30 minutes. The phone has a 6.71″ edge-to-edge display, HDR10 support, 120Hz refresh rate, and high brightness. The front camera is at the center at the top of the display, and a tiny slit across the top edge of the glass contains the phone's in-call speaker. The phone's rear houses a USB-C port, a microphone, and loudspeaker ports.
Display
The display on the mobile boasts a dynamic 120Hz refresh rate, which means it can go as low as 10Hz to save battery life while ramping up to 120Hz when needed. Although, the display falls short in brightness. While it can get quite bright outside, it's nowhere near as bright as other competitors in the market. The display is fantastic for Xbox Game Pass, watching movies and videos, with enough saturation to make harsh tones shine. Specially developed games for the Pixel 6 take advantage of the Game Dashboard feature, which allows you to prioritize battery efficiency or graphical output.
A high-end LTPO AMOLED display comes with the Google Pixel 6 Pro. It boasts a QHD+ resolution of 1440 x 3120 pixels, a pixel density of 512ppi, and a 19.5:9 aspect ratio. HDR10 and 24-bit color depth are also supported. The default color mode is "Adaptive," and the other color modes include "Natural," and "Boosted". The color modes can't be customized in any way, and the display's resolution mode can't be changed.
Cameras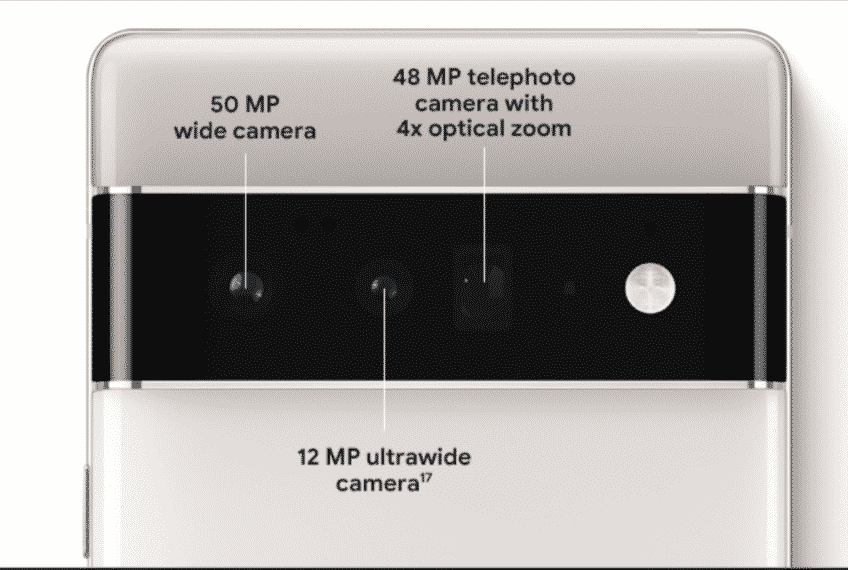 Triple Camera Setup
The Google Pixel 6 Pro features a completely redesigned camera system. The Google Tensor processor takes advantage of the new camera technology and shooting modes, while all the cameras have better larger sensors. A 50MP Samsung ISOCELL GN1 1/1.31″ sensor is present. It is paired with dual-pixel autofocus and optical image stabilization. Also, it sits behind its f/1.85 lens with 1.2m wide pixels. The camera cluster now includes a laser-assisted autofocusing component, as well as a Spectral/Flicker sensor.
The mobile has a new 11.1 MP Selfie camera with a 20mm wide lens. It can record 4K video, but only at 30 frames per second. The 48MP periscope zoom camera with 4X optical zoom is the best feature of the phone. This 1/2-inch sensor has 0.8 million pixels and is housed in an f/3.5 lens setup. This camera also comes with PDAF and OIS. Moreover, you get up to 20X zoom using a mix of Super Res Zoom and an optical 4X zoom. The upgraded ultrawide camera features a 12MP sensor with 1.25m pixels and an aperture of f/2.2. The Real Tone function is built into the Pixel 6 cameras. It improved face detection as well as the exposure and color reproduction of darker skin tones. Real Tone is also compatible with third-party camera apps.
Camera app
For Android 12, there is a new camera app. You get a Settings icon in the upper left corner and a location in the upper right corner in the main viewfinder. There you can choose whether to store photographs or videos shot to the Photo Gallery or the Locked Folder. Also, the default photo mode in the camera app is "Camera." You can swipe left to right to get modes like Night Sight, Motion, Portrait, Camera, Video, and Modes. Lens has several settings, including Translate, Text, Search, Homework, Shopping, Places, and Dining. Moreover, with the Shadow and Light sliders, there's a new meter to alter the white balance right in the viewfinder. There is also the ability to shoot RAW photographs, but you must first enable it in the settings. Despite having a 50MP camera sensor, the phone can only generate 12.5MP photographs.
Daylight Image Quality
The camera captures amazing detail in daylight, with a wide dynamic range, brilliant colors, and high contrast. Photos are incredibly crisp, perhaps even too clear at times but it depends on the lighting conditions. The images are sharp and crisp. Although, depth perception is still lacking in the Google Pixel 6 Pro. Meanwhile, the Pixel 6 Pro's photographs may have a considerable amount of noise in the corners of the frame. This indicates that HDR+ is making everything look clear. HDR+ is a little too harsh, preventing whites from remaining whites and blacks from remaining dark. Despite the fact that the wider 50MP sensor can collect additional light, it looks like the camera is still striving to create better in low-light situations. Also, the shadows are often overexposed in high dynamic range scenarios resulting in a flat-looking image. Perhaps just a little adjusting can create consistency and updates can fix it.
The 2X zoom preset in the viewfinder crops an image from the main camera. There is a very subtle softness to these photographs. The periscope camera has a 4X optical zoom, giving you somewhat more accurate pictures than the primary camera. The dynamic range is superb, and the colors are vibrant. The 10X images from the Pixel 6 Pro are pretty clean, but the resolved details are a touch loud due to Super Res Zoom, but the shots are still great. The shots are yet better than many competing mobile flagships.
Portrait Mode
Portrait photos contain 1X and 2X modes that appear to be based on 50mm and 70mm focal lengths. Google's subject separation is quite good, and it can even work around stray hair to make the image pop. The main camera on the Pixel 6 Pro is performing all of the heavy work to produce all the details. Portrait shots need to be taken from a greater distance, however, 2X portraits simply do not look as good as 1X portraits. Although it could be due to the computational complexity of mixing Super Res Zoom and artificial bokeh. Moreover, the Google Photos app has a built-in blur adjustment.
Selfies
The wider lens is a good addition for the selfies on the Pixel 6 Pro. The front camera opens in cropped 1X mode by default. These selfies appear excellent in general, but sometimes the highlights of the face and hair, details in the face can appear over-processed and noisy. Although, the dynamic range is excellent, and the background details are quite good. The selfie camera's 0.7X full-frame mode produces far greater details and textures. You can even use the Face Smoothing option to adjust the features on your face. Portrait selfies look best when taken from the full view (0.7X) of the camera. The picture selfies are quite excellent, and the face is clear even around minute details like hair.
Motion Mode
There are two Motion Photo Modes and you need to turn them on before you take the photo. Although, these modes are still in beta. A moving subject must be moving close to you in order to get in the frame. This makes Action Pan photos difficult to film with the main 1X camera. Even if the effect is on, it may not always work properly. When the subjects are further away and the 4X camera is employed, the shots look nicer. If you capture the photographs in the 1X or 4X modes, they will look better. Long Exposure is best to capture the movement of things like a train, automobile taillights, or flowing water.
Lowlight with Night Sight
The Night Sight mode automatically activates and the moon symbol that displays on the shutter button will let you know when it does. The main camera sensor on the Pixel 6 Pro can catch 2.5X more light than its predecessors. This paired with pixel binning and HDR+ will give you an unrivaled low-light shooting package. Night Site is compatible with all three cameras.
The main camera can see a lot at night without using Night Sight, with the exception of some anticipated noise in darker locations. The white balance is steady and correct, even when there are multiple light sources. With the periscope camera, 4X zoom mode, you can see what's further away despite relying solely on HDR+. Although without Night Sight, the ultrawide camera can not work at night. Google's Night Sight shows a significant boost in the main camera. The images catch a lot of the environment even with very little light.
Video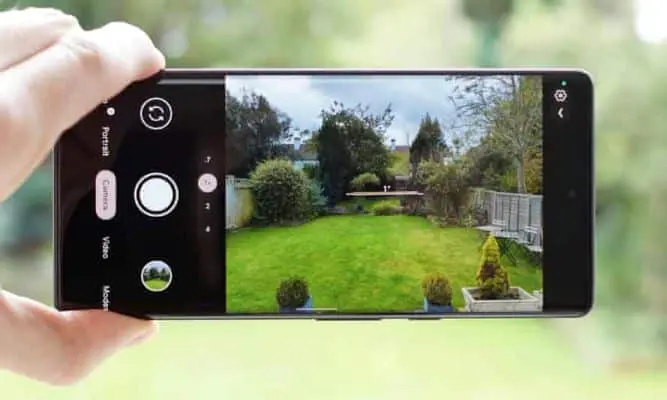 The Tensor processor supports a new video frame processing, HDRnet. The mobile can record 4K video at 60 frames per second with HDRnet, which allows tone mapping and an HDR correction to each frame of video. The figure Google chose was 498 million pixels per second, which is the maximum number of pixels Tensor can process every second of video capture. However, when the resolution is 4K at 30fps, the Pixel 6 Pro only uses the 4X periscope zoom cam to capture video. The main camera's 4K video has very little noise, and the dynamic range is outstanding, with brilliant colors and a realistic dynamic range.
The fact that you can use any still frame from the movie as an image is a great feature. The periscope camera's 4X footage also has lots of details and a wide dynamic range. The main and ultrawide cameras are color-tuned differently. The ultrawide footage is more vivid and was also adjusted colder than the main camera footage. Although there's a 2X zoom function, it might not be that useful. The quality is quite low and the details are not clear in the video with 2X zoom.
Video Stabilization
The main camera has both OIS and EIS for video stabilization. The motion is smooth and there is no jelly feeling. The Active Stabilisation Mode, however, only works in 1080p at 30fps. Other stabilization options include a Cinematic Pan Mode, which shoots at 60 frames per second but automatically slows it down by half.
Selfie Video
The 11.1MP selfie camera can record video in up to 4K resolution at 30 frames per second. A Speech Enhancement mode is also available, but only in 4K recordings. Selfie videos have pleasant colors and the details are well-resolved. The dynamic range is also fairly good, and exposure variations are handled with ease. In the 1080p at 60fps mode, the resolved details in selfie videos seem amazing. Although the video appears over-sharpened. Speech enhancement comes in handy and effectively reduces background noise. It can separate spoken words, making them simpler to understand.
Performance and Tensor Chip
Tensor, Google Silicon's first-generation chip co-developed and produced by Samsung, is designed for artificial intelligence (AI) and machine learning (ML). On-device speech recognition and translation, as well as other AI-powered services like Live Transcribe and Live Translate, are possible. You can expect 80 percent faster CPU performance and 370 percent better GPU performance than the Qualcomm Snapdragon 765G. Google utilized a novel method with the Tensor chipset, combining distinct processing units that executed different software commands simultaneously and in unison.
With its 2+2+4 core arrangement, Google takes a unique approach to this chipset. Two strong Cortex-X1 cores clocked at 2.8GHz, a pair of Cortex-A76 cores clocked at 2.25GHz, and a low-power quad-core cluster of Cortex-A55 cores clocked at 1.8GHz make up this processor. Tensor is optimised for the twin X1 cores, allowing it to handle moderate tasks more efficiently. A Mali G78 MP20 graphics processor with 20 cores is incorporated. This Tensor chip component manages new camera features such as the HDRnet video capture technology. Moreover, it also manages the Google Assistant language model that allows for faster and more accurate translation.
The Tensor chip is intended to improve the efficiency of multi-app operations, language transcription, and translation. This enhances the speed of voice queries with Google Assistant and the efficiency with which information is transmitted. On the Pixel 6 Pro, games operate smoothly. Although, the mobile may get quite hot with high-performance video games.
Android 12 and Tensor-exclusive features
The new Tensor chip brings features such as Voice Typing, Live Translate, and Calling Assist. There's also more integration with camera-based apps. An optical in-display fingerprint scanner is now available on both the Pixel 6 and Pixel 6 Pro models. The other change is Google's built-in keyboard software. With Gboard, you always had voice typing, but the Tensor chip adds Assistant Speech Typing. This makes voice typing easier as the language model is on-device and recognizes any language almost instantly. So you can use this even if you don't have access to the internet. You can start typing with your voice by pressing the microphone button or saying "Hey Google, type". The Assistant will even handle punctuation, you'll be able to respond more naturally with your voice.
If you tap on a dictated word, you will see suggestions for alternatives that are phonetically similar to what you're saying, rather than options for text input. You can also say "Clear" to delete the previous voice entry, "Send," "Clear all," or "Stop" to cease voice input. Thus, you don't need to press the voice button again and again. Moreover, you can tap on a word and re-speak it to correct it, or you can reposition the cursor before inputting more text. You can even insert some emojis, such as the "smile with teeth emoji," by speech, and spell out things that the Assistant may not comprehend. The latest language model enables for much faster and more accurate speech to text transcription. Furthermore, it has reduced the time Google Assistant takes to respond to voice questions.
Live Translate
When you need help chatting to someone in their native language, or if you're using a supported messaging app, the translation is added to the mix, which improves Google's Interpreter mode. You can have a text discussion with someone in a different language, and Google will automatically translate both sides. Although, this option is in the System Settings, and you need to manually download the language for translation. Once everything is set up, the feature performs well and can save you from having to manually translate each message you send and receive. Although, Live Translate is available for only a few apps. Furthermore, it is only available in the following languages: English, French, Japanese, Spanish, German, Italian, Portuguese, Simplified Chinese, Hindi, Polish, and Russian.
Live Translate can also be used to translate spoken-word information into English, French, German, Italian, or Japanese (Beta). Sound from a video or audio source can be transcribed and translated in real time. Although, the actual translation remains slow and clumsy. The text you read in the translated language changes during the duration of its recital, until the sentence is completed. This makes reading Live Translated subtitles unsettling and difficult to understand. Also, this feature does not work with apps that have copyrighted content like Netflix.
Speakers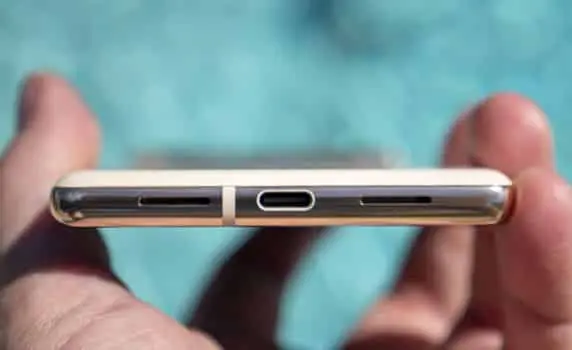 The Pixel 6 Pro sports a standard dual-loudspeaker arrangement. So you get one bottom-firing speaker and the other will serve as an in-call speaker. In the previous models, the in-call speaker was hidden below the display. At maximum volume, there is no distortion, however, the mids and trebles may sound tiny when playing music. Otherwise, the phone's speakers are loud enough for spoken word content.
Battery Life and Charging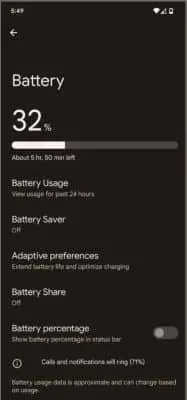 The mobile has a 5,000 mAh battery with 30W charging capabilities. Although you don't get any charger in the box. A new 30W adaptor has been released by Google that you can get on the Google Store website. Wireless charging up to 23W is also supported, but only with the updated version of the Google Pixel Stand. According to Google, you get more than 24-hour battery life with Battery Saver and Up to 48-hour battery life with Extreme Battery Saver.
Software and special features
The Pixel 6 Pro runs Android 12. It arrives with the new Material You design language and theming system. Many of the Pixel 6 Pro's security and privacy features are powered by Tensor. Its security core includes the new Titan M2 security processor. Even Google Assistant has become a lot smarter and more useful with voice typing features. You can simply aim the camera at a sign in a foreign language to get it translated using the Live Translate feature. You can even ask the Assistant to act as your interpreter for real-time translation.
The Call Screen allows you to make callers announce themselves before picking up the phone. You can even get wait time estimates and call menu transcriptions for those annoying selections when dialling a business. On the Pixel 6 Pro, Google Assistant now has new short phrases for things like "Stop" for an alarm or timer, and "Decline" for incoming calls. You can check the At a Glance for information such as your travel ticket, appointments, commute timings, and more on your home screen.
Conclusion
The Pixel 6 Pro is unquestionably a fantastic pick with superb cameras and Tensor. It has sufficient processing power for any task and is an excellent photography phone. Moreover, it is quite affordable for all the features. The cameras are highly capable, with deep colours and well-defined details. Moreover, HDR+ adds to the photography. Even though colour uniformity between the main and ultra-wide cameras is an issue, the resulting photographs are attractive to the eye. The video quality has also improved with excellent stability. Even though the battery life has increased, there are still some problems with it. But the Google Pixel 6 Pro is the greatest Google Pixel money can buy right now. It comes with innovative software features, a tailored chipset for more software capabilities and exceptional computational photography.
If you have any questions, you can ask us in the comments section below.
Read More!