Apple has introduced Deep Fusion in iOS 13.2 on iPhone 11, iPhone 11 Pro, and iPhone 11 Pro Max and higher. Although, this is like an automatic feature that you don't have to turn on or off. But if you have the Capture Outside of Frame setting turned on, Deep Fusion on iPhone 12 or other will not be activated. Here is everything you need to know about Deep Fusion on iPhone 12 and others.
Deep Fusion on iPhone 12 and other
As the A13 chip is introduced in the iPhone 11 series, this chip aids in this photography feature. Deep Fusion basically is a process that blends multiple exposures at the pixel level in your photo. This works on a higher level than you get in an HDR photo. Thus, giving you a professional feel with minute details in your picture. The difference between the Night Mode feature and Deep Fusion is, the latter will switch itself on automatically.
When you are using a Wide lens and the brightness is above 10 lux, the Deep Fusion mode will be activated. Whereas, if the brightness is lower than that the Night Mode will be activated. Similarly, the activation of Deep Fusion in the Telephoto camera depends on the brightness conditions of the scene. If there is an abundance of highlights, the smart HDR mode will get activated. This feature shoots the picture at a negative EV value. Although it results in a darker picture, the sharpness of the photo is just perfect. All of this is done by clicking three regular EV0 images and a long EV+ frame, which is then aligned and blend together. Thus you get two 12MP photos which are combined to give a 24MP picture.
The process uses four separate neural networks which keep the noise characteristics of the camera sensors in check. It checks every single pixel and then combines it within a second. This process happens in the background and is hardly noticeable.
Capture Outside of Frame
The Capture Outside of Frame is a feature in your iPhone 11 and iPhone 11 Pro. With this when you click a picture, the view outside your frame is also captured. Although you will only see it while editing your picture, like cropping, straightening, rotating, and adjusting perspective.
Why Deep Fusion doesn't work with Capture Outside of Frame?
Capture Outside of Frame feature uses the Ultra-wide lens to capture the view outside the frame. But due to the lack of focus pixel and optical and image stabilization in the Ultra-wide lens Deep Fusion doesn't work with this. Moreover, the Night Mode also doesn't work with the ultra-wide lens for this reason. You can compare your pictures by clicking them in both Deep Fusion and Capture Outside of Frame to understand them more clearly.
Turning on Deep Fusion
Deep Fusion on iPhone doesn't chip away at the ultra-wide lens of the iPhone 11 series. So any shot that you take with the ultra-wide sensor won't utilize Deep Fusion. So stick to utilizing the fundamental sensor (1x) or the telephoto (2x). Yet, that isn't all. You likewise need to go into the camera settings and turn off the "Photos Capture Outside the Frame" choice since that additionally utilizes the ultra-wide sensor, regardless of whether you are shooting from the fundamental or telephoto sensor. Something else to remember is that while the model can work with or without Smart HDR enabled, it doesn't work in burst mode shots
Simply ensure your iPhone 11, 11 Pro, or 11 Pro Max is refreshed to iOS 13.2 or higher!
Navigate to your to Settings app .
Hit the Camera alternative.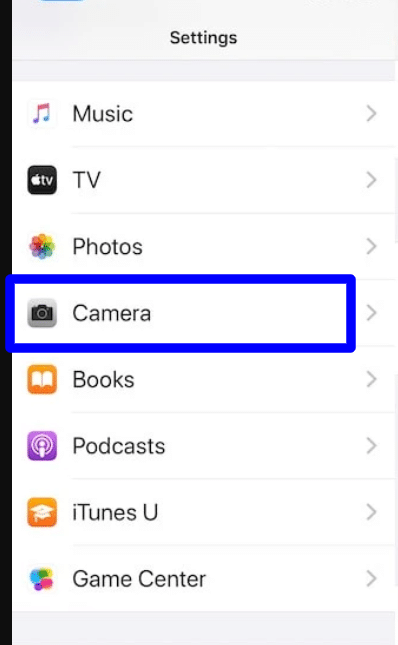 On that menu , turn off "Photos Capture Outside the Frame".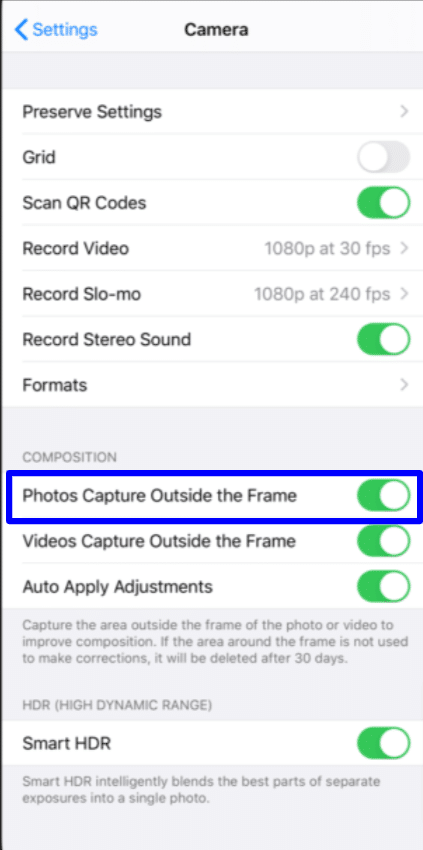 Then pop open up the camera app.
Capture pictures either utilizing the fundamental sensor or the telephoto sensor – don't utilize the ultra-wide camera.
Conclusion
With the iPhone 11 series, you can now click Deep Fusion pictures. Deep Fusion gives you a professional shot by blending exposure at the pixel level. Thus you get more detailed photos with this feature. This is an automatic feature that activates itself based on the brightness and lighting conditions of the space. If the brightness is quite low, the Night Mode will be activated instead. Although, if Capture Outside of Frame is activated, then Deep Fusion will not work. This is because this doesn't work with ultra-wide lenses due to a lack of pixel focus.
Have you tried this feature yet? Tell us in the comments section below.
Read More!