Nokia has returned to the tablet market after a lengthy absence. The Nokia T20, the company's first new product, is a cheap tablet for basic activities geared for business usage. We enjoy its long-lasting battery, solid build quality, and Nokia's commitment to providing software upgrades for several years. Nokia T20, which is amazingly well provided for the price. This 10.4-inch tablet has a 2K screen, runs Android 11, and is driven by an octa-core 1.8GHz Unisoc T610 processor with 4GB of RAM & 64GB of storage.
Not only that, but the Nokia T20 has a massive 8,200mAh battery with a claimed 15-hour battery life, a 5MP (f/2.4) front-facing camera, and an 8MP rear camera. In addition, unlike the Fire HD 10, there is a 4G connectivity option if you are ready to spend a little extra on top of the base pricing.
What will you see here?
Price & Availability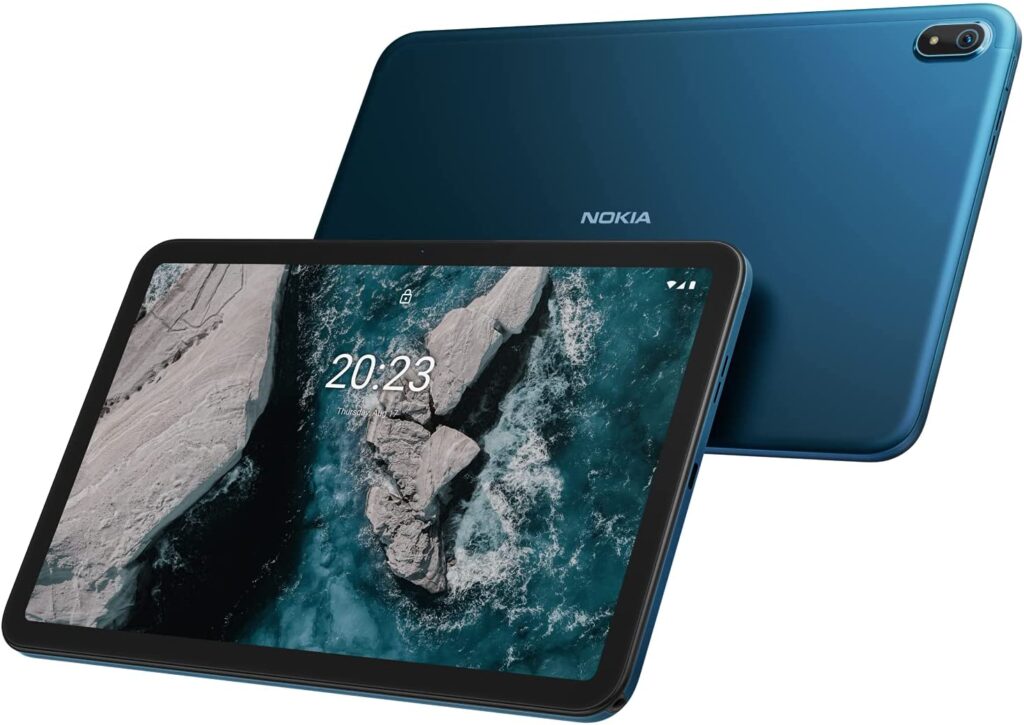 In that regard, the Wi-Fi-only Nokia T20 costs £180, while the 4G-enabled variant costs an additional £20 (£200). This puts the Nokia T20 on par with Amazon's Fire HD 10 Plus, a beefed-up cheap tablet with more RAM (4GB) and wireless charging features. The Fire HD 10 Plus is priced at £180. While Amazon's options are less expensive, having access to the complete range of Android apps is worth the $20. However, you'll have a more difficult decision if Amazon is amidst one of their Fire specials.
Of course, there are some significant variations between the two tablets. The Nokia T20 not only has double the base capacity (64GB). However, it also comes with a stock version of Android 11, whereas Amazon's cheap tablet only has Android 9, with the restricted Fire OS 7 overlay on top – more on that later.
Design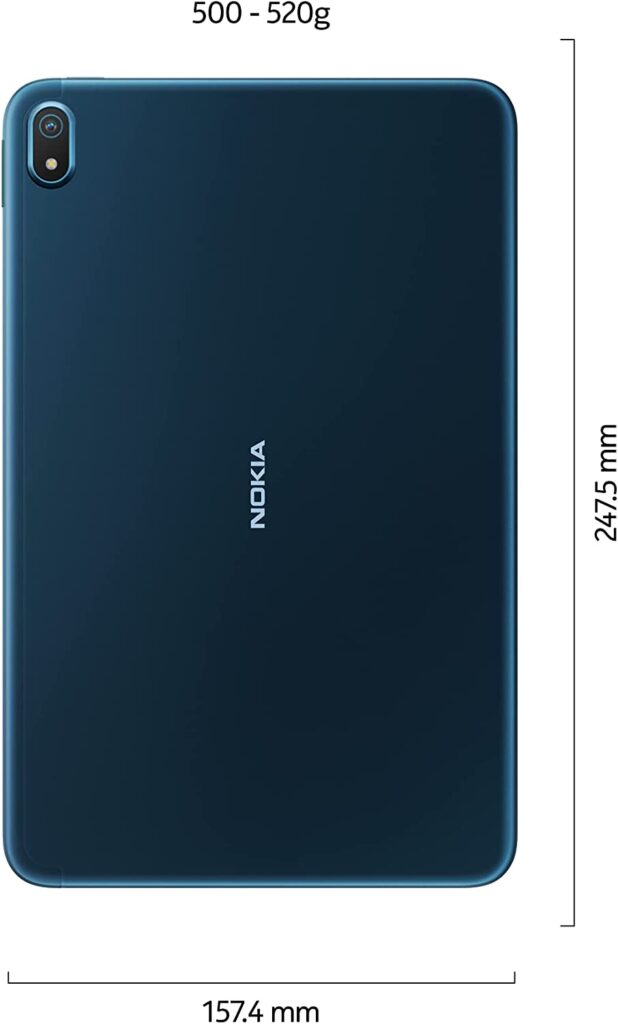 You'll notice a significant difference when you compare the build quality of the Nokia T20 with the Fire HD 10 Plus. Whereas the Fire's soft plastic shell feels cheap to the touch, the T20's robust aluminum back looks a lot nicer than you'd think for the price.
Despite having a larger screen, the Nokia T20 is slightly smaller than the Fire, thanks partly to its reduced screen bezels. It's also very light, at only 465g.In the UK, the Nokia T20 is only available in one color: blue-tinted "Deep Ocean." The Nokia website also lists it as splash-resistant. However, there's no mention of any actual IP certification, so keep it away from dust & water.
When carrying the T20 tablet in landscape orientation, the selfie camera is located above the screen and is effectively concealed. The volume controls, 2 mics, a slot for a Nano SIM, and a microSD card for additional storage are located on the top. The power button is on the left, while the right contains a USB Type-C connector and a 3.5mm headphone jack. The Nokia T20 features two speakers, one on each side.
The Nokia T20 tablet includes a single camera on the rear, slightly elevated. The rear panel is unadorned, but for a Nokia logo in the center and antenna lines going along the top. This tablet is dust and water-resistant to IP52 standards.
Display & Audio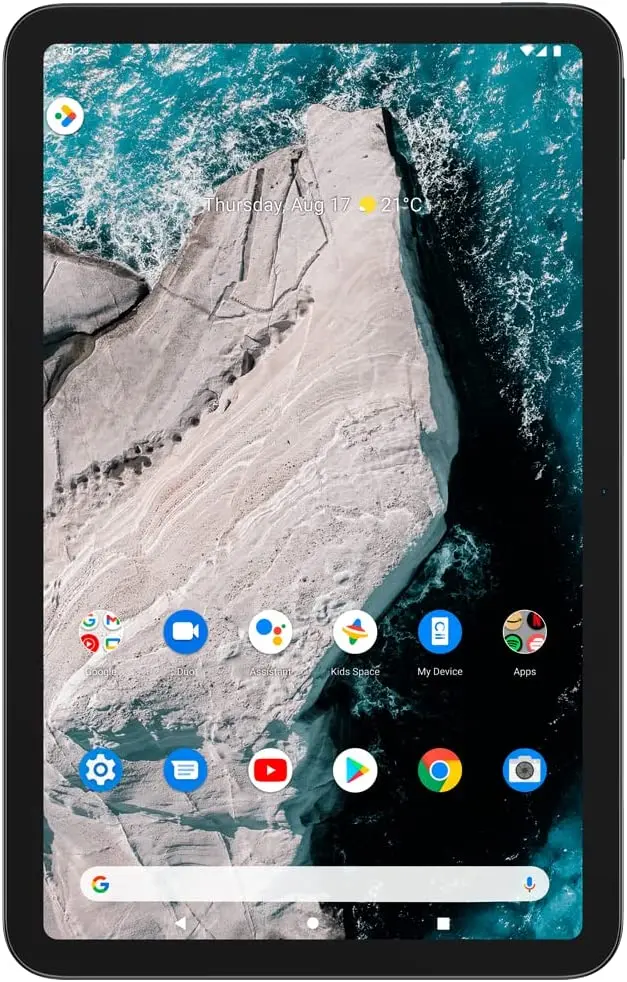 The Nokia T20 features a 10.4-inch, 2,000 by the 1,200-pixel display. Tablets at this price point typically compromise screen quality. However, this one goes beyond "sufficient" and into "quite pleasant" territory. Because of the 5:3 aspect ratio, the tablet is best handled in landscape mode, which is perfect for watching videos.
On colorimeter, the T20 produces 90.9% of the sRGB spectrum & emits an average of 374.7 nits of light. Overall, it's not the brightest or the most vivid display; direct sunlight can cause glare. However, it's ideal for lounging in bed and binge-watching HD videos, reading ebooks, or surfing the web. Overall, the tablet doesn't stick out from the crowd, but it more than deserves its price tag: a repeating theme throughout my time with it.
The Nokia T20's video playback is restricted to 480p quality due to an overly stringent L3 Widevine DRM certification. That means you won't be able to watch HD video at the tablet's native 2K resolution on Netflix or Prime Video, which is a huge disappointment. The Fire HD 10 Plus, on the other hand, has the highest level L1 Widevine certification, which indicates it can play HD video without any restrictions.
Audio Performance
The dual speakers on either side of the tablet are uncomplicated and unremarkable in terms of music quality. They're undoubtedly loud, quickly filling a big room, but the sound is bland and lacks depth. The Fire HD 10 Plus's Dolby Atmos-certified speaker setup is the winner.
Specifications & Software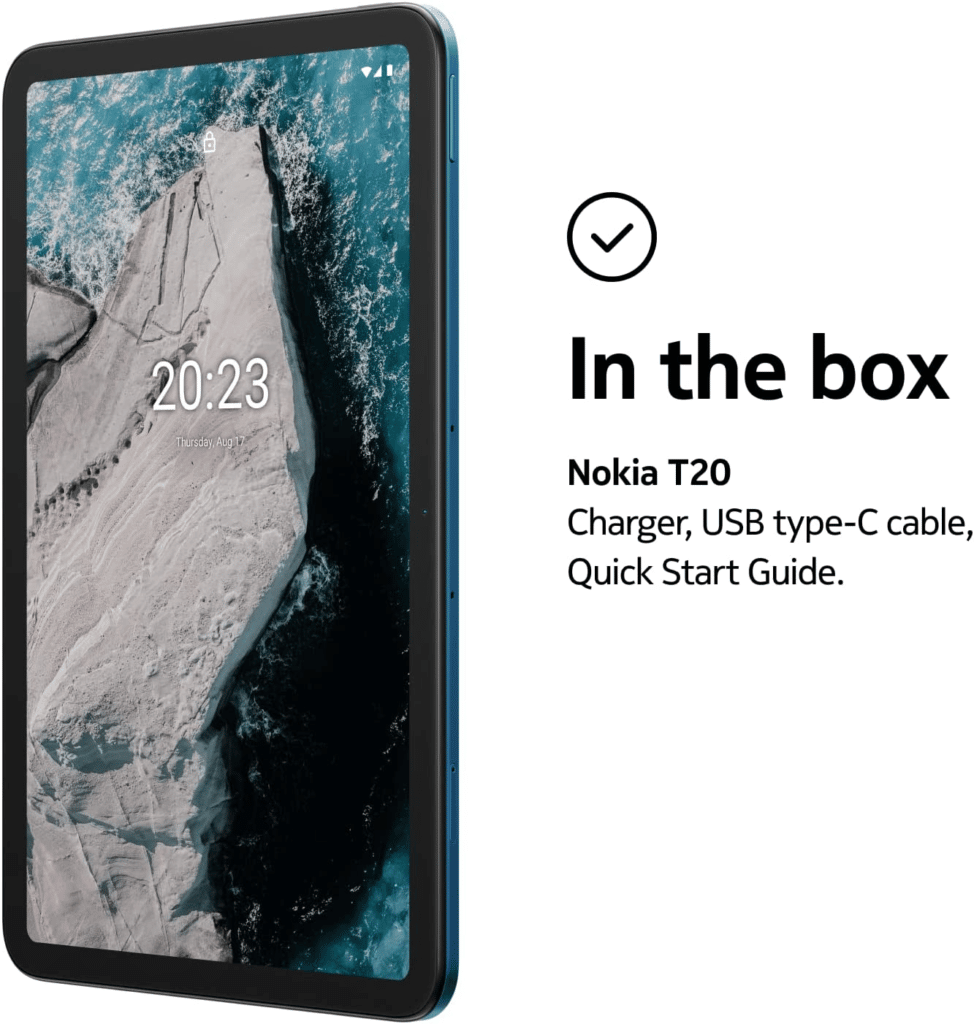 The Nokia T20's 10.4-inch display has a resolution of 2K. (1200×2000 pixels). HMD Global states that the Nokia T20's display is protected by toughened glass. A Unisoc T610 SoC with 2 ARM Cortex-A75 cores & six Cortex-A55 cores logged at up to 1.8GHz powers the tablet. The T20 is available in two configurations: 3GB RAM plus 32GB storage and 4GB RAM with 64GB storage. The basic model only supports Wi-Fi, whilst the latter additionally supports 4G LTE connectivity.
Bluetooth 5 & dual Wi-Fi are supported. GPS functionality is also added to the 4G model. HMD Global has been able to squeeze an 8,200mAh battery inside. This tablet is competent for 15W fast charging, yet it only comes with a 10W charger.
There are a few preloaded programs, such as ExpressVPN and Netflix, but nothing offensive. Nokia's "My Device" app provides diagnostic information, such as tracking internal storage or battery health. However, it primarily serves as advertising for Nokia accessories and "recommended apps;" It also believes the T20 is a phone, which is annoying given the absence of a SIM card in this model. The remaining pre-installed apps are regular Google stuff. The T20 ships with Android 11, and the manufacturer promises 3 years of security upgrades.
Cameras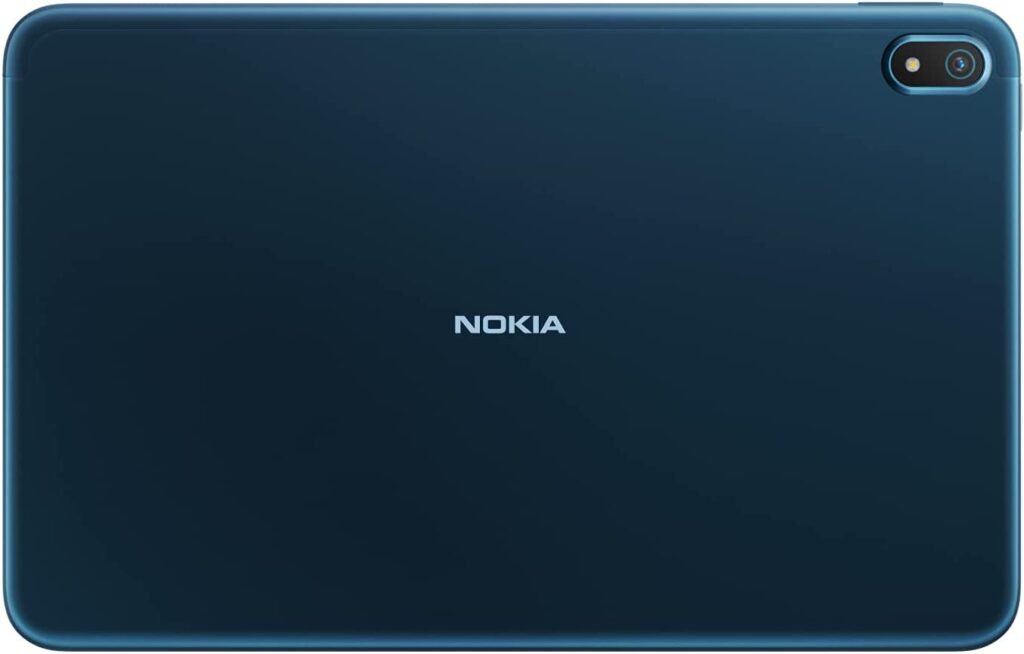 Nokia has included the obligatory "Camera" line item with a 5MP front-facing camera and an 8MP back shooter, albeit neither is usable. Colors are flat & faded in the simplest of images in optimal lighting circumstances, and the rear auto-focus is slow, requiring a perfectly steady subject to avoid blurred shots.
The 8MP rear camera on the T20 isn't anything exceptional; it's adequate for scanning papers or QR codes and shooting short reference photos. The sensor performs best in well-lit conditions but will never outperform your smartphone camera. In bright light, the 5MP front-facing camera performs conference calls effectively but stutters in low light. There's a mild ghosting and a flat background during the daylight Zoom video call. However, these effects aren't severe enough to pose problems during calls.
Battery Life
HMD Global has included a sizeable 8,200mAh battery. Therefore, this tablet has long battery life. The T20 managed to operate for 3-4 days with casual usage, which consisted of playing Clash Royale, viewing a few movies, and browsing the Web every day for 2-3 hours.
Charging, on the other hand, was excruciatingly sluggish with the included 10W charger. It took around 5 hours to charge the tablet fully. If you plan on purchasing this tablet, purchasing a 15W charger is recommended to save charging time.
Can Nokia T20 make calls?
The Nokia T20 tablet is available in both Wi-Fi and 4G LTE variants, and we only have the Wi-Fi type; thus no SIM card slot. The LTE variant comes with a single nano SIM card, although it cannot make calls. Dual-Band Wi-Fi 802.11 ac, Bluetooth, and A-GPS are all available.
Is the Nokia T20 a support pen?
No. The Nokia T20, unlike several other midrange tablets, does not enable stylus pen input.
Conclusion
The Nokia T20 does a lot of things right. It's well-built, provides good performance for the price, and has a large battery that will last you all day. Sadly, the quality of its display overshadows all of its great features. As a result, the top selection for inexpensive Android tablets remains the Lenovo Tab P11 Plus, which has a better 11-inch display, immersive speakers, plus optional keyboard & stylus peripherals for around the same price. If you're not wedded to Android, Apple's entry-level iPad delivers a better overall experience for less than $100.
Read More: