The GT Neo 3 is a more inexpensive yet sportier rival to Realme's top-tier GT 2 Pro. The smartphone features an industry-leading 150W fast charging technology, a GT racing-inspired twin-stripe design on the back cover, a 10-bit AMOLED screen with a refresh rate of 120Hz, and dual stereo speakers, a MediaTek Dimensity 8100 system-on-chip, and a flagship-grade imaging system with a 50-megapixel primary camera sensor.
The Realme GT Neo 3's 50MP primary camera, which features a flagship-level Sony IMX766 sensor, is also quite remarkable. It would have been more notable if we hadn't already seen this component in even more affordable smartphones like the Realme 9 Pro Plus and the OnePlus Nord 2T. However, it's still capable of producing great photos in a range of lighting circumstances.
The performance here is flawless. While the Realme GT Neo 3 lacks a known flagship CPU, the Density 8100 chip it runs on is remarkable in every manner that matters.
At this pricing, the Realme GT Neo 3 is up against Google's Pixel 6, which stands out for its unique design, clean software, wireless charging support, and class-leading camera. However, the Realme GT Neo 3 rivals well while offering a few noteworthy advantages of its own.
Price & Availability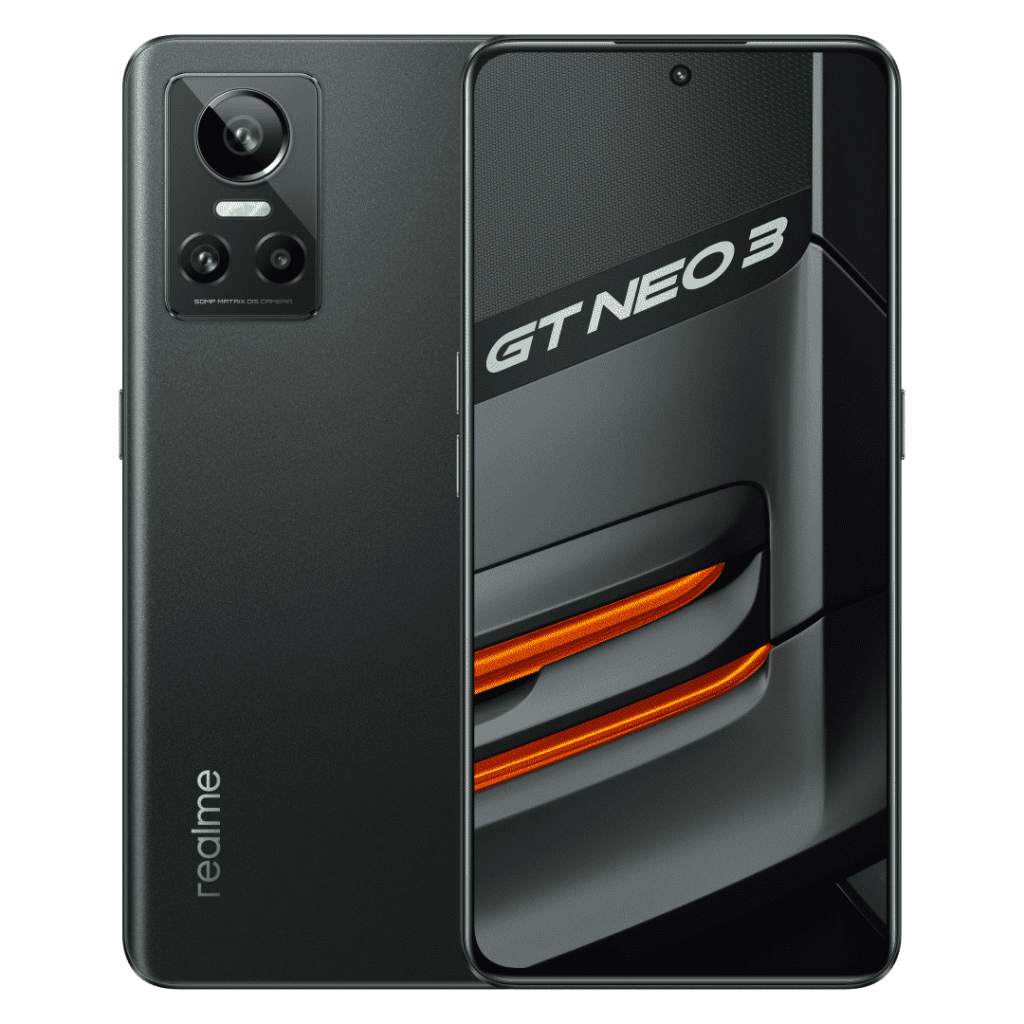 The Realme GT Neo 3 is available in Asia including China and is available in Europe and the United Kingdom from June 15. It is unlikely to ever be released in the United States.
The Realme GT Neo 3 will price £599 for the single 12GB/256GB variant that will be available in the UK. At this price in the UK, the Realme GT Neo 3 competes with the Pixel 6 and the Samsung Galaxy S21 FE, while easily undercutting the iPhone 13 as well as the Samsung Galaxy S22.
Realme GT Neo 3 – Design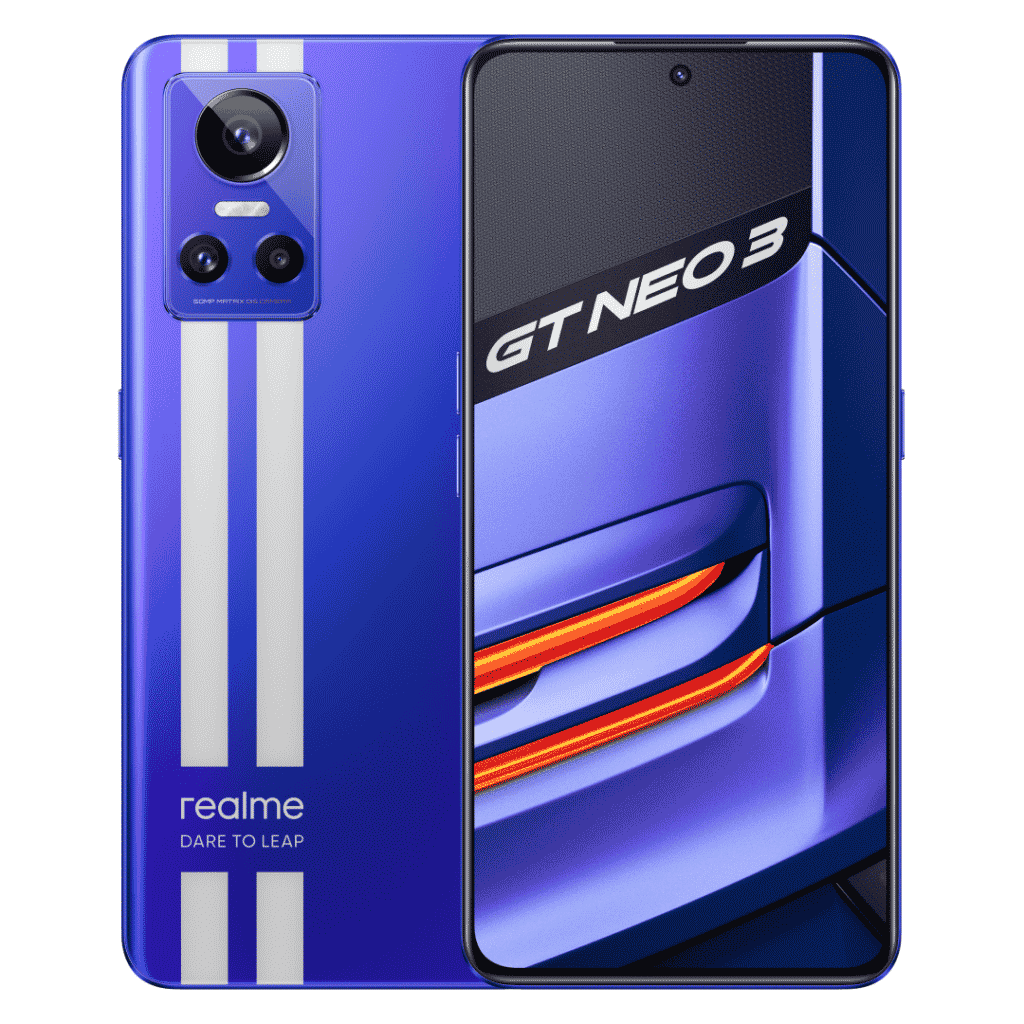 The title "GT" normally connotes a sense of speed, and on the Realme GT Neo 3, it's portrayed by white rails going from top to bottom on a vibrant blue back. While I'm not a fan of this style, the phone certainly attracts attention, and a few people have inquired about it. If you like the GT motif but not this hue, there's a softer white shade that receives the same approach with black rails, or you may go with plain black.
When held next to its predecessor, the Realme GT Neo 2, the GT Neo 3 feels and looks remarkably familiar. It has almost similar dimensions at 163.3 x 75.6 x 8.2mm. However, it loses 12g to weigh a more manageable 188g.
The biggest distinction is the rear panel, which is somewhat textured as opposed to its dead-smooth predecessor. It's still a little slick, but it's a step forward in handling. The new material also makes the GT Neo 3 more fingerprint-resistant.
The frame, on the other hand, is constructed of plastic, which is rare for a phone of this budget. However, I have no issues with the build quality because the phone feels robust and easy to handle. But I did note that it is a little top-heavy, which I believe is due to the lower 4500mAh battery. Realme has employed a rubber gasket on the SIM card slot, but the phone lacks an official IP classification, which the Galaxy A73 and Pixel 6a have.
Screen-To-Body ratio
The screen-to-body ratio is a stunning 94.2 percent, which highlights the fact that the bezels are equally thin. The phone's plastic frame is less quality, yet it doesn't feel particularly cheap to handle. Corning Gorilla Glass 5 protects the display and should make it scratch resistant.
Stereo Speakers
Another nice addition is the inclusion of stereo speakers, something we're seeing in a growing number of mid-range and even inexpensive phones these days. They're loud and clear, but a tad reedy in comparison to more costly phones.
Display

The display on the GT Neo 3 isn't exactly market-leading, but it's certainly not a slouch. The flat 6.7inch display offers a slew of amazing specifications, including OLED, 120Hz refresh rate, and HDR10+ compatibility. It appears sharp in practice. The colors are vibrant and aggressive, the viewing angles are excellent, and the 120Hz refresh rate shows through with fluid animations.
Pricier phones have curved edges, dynamic LTPO refresh rates, and greater peak brightness, but for the overwhelming majority of users, the GT Neo 3 will suffice.
The GT 3's screen upper brightness level is adequate, but it falls short of true flagship phones under harsh outside illumination. In all other cases, it is more than adequate.
A fast in-display optical fingerprint sensor is located towards the device's bottom. If you go into the Realme Labs portion of the Settings menu, you can use this as a heart rate monitor, just as the Realme 9 Pro Plus before it.
It may, however, use some fine-tuning because the default color profile is very warm. When viewing HDR films, the phone changes to the Natural profile, which adds a yellow tinge to the screen and becomes irritating after a while. Auto brightness is also problematic, occasionally raising brightness while in low light, just to return to normal a few seconds later.
Specifications & Performance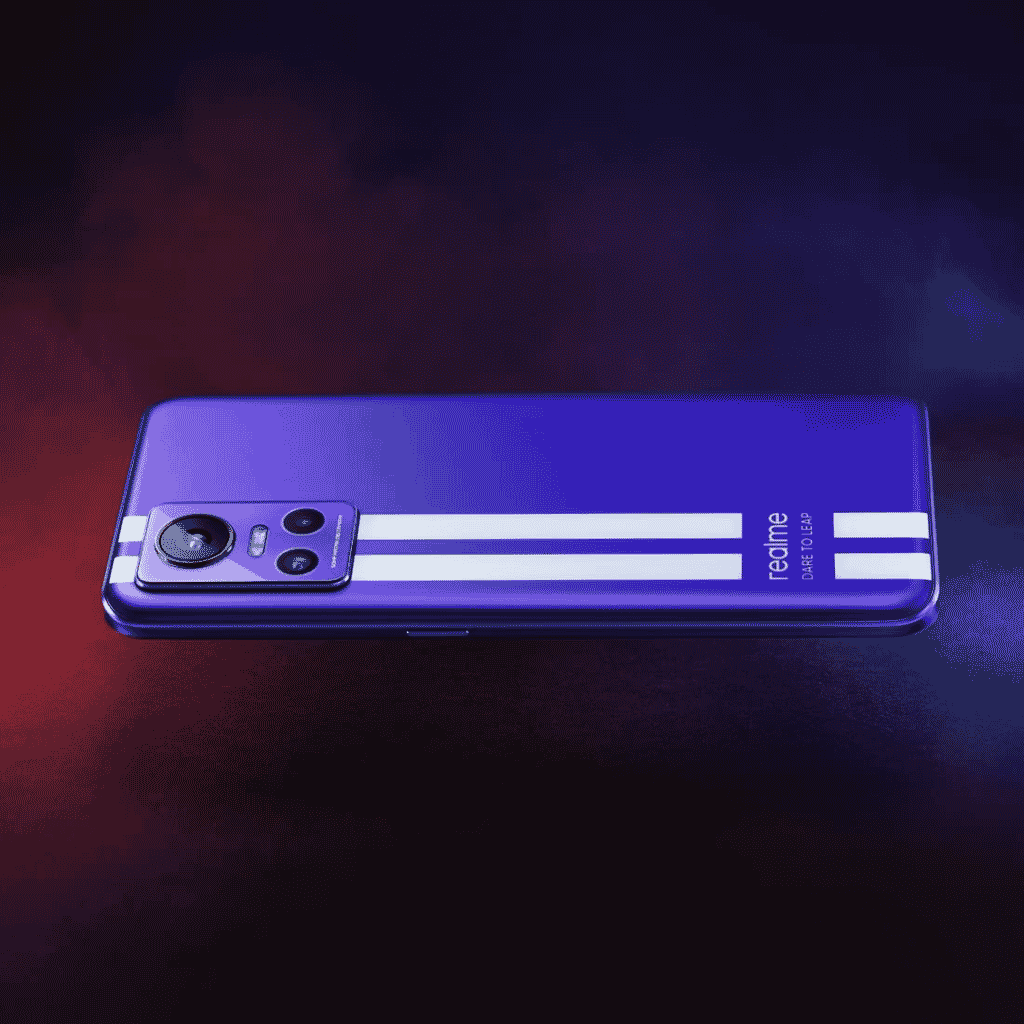 Despite being a performance-focused smartphone, the Realme GT 2 Pro 5G's real-world experience is uneven. It's largely because the MediaTek Density 8100 is a new processor that hasn't been optimized for many things. For example, 'PUBG,' a popular graphically intensive gaming application, operates at HD graphics but does not allow HDR graphics or high frame rates. Nonetheless, even when utilized for intensive duties, the phone performs admirably in regular use. It does not make the most of its competent hardware in its current configuration, although this is likely to improve with future software upgrades. In terms of future updates, the GT Neo 3 5G will receive at least two major Android upgrades as well as security patches over the next two years.
You may also choose the optional 'GT mode,' which is said to "substantially boost your phone's performance". In any event, the phone is speedy enough that you shouldn't be concerned.
The Realme GT Neo 3 performs admirably in daily use. Everything moves at full 120Hz with no noticeable stutters. Its performance is truly indistinguishable from phones costing twice as much.
Software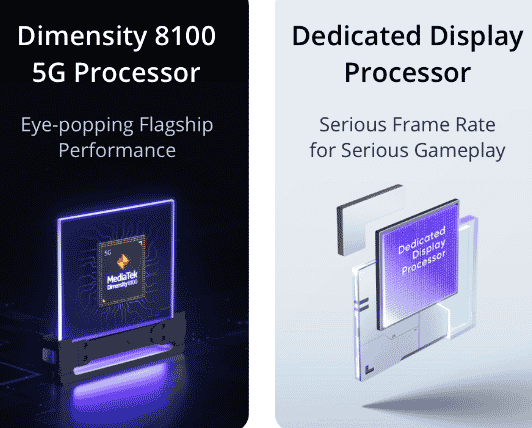 The GT Neo 3 runs the same Android 12-based Realme UI 3.0 as any other current Realme phone. Despite being an upper-midrange phone, the GT Neo 3 has the same amount of bloatware as a cheap phone—that is, much too much. Aside from the well-known bloatware issue, Realme UI has a few issues here and there. For example, the phone became stuck during a call and displayed nothing but a blank white screen. A few times, the YouTube app appeared shaky, as though it was displaying at no more than 15 frames per second. Then there's Glance, an obnoxious lock screen marketing app that appears if you accidentally right swipe on the lock screen, even if you've specifically turned it off.
The Android 12 side of things offers a little Wallpaper theming feature, but it isn't quite Material You as seen on the Pixel 6. Realme UI 3.0, with all of its customization capabilities, may feel nearly antiquated when compared to plain Android and iOS.
However, Realme UI 3.0 on the Realme GT Neo 3 leaves nothing to be desired. It's quite tidy, it operates at the full 120Hz display rate, and it keeps the Google Feed & app tray facilities in their proper places.
Battery & Charging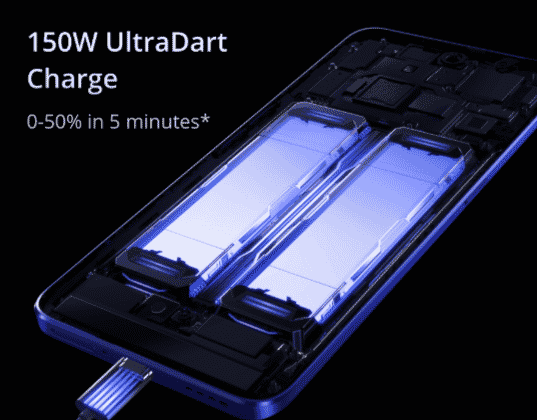 The Realme GT Neo 3 5G 150W is driven by a 4,500 mAh battery, which may last more than a day under typical conditions. When used frequently for power- and graphics-intensive applications, the battery soon runs out of juice. Fortunately, the phone comes with a 150W fast-charging adaptor that charges the phone's completely depleted battery to 100% in roughly 20 minutes.
That hardly causes alarm, but it's not uncommon for a well-optimized Android phone with a 5000mAh capacity to reach 50% or higher under comparable conditions.
Camera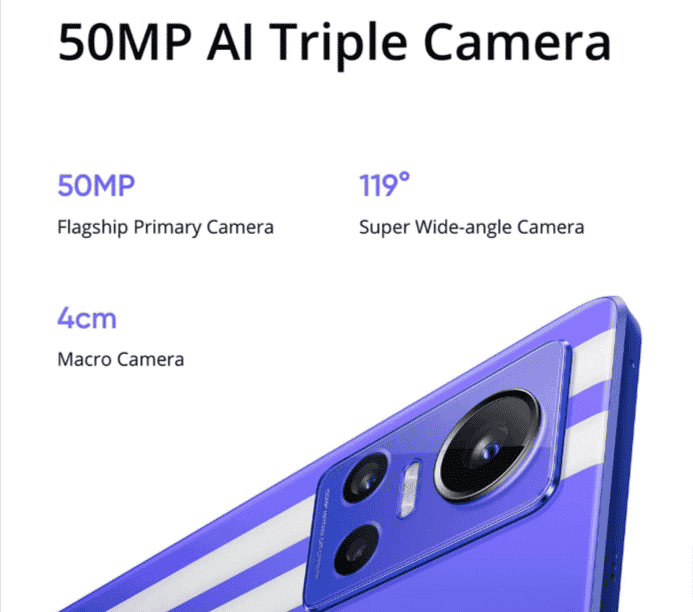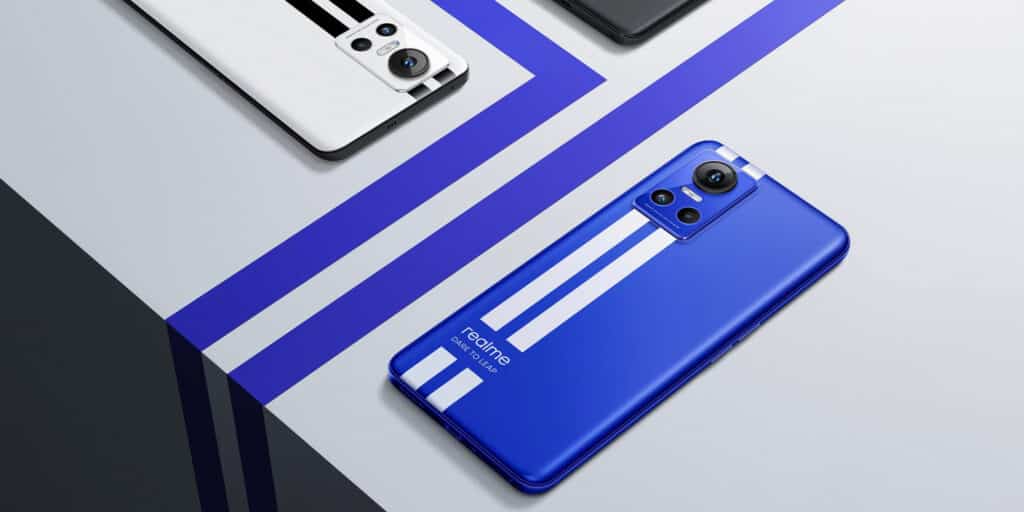 On the rear, the Realme GT Neo 3 5G boasts a triple-camera setup with a 50-megapixel main sensor (Sony IMX766) with optical image stabilization (OIS), an 8MP ultra-wide-angle sensor, and a 2MP macro lens. The phone includes a 16MP camera sensor on the front.
50MP Main Sensor
The primary 50MP sensor on the back performs admirably, however, the other two are unimpressive at best. When comes to the primary camera produces detailed images with nice colors, a limited dynamic range, and good highlights & shadow details.
Ultra-Wide Sensor
It performs great in low light, owing to OIS. The ultra-wide-angle camera sensor catches a lot of detail but has edge distortion. The ultra-wide-angle sensor, unlike the main sensor, suffers in low-light circumstances. Its low-light performance, on the other hand, improves somewhat thanks to the phone's built-in night mode.
Macro Sensor
The macro sensor is there for the sake of novelty. It's not horrible, but the fixed focus makes it tough to use. The front camera is useful for both routine pictures and portraits.
Video Recording
In terms of video, the Realme GT Neo 3 5G can capture 4K at 60 frames per second from the primary sensor, 1080p at 30 frames per second from the ultra-wide-angle sensor, and 1080p at 30 frames per second from the front camera. The primary sensor's movies appear nice, but the ultra-wide sensor falls short as well. Videos taken with the front camera appear OK, but the sensor's limited field of vision (FoV) renders it unsuitable for anything other than self-recording.
Conclusion
The Realme GT Neo 3 5G is a strong performance smartphone, but it is not an all-arounder. Of course, it isn't ideal. While the phone looks beautiful, it has a cheap feel about it, and the main camera is let down by mediocre secondary lenses. Bloatware irritates me as well, and at this price, there should be at minimum one more Android version upgrade in the works. It is a smartphone that has something for everyone. Though capable in every way, it is not extraordinary in any. In comparison, the Xiaomi 11T Pro delivers far more for around the same price as the GT Neo 3 5G.
The Realme GT Neo 3 isn't quite the upper-midrange stunner or outright head-turner that the Pixel 6 is. However, it's a decent option thanks to fast charging, a solid primary camera, and snappy performance.
Read More: