The Samsung Galaxy A53 5G is the recent model to go on sale. Went a little before the Galaxy A33 5G, which was introduced simultaneously. Although the new Samsung Galaxy S22 series phones are excellent, not everyone can afford them. Thankfully, the Galaxy A series addresses this need for people on a tighter budget, providing excellent specifications at competitive rates.Let us see where you can buy a Samsung Galaxy A53.
Although the Samsung Galaxy A53 5G and Galaxy A52s 5G are close in age, the latter has design cues from the more recent Galaxy S22 series. Most of the Galaxy A53 5G's essential hardware, including the camera parts, were taken from the earlier Galaxy A52s 5G. In bright light, camera performance is excellent; in dim light, it is average. Although pretty decent, video performance suffers in dim light. With light use, the 5,000mAh battery lasts two days. Although Samsung does not include a charger with the phone, 25W rapid charging is supported. Comparatively speaking to the competitors, charging rates are sluggish.
Release Date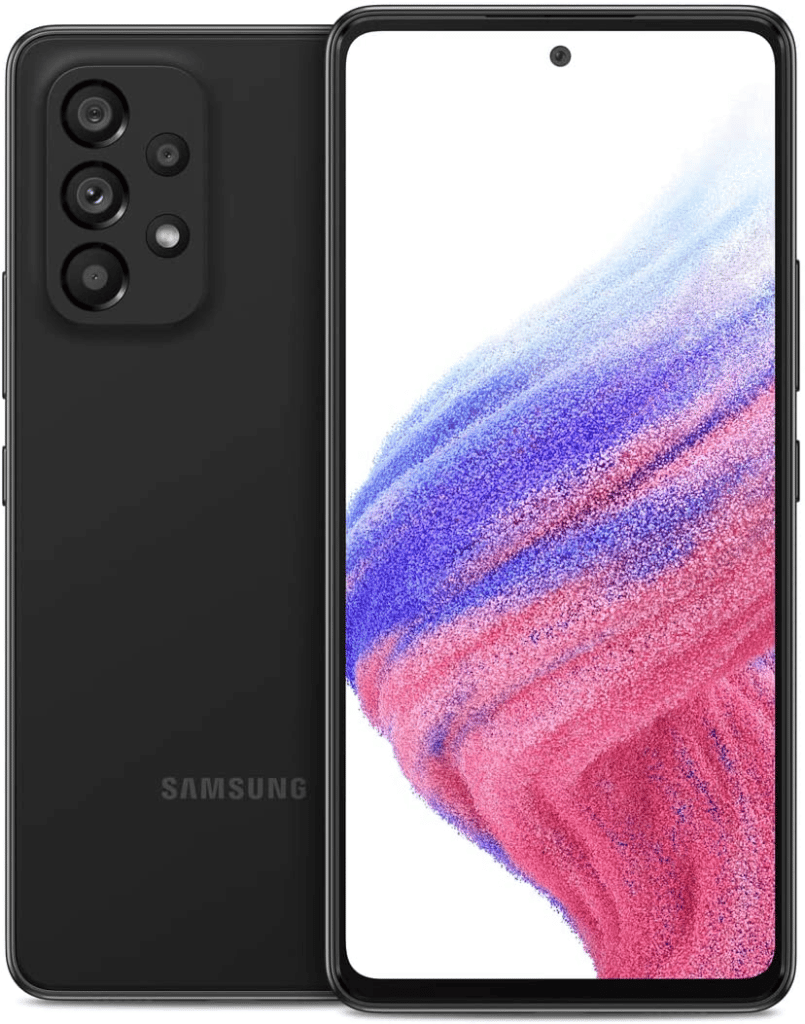 On March 17, Samsung unveiled the Galaxy A53 together with the A33. Although it was only available via T-Mobile and Verizon in the US a day earlier, it officially went on sale on April 1.
The A52, A52s, and A52 5G were the three models that made up the A52 line. Samsung has only shown the A53 5G so far this year, and it doesn't appear like there will be a 4G version. However, an A53 with an improved chipset might be released later in the year.
Price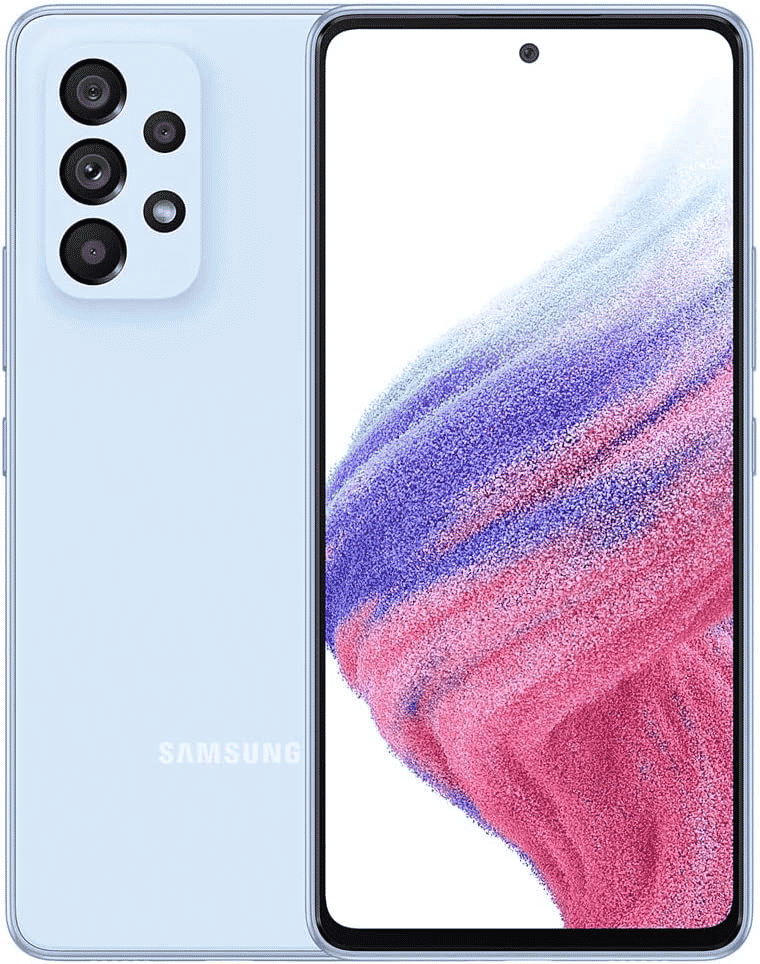 The cost of the Samsung Galaxy A53 is considerably less than that of its S-series. With 6GB RAM and 128GB storage, it costs $449.69, £362.90, or AU$699; different configurations are available in other places. But there is just one available in the US, UK, and Australia.
In certain places, the phone is less expensive than the Galaxy A52, which has a starting price of $499, £399, or AU$799; it is also significantly less expensive than the S22, which has a starting price of $799, £769, or AU$1,249 in some places. Although it's not the cheapest phone ever, it still costs less than some other options you might be considering.
After a mid-March announcement, the phone went on sale in early April 2022. Depending on your carrier, it is offered SIM-free or under contract.
Availability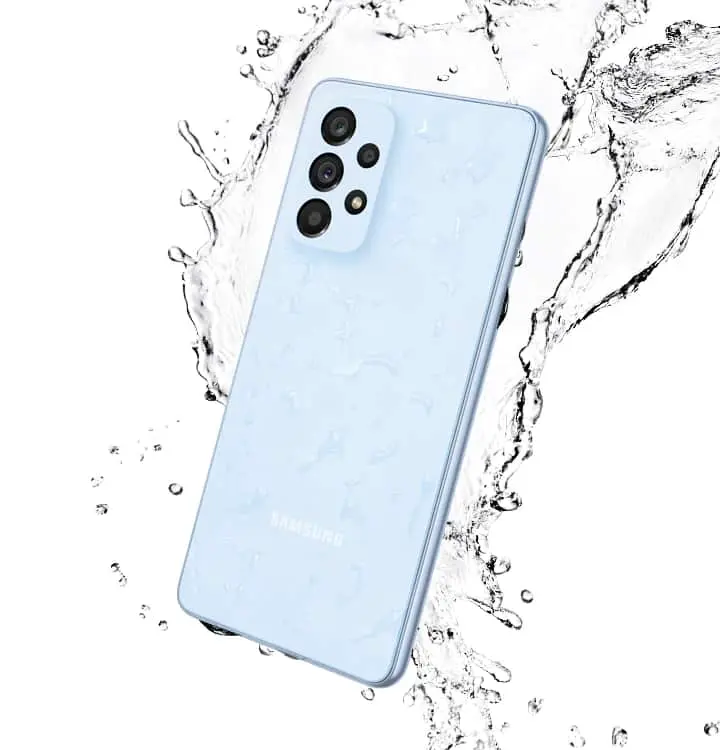 In the US, you can purchase it from the official site of Amazon, Best Buy, and Samsung stores. You can buy it from the official site of AO.com, Selfridges, John Lewis, Argos, and Samsung stores in the UK. You can also buy it in Contract from T-Mobile at $4.12 a month, Verizon at $13.88 a month, and AT&T at $12.50 a month in the US. And In the UK you can buy it on contract from Vodafone at £26 a month, Three at £29 a month, Sky at £14 a month, Tesco Mobile at £21.49 per month, and Mobiles.co.uk at £20 a month.
Should you buy Samsung Galaxy A53 5G?
You Can buy it if you want a good-looking phone, click pictures for social media or watch lots of videos for which you need a good display cause that is all it has. Don't buy it if you want a fast-charging phone, or you're a gamer, or you want a long-lasting battery cause it won't do you any good. Well, it has good features and four years of updates, which is excellent. But its battery doesn't do any good to it. It is good for its price, but still, you have many options under this range from competitors.
Is Samsung A53 5G a good phone?
When it comes to design, camera quality and display, the Samsung Galaxy A53 5G stands out among phones in its price category. It valiantly tries to condense Samsung's OneUI 4.1, available in the Galaxy S22 Ultra, into a more cheap container while packing a tonne of functionality, and on the surface, it succeeds.
Does the Samsung A53 overheat?
The Galaxy A53 5G smartphone was just released by Samsung. The Samsung Galaxy A53 5G phone provides the greatest midrange flagship experience. However, many customers report heating issues after using it.
Does Samsung A53 have Gorilla Glass?
With a multi-lens camera, a 32MP front camera, a fluid scrolling 120Hz display, and a 5000mAh rear fast-charging battery, it's all about great. Even better, the 6.5-inch Infinity-O display's smooth surface is made of Corning® Gorilla® Glass 5, which is resilient to drops.
How many updates will the Galaxy A53 get?
This year, Samsung introduced the Galaxy A53, which has Android 12 and One UI 4.1. The South Korean company has pledged to provide the Galaxy A53 with four significant Android OS updates and five years of security patches.
Conclusion
The Samsung Galaxy A53 5G does a wonderful job of building upon the success of the Galaxy A52. In actuality, there hasn't been much of an improvement, much like what we saw in the most recent Galaxy S series. The A53 is still a potent mid-range phone, though.
The battery life is good, along with the general speed and performance, and the front display is bright and colourful with (usually) fluid animation.
But it faces stiff competition at its pricing point. You may find cheaper smartphones with the equal performance from brands like Redmi, Realme, and OnePlus as well as more expensive smartphones with comparable performance. There are a lot of options and retailers where you can buy The Samsung Galaxy A53.
Read More