Whether you are a designer or a content creator, you would have come across times when you are looking for stock photos for your work. However, you don't always have the budget to buy these photos. Here are the best free stock photo sites where you can get pictures without paying anything.
What you will see?
Free stock photos sites
Free stock photos sites offer you thousands of amazing free stock photos for you to use in your websites and projects, many of which are attribution-free. Although all of the photos on these sites are free to use for personal, editorial, or business purposes, there are a few limitations to be aware of. Photos of recognisable individuals, trademarked objects, and privately owned property are subject to the most stringent restrictions. Moreover, keep in mind that many of these websites accept contributions from amateur photographers who may not be aware of the rules governing model releases for people's images and may not have asked their subjects to sign a waiver. So, it's preferable to contact the site directly if you're unsure.
Many of these images are free of copyright limitations or are donations to the public domain under the Creative Commons licence. This implies you can copy, change, distribute, and perform the work without seeking permission. Moreover, this even includes using them for commercial purposes.
Adobe Stock Free Collection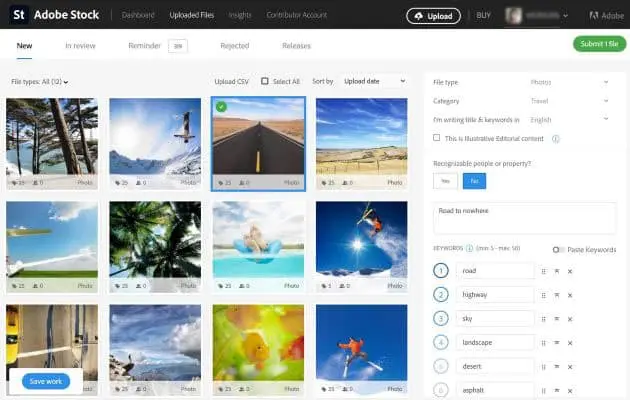 REASONS TO BUY
Photos, videos and illustrations
Excellent quality throughout
Photographers are paid
Adobe released around 70,000 stock pictures, movies, graphics, and templates for personal, corporate, and creative use in October 2020. Its goal is to "provide the means to create access for all." Artists are compensated for their services. Also, the images are consistent and of good quality. There are a great number of filters to help you find the perfect stock photo. Moreover, you can even upload an existing image to see what's comparable. Most images are under Adobe's basic licencing terms, which are extremely liberal. So, it only prohibits you from distributing the files yourselves, developing goods whose value is tied to the photo, and transferring the licence to multiple employers or clients. However, it's always worth double-checking before downloading a photo, as there may be exceptions.
Unsplash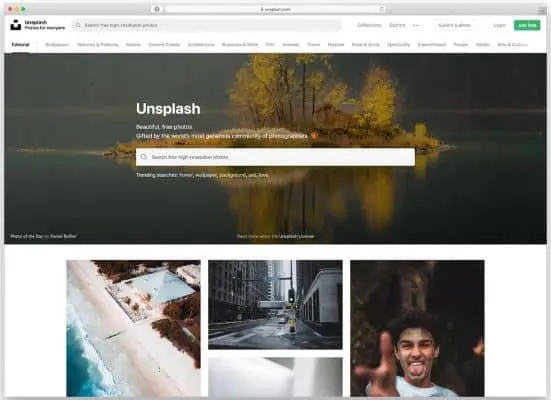 REASONS TO BUY
Consistently high quality
Handy search option
Mobile app
Unsplash is a well-curated collection of stunning photographs given by talented photographers that have been utilised to generate some truly amazing work. There are fewer photographs here, but they are of higher quality. The search option on Unsplash is the quickest method to find a photo. Although, if you have a little more time you can look through Collections. Also, these are collections of photographs are set into themes like Light and Shadow, Street Life, and Into the Wild. After registering for an account, you may start creating your own collections. Moreover, they're great for getting ideas or gathering materials for a project. Also, Unsplash even has an iOS app. It allows you to search for stock photos to utilise in your creative projects on your iPad or iPhone.
It's not mandatory to credit the photographer, as it is with other stock photography sites. However, Unsplash suggests that as a kindness, a simple credit with a link back to their profile is lovely to add. Unsplash has grown to become one of the top sources for stock photographs, with a big library of free high-resolution photos. The Unsplash staff reviews new entries and highlights the best images on their homepage. Furthermore, under the Unsplash license, all photographs are available for free.
Pixabay
REASONS TO BUY
Huge collection of images
Offers illustrations and photos
REASONS TO AVOID
Pixabay has over a million public domain images, including not only photos but also illustrations, vector graphics, and a few movies. It has an especially excellent variety of landscape photography. The Editor's Choice section is definitely worth a look if you don't have anything specific in mind. You can choose an appropriate quality and complete a Captcha to download the file once you've located a good free stock photo. However, keep in mind that print projects will require a considerably higher resolution than web projects. Also, to avoid Captcha, you can create a free account. The vast majority of Pixabay images are suitable for commercial use. Moreover, you can click the Enable SafeSearch box before browsing to avoid anything explicit appearing in search results.
The photographic quality isn't as constant as Unsplash. However, if you can't find what you're looking for on Unsplash, Pixabay might be able to help. Pixabay has a wide library of royalty-free stock images, vectors, and art illustrations. Lastly, all images are under the Creative Commons CC0 license.
Gratisography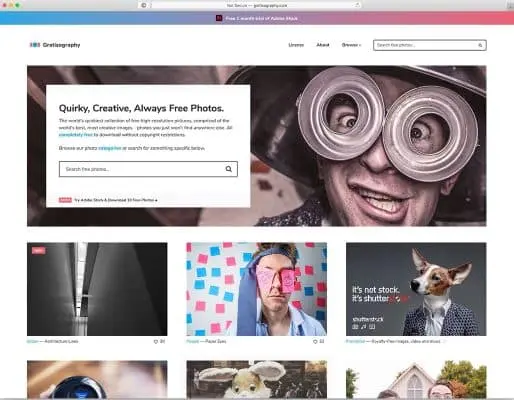 REASONS TO BUY
Consistently high-quality photos
Fun, unusual images
REASONS TO AVOID
Relatively small selection
Gratisography is a collection of photographs by brilliant photographer and graphic designer Ryan McGuire. It is ideal if you're looking for something a little different. Ryan's images have a strange quality to them, and they're great if you don't want the same old stock photo clichés. Although Gratisography does not have as much content as some other free stock photo sites. However, Ryan's artistic eye more than makes up for it, and he updates the site weekly. You can get updates by subscribing to his email or following him on Twitter. When you utilise McGuire's work, you don't have to credit him, although he likes it if you do. Furthermore, you can get free high-resolution images for personal and business uses from this website.
Pexels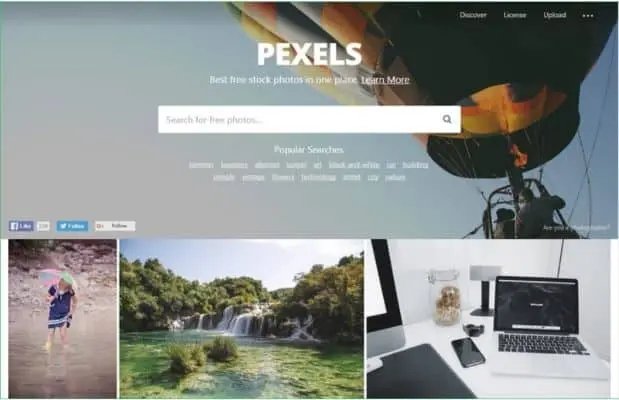 REASONS TO BUY
Photos arranged by theme
UI mockups for designers
REASONS TO AVOID
Some photos are limited use
Anyone can submit photos to Pexels. After that, the site's curators will choose the finest ones to add to the site's searchable library of public domain images. You can use the search bar to find anything specific. Moreover, you can also browse by categories such as hobbies, emotions, and locations. Pexels is a great resource for web and app designers. It has a large collection of device images that are perfect for showcasing interface prototypes. A few images border on stock photo cheesiness, but the vast majority are unique and inventive. Pexels has a category dedicated to space photography, which looks incredible. Although, keep in mind that some of the content comes from NASA. So, those images can only come in handy in specific contexts.
Pexels offers high-resolution stock photographs that are absolutely free to use under the Creative Commons Zero (CC0) license. Furthermore, all of the photographs are well-tagged, searchable, and easy to find via their explore sites.
Pikwizard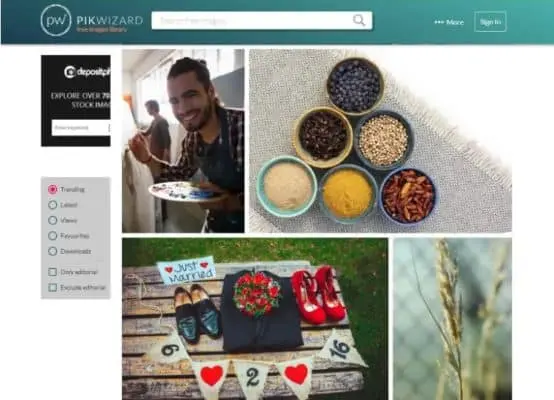 REASONS TO BUY
No awkward or cheesy poses
Online photo editor
REASONS TO AVOID
Photos under different licenses
Thousands of free stock pictures are available on PikWizard, covering a wide range of topics. The quality is excellent, and there are many photographs of people in natural poses. This is quite unusual for a free stock photography site. There's nothing cheesy about this. The best part is the collection of urban photography. PikWizard is an excellent location to look if you need a beautiful cityscape. Moreover, it even provides access to an online photo editor if you want to be creative without leaving your browser. The majority of the tools and templates on this page will cost you. Although, none of them is more than a few bucks. The photos are available under two licences: Free and CC0.
A CC0 license indicates that the photographer has surrendered their copyright. Whereas a Free license indicates that the photographer has retained their copyright. However, you have their permission to use their work without compensation. You don't need to provide credit to the photographer, although it is good if you can.
Negative Space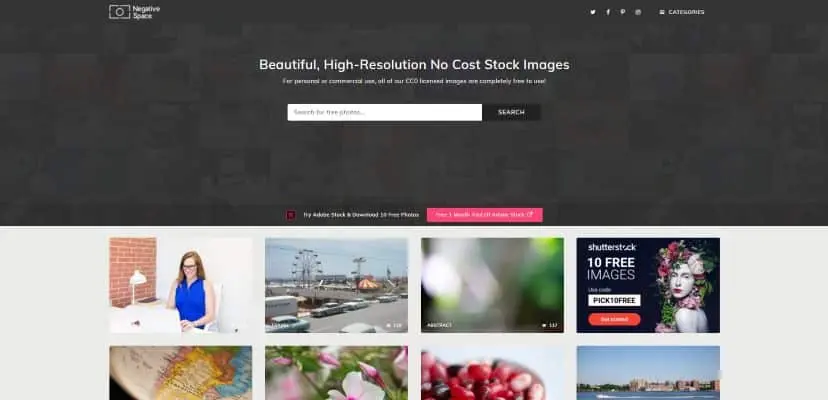 REASONS TO BUY
Work from new photographers
Frequently updated
REASONS TO AVOID
Some copyright-protected subjects
Everyone is welcome to contribute free stock images to Negative Space. It strives to provide a platform for amateur photographers to share their work with the world while also supporting other creatives. You can subscribe to Negative Space's newsletter for updates when new photographs come out. As the content is updated so frequently, it's well worth revisiting to seek new images if you've been working on a project for a long. Negative Space is situated in the United Kingdom, so much of the photography depicts scenes from the United Kingdom. The collection includes several photos of the London building. Thus, it's worth reading this advice on intellectual property and the London skyline before utilising these.
StockSnap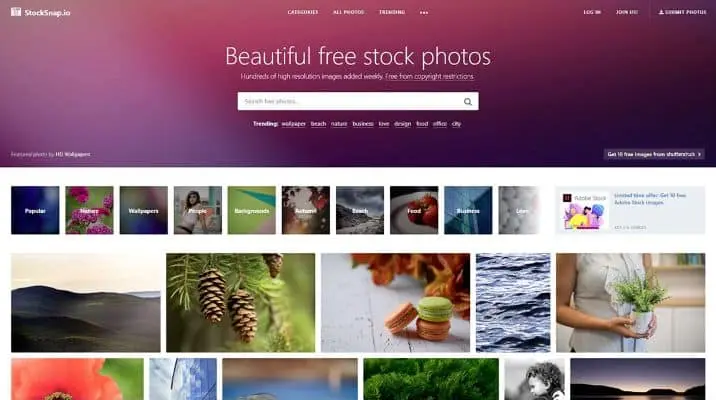 REASONS TO BUY
Fresh and current images
Ideal for social media
REASONS TO AVOID
A mix of crowdsourcing photos
CC0 licensing isn't the safest
StockSnap features a wide collection of high-resolution photographs and free stock photos. The site also features a very useful search function. This makes browsing through the thousands of photographs easy and quick. Furthermore, the site keeps track of views and downloads so you can find the most popular photographs. Hovering over a photo displays its view, favourite, and download counts, and clicking on it displays additional information and allows you to download it. Every day, StockSnap adds hundreds of new photographs, all of which are under the creative commons public domain with no attribution necessary.
It is an excellent resource if you require bold photos that appear fresh. You can search for photographs on the homepage, scroll through the whole collection, or go to the Categories or Trending pages. Keep in mind that the top images in each category have a star on them. Thus, indicating that they're actually sponsored by Shutterstock pay-to-access photos. However, the images below them are available for free from StockSnap.
Burst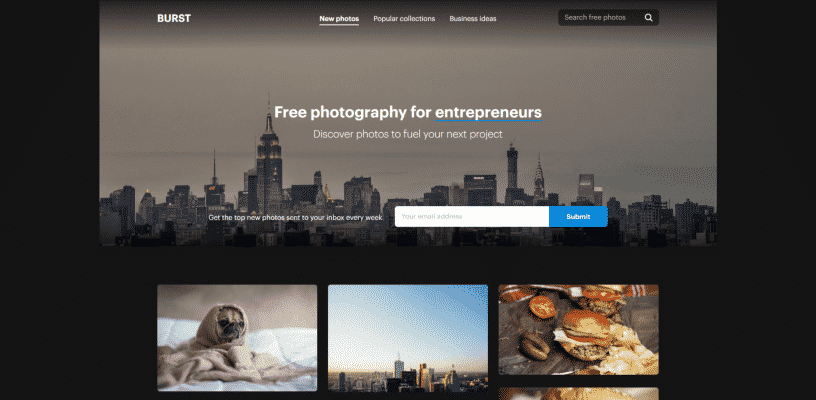 REASONS TO BUY
Suitable for online merchants, especially those who are using Shopify as their eCommerce platform
High-quality and professional images
Two resolutions for downloading
Clean interface
Use for both online and offline campaigns
REASONS TO AVOID
If you don't have a Shopify membership, you have to pay
No dimensions
Limited variety and selection when compared with its rivals
Burst is a Shopify resource that offers free stock pictures to business owners. Some photographs are under a Creative Commons CC0 licence. Whereas, others are under Shopify's own photo licence. Burst was created to assist business owners in creating better goods, websites, and marketing strategies. The majority of the photos are originals. They focus on popular business categories, such as DIY beard oil and Aliexpress LED sneakers. There are also more generic images available. It was founded in 2006 in Canada and is powered by the premier eCommerce platform. This is one of the greatest options for Shopify users or online merchants looking for high-quality photos. Furthermore, all of the photos offered by Burst By Shopify are free. Lastly, Burst By Shopify bills itself as a massive resource for online retailers seeking non-copyrighted photos.
Reshot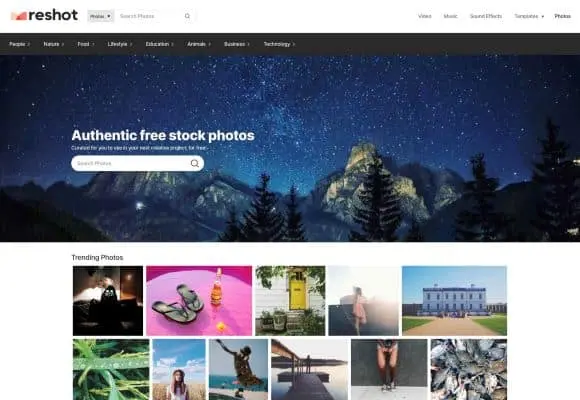 REASONS TO BUY
Super current images
Ready to use images
REASONS TO AVOID
License is ambiguous, both permitting and warning about commercial use
Reshot is a large collection of unique free stock photographs that you won't find anywhere else. It is designed for entrepreneurs, freelancers, and makers who are tired of cheesy stock photographs. No attribution is required for commercial or editorial use. It comes with a vibrant and original assortment of stock pictures. Also, the photographs resemble a lovely photo gallery or a carefully managed Instagram feed, rather than the same old stock collection. Typing keywords into Reshot's simple search bar returns a slew of amusing photographs covering a wide range of topics. Thus, allowing you to discover the right shot fast and effortlessly. Furthermore, when you click on a photo, you'll get information about it. This includes its resolution, title, download button, and a link to study its licence agreement, as well as the option to scroll down to explore similar photos.
FoodiesFeed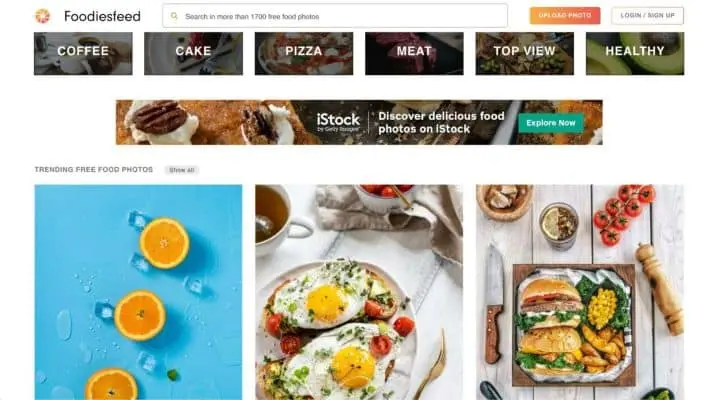 REASONS TO BUY
Rich selection of food photos
REASONS TO AVOID
CC0 license and user submissions mix
Site has lots of ads
Thousands of stunning realistic free food photographs in high definition are available on FoodiesFeed. For food bloggers, it's the ideal stock photo site. Food is one of those things that has always been and will always be discussed. Foodiesfeed (Free) offers a lot of food photographs to choose from. You may search the site's more than 1,500 photographs from the Home page. Moreover, you can even explore categories like cake, coffee, pizza, or even healthy cuisine. Also, you can look for anything from a basic photograph of tomatoes or a bowl of berries to wonderfully arranged photographs of summer barbecue feasts or produce from a bustling Asian market. The graphics are vibrant and lively, making them ideal for both blogs and corporate websites. Furthermore, by hovering over an image and hitting the download button, you may download it.
Freestocks.org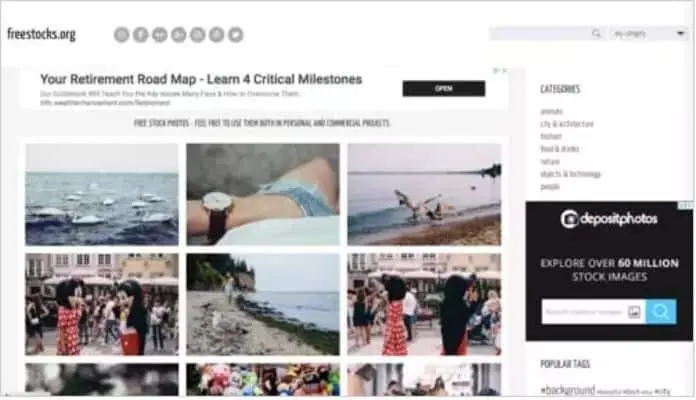 REASONS TO BUY
Offer artistic takes on popular and commercially valuable topics
REASONS TO AVOID
Limited collection
CC0 license is not the best
Freestock is a large collection of high-quality photographs that are all released under the Creative Commons CC0 license. The project is managed by three photographers that provide a limited selection of stock pictures with an artsy feel. All the pictures you find on the website are all captured by these three photographer buddies. Free stocks contain images that would work well in modern advertising. Lastly, their licensing scheme isn't ideal. However, as the picture authors licence their own work, it's a little safer.
Picography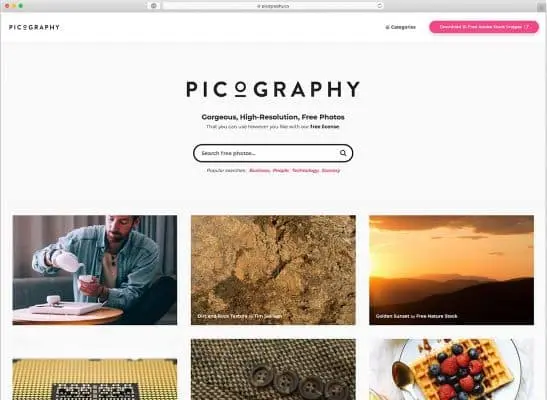 REASONS TO BUY
Pro-level style
Great quality of the images
REASONS TO AVOID
CC0-based site with virtually no info on who's behind it
Picography is a collection of stunning free stock pictures contributed by Dave Meier and other photographers. All images are licensed under the Creative Commons CC0 license. This allows for unlimited commercial use. It is a tiny pool of roughly 1,000 high-resolution pictures. These are free to download and use, sourced from photographers' submissions. Picography features excellent photographs. However, the lack of any background information combined with CC0 licensing isn't a good legal combo.
Foca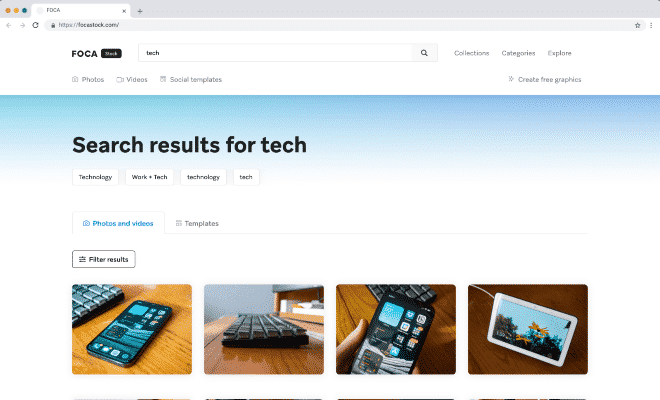 REASONS TO BUY
High-end imagery and curation
Bonus free videos and free image editor
REASONS TO AVOID
Jeffrey Betts has supplied a collection of high-resolution photographs called Foca. Jeffrey focuses on photographing workspaces and nature. Also, all images are licensed under the Creative Commons CC0 license. FOCA Stock offers thousands of free photos and themes. This carefully picked resource is dominated by images of nature and workspaces. The license allows for unrestricted commercial use without credit. It offers its own unique themes and high-quality photographs. Moreover, it takes legal safety to the next level by including images owned by the website's owner.
Picjumbo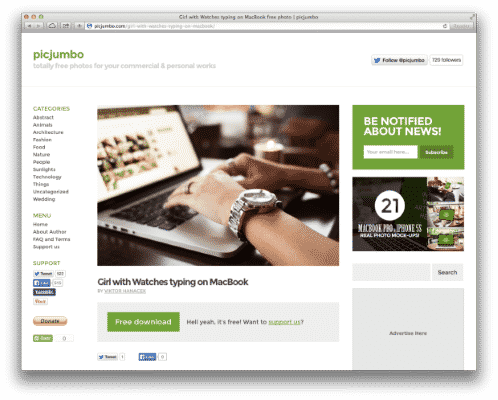 REASONS TO BUY
It is obvious that the images are made by someone who knows stock photography
REASONS TO AVOID
Can be way too commercial
Could use an artistic edge
Picjumbo is a collection of completely free photographs that you may use in your commercial and personal projects. Every day, new photographs from a wide range of genres are posted. This includes abstract, fashion, nature, technology, and much more. Viktor Hanacek, a stock photographer, has made over 2,000 of his professional stock pictures available for free on Picjumbo. The commercial-ready approach and the way people are depicted without recognized traits show his excellent eye. He uses the Creative Commons CC0 License. This is free to use for commercial enterprises but cautions about exploiting brands and trademarked subjects. Furthermore, Picjumbo is the work of a professional stock photographer, which is evident.
Kaboom Pics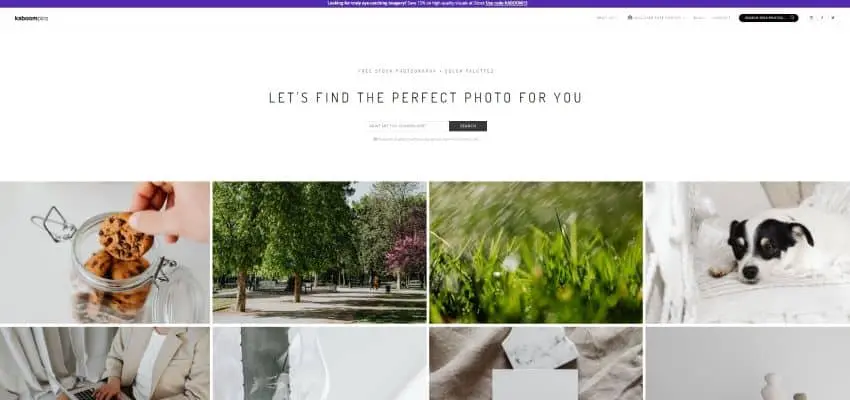 REASONS TO BUY
Images perfect for social media
High-quality aesthetics
Highly functional site with cool photoshoot galleries and a color palette filter
REASONS TO AVOID
Overrepresentation of some topics
Some relevant themes are absent
Kaboom Pics has a large collection of free stock pictures, including abstract, city/architecture, fashion, food, landscapes, and more. Commercial use is permitted, but photos cannot be sold or redistributed. Karolina Grabowska, a photographer and designer, shot and owns all of the over 8,000 photographs available for free on her website. Her collection has a strong feminine vibe to it. It has a lot of nature and outdoor elements, as well as compositions that would look great on any Instagram account. This is a Custom License. Thus, it allows for unlimited commercial use of the pictures. It even includes the creation of products for resale, as long as the image is edited first.
moreover, redistribution is restricted under terms that include a sensitive use clause. There's also a statement about any other intellectual property rights that might apply. Furthermore, it is also legally reliable due to the custom licensing obtained straight from the image author.
SkitterPhoto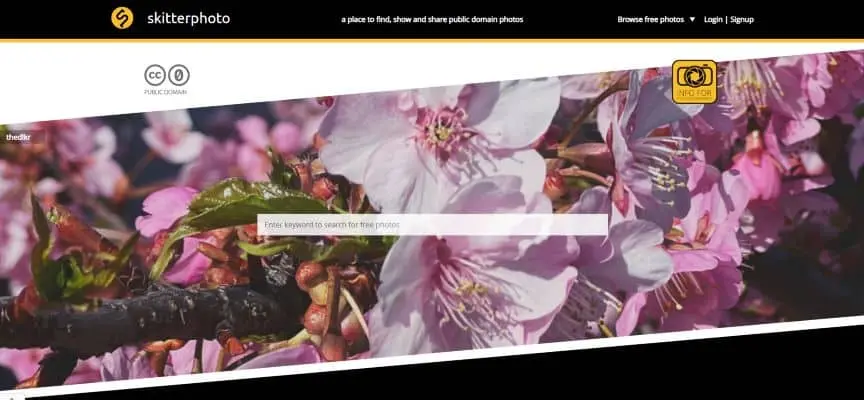 REASONS TO BUY
A mix of commercial and artsy photos
Copyright guidelines for user submissions
REASONS TO AVOID
CC0 + user-submitted content is not the safest
SkitterPhoto has a large collection of free stock photographs. All these are licensed under Creative Commons CC0. Thus, they can be used commercially without attribution. All photos are genuine and were taken by the owners of Skitterphoto. The website is run by amateur photographers that offer thousands of images for free. Moreover, it's a diverse collection culled from both site runners and user submissions. It contains some excellent shots. The images of site runners are safer. However, they are difficult to find in the collection. Thus, you must be well-versed in the law.
Life of Pix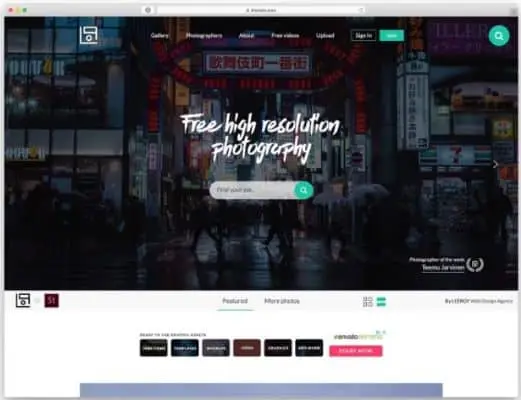 REASONS TO BUY
Artsy vibe of the images
Great level of curation
There is a sister site with free videos
REASONS TO AVOID
Photographer donations to Public Domain- You still need to verify which rights have they waived
The LEEROY creative firm launched Life of Pix. It is a platform that provides free high-resolution pictures with no copyright limitations. Because the images are in the public domain, they are free to use in any way. The site, however, prohibits the widespread dissemination of its content. Commercial photographs with an artistic touch can be found at Life of Pix. Public domain photographs are free of copyright, so they're safer than other selections. However, you should still double-check them.
Conclusion
Stock photography has bad notoriety since so much of it depends on cliches and clunky analogies. This is done to convey difficult topics. So, if you are looking for stock photos that are artsy and would help you in your projects, you would be looking for different sites. Moreover, high-resolution pictures are a must while searching for stock photos. Lastly, if you are on a budget and are looking for free stock photos, there are many sites to help you. You can check out Adobe Stock Free Collection. It has a very large collection of photos with high-quality images. Unsplash is also a good option to look at. However, if you are looking for a specific theme like cityscapes, go for Pixabay. Also, for food pictures, you can check out FoodiesFeed.
There are an increasing number of amazing stock image options available. So, there's no need to use cheesy stock photos anymore. Which is your favorite stock photo site? Tell us in the comments section below.
Read More!