Looking to elevate your home entertainment without breaking the bank? Look no further than the Walmart Onn Android TV! a stellar and cost-effective solution for streaming your beloved movies, TV shows, and live content in breathtaking 4K resolution. Embrace a captivating viewing experience. With crystal-clear visuals and immersive sound. Making every movie night or series binge a pure delight. Bid farewell to compromising on quality or budget because the Walmart Onn Android TV has it all.
Behind the curtains of this remarkable device lies the prowess of Onn, a private-label brand renowned for its exclusive offerings available solely through one retailer. These TVs, available in both 1080p and 4K models, boast impressive features that won't leave a dent in your wallet. Manufactured by Element Electronics, the Onn Android TV devices run on the latest Android TV 12 operating system. Granting you effortless access to popular streaming platforms such as Netflix, Hulu, Amazon Prime Video, and Disney+.
Of course, like any technological marvel, there have been some user reports of remote control and software issues. But the overall performance and affordability of these devices have earned them much praise. Our aim is to delve into the strengths and issues of the 4K Walmart streaming device, revealing its true potential as an exceptional choice for those seeking quality entertainment on a budget. Walmart TV invites you to enjoy entertainment without boundaries, so get ready to go on an adventure of visual delight.
Quick Summary
ONN Android TV 4K UHD Streaming Device
The Walmart Onn Android TV is an unbeatable option for those seeking an affordable smart TV that doesn't compromise functionality. With an array of features like access to popular streaming apps, built-in Chromecast, and voice search capabilities, the Walmart Onn Android TV promises a delightful and convenient viewing experience.
While it may not boast top-tier picture quality or gaming performance, it offers excellent value for its price point. Dolby Audio enhances the audio experience, but it lacks features like HDR for darker black tones, Dolby Vision, or Dolby Atmos.
The design of the Onn Android TV is distinct, resembling a marine creature, and comes with a side-mounted blinking light for remote control without a line of sight.
Walmart also offers the Onn FHD Stick and the $30 UHD Device, providing even more affordable streaming options. These devices use Android TV software, offering a user-friendly streaming menu, voice search, and video casting capabilities, making them compelling choices for entertainment seekers.
Intriguing, captivating, and affordable - the Walmart Onn Android TV lineup stands out from the crowd, making it an exciting and perplexing addition to your home entertainment setup. Embrace the joy of seamless streaming without stretching your budget with these fantastic devices from Walmart.
Pros:
Reliable, steady software performance.

Apps are properly placed on the home screen .

features a complete goggle tv experience.

Voice search .

Goggle assistant integration .
Cons:
No Dolby vision or Dolby atoms support.

Build quality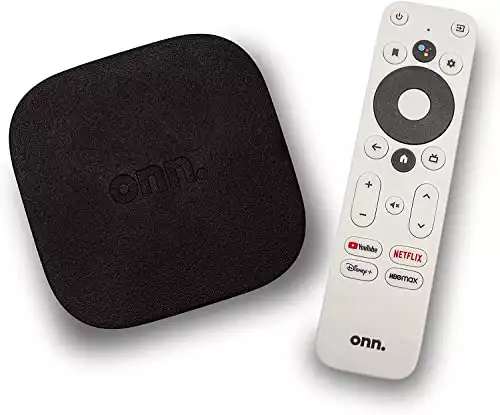 We earn a commission if you make a purchase, at no additional cost to you.
Price and Availability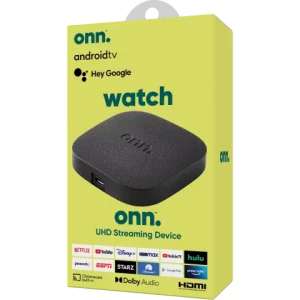 Prepare yourself for an incredible offer on the Walmart Onn Android TV.! Launched on 8 March2023, this streaming device brings 4K UHD resolution and the Google TV OS right into your room. Imagine indulging in stunning visuals and seamless entertainment at an unbelievably low price.
With Google Assistant integration, controlling your entertainment experience becomes a breeze. Whether you're searching for your favorite shows or navigating through apps, a simple voice command does it all.
The Walmart Onn Android TV comes in two enticing versions: the 4K Streaming Box, priced at an unbelievable $19.88, and the 2K FHD Streaming Stick, equally enticing at just $14.88. Yes, you read that right – unbeatable quality at unbeatable prices!
This fantastic deal is not limited to the US alone. But also in Canada and Mexico, since the Walmart Onn Android TV is offered both in-person and online.
Don't miss out on this golden opportunity to elevate your entertainment game without breaking the bank. Head over to your nearest Walmart or hop online to grab your very own Walmart Onn Android TV and immerse yourself in the world of 4K UHD streaming goodness. The time to revolutionize your TV experience is now!
Video Quality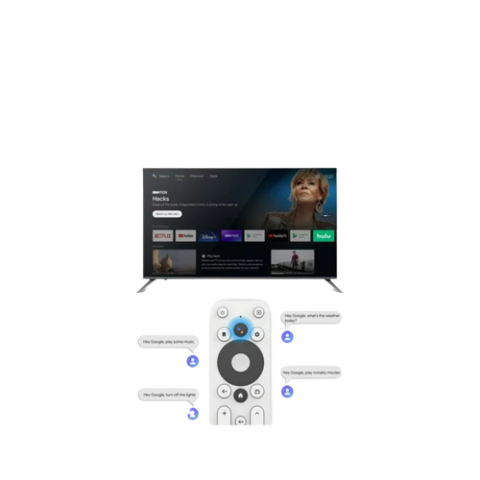 The Walmart Onn Android TV boasts a respectable 1080p resolution, offering a decent image quality that is perfect for enjoying your favorite movies, TV shows, and games. Though it may not be the highest resolution available in the market, rest assured, it still delivers sharp and detailed visuals that won't disappoint.
With a brightness of 250 nits, the display ensures optimal visibility in various lighting conditions. Whether you're watching in a well-lit room or taking your entertainment outdoors, the Walmart Onn Android TV shines through with clarity.
While it may not be the ultimate champion in image quality, it's essential to consider your priorities. If you seek the absolute best image quality available, there are devices with higher resolutions and brighter displays to explore. However, for those on a budget, the Walmart Onn Android TV is an excellent choice that doesn't compromise functionality.
This versatile device can handle various tasks, making it ideal for streaming 4K videos, web browsing, and running productivity apps. The Walmart Onn Android TV proves to be a dependable and cost-effective companion, ready to improve your digital experience in every manner, whether it be for pleasure or productivity.
Walmart Onn connectivity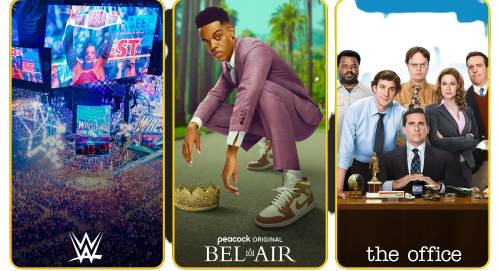 Unlocking a world of seamless lack of connectivity options, Walmart's Onn devices have got you covered with an array of versatile options. Whether you're eager to stream content, connect to the internet, or wirelessly pair your devices, Onn has thoughtfully integrated it all to cater to your needs.
Stay effortlessly connected with both Wi-Fi and Ethernet options, ensuring reliable internet access for accessing online content and services with ease. Embrace the convenience of wireless connectivity with Bluetooth support, empowering you to effortlessly connect external devices like speakers, headphones, and keyboards.
For a truly immersive viewing experience, Onn devices come equipped with HDMI outputs, allowing you to effortlessly connect to larger screens, taking your multimedia delight to new heights. Not stopping there, the inclusion of USB ports makes it a breeze to connect external storage devices such as flash drives and hard drives for seamless file transfer and access.
What's more, Onn devices take it up a notch with advanced features like AirPlay, Google Cast, and Miracast. These fantastic additions enable you to stream content from your Apple or Android devices and even mirror screens from Android or Windows devices, making sharing and displaying your favorite content an absolute breeze.
Design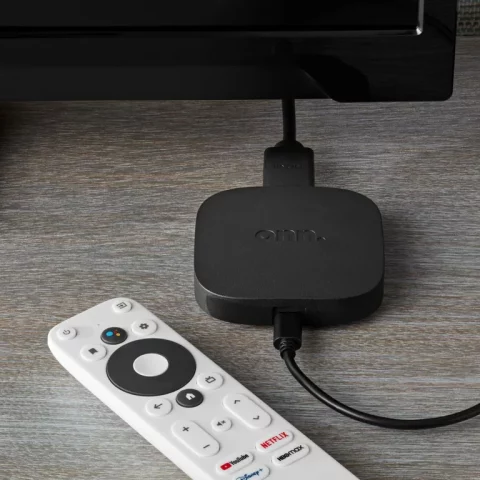 Efficiency meets affordability with the Walmart Onn Android TV's simple and functional design. Its sleek black plastic body, boasting rounded corners, effortlessly complements any entertainment setup, seamlessly blending in like a chameleon. The compact size, akin to a deck of cards, ensures effortless placement and convenient positioning, easily adapting to your space.
The hassle-free setup is a breeze, thanks to the micro USB port for power on one side. While the HDMI port on the opposite side facilitates a seamless connection to your television. To keep you informed at a glance, a small white LED on the front indicates the device's status, ensuring you're always in the know.
But the convenience doesn't stop there. The Onn Android TV arrives with a white plastic remote control, powered by two AAA batteries, putting all essential controls at your fingertips. What's more, it even features volume and power buttons for your TV. Embrace the power of voice commands with the addition of a Google Assistant button and a built-in microphone, transforming your entertainment experience into a hands-free delight. Effortlessly navigate streaming services like Hulu, Plex, and Prime Video, and let the Google Assistant be your guide.
While it may not boast the flashiest appearance, the Walmart Onn Android TV more than makes up for it with its straightforward and user-friendly design. Set up and use are a breeze, and with Google Assistant support, voice commands make your life easier than ever. This streaming box delivers incredible value at its affordable price, proving that top-notch entertainment doesn't have to come with a hefty price tag.
Remote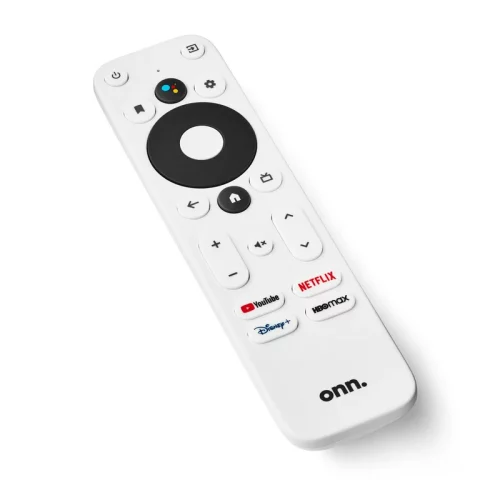 The sleek and sophisticated Walmart Onn Android TV Remote will improve your television viewing experience. Designed to make your entertainment journey even more fun. This remote boasts 21 buttons, each carefully placed for ultimate ease of use. Walmart uses Google G10 design for remote on Android TV and Google TV devices, overcoming slow and laggy streaming. You'll find all essential functions like power, volume, channel, and directional controls, along with dedicated buttons for home, back, Netflix, and Google Assistant.
But that's not all – the Walmart Onn Android TV Remote goes above and beyond with its integrated IR blaster. This nifty feature lets you take charge of other devices in your home, such as soundbars or streaming sticks, all from one centralized remote. It's the epitome of convenience in your hands.
Setting up the remote is a breeze. Just insert the batteries, press and hold the home and back buttons for about 4 seconds, and watch in awe as the remote's indicator light flashes. Your TV automatically detects the remote, instantly enabling quick and easy pairing. It's simplicity at its finest.
The Walmart Onn Android TV Remote offers the perfect blend of functionality, style, and convenience, putting you firmly in command of your TV. Delve into endless entertainment possibilities and enjoy hassle-free control over all your compatible devices. It's time to take charge and embark on a seamless entertainment journey with the Walmart Onn Android TV Remote as your trusted companion. but users have also issues with remote color. remote has two principal problems. First first, it appears a little bit filthy because the outside is more cream than flawless white. []
Audio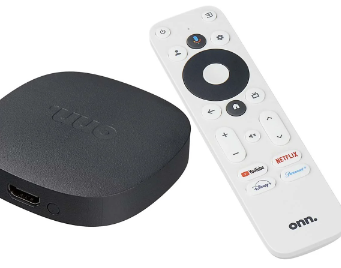 The Onn Android brand TVs go the extra mile in catering to your audio needs, offering a range of audio output options that are sure to please. With HDMI ARC, optical audio out, and analog audio out (3.5mm jack) at your disposal, you have the flexibility to connect to your preferred audio setup. These TVs are no slouch when it comes to audio formats either. Supporting Dolby Digital, Dolby Digital Plus, DTS, and PCM, they ensure you get the best audio experience possible without breaking the bank. Their price range is quite budget-friendly, and yet the sound quality they deliver is generally impressive.
The built-in speakers are no exception, delivering decent sound that satisfies most users. However, for those seeking an elevated audio experience, the option to connect external speakers or soundbars is there to amplify your enjoyment.
Should you encounter any audio issues, a few simple steps can resolve them. Ensure the correct audio output device is selected, double-check the volume settings on both the TV and the connected device, and try restarting both. If issues persist, reaching out to Onn customer support is the wise next step.
For optimal audio performance, placement is critical. Positioning the TV centrally in the room, away from sound-obstructing objects, can make a noticeable difference. Proper positioning and volume adjustment are crucial for achieving the best results when using external speakers. With the Onn Android brand TVs, your audio preferences are well catered for, offering multiple options, impressive sound quality, and the potential for an even better experience with external audio setups. Enjoy a rich and captivating audio experience, all at a price that won't break the bank.
Drawbacks and New Updates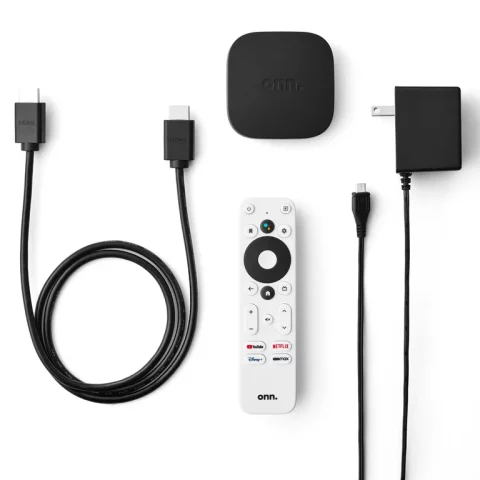 The Walmart Onn Android brand TV undoubtedly offers excellent value for its budget-friendly price, but like any device, it does have a few issues to be aware of. One is its limited RAM and storage space, which can impact its overall performance, especially when concurrent tasks or running resource-intensive applications.
Another area for improvement is the remote control. While functional, it may not be the most ergonomic or user-friendly, which could be a minor inconvenience for some users.
Furthermore, for those seeking the best audio and visual experience, it's worth noting that the Onn Android TV lacks support for popular HDR and surround sound formats like Dolby Vision and Atmos. This limitation might not be a deal-breaker for many, but for audio and video enthusiasts, it's something to consider.
However, there is good news on the horizon. Walmart has listened to user reviews and released a new update for the Onn Android TV. This update addresses some of the performance issues, improves overall stability and reliability, and even includes a security patch. Additionally, users can now enjoy a new startup animation and customize their HDR settings with a dedicated switch.
Despite these updates, it's essential to keep in mind that the Onn Android TV still does not support voice commands with Google Assistant or Amazon Alexa. So, if hands free control is a priority for you, you might want to explore other options.
Moreover, the lack of a built-in tuner means the TV requires an external antenna or cable box for live TV functionality. This might be a minor inconvenience for those who enjoy traditional broadcast channels.
Should You Buy a Walmart Onn TV?
Walmart's streaming box uses Google's ADT-3 design, unattractive near TVs or media cabinets. Onn offers stable, performant performance for everyday entertainment, lacking Dolby Vision and Atoms in Chromecast with Google TV 4K.
What is the use of an Android TV box?
Android TV box transforms regular TV into a smart TV using the Android operating system. It provides access to a wide range of entertainment options. Including on-demand videos, streaming services, gaming, and regular network shows, all on a larger screen.
Conclusion
For people on a tight budget looking for an easy-to-use streaming platform, the Walmart Onn Android TV is a great option. It might not be the most potent gadget available. But it is still quite affordable and does the job well. If you require more streaming capabilities, alternatives such as Google Chromecast with Google TV are worth considering. Nevertheless, for those on a tight budget, the Walmart Onn Android TV presents a compelling option.
Despite affordable options, it's worth noting. The Onn Android TV UHD may feel somewhat cheap and lacks the same level of durability as other devices. On the other hand, the Onn FHD Stick and UHD Device provide more budget-friendly streaming options. Additionally, the Onn 4K box, while not running Google TV! retains essential Android TV features, supports DRM, and supports YouTube, Netflix, and Disney+.
Read more:
Walmart Onn Android TV 4K UHD Streaming Device with Voice Remote Control & HDMI Cable
Summary
For people on a tight budget looking for an easy-to-use streaming platform, the Walmart Onn Android TV is a great option. It might not be the most potent gadget available. But it is still quite affordable and does the job well.