One of Apple's most recent inventions, the AirTag, is already establishing itself as one of its best devices. Even though it has only been available for a few months, it has already prevented many from losing wallets and keys on several occasions. Before it was officially announced at Apple's Spring Loaded event in April, the AirTag, a Bluetooth item tracker, had been the subject of extensive rumors for years, putting forgetful individuals worldwide into a complete frenzy. To make it more attractive and protective, Apple AirTag Leather Key Ring will help you prevent breaking it.
While Apple does sell a few AirTag accessories directly, several independent producers have created other (frequently less expensive) solutions. The number available is still relatively small, but more are gradually being released. Many wallet holders or dog tags from significant manufacturers like Moment and Spigen are still in development and are not acquired by people. But it will be available soon for all.
What is AirTag?
In April 2021, Apple finally made the long-awaited AirTag public after years of rumors and conjecture. The tiny circular tag is made to be fastened to items like wallets and keys, enabling Bluetooth tracking of these accessories alongside Apple devices via the Find My app. Using the network of almost one billion iOS devices worldwide, Apple's AirTags lets you track objects almost everywhere. You can use them to keep tabs on your bags, musical instruments, equipment, skateboard, keys, and luggage. If you own an iPhone, you may use the Find My app to find your marked items and, as you come close to them, receive specific directions until you find your lost item.
One way the iPhone-maker can assist you in tracking non-Apple gadgets is through the AirTag tracking tiles. Third-party products can also be located using Apple's Find My app. The iBeacon, a little, low-cost Bluetooth transmitter that offered location-based services and information to iPhones, laid the foundation for the AirTag in 2014. Ultrawideband, or UWB, technology can locate objects within 5 to 10 centimeters, but Bluetooth can only track them to a distance of roughly 5 meters. In 2019, when hints were discovered in the code for iOS 13 and the iPhone 11 integrated UWB technology, rumors that Apple was working on a product to compete with Tile Bluetooth trackers first surfaced. In April 2021, Apple officially unveiled its AirTag tracker.
AirTag Hermès Key Ring
Bestseller
AirTag Hermès Key Ring - Apple
You'll need a pretty beautiful AirTag holder if you're going to attach your AirTag to something fancy, like a pair of Rolls Royce keys or a Birkin purse, lest you ruin the effect. Thankfully, Apple considered that and collaborated with designer Hermès to create a series of high-end AirTag key rings. The key ring, offered in five hues of painstakingly made small-batch leather, has contrasted saddle stitching and the renowned Clou de Selle logo. The key chain also includes a special Hermès-branded AirTag as a bonus.
Pros:
Strong Cover

Long Durability

Scratch Protection of device
Cons:
Over Expensive

Not Waterproof

Colour Stains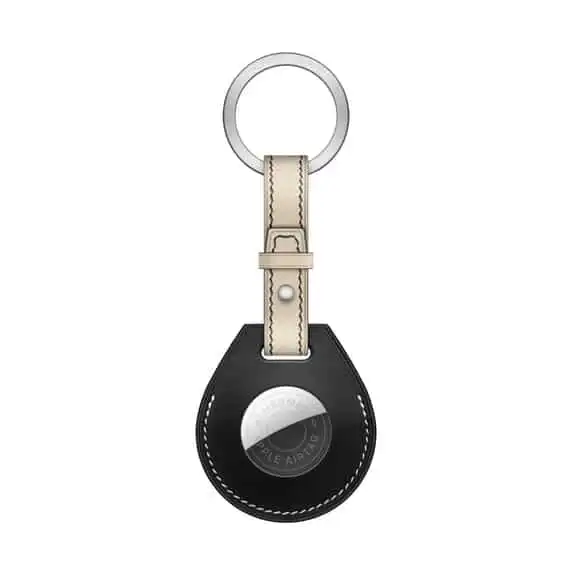 Popov Leather AirTag Case
Our Pick
AirTag Case - Popov Leather
Popov Leather's AirTag case, which encases the device in excellent Horween leather and is linked to a lobster claw clip, can catch your eye if you like the concept of the Hermes holder but don't want to spend a fortune on something of high quality. Over time, the leather will smooth out and develop more character. Each holder includes a lifetime guarantee and is hand-sewn with heavy thread to ensure years of use.
Pros:
Pure Leather

Lobster Claw Clip

Life-Time Guarantee
Cons:
Hand-Sewed

Less Quality Manufacturing assurance

Not Branded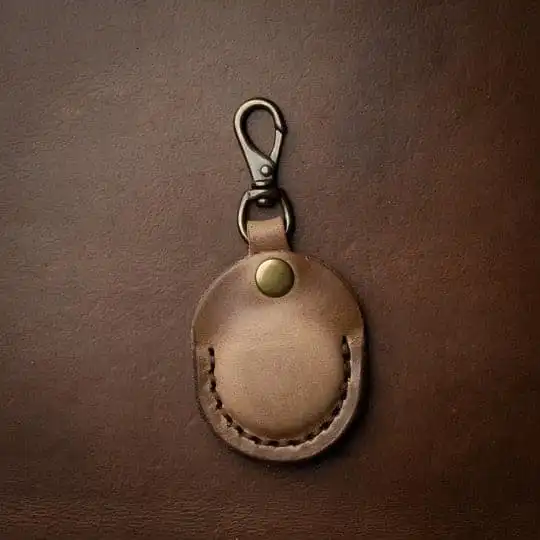 Cyrill AirTag Case Cover
CYRILL AirTag Leather Ring (Vegan)
Although this faux leather key chain from Cyrill, a division of the Korea-based Spigen, isn't exquisite, it is now offered in stone and black. This item is a vegan leather case made with sustainable materials that are scratch, water, and dust resistant. It incorporates a secure button clasp for quick application and complete device protection. Keyrings, bags, purses, belts, pet collars, and other things you want to track should all have a carabiner to attach to them. You can carry it wherever without adding bulk because of its slim fit and fashionable style.
Pros:
Water Resistance

Secure Button Clasp

Complete Protection
Cons:
Little Expensive

Colour Limitation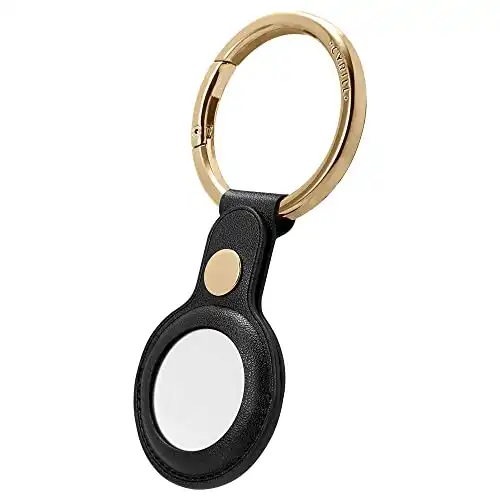 Apple AirTag Leather Key Ring
Apple AirTag Leather Key Ring
The leather key ring with the Apple logo costs $22 and is offered in three hues: black, saddle brown, and red. The best materials are carefully selected to create the leather key ring. The European leather is delicately tanned and supple to the touch, while the stainless steel is aesthetically pleasing and robust. Additionally, there is no need to worry about it coming out because it fits firmly over your AirTag.
Pros:
Pure European Leather

Stainless Steel

Soft and Tanned Material
Cons:
Slight Costly

Not Much Attractive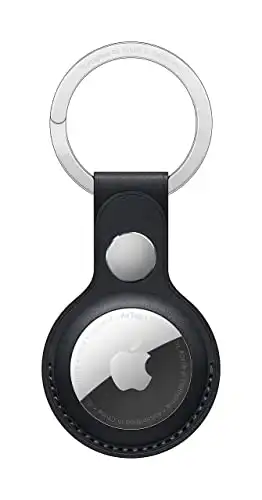 Eusty Faux Leather Keychain 4-Pack
Nomad AirTag Leather Keychain
NOMAD AirTag Leather Keychain
The leather AirTag key chain from Nomad has a superior design to Apple's, which exposes the AirTag to some degree. This AirTag key chain conceals it and resembles a regular key chain more. It is intended to "weather" after use, becoming darker. It costs $30 and is offered in brown or black. Despite being expensive, it is lovely.
Additionally, Nomad sells a Leather Loop that doubles as a key chain for $20. I like this more expensive model better. The AirTag functionality of the Leather Keychain is integrated into your daily carry in a safe, thermoformed Horween Leather holder. Leather Keychain makes finding your keys in a hurry as easy as using the built-in Find My app on your iPhone by permanently attaching the powerful location tracking gadget to your keys.
Pros:
USA-made horween leather

Black PVD stainless steel keyring

Thermoformed leather
Cons:
Not Waterproof

Only Two Colours

Little Expensive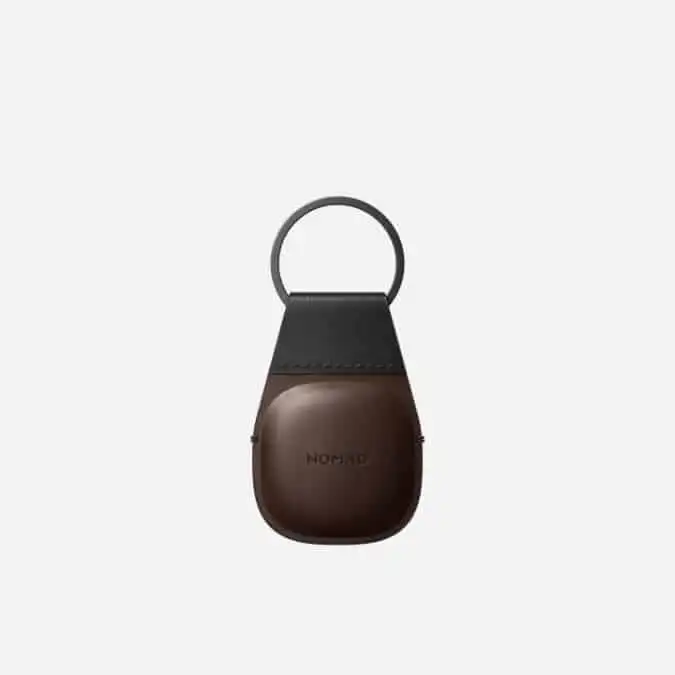 Apple AirTag Leather Loop
Apple AirTag Leather Loop
Saddle Brown, Baltic Blue, Forest Green, California Poppy, or (Product) Red are the colors offered for Apple's Leather Loop. Even though it starts more expensive than the AirTag Loop, it still has a much superior appearance and feels to the polyurethane version. (While both have been good thus far, experts anticipate it will ultimately prove more damage resistant.)
Pros:
European leather

Strong Protection

Wide Colour Range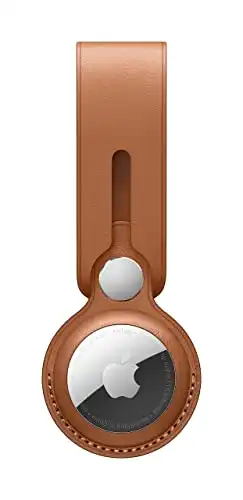 AICase AirTag KeyRing
AICase AirTag with Key Ring
Since Apple's AirTag Leather keychain is of excellent quality and should be included in the comparison, it would be rude not to. You simply have to get beyond the fact that it will cost a little more than your AirTag. The simple design of Apple's leather keyring, which draws attention to the engraved Apple emblem of the AirTag and the immaculate white shell, will be loved by most people. The tracker clicks into place neatly and safely. Many sets of keys can fit on the enormous stainless steel keychain, while some people would prefer to use something smaller in its place. Among the choices for Baltic Blue, California Poppy, Forest Green, Saddle Brown, and Product, there is sure to be one that you like.
Pros:
Premium Material

Slim and Sleek Design

Enhanced Secure
Cons:
Not Guaranteed

Unknown Brand

Low-Value Product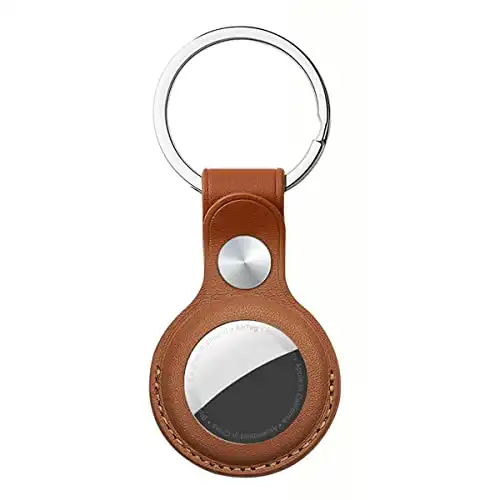 What does an AirTag key ring do?
iPhone owners can use AirTag, a discreet and tastefully designed attachment, to securely find and monitor their assets using the Find My app. AirTag can be personalized with free engraving.
Is Apple AirTags suitable for keys?
The recently released Apple AirTags is perfect for people who lose their keys. They need to track their bags or need to keep an eye on other items many times. Both setting them up and using them are simple.
How far can Apple AirTag track?
Apple has not expressly stated the Bluetooth range of an AirTag, although it is assumed that each AirTag supports Bluetooth 5.0 (the same as the most recent iPhones), meaning that it should be trackable within 800 feet.
Conclusion
The AirTag holder will work if you want anything protective that doesn't cost an arm and a leg. Ingenious twist and lock mechanism that easily attaches to any key chain. The leather loop from Apple is the best option right now. Suppose you want to connect an AirTag to your luggage. Yes, it's a little pricey, but it's also wonderfully designed, works flawlessly, and feels safe and secure. However, there are currently only a tiny number of AirTag accessories available. There are many more planned for the future of the new item finder.
Read More: