The SteelSeries Aerox 9 Wireless mouse is an innovative experiment that, like many original experiments, fails miserably. This is the first time a major manufacturer has sought to build a honeycomb mouse for massively multiplayer online (MMO) videogames. While it is a fascinating notion, the end result is a touch too tight and unintuitive to completely deliver on the innovative premise.
There's nothing really incorrect with the SteelSeries Aerox 9 Wireless design. It's unlikely to change anybody's mind about the honeycomb look, but it's comfortable to hold. It works nicely in-game, has attractive RGB illumination, plus lasts a long time on just a single charge.
Still, the SteelSeries Aerox 9 Wireless's principal function is to provide a staggering 12 side buttons, and even those buttons are simply very tough to operate. They don't feel different from each other, and it's all too simple to strike a wrong one by mistake. At $150, the Aerox 9 Wireless is just expensive for a gadget that doesn't accomplish what it needs to.
What we will see here?
Design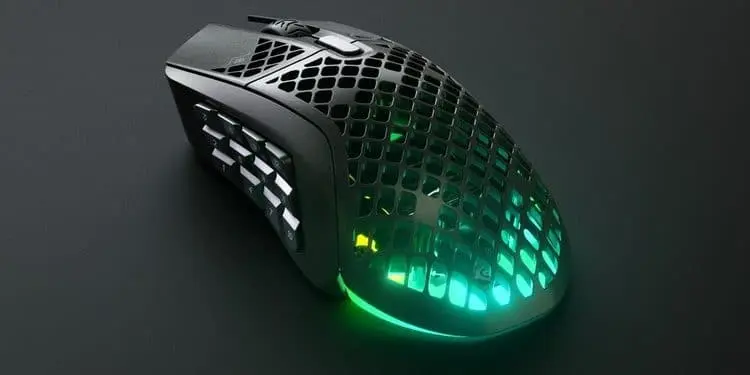 The SteelSeries Aerox 9 Wireless is driven by the SteelSeries Engine software, which is rather strong in this category. You can easily alter RGB lighting, customize DPI, reprogram buttons, build specific game profiles, and so on.
The only complaint is that the Engine software has recently been erratic in estimating battery life, and it was an issue with the Aerox 5 Wireless. The battery level would occasionally bounce up or down roughly 5% for no apparent reason. On the other hand, depending on your illumination settings, the SteelSeries Aerox 9 Wireless's battery may last for 180 hours. So you don't actually need down-to-the-minute precision.
You may connect the SteelSeries Aerox 9 Wireless mouse to your computer via a USB dongle or Bluetooth. Both techniques work well and might be beneficial if you switch between desktop and laptop computers during the day.
The SteelSeries Aerox 9 Wireless's most distinguishing feature is, of course, its 12-button left panel. But it didn't turn out well as hoped. Also, we'll see in the following section.
Performance of SteelSeries Aerox 9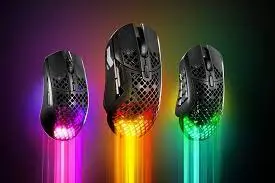 In general, the SteelSeries Aerox 9 Wireless mouse performs admirably in-game. You can try the mouse with Age of Empires IV, Doom Eternal, Spellforce 3, and Final Fantasy XIV and can find that it accurately and rapidly reads every command. In the first three games, You will have no issue assembling medieval armies, shooting down demons, or outfitting new weaponry on a small band of heroes.
However, because the SteelSeries Aerox 9 Wireless is essentially an MMO mouse, you have to give extra attention to Final Fantasy XIV. This is when you can get into problems. While the mouse is working great for pointing and clicking, operating the thumb buttons has a different story.
In Final Fantasy XIV, you gain a variety of talents that are set by the user to the numerical keys on your keyboard. I thought adding 12 thumb buttons would make my skill rotation easier, but it really made things more difficult. As previously said, it is difficult to distinguish any one of the buttons because they all have a similar feel. You can ultimately remember the locations of 1 and 5. As well as feel your way around for some of the buttons on the outside corners. However, everything in the center is a mess.
The mouse has a learning curve, to put it mildly. I'm confident that serious gamers will ultimately find out where every other button is and may even feel comfortable assigning several shortcuts to each key. Even after a few days of using the Aerox 9 Wireless, it was still more difficult to play FFXIV well with the mouse than without it. In comparison, a mouse such as the Razer Naga Pro allows you to modify the number of buttons just on the side panel.
Layout of buttons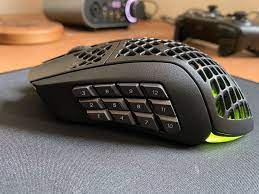 The SteelSeries Aerox 9 wireless mouse's 18 buttons, 12 of which are laid out in a clean four-by-three grid, are the most eye-catching feature here. At first look, it appears to be an afterthought. It is for MMO and MOBA players that often use number buttons or even other keyboard instructions. Neither of them is my favorite category, but you will quickly discover that you could make good use of them.
To put it to the ultimate test, you have to see how many Epic games commands you could map to it. You can have your superpower, melee, grenade, interact, rift, finisher, reload, inventory, plus menu on the grid in less than a minute — and you still had three buttons to spare. Except for emoting, you would practically never have to move your fingers off WASD. As a consequence, you will find yourself using tools like finishers which you can generally neglect entirely on the keyboard, considerably more frequently.
That is the capability of a gadget like this. With most other gaming mice, you can rapidly run out of buttons and then have to pick and choose what to program. You don't have to do that here. You can execute any instruction you can think of and quickly make modifications as you play. The idea of an MMO mouse isn't unique, however, SteelSeries makes it more feasible in this case.
Customization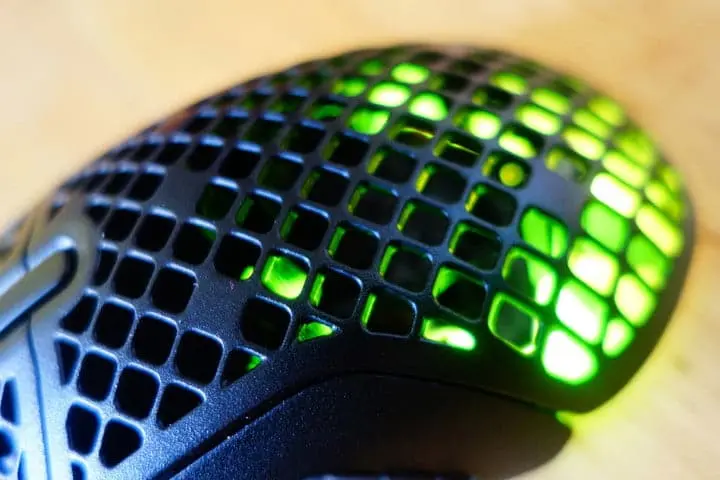 Configuring a large number of buttons on such a gaming mouse might be difficult, however, SteelSeries Aerox 9 makes it simple. Its GG program allows users to build as many command profiles as they desire and assign buttons at the system level rather than every game. To make it work, you didn't have to modify a single connection in Destiny 2's menu. And if anything wasn't functioning, you just have to open the program, made a simple change, push save, and you are good to go. The same can be said for the game's RGB lighting, the mouse's sleep timer, and other features.
Even more handy is the SteelSeries Aerox 9's CPI switch, which is set directly beneath the mouse wheel. And it allows you to quickly choose between five sensitivity settings. If you feel like everything is moving too slowly or too quickly while playing games, you can just tap it to change the pace. This will be automatically registered in the active mouse profile without the need to launch the program.
Connectivity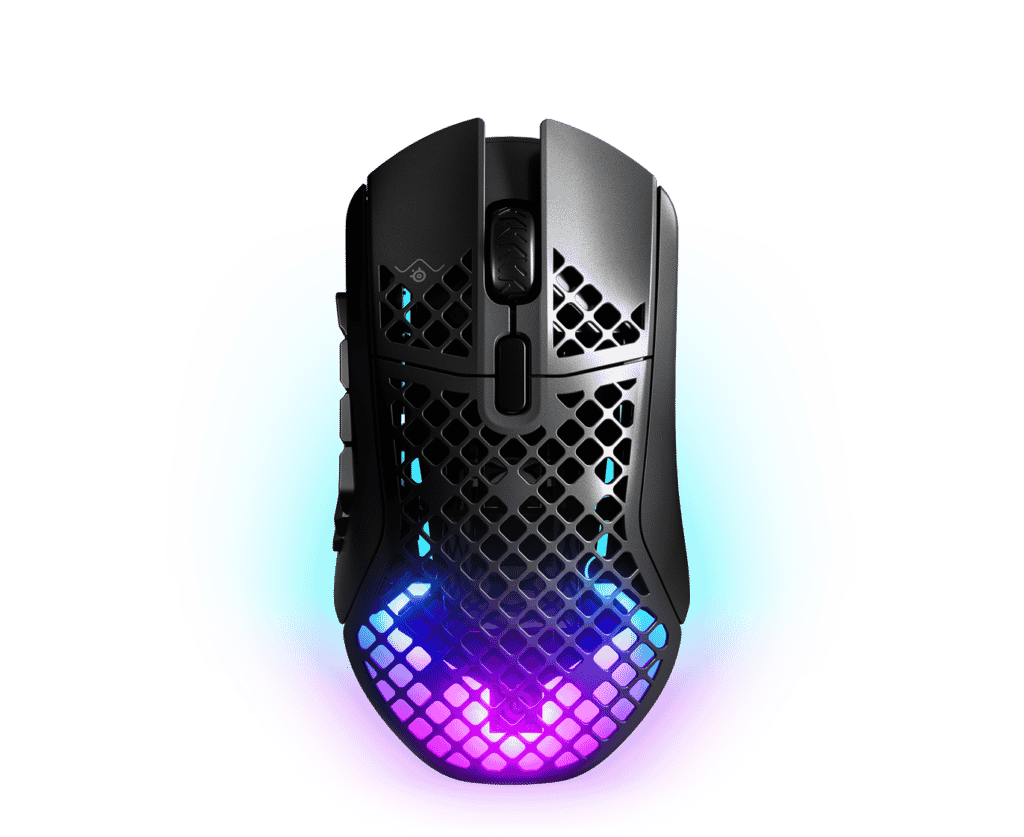 The GG app integration has one strange snag, as well as this has to do with the device's wifi dongle. The Aerox 9 has a dual wireless connection that allows users to connect through Bluetooth 5.0 either 2.4GHz with the flick of a button. To utilize the latter, you'll need a USB-C port, which is in the package. Your desktop machine is getting old and doesn't have that port. That seemed fine at first because you could use Bluetooth, but you will soon discover certain restrictions.
For example, when connecting through Bluetooth, it appears that buttons cannot be set. If you want to modify the grid, You had to plug inside the mesh wire that came with the Aerox 9. More perplexing, a 2.4GHz connectivity allows upgrading its firmware. Yet you cannot use a connection with wire . You can't update it on your current desktop configuration right now. That won't be an issue for those with newer PCs, but if you're running something older and don't have an open USB-C connection, you're out of luck.
Despite that perplexing oddity, the SteelSeries Aerox 9 Wireless is brimming with customization options. You can find yourself playing a little metagame every time You pick up a game, where you can spend a few minutes crafting the perfect profile. Control enthusiasts will love this gaming mouse.
Conclusion
It's tough to endorse the SteelSeries Aerox 9 Wireless mouse. Its most distinguishing characteristic goes against it whereas the rest of its functions perform quite well with the simpler, less expensive mouse like the Aerox 5. The Naga Pro is a far better wireless MMO mouse for the same price, while the Logitech G502 Lightspeed is a significantly better all-purpose wireless gaming mouse.
If you like honeycomb mice and MMOs and would like to buy a mouse from one of the finest manufacturers just on market, We recommend the SteelSeries Aerox 9 Wireless.
Read more: