The cable is primarily used to charge the device. In Apple devices, they are known as Lightning connector. They are used for charging purposes and also for connecting the devices to computers.We have covered here, pretty almost all the doubts consumers face when trying to buy iPhone charger Cables. Let's see!!
What to Look for in iPhone charger Cables?
Getting the most out of your iPhone means using the right accessories. Cheap and counterfeit Apple accessories are flooded in the market. While the fake power accessories may seem to be great deals due to the low price, but they can potentially damage your expensive device like iPhone and may even put your life at risk.
Known to take safety and security extremely seriously, Apple offers a licensing program called MFi. Unfortunately, very few accessory makers (less than 10%) comply with the Licensing program, while most sell counterfeit products. Considering the damaging effects of the fake chargers; it's better to know so if the accessories are MFi certified. Read on to find the noticeable differences!
What is an MFi cable? What Does Apple MFi-Certified Mean?
Apple introduced "Made for iPad". MFi stands for "Made for iPhone/iPod/iPad." Apple MFi certification is a license shown that Apple (Apple Inc.) has authorized accessory manufacturers to mark the MFi logo on their products.
What is MFi chip? How Do Apple Certified Accessories Work with iDevices
Apple-approved accessories come with a built-in MFi chip. What is it and how does it work? It's basically an authentication chip that enables the compatible accessories to communicate with Apple devices. As a result, they are able to play perfectly with the iDevices and also carry out tasks like charging and syncing data without any issue.
Why It's Important to Buy MFi-Certified?
The MFi–Certified rating is important because it protects your device from potential damage or harm that could come from using an unauthorized accessory such as overheating, improper charging, port damage, or even iOS inefficiencies.
But ??? Wonder how to know a counterfeit accessory?
Phone and iPad are designed to quickly figure out the fake chargers. That's why they alert you with a warning message, "This accessory is not certified?" It's one of the simplest ways to catch a counterfeit accessory.
However, in some cases, you might see this alert even when you have a certified cable. It might be due to damage or lint particles that might have sneaked into the Lightning port.
How to tell if your Apple lightning cable is fake?
You can easily identify an uncertified Lightning accessory by taking a close look at some of the basic symptoms.
The connector: It might not properly connect to your device and fall off.
Overheating: If you are using a flawed product, its connector may get hot very quickly.
Slow charging: Your iOS device will charge rather slowly.
Syncing issue: You won't be able to sync your device with the computer
Before Buying Any Accessory, Make Sure to Check Out the Apple MFi Badge
Before buying any Lightning cable or accessory, make sure to check out the MFi badge. Just a look at the packaging. So, the next time you want to get one for your device, do not fail to check out these logos.An Apple-approved accessory will have a "Designed by Apple in California" and either "Assembled in China," or "Indústria Brasileira" or "Assembled in Vietnam."

How to Find the List of Apple MFi Certified Accessories
What if you have come across an unknown accessory maker that claims to offer the certified product, how would you figure out whether it's real or fake? Pretty simple! Apple has made it quite straightforward to know which accessory brand is MFi certified. To do so, all you need to do is head over to:
→Apple MFi website → click on the Search Criteria drop-down menu → select brand → enter the brand name and hit Search. If it's a certified brand, the website will show its available accessories. If it's not approved, it won't offer any results.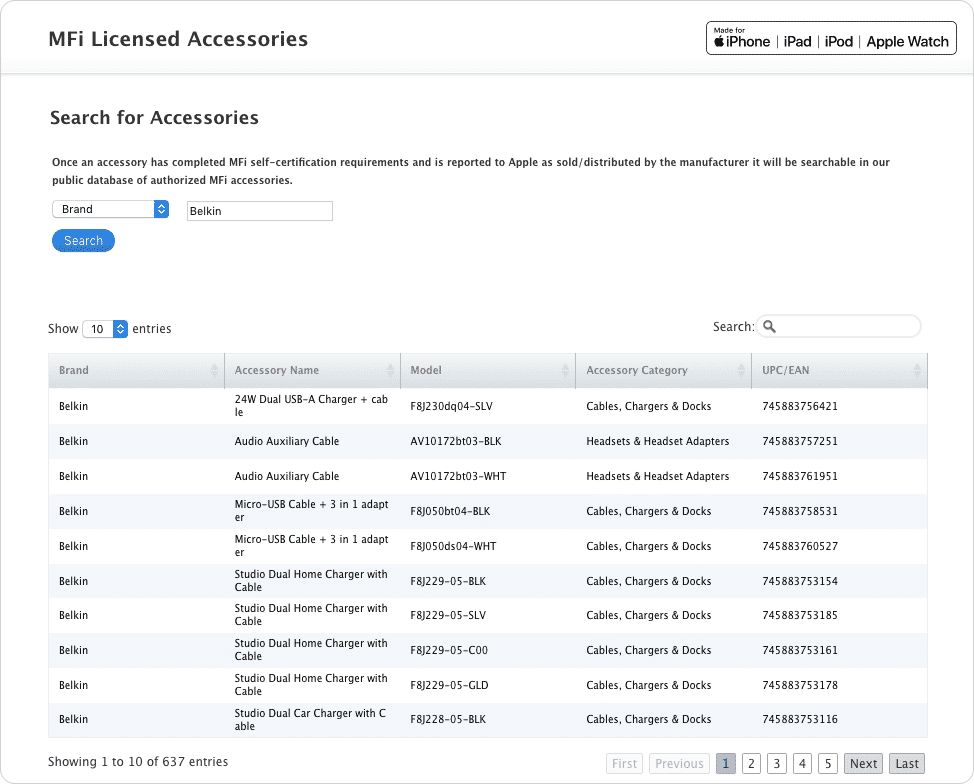 Well well as for now, we hope so that all of your doubts have been cleared and while we've written about lots of phone accessories before — here, we've rounded up the best lightning cables.
iSOUL Lightning iPhone Charger Cables
Have a robust Nylon-braided wire.
Also it can withstand load up to 55kg and also has been tested to bend 95-degrees more than 9,000 times.
Compatible for: iPhone XS/XS Max/X/XR/8 Plus/8/7 Plus/7/6s Plus/6s/6 Plus/6/5s/5c/5/iPad Pro/Air/Mini/iPod Nano/Touch also with the latest iOS system.
High-Performance and also the fastest charging speeds for your devices.
Guaranteed with safety and reliable performance.
Comes with easy-to-reach customer service at no additional cost.
Variations:
Vibe Lightning iPhone Charger Cables
Safer data syncing.
Faster Charging.
Safer charging also works seamlessly with your device.
It can do charging and data syncing simultaneously without any problem.
Have Metal Aluminum alloy connectors that improve robustness and reduces wearing out.
This wire is MFi certified means genuine lightning cable.
Durable and tangle-free enough than regular cables
It has a perfect design that fits all aftermarket cases
Compatible with all lightning devices.
Variations:
AmazonBasics Nylon Braided MFi Certified iPhone Charger Cables
Perfect for your home, workplace, car, or nightstand.
Compatible with iPhone X / 8 Plus / 8 / 7 Plus / 7 / 6s Plus / 6s / 6 Plus / 6 / 5s / 5c / 5 / iPad Pro / iPad Air / Air 2 / iPad mini / mini 2 / mini 4 / iPad 4th gen / iPod Touch 5th gen / iPod nano 7th gen and Beats Pill+
Complete charge and sync compatibility with your Apple device.
Not only small enough to perfectly fit most device cases, but it's also strong enough to withstand repeated unplugging.
High-quality copper wires that maximize Signal quality and increase durability.
The high-tensile nylon fiber cloth offers superior strength and a bit of flexibility.
Cables have been tested to bend 95-degrees 4,000 times.
It comes with 1-Year Limited Warranty.
Variations:
3 foot (0.9 metre)
6 foot (1.8 metre)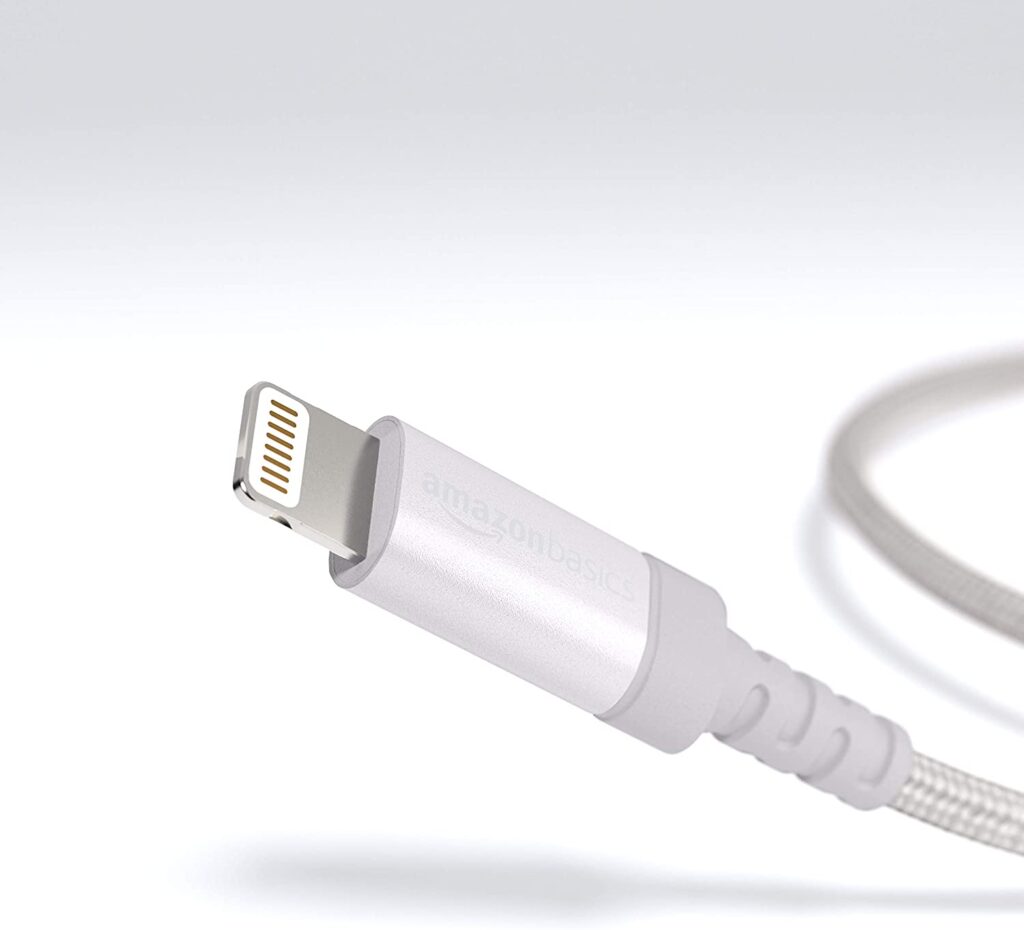 Live in U.S.A?
Live in U.K.?
Anker Powerline II Lightning iPhone charger Cables
PowerLine II tolerates being bent over 12,000 times, lasting an enormous 12x longer than other Lightning cables.
It offers high speed and safe charging.
Not for half a year, not for 18 months, but for an entire lifetime. It may be the last cable you'll ever need to buy.
Compatible with iPhone 11 / X / XS / XR / XS Max / 8 / 8 Plus / 7 / 7 Plus / 6s / 6s Plus / 6 / 6 Plus / 5s / 5c / 5, iPad Pro / Air / Air 2, iPad mini / mini 2 / mini 3 / mini 4, iPad (4th generation), iPod nano (7th generation), iPod touch (5th generation), AirPods and AirPods with Wireless Charging Case.
Uses a bulletproof fiber.
High-quality TPE finish provides a tactile and robust exterior.
Able to resist dirt and maintain an 'as-new' look for much longer than other materials.
Support over 175lb (80kg).
Variations:
Length of 6 feet available in 4 colors:White,Blue,Red,Black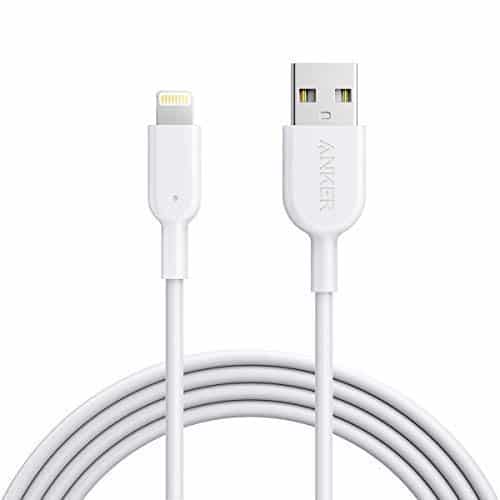 Native Union Night Certified Durable Lightning to USB Charging Cable with Weighted Knot
High speed charging up to 2.4 Amps
Its 10,000+ bend* lifespan makes it 6 x stronger than standard Lightning cables.
COMPATIBLE WITH DEVICES: iPhone 11, iPhone 11 Pro, iPhone 11 Pro Max, iPhone XS, iPhone XS Max, iPhone XR, iPhone X, iPhone 8, 8 Plus, 7, 7 Plus, 6, 6s, 6 Plus, 6s Plus, SE, 5s, 5c and 5, iPad 9.7 (2017), iPad Air, iPad Air 2, iPad Pro 2017 and earlier, iPad mini with Retina display, iPad mini and iPad (4th gen), iPod Touch (5th gen), and iPod Nano (7th gen).
NOT COMPATIBLE WITH: USB-C iPad Pro (2018 and later).
The Lifetime Limited Warranty will cover any defect in materials or workmanship under normal use conditions
10-foot range lets you use and charge your device in comfort.
The weighted knot anchors your cable to any flat surface when detached from your device.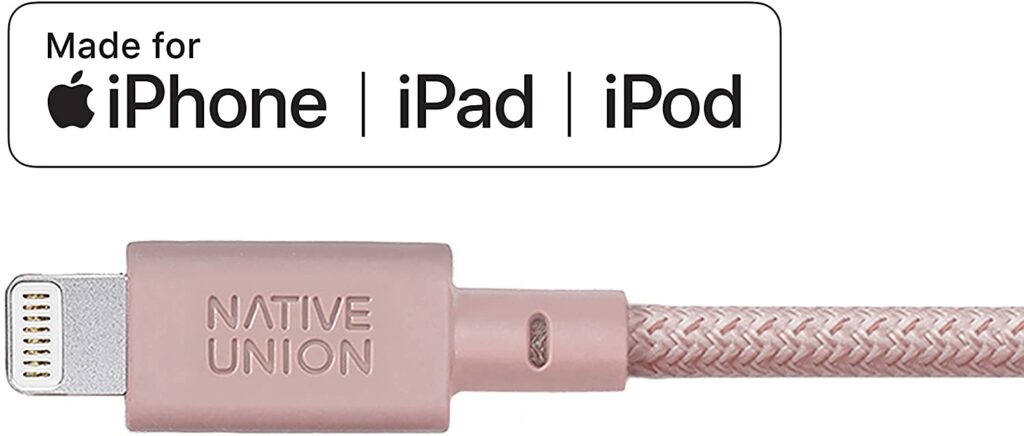 Monoprice Apple MFi Certified Lightning to USB Charge & Sync Cable
Compatible With iPhone X 8 8 Plus 7 7 Plus 6s 6 SE 5s, iPad, Pro, Air 2 – Luxe Series.
Lifetime Warranty.
Keep your Apple iPhone, iPad, or iPod fully charged and synced.
Tangle Resistant Braided Nylon Cable.
Apple MFi Certified means that this cable has been thoroughly tested and is guaranteed to be 100% compatible with your Apple iOS devices.
It has Aluminum Connectors and hence is much durable.
The LED charge status indicator tells at a glance whether your device is fully charged or not.
So, you don't need to guess the charging status or turn on your device.
LED will pop orange while charging is in progress and turns green when charging is complete.
The metal enclosure surrounding the connector and LED ensures optimum durability and portability.
Variations:
3 feet
4 feet
6 feet
White and Black color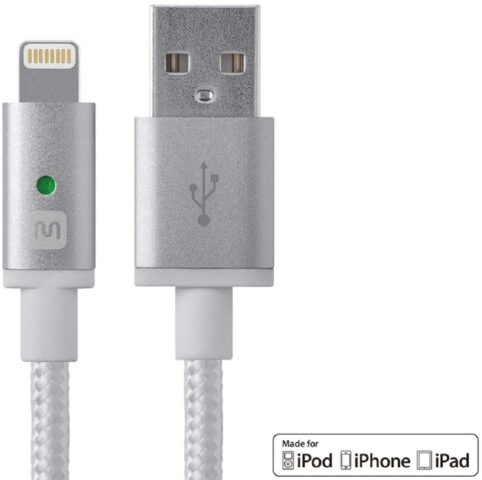 Nomad Ultra Rugged Universal Cable Micro USB/USB Type-C/Lightning
This MFi certified Universal cable is made with braided Ballistic Nylon for maximum quality and durability.
Lets you charge faster for improved and also increased accessibility and convenience.
TEAR-RESISTANT.
2X Durable PVC Jacket that is extremely flexible and tough that prevents the cable from abrasion damage and tearing.
The cable enables you to charge all USB powered devices from iPhones to Android smartphones.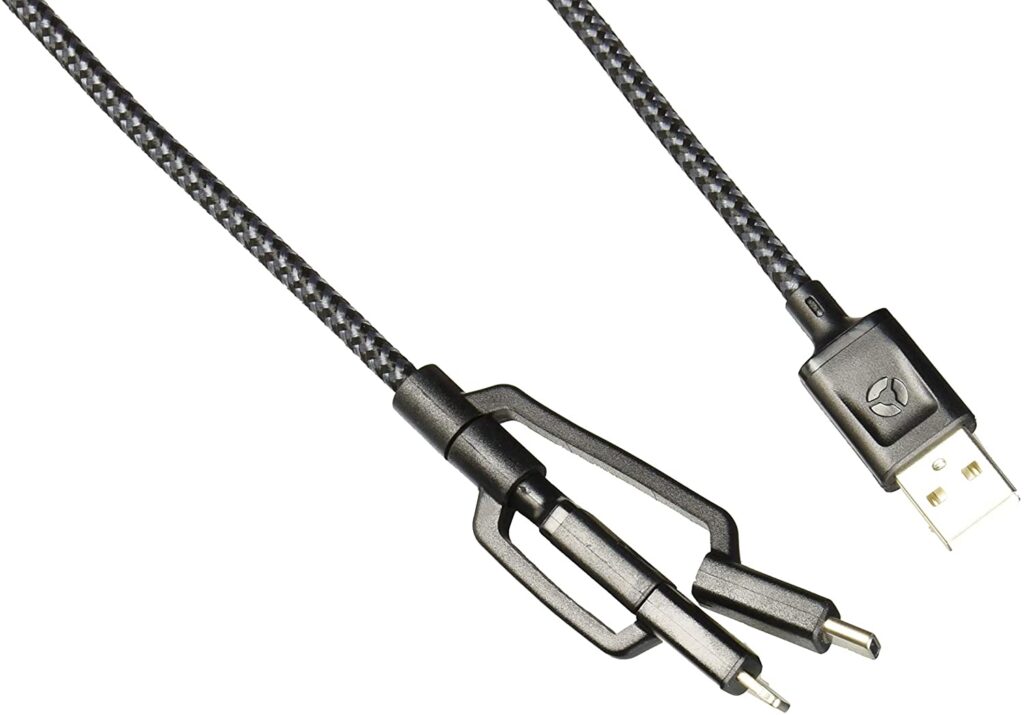 YUNSONG Nylon Braided Lightning Cable Charging Cord USB Cable
Tested to withstand 8000+ bend cycles, this cable is highly resistant to splitting and breakage.
The tangle-free nylon braided cable is more durable, more flexible, and also more sturdier than the standard cables.
Perfect 6FT extra long phone charger cable-free up your charging time, no more being stuck to a wall socket.
Comes 3 in a pack.
Slimmer yet stronger.
Ideal for use at home, in car and office.
Ensure a maximum high charging speed up to 2.1A than most standard cables.
Heat-resistant connectors ensure complete safety and reliability.
Covered with a braided-nylon jacket.
Not only pairs perfectly with your iPhone iPad, but it also protects against physical stresses.
Narrow Adapter is small enough to fit most cases but strong enough to withstand repeated unplugging and storage.
COMPATIBLE WITH: iPhone 11 Pro, 11, XS MAX, XR, XS, 8, 8 Plus, 7, 7 plus, 6s plus, 6s, 6 Plus, 6, 5c, 5s, SE, 5, iPad, Air, Pro, Mini, iPod.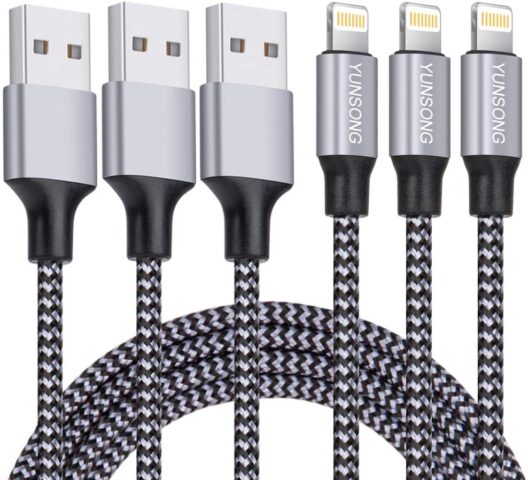 AmazonBasics Double Braided Nylon Lightning to USB Cable
Apple MFi certified charging and syncing cable for your Apple devices
Connects to your iPhone, iPad, or iPod with Lightning Connector and charges/syncs by connecting the USB connector into your wall charger or computer.
Ideal for home, workplace, car, or nightstand.
An additional layer of protection also has been added to the Lightning and USB ends to improve durability and reduce fraying
A small connector head fits most cases.
Copper wire with Kevlar to improve durability and strength.
Cables have been tested to bend 95-degrees 6,000 times.
The wires are wrapped in a unique nylon fiber cloth, instead of cheaper plastics or polycarbonate.
Laser-welded connectors allow for more precise results, compared to typical welding done by a torch or other heat source.
Backed by an AmazonBasics 2-year limited warranty
Compatible with iPhone X / 8 Plus / 8 / 7 Plus / 7 / 6s Plus / 6s / 6 Plus / 6 / 5s / 5c / 5 / iPad Pro / iPad Air / Air 2 / iPad mini / mini 2 / mini 4 / iPad 4th gen / iPod Touch 5th gen / iPod nano 7th gen and also Beats Pill+.
Note: Power output should not be above 5V, 2.4A, or 6V, 3A when charging your phone with this AmazonBasics charging cord.
Variations:
Sizes :
10-Foot
3-Foot
4-Inch
6-Foot
Colours:
Red
Silver
Dark Grey
Gold
Rose Gold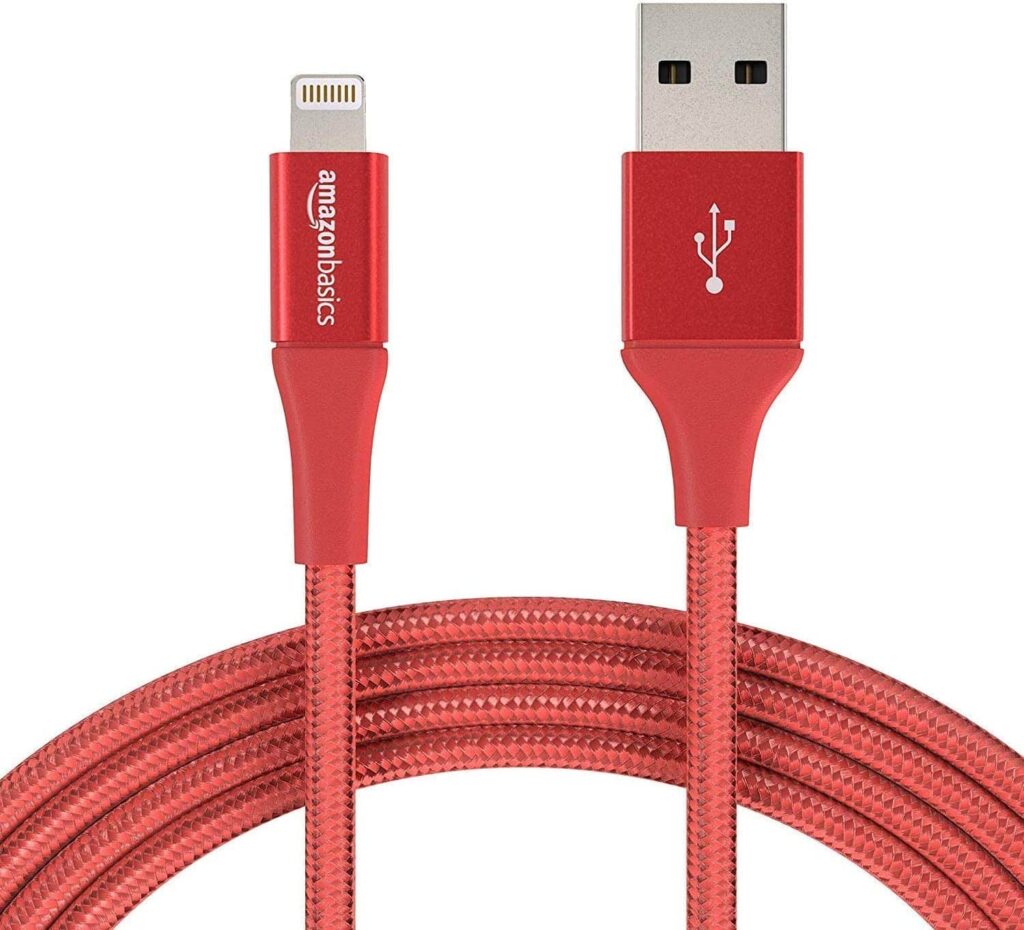 Syncwire Nylon-Braided iPhone Charger Lightning Cable
The MFI certified chip ensures complete charge and sync compatibility with your Apple device.
No error message pops up, unlike other non-MFI certified iPhone charging cords.
Tripe-Braided high-quality nylon fiber
It has an unparalleled 12000-bend lifespan and also the connector head can withstand 10000 plug-in times.
Ideal for home, office, or car, while traveling or on your own nightstand.
Also Ensures a high-performance charging experience.
Ultra-durable Aramid fiber core
Laser-welded aluminum connector
Double shielding and tangle-free design
Above all, Designed to fit into almost all aftermarket cases & Accessories except Life proof & OtterBox cases
Variations:
Sizes:
Colors: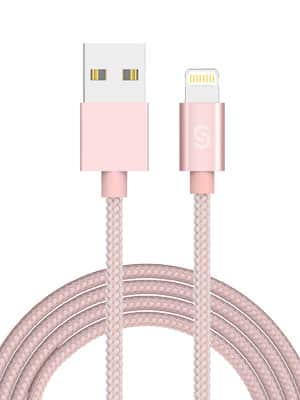 Conclusively,considering all the needed aspects,iSOUL sells the best selling iPhone charger cables.
Some reasons why iSOUL is considered best is because: it is MFI certified,100 %compatible with any of the lightening devices, because of the exceptional tensile strength, able to withstand loads up to 55kg, tested to bend 95-degrees more than 9,000 times, plug remains functional even after completing 10,000 plug-in tests, the cable is extremely durable and tear-resistant, have a compact and sturdy-head and yes the most significant reason is that it is very affordable.
So now it must be cleared why you should prefer ISOUL over any other because it is a perfect combination of every feature —strength+durability+compatibility+price.
*Price was correct as on 7th May 2020