Turning on or off Location Services on your device comes in handy in many ways than possible. It not only helps you to find directions on Maps, but it also allows you to share media with your other devices. Here is how you can turn iPhone Location services on or off:
How your device uses Location Services?
Before everything, you must know why your device needs a connection to Location services. Location Services lets apps and websites, including Maps, Camera, Weather, and other apps, use information from cellular, Wi-Fi, GPS, and Bluetooth networks. It does so to establish your approximate location with your permission. Apps that can display your position on the screen, such as Maps, use a blue marker to show your current location. However, if your position in Maps cannot be identified exactly, a blue circle will appear around the marker. The size of the circle indicates the precision of your location. The smaller the circle, the better. You can see a black or white arrow icon in the status bar when Location Services is on. Data services are required for maps, directions, and location-based apps.
These data services are subject to change and may not be available in all geographic locations. Thus, resulting in unavailable, inaccurate, or incomplete maps, directions, or location-based information. To resolve any differences, compare the information presented on the gadget to your surroundings and rely on visible signs.
Turn Location Services on or off
To turn on or off your Location Services you need to go to the Settings on your iPhone. There go to the Privacy section and then to the Location Services. You can enable Location Services either during the Setup Assistant process or later via the Location Services configuration. You may choose which apps and system services have access to Location Services data on an individual basis. Apps can't use your location in the foreground or background if you turn off Location Services. The performance of numerous Apple and third-party apps will be hampered as a result. You can go to Settings, then to the General section and there you can Reset Location & Privacy settings. This will reset all of your location settings to factory defaults. When you reset your location and privacy settings, apps will no longer be able to use your location unless you give them permission.
Give apps permission to use your location
Some apps may not function properly until you enable Location Services. You'll get a notification asking for permission the first time an app needs to access your Location Services data. You can choose either of the following: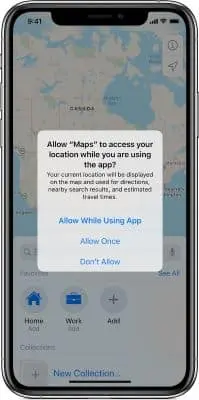 Allow the program to use Location Services data as needed by selecting Allow.
However, if you want to prohibit access, select Don't Allow.
Choose Always While Using App, Allow Once, or Don't Allow by tapping Ask Next Time.
iOS and iPadOS devices can use Wi-Fi and Bluetooth to determine your location. On iPhone and iPad (Wi-Fi + Cellular) devices, GPS and cellular location are accessible.
Turn Location Services on or off for specific apps
You can follow the following steps to turn Location Services on or off for specific apps:
On your iPhone, go to Settings.
In the Settings tab, select Privacy.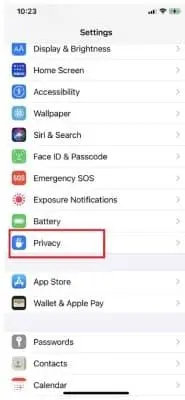 In the Privacy tab, click on Location Services.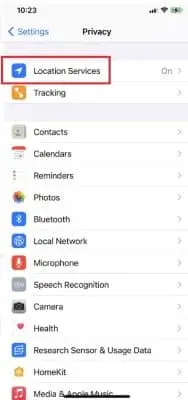 Check to see if Location Services is turned on.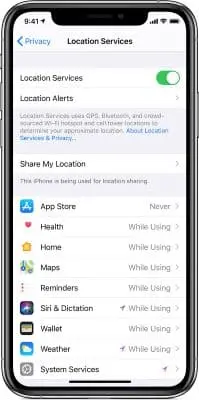 In the tab, to find the app, scroll below.
You can select an option by selecting the app. If you select Never, it will disallow access to Location Services data.
If you select Allow While Using App, it only allows Location Services access while the app or one of its features is visible on the screen. Your status bar may turn blue with a notification that an app is currently using your location if an app is set to While Using the App.
Lastly, if you select Always, the device will have access to your location even when the app is closed.
When you do this, apps will provide a description of how the app will use your location information. Also, some apps might only offer two options.
Share your specific location
Some apps can use Precise Position in iOS 14 and iPadOS 14 to get to your precise location. You can turn Precise Location off to disclose only your approximate location. You don't need to worry as this is enough for an app that doesn't require your specific location. Here is how you can turn this off:
In the Settings app, go to Privacy.
In the Privacy tab, select Location Services.
Click on Precise Location to turn it on or off by selecting an app.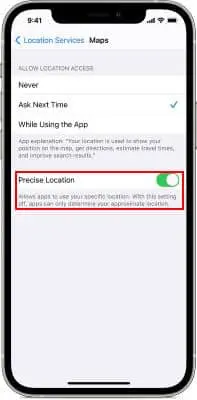 Crowd-sourced Wi-Fi and cellular Location Services
If you enable Location Services, your device will communicate the geo-tagged positions of local Wi-Fi hotspots and cell towers to Apple on a regular basis. Thus, supplementing Apple's crowd-sourced database of Wi-Fi hotspots and cell tower locations. If Location Services is 'on' when you're driving, your device will submit GPS positions, travel speed, and barometric pressure information to Apple. The company uses this information to build up Apple's crowd-sourced road traffic and indoor pressure databases. However, Apple collects crowd-sourced location data that is encrypted and does not personally identify you.
Conclusion
There are many scenarios when you have to turn iPhone Location services on. One of the most frequent ones is when you need to find direction to a specific location. However, there are apps that need to access your location information to let you access certain features. You can easily turn iPhone Location services on in the Location services tab that is present in the Privacy section of Settings. Moreover, if you want to restrict the apps from accessing your location data you can deny permission from there only. Also, you can turn off the precise location feature, if you wish, as most apps only require your approximate location for their features.
If you have any questions, you can ask us in the comments section below.
Read More!