The MacBook Air M2 is genuinely deserving. And we're not saying the prior MacBook Air M1 wasn't fantastic. After all, it played a part in introducing the world to the computing progress of Apple. Simply put, I didn't believe (or think) that packing unprecedented performance into the same old chassis represented a significant advancement.
The MacBook Air M2 has an M2 CPU that gives noticeable speed improvements and a sleeker, lighter design. This puts it on par with the MacBook Pro (2021) and looks stunning. The new Air is unmatched in portability, performance, display quality, and general comfort. Its battery life, 14 hours, is also excellent.
The MacBook Air M2 is an excellent device for the average user, with a superb lightweight design, outstanding and smooth performance, and very few drawbacks. If you're seeking a laptop that can do it all, you've found it.
Specs at a glance:
Thin design
Weight – 2.7 pounds
8-core CPU, up to 10-core GPU, and 24GB of unified memory.
Up to 18 hours of battery life
13.6-inch Liquid Retina display
500 nits of brightness, P3 wide color
Support for 1 billion colors for vibrant images and incredible detail.
1080p FaceTime HD camera, three-mic array, and four-speaker sound system with Spatial Audio.
1 MagSafe charging port, two Thunderbolt ports, and a headphone jack.
The all-aluminum body
2560 x 1664 resolution
60 Hz refresh rate.
Design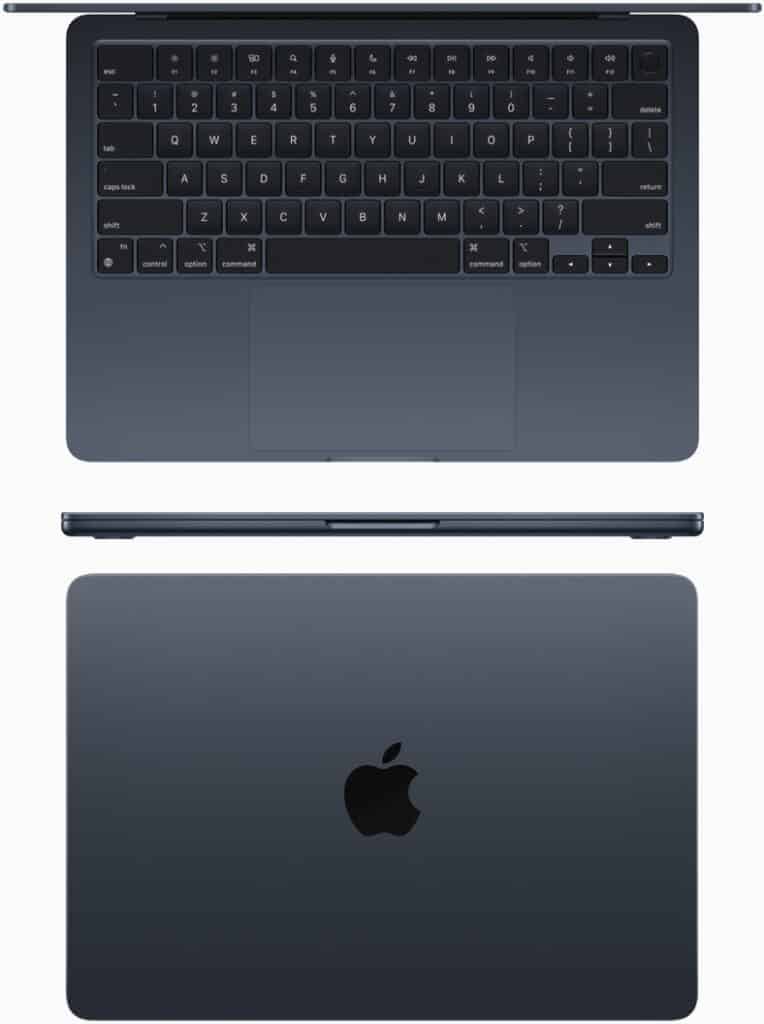 The gadget is slimmer and lighter than its more costly sister, the MacBook Pro. Although, several design elements have been removed to make this possible. The speakers are also in a different location, and most regular users probably won't notice that there isn't an SD card slot or HDMI connector. In contrast, the new model's bottom and lid are both fully flat rather than having a curved finish. The flatness results in a mighty and robust machine, and the symmetry and uniformity are beautiful.
There are also new hues. The colors of Space Gray, Silver, Starlight, and Midnight Blue may disappoint those looking for vivid, pastel-like hues like the iMac 24-inch. They do, however, appear incredibly attractive in person. We saw every one of them at Apple's WWDC event, but Midnight Blue was hands-down our favorite. Each color has coordinating power cords, which is a very Apple touch.
Enhancing the screen's size and quality and making it thinner and lighter has given the MacBook Air a more contemporary feel. Those wishing for brilliant, multicolored, pastel colors will be let down, but the new colors are chic and alluring. It's pretty much everything you'd want.
Display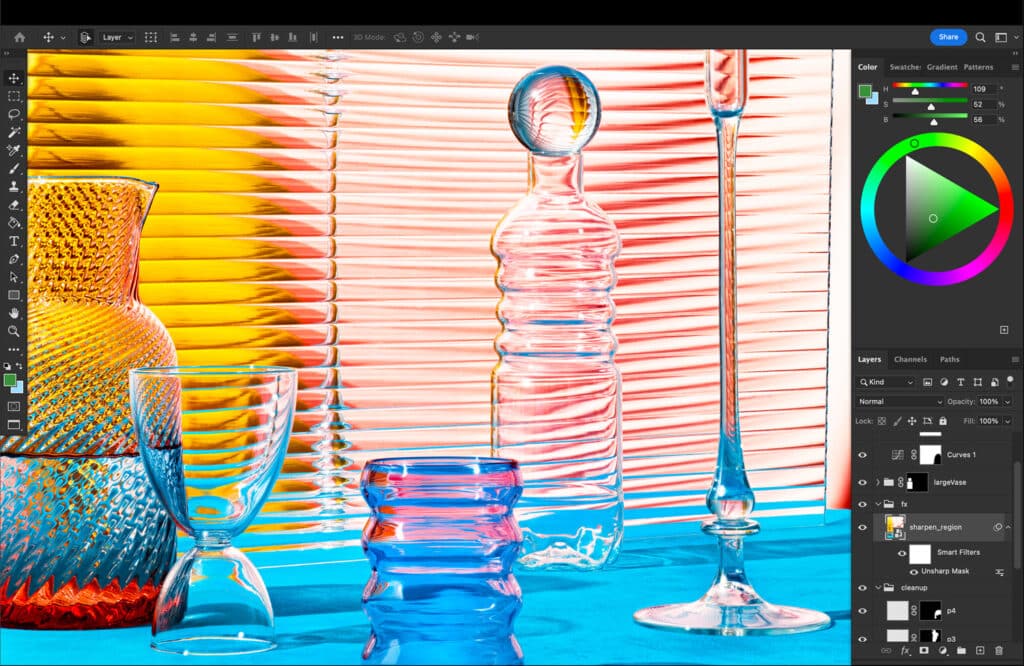 Although Apple refers to the 13.6-inch MacBook Air display as "liquid retina," what it means for you is that it has a 2560 x 1664 resolution and a 60 Hz refresh rate.
Like the MacBook Pro 14-inch (2021), a notch at the top of the screen houses a brand-new, excellent 1080p camera. While this notch may be divisive, we believe it is far prettier than the thicker bezel alternative. It also means that the menu bar isn't as squished, which makes it seem better overall.
In addition, the Liquid Retina Display on the M2 MacBook Air replaces the Retina display on the M1 MacBook Air, giving a startling 25% increase in brightness to 500nits. However, compared to the M1 MacBook Air, the colors are more prosperous and brilliant. Sadly, touch is still not supported.
Performance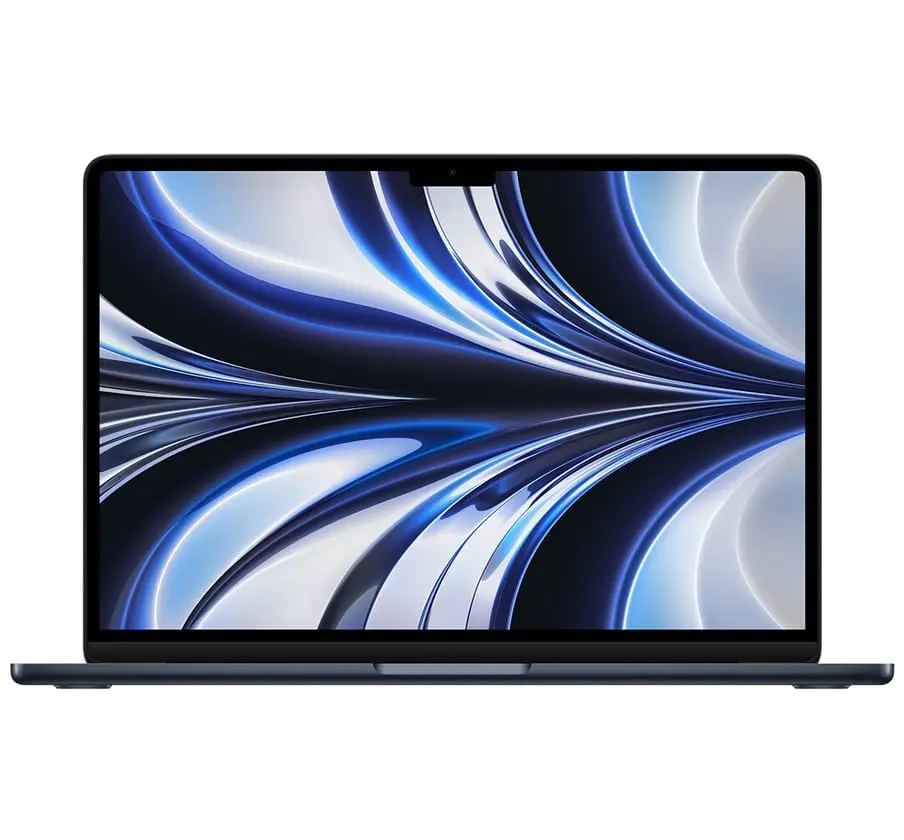 Apple's 5-nanometer chip, the second-generation M2 System on Semiconductor (SoC), drives the new MacBook Air M2. According to the firm, it will be 18% faster than its predecessor's CPU, 35% faster than its GPU, and 40% faster than its neural engine.
It's essential to remember that the MacBook Air's base system comes with an 8-core GPU, but you can upgrade to a 10-core GPU.
The M2 MacBook Air comes in two different configurations: one with 10-core graphics and 512GB SSD and the other with eight-core graphics and 256GB SSD.
Both versions come with the Media Engine and have the same eight-core Apple M2 CPU, which promises to be 18% quicker than the M1 MacBook Air and has 35% better graphics. While both contain 8GB of RAM, this can be increased to a maximum of 24GB. And both can have their storage expanded to a maximum of 2TB.
Even with many tabs open, browsing the web was quick and responsive in Chrome and Safari, and creating documents on the slightly revised keyboard feels good and cozy. The Asus Zenbook S 13 and Dell XPS 13 are handily defeated by the Air M2, while the Lenovo Yoga 9i Gen 7 comes last.
Battery Life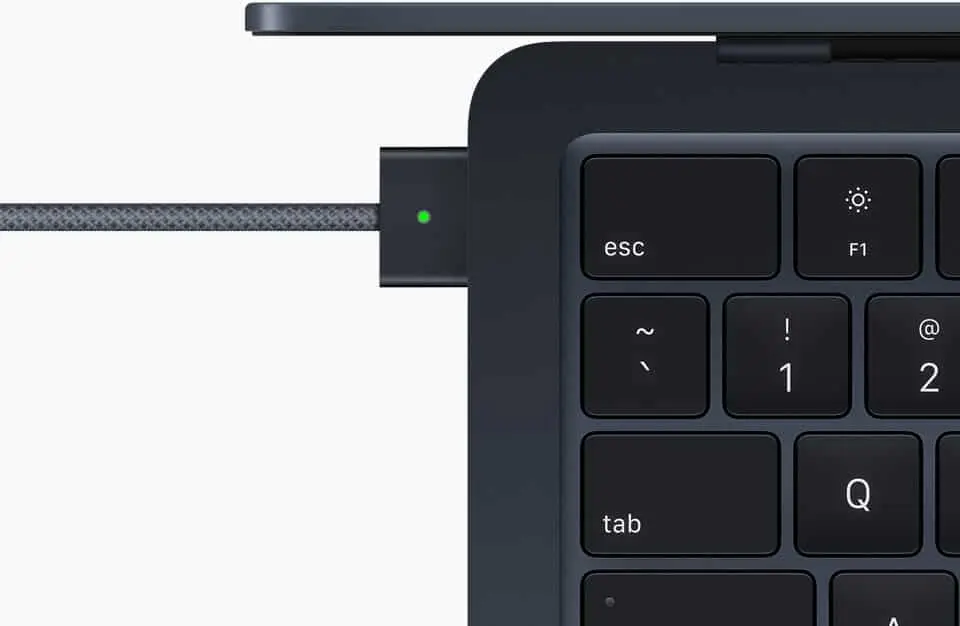 The Air M2 is one of the most durable laptops for the money. The MacBook Air with M2 performed for 14 hours and 6 minutes in the battery test, which involves laptops browsing the web, streaming video, and while connected to Wi-Fi and with the screen set to 150 nits.
The 35W Dual USB-C Port Compact Power adapter with models with a 10-core GPU and 512GB storage is included with the MacBook Air M2. The benefit of this adapter is that you may simultaneously connect to another device, such as an iPhone. The 30W USB-C Power Adapter that comes standard with the $1,119 Air M2 may be upgraded to a twin charger for $20. A $20 67W USB-C power converter is available if you wish to charge faster, but it does not support MagSafe.
Price
At Apple's 2022 WWDC developer conference, the new MacBook Air was unveiled. For a MacBook Air 2, the price ranges from $1199 for 8GB RAM & 256 SSD to $1499 for 8GB RAM & 512 SSD. For 256 SSD, the price in the UK was around £1,249, and for 512 SSD, it was roughly £1,549. By following the button below, you can purchase it from Amazon :
Keyboard & TouchPad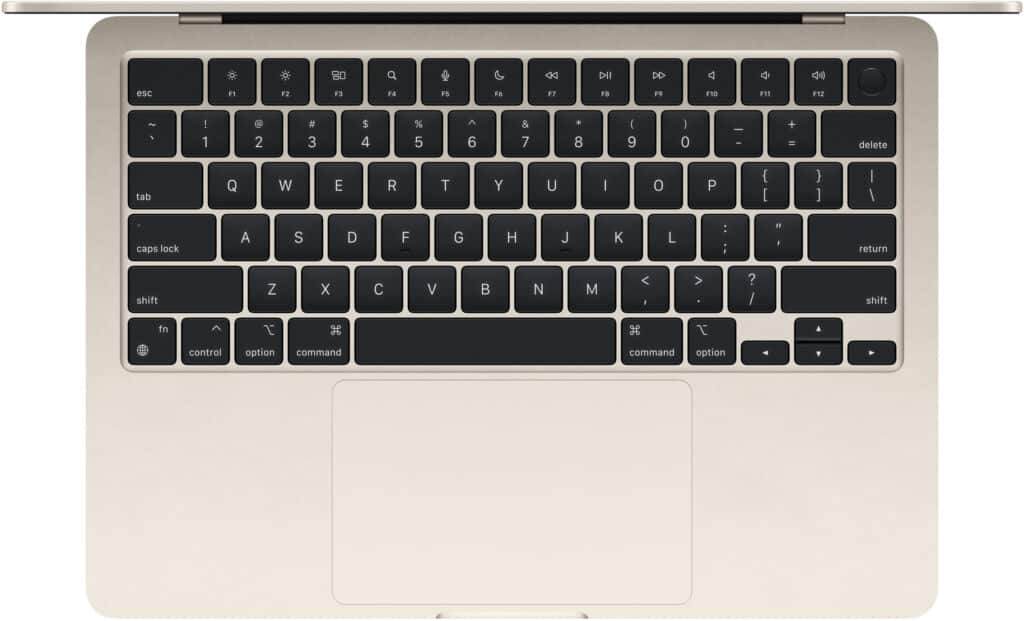 The layout of Apple's brand-new backlit Magic Keyboard is superb. It's fine to type on it. Although it's not much worse than on the tiniest Windows PCs and is simple enough to get used to, it is a tiny bit shallow. Although We would love a bit more key travel than its 1 mm, if you were against the long-despised butterfly keyboard, this is unquestionably an improvement.
The haptic glass trackpad is still beautiful and big and, in my view, one of the smoothest on the market. Mac OS gestures such as using three fingers to slide between virtual desktops, pinching to zoom, and tapping the trackpad with three fingers to reach mission control all functioned without a hitch.
WebCam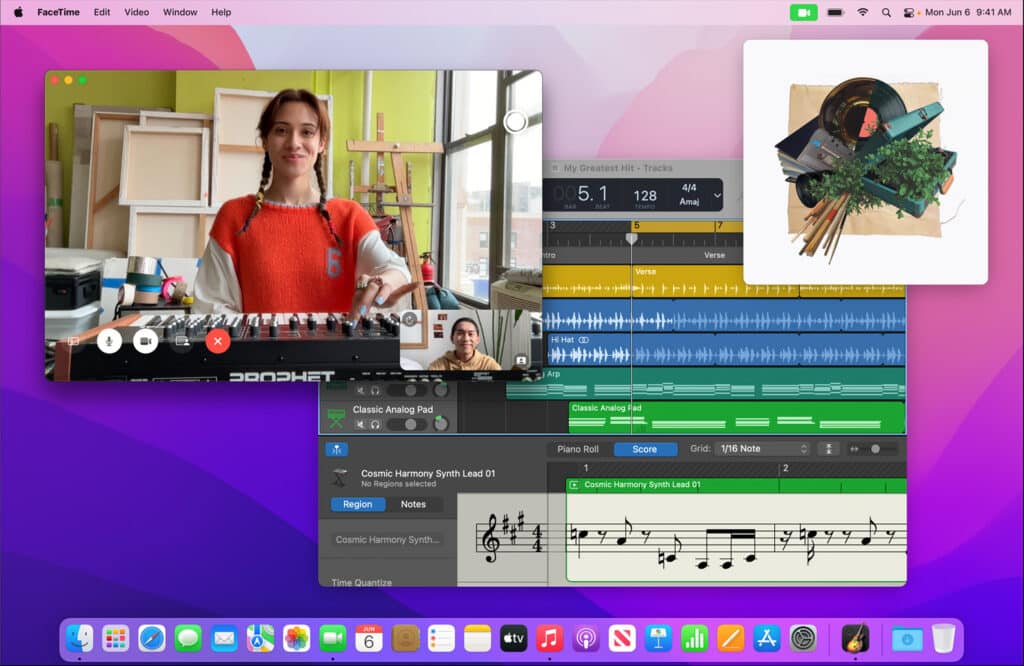 The good news is that, for a laptop, it's a pretty reliable camera. The webcam on the Air is now integrated into a notch on display, just like Apple's 14-inch and 16-inch MacBook Pros. The Air handled color accuracy and detailed beautifully in calls and images, including capturing each hair on the face and beard, eyes, and even handling fluorescent workplace lighting without blowing out the colors.
The MacBook Air doesn't employ Face ID as the iPhone does despite the notch. It's probably too small to fit in the laptop lid. Unfortunately, Windows Hello works so well on laptops equipped with IR cameras.
Connectivity & Ports


Apple's MacBook Air M2 port choices are kept to a minimum.
On the left, there are USB ports and a MagSafe power adaptor. The latter connection facilitates the magnetic attachment of the cable connector to the device. It also prevents the laptop from dropping should the cable unintentionally be pulled firmly. There is a headphone port on the right side of the headphones for those still using wired headphones. This is helpful in case your wireless earbuds or headphones run out of battery.
Is MacBook Air M2 worth it?
Yes, it is worthwhile; the MacBook Air M2 outperforms the original. It is the thinnest laptop with a brilliant display and features. According to Apple, the Final Cut Pro performance is approximately 40% quicker than on the M1 Air with the new M2 CPU. Photoshop is also up to 20% faster.
Does MacBook Air have the M2 chip?
The all-new MacBook Air, powered by the M2 CPU, offers enhanced performance, a new, remarkably thin design, a more prominent 13.6-inch Liquid Retina display, a four-speaker sound system, and 1080p FaceTime HD camera, up to 18 hours of battery life, and MagSafe charging.
When was MacBook Air M2 released?
The body of the MacBook Air 2 has been overhauled and is now lighter and thinner than the previous version. Apple claims that the M2 CPU provides the MacBook Air with a battery life of up to 18 hours. Pre-orders started on Friday, July 8, and the product was launched on July 15.
Verdict
A fantastic revamp of Apple's well-known entry-level notebook is the MacBook Air with M2. Despite being a collection of minor improvements and tweaks, it feels like a breath of Fresh Air. Although not significantly lighter than earlier models, the new design is svelte and slim, bringing back MagSafe. Owners will benefit from a brilliant screen and a lengthy battery life thanks to the much-needed improvement to the 1080p camera. If you were considering purchasing a 13-inch Macbook Pro, you should get this laptop because it is more feature-rich and affordable. If you desire ports, you shouldn't buy them because it has hugely few compared to other laptops. You shouldn't buy this if you are looking for the cheapest MacBook as this one costs higher than the other.
Read More