Following a controlled test in select locations, Instagram has announced that its Collab feature is now available to all users worldwide as part of the social media network's "Features Week," which includes the ability to publish to the platform through Instagram website on desktop. But what exactly is a collaboration, and how can you post a Collab on your Instagram Feed and Reels?
What is an Instagram Collab?
Collab, as the name implies, is a new option to cooperate with other Instagram users on Feed posts and Reels, crediting both accounts with the post in the Instagram timeline and Reels, making it show on both accounts with likes and comments shared between the two.
It's ideal for creatives, influencers, and normal Instagram users that share material since it prevents you from publishing duplicate content to your collaborator while also extending your reach, potentially growing your following and levels of engagement. So, the next time you publish a Reel you created with a friend, make it a Collab post.
How to post a Collab on Instagram?
The good news is that posting a Collab on Instagram is comparable to tagging someone in a post, which has been a function of Instagram for some years.
Simply follow these procedures if you want to share a Collab on your Feed or in a Reel:
1. Create your post or Reel using the Create menu (+ icon in the app's top-right corner).
2. Tap Tag People when you get to the final Share screen.
3. Tap Invite Collaborator from this menu.
4. Tap to pick the Instagram account(s) with which you want to cooperate. If you choose the incorrect account, just press the X next to their name to delete them.
5. To save your settings, click Done.
6. To submit your post to your Instagram feed, tap Share.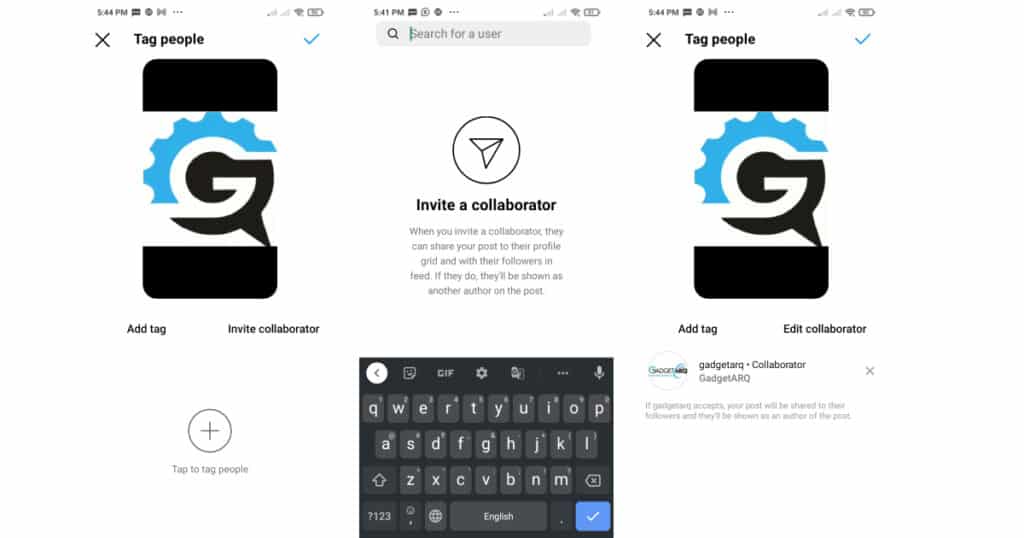 When you publish the post, all collaborators will receive an email telling them of the cooperation. To accept, users only need to tap on the notice in the Notifications menu, review the post, and then press Accept or Decline.
If they agree, the post would be published with their followers, along with both usernames. It's important to note that Instagram has imposed a combined tag and collaborator restriction of 20 people, so don't get too sidetracked or you won't be able to share the photo at all.
Why can't I post Collabs?
Collabs were first offered in select countries across the world, including the United Kingdom, India, and the Republic of Ireland, but the firm has chosen to make the feature available to everyone as part of its "Features Week" update. Instagram has announced that users throughout the world will be able to make Collab posts on the social media network this week, although the implementation will likely be sluggish, as with other new features.
Apart from ensuring sure you have the most recent version of the Instagram software on your smartphone, there isn't much more you can do but wait.
What happens when you collab on Instagram?
Simply described, an Instagram Collab post is a single article that appears in the Feeds or Reels of two separate people. Collaborative posts appear in two places at the same time. They also reveal the number of shares, comments, and likes. The post is created by one user, who then asks the other to be labeled as a collaborator.
Conclusion
Collaborative postings are a strong tool that every social marketer should be aware of. They are intended to reflect how content creators and users engage with it. Collaboration on Instagram has just gotten a whole lot faster and easier, whether you're a content creator or a company owner, thanks to Instagram's new Collab tool. Instagram users can now co-author Feed posts and Reels with just a few taps. Creators and companies are more visible than ever before with both usernames inside the post header.
Read more