If you are looking for an advanced communication framework for your company, Twilio Voice might interest you. However, if you are not sure, here is a review on Twilio Voice for you to understand better.
Twilio Voice
Twilio Voice is a potential software platform that allows businesses to develop high-quality business phone systems. It does so by designing sophisticated application programming interfaces (APIs) that leverage Voice over Internet Protocol (VoIP) technology. You can integrate Twilio Voice into both new and current communication systems. Moreover, it creates the ideal balance between powerful backend customizability and essential tools for creating intuitive APIs and great user experiences. Twilio Voice makes it simple for employees to work from home, and also for IT staff to integrate VoIP into any website or application.
Twilio enables phones, VoIP, and messaging to be embedded into web, desktop, and also mobile apps. It handles the cumbersome telecom gear and exposes a globally accessible cloud API. Developers can use this to create sophisticated and complicated communications systems. Twilio automatically scales up or down as your app's usage grows or decreases.
Pros
Basic drag-and-drop functionalities
Transparent pricing model
Cons
Requires coding experience
Limited free support
Plans and Pricing
Twilio's website makes it simple to locate detailed price information. Twilio Voice is not just transparent but also quite economical. You can pay as you go, starting at $0.004 per minute, with savings available when certain volume goals you meet. Customers that pay for a minimum volume in advance, however, can earn committed-use savings. Unfortunately, you will need to contact the Twilio Sales team to address this.
Features
Twilio has a long list of features which makes it more popular. Voice Insights gives your team with analytical and data-driven insights into call success, going well beyond simply measuring call duration. It's a unique data analysis tool that can't be found in many other VoIP companies. It has merged several areas to offer you a full view of each call and also to help you spot any flaws. This allows you to spot little inefficiencies before they become major issues. Thus, ensuring that your consumers have a continuously improving experience.
You can use Automatic Speech Recognition (ASR) with the Twilio Voice API to generate real-time transcripts from conversations in over 100 languages. There is also no need for training because the program can transcribe a wide range of industry-specific terms right away. Twilio Autopilot is another AI tool for voice. It uses a combination of natural language comprehension and machine learning to discern a user's intent, guiding consumers and clients to the right individual. This leads to greater results since how something is said is often more significant than the words themselves when a client interacts with your communications system. Any VoIP provider evaluation must look into the essential aspects that make a business communications system work. The capacity to arrange audio recordings is one of them.
This way you can make sure that when a consumer phones your company, they get helpful information even before speaking with an employee. Twilio makes it simple to incorporate audio recordings into your Voice API. Designers have a number of options, and the Twilio Help Center has detailed instructions on how to use this functionality.
Voice Insights Advanced Features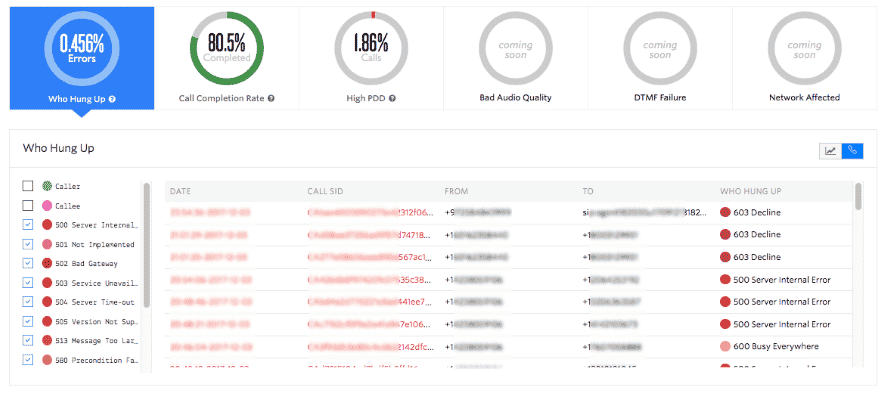 Call metrics, event streams, and API access
Twilio collects Voice Insights data for every call made. Every voice minute placed on Twilio comes with aggregate dashboards and call summaries. However, high-precision metrics, call progress events, and programmatic availability are required for particular applications. You get a collection of capabilities tailored to operating highly sensitive and complex call quality monitoring. This helps the customers who demand additional specificity about call behavior or have advanced analytics applications.
Metrics
For carrier and trunk calls, you get complete details in the Console and via the API. This includes time-series views of jitter, packet loss, and packet rate; jitter, received packet loss, mean opinion score, round trip time, and audio input/output levels for voice SDK call. Knowing that call-metric variance may have harmed the caller's experience isn't always enough. A time-series view of the data is required if you need to know precisely when and for how long the variance happened throughout the call.
Events
Twilio call progress events for Programmable Voice calls, SIP signaling answers for trunking calls, and Twilio Device and also ICE connection events for Voice SDK calls will all be displayed in the Events stream. These details are accessible through the API and the Console. In the form of debugging, error, info, and warning events, Twilio's SDKs provide a rich source of call data. These events are available to your application via the SDK. However, adding the event stream to the Twilio call record adds context for analysing call behaviour. The change from ringing to answered is also supplied as a call progress event.
Voice Insights API
It provides API endpoints to retrieve near-real-time events, metrics, and post-call summaries for your calls if your use case requires programmatic access to Voice Insights data. You can take the data from your calls and use it to enhance your call records with the information offered by Insights.
Pricing
At $0.0025 per minute, advanced functions are accessible. If you need additional information on volume discounts, you can contact sales.
Interface and in use
Twilio Voice makes it simple for your firm to create compelling UXs. Additionally, it helps to maintain a smooth and advanced communications system from anywhere in the globe to anyone in the world when installed correctly. Although, it's crucial to note that Twilio Voice is primarily intended for businesses with in-house web and app development expertise. If you don't have someone with coding knowledge to deploy the software within your company's existing frameworks, it won't be easy to take advantage of the platform's powerful features. For people with modest design skills, the Twilio Studio offers a limited drag-and-drop experience. It isn't appropriate for the initial deployment of an API. However, it is beneficial for allowing employees to customize how they interact with the backend software.
Use SIP with Twilio Voice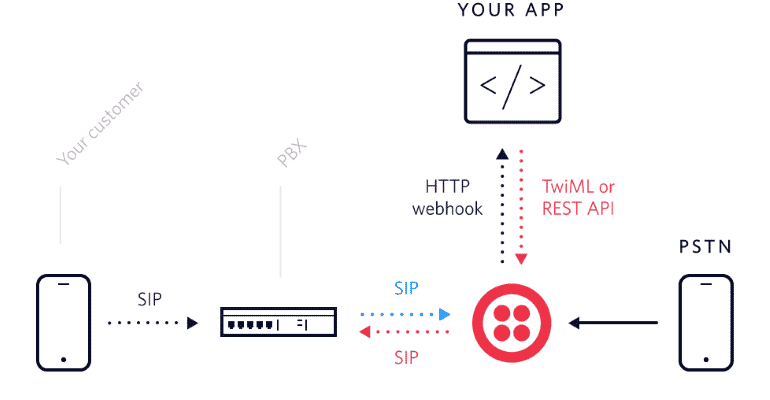 With Twilio's robust and versatile audio capabilities, you can start building programmable voice applications like call centers and IVRs. You can access Twilio over the public internet or via a private connection utilizing Twilio's Interconnect. Programmable Voice SIP allows you to route your voice calls to any landline phone, mobile phone, browser, mobile app, or also any SIP endpoint with a worldwide reach.
Sending SIP to Twilio
Twilio's Programmable Voice SIP Interface allows you to start SIP connections with the Twilio Cloud using your existing SIP communications infrastructure. SIP Interface creates complex voice apps using Twilio's TwiML language and/or Twilio's REST APIs.
Receiving SIP from Twilio
Twilio's Programmable Voice SIP Interface allows your advanced voice applications to use Twilio's TwiML language and/or Twilio's REST APIs. This is to initiate SIP connections from the Twilio Cloud to your current SIP communications infrastructure.
Limits
Make sure you're aware of the limitations of the Programmable Voice SIP Domain.
100 SIP Domains per Account or Sub Account
IP Access Control Lists (ACLs) limits
Credential Lists limits
SIP Registration limits
SIP Features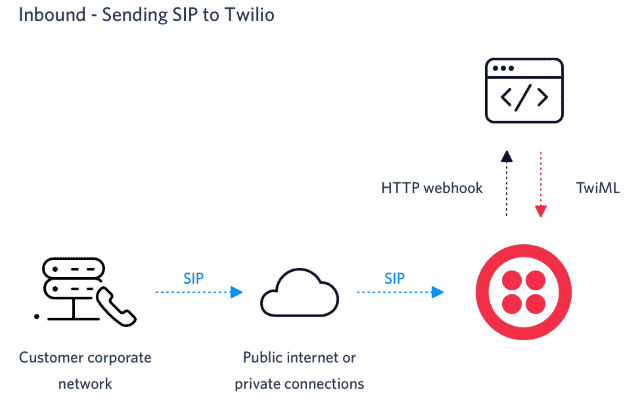 SIP Registration
Twilio enables you to register your SIP phones and SIP endpoints. The SIP Endpoints' location is determined by SIP Registration. As a result, the user can accept calls regardless of the SIP Endpoint's physical location. This capability enables your SIP Endpoints to send Twilio a REGISTER request.
Call Transfers using SIP REFER from Twilio
Call transfer allows you to transfer an active call from one endpoint to another, and it's done in SIP with the SIP REFER function. Twilio's <Refer> verb can be used to send a SIP REFER request from Twilio to your IP communications infrastructure.
SIP Custom Header
You can send customized headers using SIP custom headers.
UUI (User-to-User Information) Header
You can use the UUI header to send contextual information over a SIP call.
DTMF
For sending and receiving DTMF, Twilio supports RFC-2833.
Media codec
Twilio supports media codecs G.711-law (PCMU) and A-law (PCMA). Transcoding is not required because they are the most commonly utilised codecs by carriers.
Securing SIP Traffic using TLS
During transmission, encryption ensures that the call signaling remains private. It encrypts SIP signaling using Transport Layer Security (TLS). Make sure you've imported Twilio's Root CA Certificate before enabling TLS. TLS does not require any additional configuration, and you may begin sending over port 5061 right immediately. TLS Functionality/Port 5061 is always active and also it does not require a manual toggle. Certain functions will react differently for calls where TLS is enabled:
They only produce a blank file using SIP PCAPs from the console.
Call metadata, such as major error codes, start time, end time, and to/from, will be available.
Using TLS, SIP Refer will work as intended.
If you're delivering TLS SIP traffic to Twilio, make sure your infrastructure uses the next-hop domain rather than the next-hop IP. This is a common misconfiguration that results in a 403 error that is hidden from your Twilio account.
Secure Media
Encryption is used by Secure Media to keep the call media and associated signaling private during transmission. The Secure Real-Time Protocol (SRTP) encrypts media transmissions.
Support
Twilio's support centre is excellent. You get an almost overwhelming number of articles and also how-to tutorials in English and a variety of other languages. All Twilio customers can contact Twilio support by email for free if they require more specialized assistance. Unfortunately, consumers must pay up for a premium support package to receive 24/7 phone and email help, as well as a variety of additional benefits. Production, Business, and Personalized are the three premium support programs available. These cost 4%, 6%, and 8% of your monthly spend, or a minimum of $250 (Production), $1500 (Business), or $5000 per month, accordingly (Personalized).
Security
Twilio Proxy is the key mechanism through which Twilio secures the security of its users. This allows users (customers, clients, or employees) to hold private discussions over the internet, knowing that only they can see what they're saying. They use Two-factor authentication to ensure account security for both employees and consumers and clients. Before using the Twilio Voice interface, users must first enter a password and a code transmitted to a trusted device. This means that no one can access your account unless they also have access to this trusted device and your password. By linking all new account creations to real phone numbers, Twilio Verify also prevents false accounts and fraud from engaging with your organization.
Alternatives
Twilio has carved out a position for itself in the VoIP business. Twilio is more nimble and adaptable than a top supplier like RingCentral Office. However, it takes more time and effort to set up. It's an excellent option for medium and large businesses with the resources to implement a customized system. Twilio's versatility, on the other hand, puts it at a disadvantage when compared to competitors like Spitfire. It offers organization-level VoIP services with less initial setup and development experience. Spitfire's services are more suited to small businesses looking for an "out-of-the-box" solution.
Conclusion
A Twilio Voice and VoIP bundle would be extremely beneficial to medium and big businesses looking for a high-quality communications system. The packages are very customizable and also reasonably priced. However, the time and effort required to correctly build a Twilio Voice API may be prohibitive for small businesses. So if you lack an IT team or are looking for a less complicated and basic communications system, you will have to look somewhere else. Overall, even if it is not the best VoIP company, it is an intriguing option to investigate.
What are your thoughts about Twilio Voice? Tell us in the comments section below.
Read More!