We all love to stream videos,watch movies ,to play our favorite tracks.And the biggest platform for this is Youtube. Youtube is the app even kids know.We all are quite familiar with Youtube. Many a times we require to save and download videos on our phones as well.But the point is how to download Youtube videos?Is it really legal?Yes,we know there are pretty lot of questions and doubts fro everyone of us regarding this. Don't worry ,we are here with a very informative piece for you all.Here we will see how you can download videos and save them .Plus,the other related stuff for you!
Why downloading videos is a good alternative?
If you are without any internet connection, and you need keep yourself entertained on planes, trains, and trips to places without reliable mobile internet access.
Downloading YouTube videos is also great if you have a mobile plan with a limited data plan. You can download them to your phone using your home Wi-Fi, and watch them on the move without risking going over your data allocation.
Is it legal to download Youtube videos?
Though it is legal to share and embed YouTube videos on the internet, downloading them for offline use isn't always allowed. Using third-party apps to download YouTube videos is considered a violation of YouTube's Terms of Service, unless the video streaming site has explicitly granted permission to download a particular video.
Downloading YouTube video also opens you up to potential copyright infringement unless you have permission from the copyright holder, it's in the public domain, or you own the video yourself.
But YouTube does offer some ways to download/save videos through its web service and its own apps. In this guide we'll explain how to do this.For that you need to download the 4K Video Downloader app.Let us see how we going to do so.
Step 1:Download 4K Video Downloader app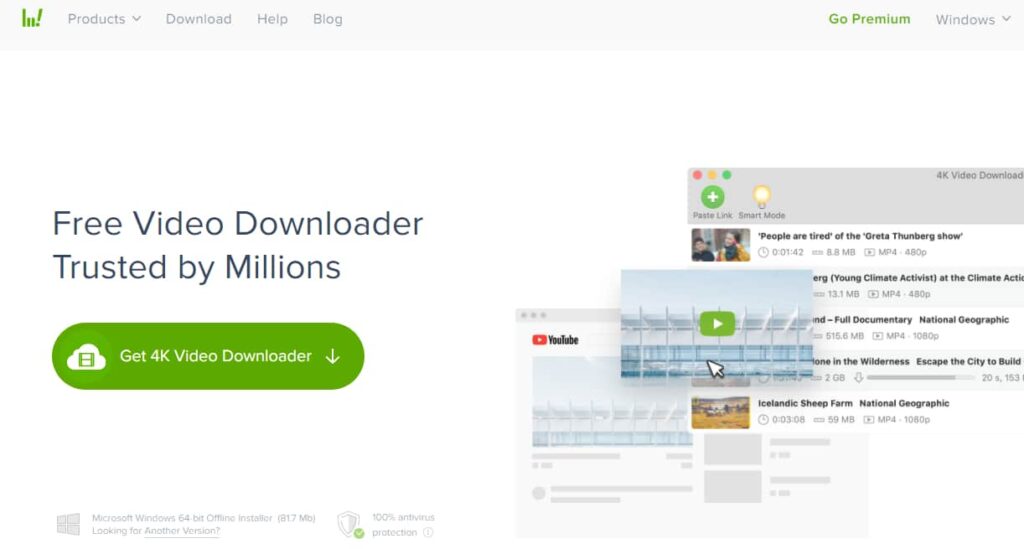 For this all you need to do is ,head to its official website https://www.4kdownload.com/products/product-videodownloader .
Then click on the green round "Get 4k Video Downloader button" as shown the above image.This app is available for Windows, MacOS (10.13 or later),and Ubuntu .
Once the installer has downloaded, run it to get the app installed on your computer.
Dont worry if you don't have a 4K display.This is one of the most versatile,easy and simple-to-use download tools available, and it will work with all of your files regardless of your computer's display resolution.
The free version of this software has the ability to download/save individual videos at customizable qualities all the way up to 4K, has support for 3D and 360-degree videos, and can download subtitles.But also a paid version of it is available as well.Paid version includes payment of about $15.But to download a simple YouTube video, the free version will be enough.
Step 2 :Copy the URL of YouTube video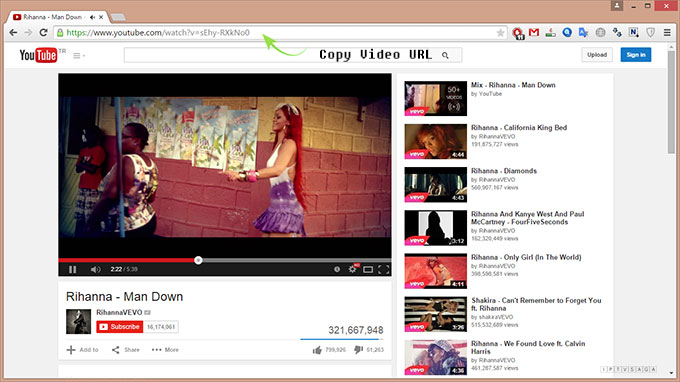 The next step is quite simple. Just copy the URL of the YouTube video.With the URL locked and loaded in your clipboard, you can close the window or tab of the video.
Step 3 : Paste in the URL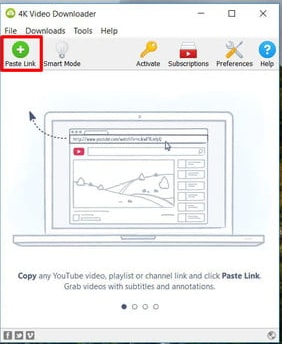 Open the 4K Video Downloader application you just installed. You don't need to manually paste the URL — just click on the Paste Link button in the top-left corner of the menu bar and the 4K software will have the URL from your computer's clipboard.
Step 4 :Download/Save your video: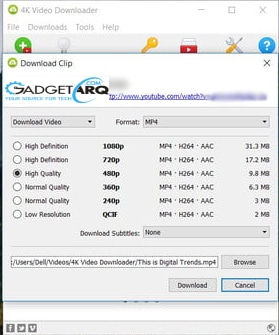 Once you have finished the copy paste job, they will give you a number of options for video quality, formats, and conversions.
They also provide you to adjust the download location of the video. The application will create a folder that contains all of your downloaded videos.
Just click the Download button after selecting your desired options. You will see information like the download size, download speed, and estimated time remaining. You can also pause the download at any time. Once the download is complete, select your video from the window. And a vertical three-dots icon should appear on the right side of the window. Click on that icon, and a menu will pop up. From that menu, you need to select "show in folder" . This will show where on your computer the new video was saved.
That's it and you are done!
Conclusively,we will just like to say that now downloading Youtube video is easy. It will not be a doubtful tiring and confusing process for you all. If you have any doubts regarding the content,feel free to comment . Best regards!
Like,comment,share and subscribe.