During the WWDC 2020 presentation, Apple unveiled watchOS 7 for Apple Watch. In watchOS 7, Apple is adding a number of new features.
watchOS 7 changes everything. Now family members without an iPhone can use an Apple Watch. You can make the most of every waking moment with innovations for watch faces. And your watch works the night shift with the all‑new Sleep app.
watchOS 7 makes Apple Watch more powerful than ever before. With new ways to discover and share watch faces, sleep tracking, automatic handwashing detection, and new workout types. Stay connected to your loved ones by pairing an Apple Watch for a family member to your iPhone with Family Setup. And watchOS 7 includes the Memoji app, cycling directions in Maps, and Siri language translation.
watchOS 7 release date
The watchOS 7 was released on September 16th, 2020 for Apple Watch SE, Apple Watch Series 6, Apple Watch Series 3, Apple Watch Series 4, or Apple Watch Series 5 paired with iPhone 6s or later running iOS 14 or later.
watchOS 7.1
It contains new features, improvements, and bug fixes.
Adds the ability to be notified when your headphone audio level could impact your hearing
It Adds support for the ECG app on Apple Watch Series 4 or later in the Republic of Korea and Russia
Adds support for irregular heart rhythm notifications in the Republic of Korea and Russia
Resolves an issue that prevented some users from unlocking Mac with Apple Watch
Fixes an issue where the screen may be dark on wrist raise for some Apple Watch Series 6 users
watchOS 7.0.2
watchOS 7.0.2 contains improvements and bug fixes, including:
Addresses an issue that could cause the battery to drain more quickly
Resolves an issue that prevented some users from accessing the ECG app in regions where it is available
watchOS 7.0.3
watchOS 7.0.3 contains improvements and bug fixes, including an issue where Apple Watch Series 3 may unexpectedly restart for some users.
Family Setup
With Family Setup, kids or older family members who don't have an iPhone can now experience Apple Watch. Family Setup lets you pair watches for your children and older family members to your iPhone. Each person can get a phone number, and you can manage each watch using the Apple Watch app on your iPhone.
New Memoji app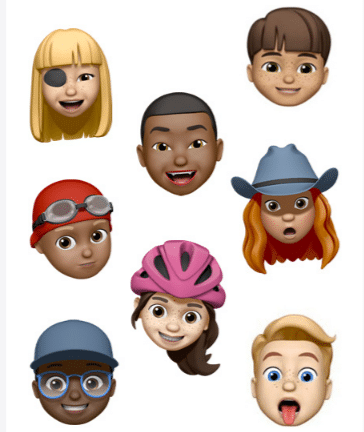 Cowboy hat, eye patch, vampire teeth. Family members can customize a Memoji to be as fun as they want and share it as a sticker in Messages or make it their watch face.
Activity Rings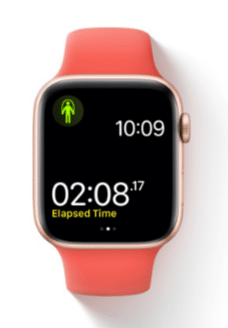 Activity rings have been rethought for kids, tracking Move minutes instead of active calories. Running, walking, and cycling workouts also calculate metrics like distance and pace more accurately for kids.
Set the rules
You can approve contacts and downloaded apps. And you can schedule School time mode to limit Apple Watch features, allowing a family member to focus.
Chronograph Pro
The ultraprecise Chronograph Pro includes a tachymeter to calculate speed based on time traveled over a fixed distance, the Photos face offers color filters, and the bold X-Large face now has an option to add a rich complication to your screen. The Chronograph Pro face features an integrated tachymeter.
Smart money
With Apple Cash Family, you can send money to your children for allowances, chores, or just because. It's easy to manage with parental controls.
Good for elderly!
Calling and texting give independence and an easy way to stay in touch. Features like faces with large type and complications, fall detection, and Emergency SOS make Apple Watch great for older family members.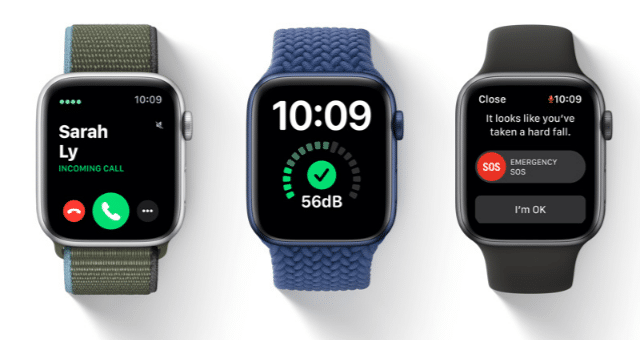 Share your location
Family members can share their location in the Find My app. Get alerts when older family members and kids get home or aren't where they're expected to be.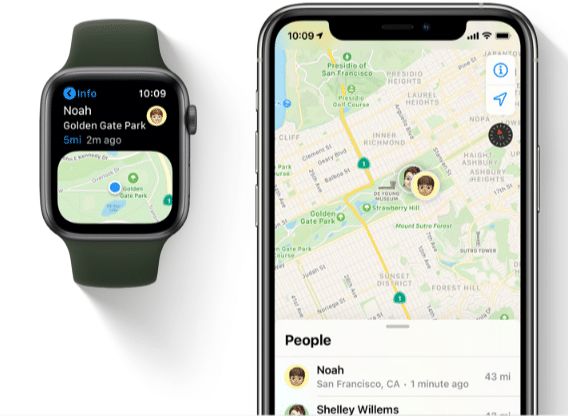 Fitness on your hands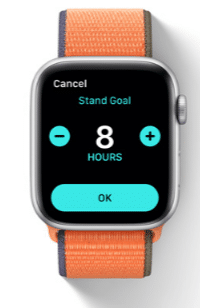 Now you can customize all your Activity goals, including Stand hours and Exercise minutes, to a level that works for you. So no matter what age you are, you can feel the joy of closing your rings.
New faces
With watchOS 7, watch faces are more customizable, powerful, and discoverable than ever.
New faces to make your own. From fun to functional, there is a wide variety of new watch faces to try. And there are more ways of customizing faces with colors and complications than ever before.

Whatever you're into, the App Store editorial team has expertly curated faces in store for you.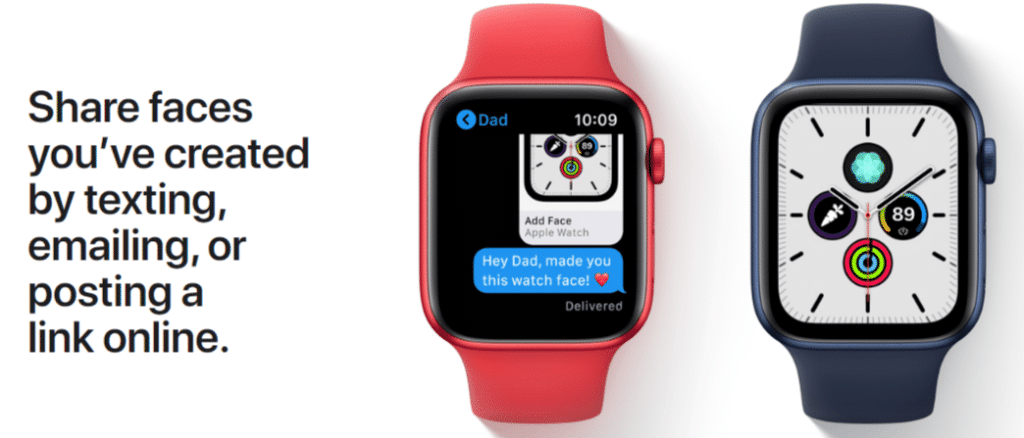 You can Get faces from online web .Discover faces that reflect your interests on websites and social media. Add them to your watch.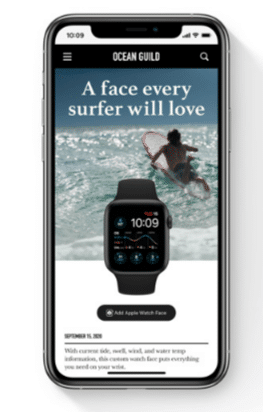 Sleep App
With the new Sleep app , you can create a schedule and a bedtime routine so you can meet your sleep goals. When you go to bed, your watch automatically turns on Do Not Disturb and keeps your screen from waking. Put your watch to work before you nod off.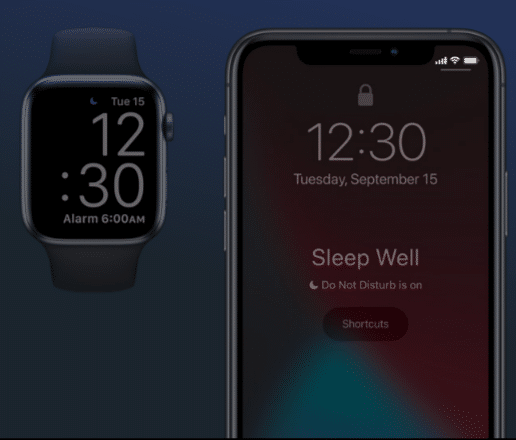 See a sleep analysis chart every morning showing how much you've slept in the past week.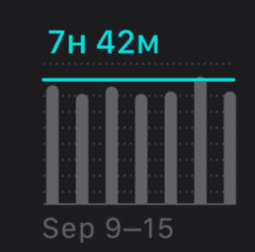 Apple Watch uses its accelerometer to notice the subtle movements associated with breathing and differentiate between sleeping and waking states.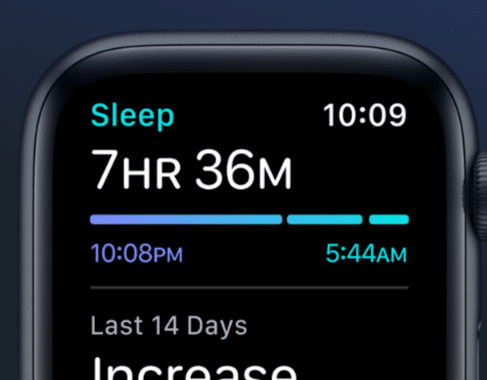 Wind Down assists you in establishing a bedtime routine with shortcuts that help you relax, like opening a meditation app and dimming your lights.
Start your morning with a weather report and your battery level. If you get up before your alarm, you'll be asked if you want to turn it off.
Reminder to charge
If your battery is below 30 percent near bedtime, you'll get a reminder to charge. If you charge after waking up, you'll get an iPhone notification when you're at 100 percent.
New featured workouts with watchOS 7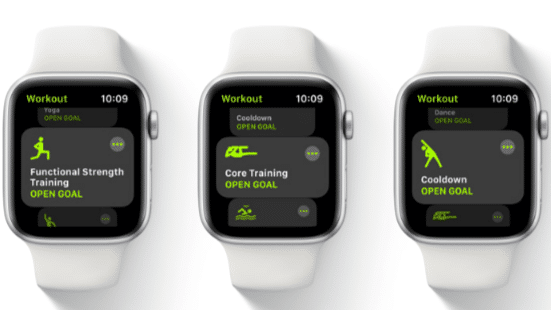 Now you can accurately track your fitness metrics for Dance, Functional Strength Training, Core Training, and even your post-workout Cooldown.
It's a full-body workout that's good for your heart, makes you stronger, and improves coordination. So dance like nobody's watching, and get credit for it on your watch.
See your Activity competitions and Activity Sharing information in one place.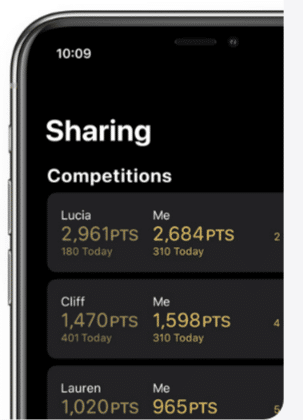 Directions for Cyclists
Your watch already taps you on the wrist when it's time to turn, making it great for bike rides. Now Maps has directions just for cyclists.
Get rolling with maps that show elevation changes, bike lanes, and busy roads.
If you need a pick-me-up or a pit stop, you can search for nearby places like cafés or bike shops and add them to your route.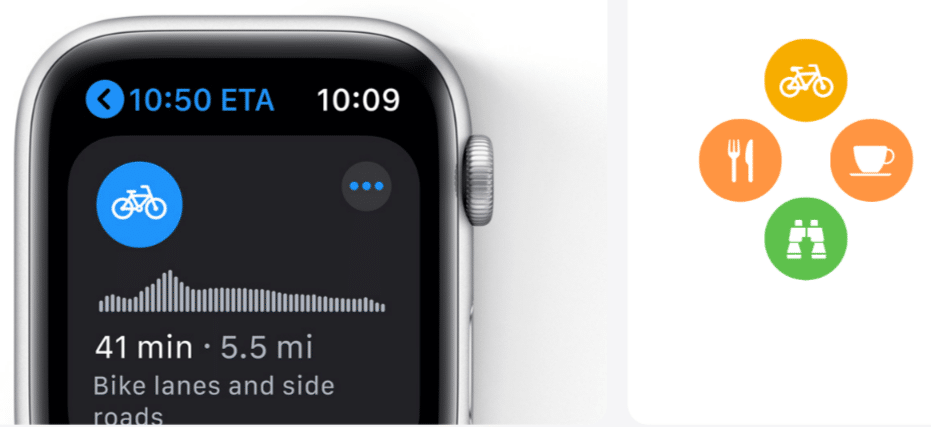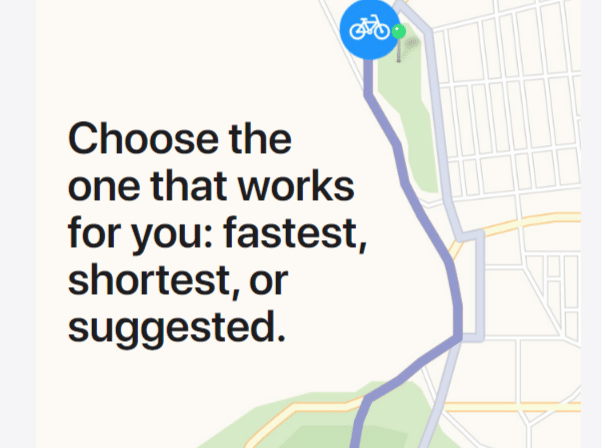 If your route requires getting off your bike, you'll see instructions like "dismount and walk" or "take the stairs."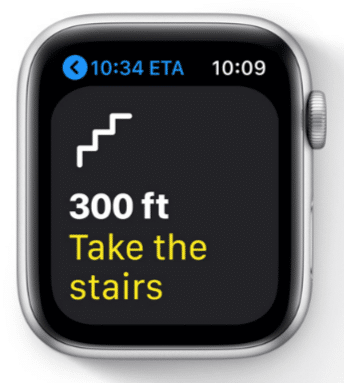 Automatically detect Handwashing
With watchOS 7, Apple Watch automatically detects when you begin washing and helps you keep going for the amount of time recommended by global health organizations.
Using its motion sensors and microphone, Apple Watch automatically detects handwashing and starts a 20‑second timer. If your watch detects that you've stopped washing your hands early, it will encourage you to continue for the full 20 seconds.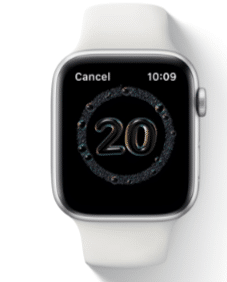 watchOS 7 Siri Updates
Siri is fundamental to the Apple Watch experience. You can do almost anything on your watch hands-free, just by asking. Now Siri can do even more, faster.
Siri translation
Now you can get spoken translations from Siri. It's as simple as raising your wrist and asking "How do you say hello in Japanese?"
Dictation
Dictation is now processed on Apple Watch, making requests faster and more reliable.
Siri Shortcuts
Now you have a quicker way to run shortcuts you've created on your iPhone. You can even add them as complications on your watch face.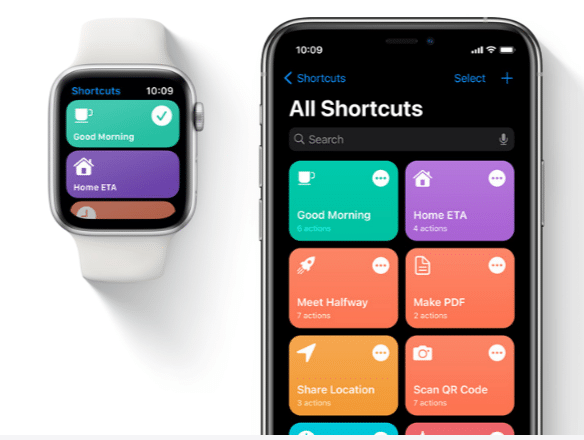 Wind Down mode
A new Wind Down mode is also in watchOS 7 as part of the Sleep app, working with your iPhone to help you wind down for bed – as the name suggests. 45 minutes before your scheduled bedtime is the suggested period.
You can do things like snooze notifications (basically Do Not Disturb) open meditation apps, or turn on a music playlist. You can even activate smart home presets.
Noise App
To help protect your hearing, watchOS 6 introduced the Noise app. Apple is giving you more ways to keep your hearing safe as well as more control over how you listen.
Safe weekly listening notification
Get notified and have your headphone volume reduced to a safe level when you reach the World Health Organization's recommended safe weekly listening dose.
Weekly listening summary
See how long you've listened to high-decibel sounds each week in the Health app on iPhone.
watchOS 7 with some other features and improvements:
Change goals for exercise minutes and stand or roll hours in the Activity app
New custom algorithms in the Workout app for Dance, Functional Strength Training, Core Training, and Cooldowns for accurate tracking of relevant metrics
Redesigned and renamed Fitness app on iPhone with streamlined summary and sharing tabs
Manage health and safety features of Apple Watch in the Health app on iPhone with new Health Checklist
New Mobility metrics measured by Apple Watch available in the Health app, including low-range VO2 max, stair ascent speed, stair descent speed, and six-minute walk estimate
ECG app on Apple Watch Series 4 or later now available in Colombia, Israel, Kuwait, Oman, Qatar, and United Arab Emirates
Irregular heart rhythm notifications now available in Colombia, Israel, Kuwait, Oman, Qatar, and United Arab Emirates
Support for additional interactions on Apple Watch Series 5 without having to wake the display including access to Control Center and Notification Center, the ability to change watch faces, and more
….
Create group threads in Messages
Inline replies let you reply to a specific message and see all related messages in their own view
New Shortcuts app to access and run shortcuts you have previously created
Add shortcuts to your watch face as a complication
Share your audiobooks with Family Sharing
Search now available in the Music app
Redesigned Wallet app
Digital car key support in Wallet (Series 5)
View downloaded media in Music, Audiobooks, and Podcasts apps
Current location available for World Clock and Weather apps
Read more about Apple Watch !