To use the iPad as a PC, pull up the on-screen keyboard and type away. However, if you do a heavy amount of typing, the tactile feel of a real keyboard might be preferable.Here we will talk about keyboard case or cover.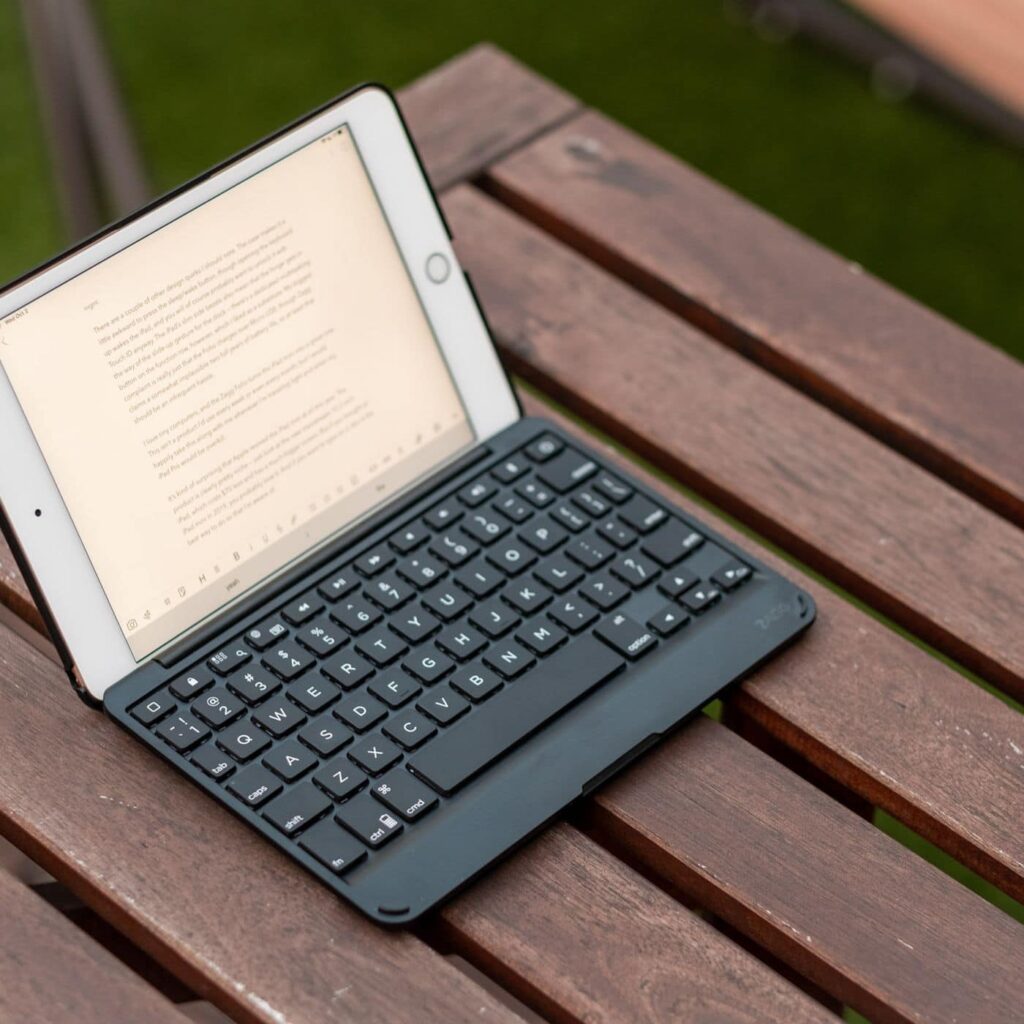 Why Keyboard Case?
If you've ever thought, "I don't like typing on this iPad screen—I wish I had a real keyboard," odds are, definitely you could benefit from a keyboard cover. You can dramatically increase your iPad productivity with real, tactile keys that let you type almost as quickly and with as few errors for your work.
What is a keyboard Case?
A keyboard cover combines the advantages of a physical keyboard with a protective case—instead of having to carry a separate keyboard, you have a keyboard built right into a case that's similar to the one you're likely already using.

A keyboard cover can be a bit bulkier since it has to accommodate the keyboard. Most keyboard cases are specifically designed to let you type on your lap, as you would with a laptop, making a keyboard cover better for portable use than an iPad with a separate keyboard and stand.
What to look for in a Keyboard Case?
A good typing experience: The most important part of any iPad keyboard cover is the keyboard itself. After all, if typing on the keyboard isn't dramatically better than typing on the iPad's screen, there's no point to the extra weight and expense.
The right key layout: The keyboard should use a standard key layout with all the expected keys in all the correct locations.
Good keys: The keys shouldn't be so small or so cramped that you regularly press adjacent keys by accident.
Dedicated iPadOS keys: We like having iPadOS-specific keys for functions such as Spotlight (search), adjusting brightness, and Home. W
Solid protection: A good keyboard case must protect your iPad well.
Reasonable size and weight: A keyboard case makes an iPad bulkier and heavier, but it shouldn't do so to an unreasonable extent. It also shouldn't take up too deep space on your desk.
An easy on-off design: We appreciate key board cases that make it simple to leave the keyboard behind when you don't need it so you aren't forced to carry extra bulk and weight.
Multiple angle options: Multiple angles for propping up your iPad give you more flexibility in terms of ergonomics, comfort, and avoiding screen glare but at the very least. a case should offer an angle that lets you comfortably view the screen but isn't easy to tip over.
Long battery life: The less you have to worry about your keyboard's battery dying, the better. Luckily, this is rarely an issue with current iPad key boards.
Types of keyboard :
Wired Keyboard
Keyboard with a case
Wireless Keyboard
Wireless Keyboard :
The most simple and direct approach is to use a wireless key board. The iPad is compatible with most wireless key boards. This includes those not specifically marked for the iPad, although to be safe, always check for compatibility.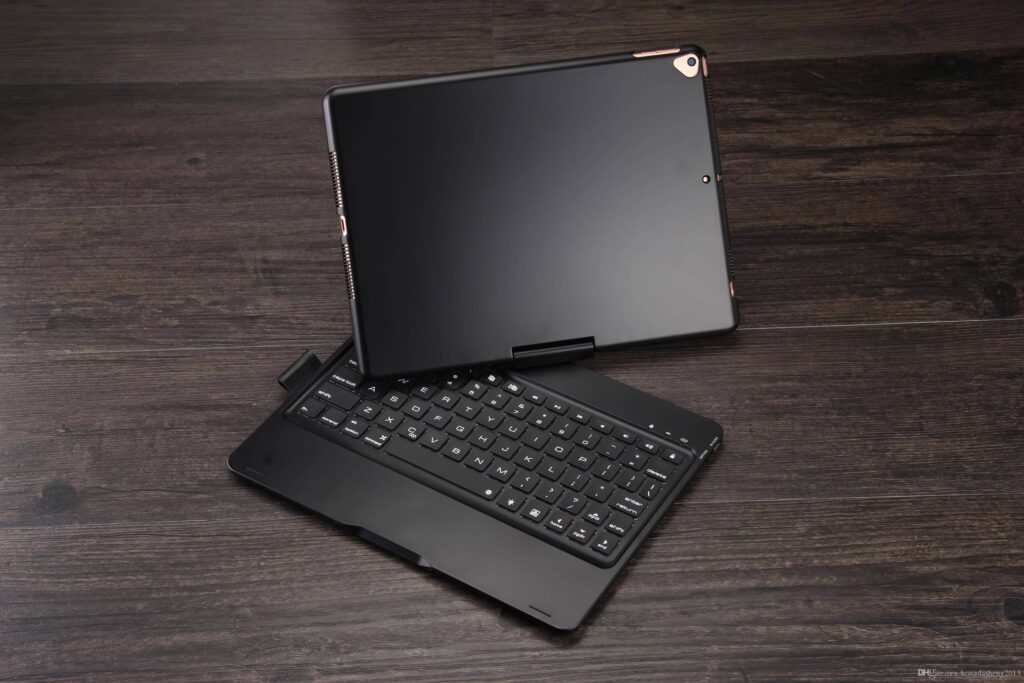 Why you should prefer a wireless key board?
Easy to connect
Easy and more convenient to use
No more tangling of wires means no mess around.
Easy to carry
How to connect wireless keyboard to your device?
Most wireless key boards require you to pair the device. There are various methods to pair. For instance, you may some require to input a code that displays on your Pad screen to complete the pairing. In all cases, you'll start in the Bluetooth settings.
To pair the devices, launch the iPad Settings app. On the left-side menu, find and tap Bluetooth. If Bluetooth is off, turn it on by tapping the on/off switch. It may take a few seconds for the iPad to discover the wireless key board.
When it appears in the list, tap it. If it requires you to input a code, the iPad displays a code on the screen that you enter on the key board.
Also If the key board doesn't appear on the list, make sure it is turned on and the batteries aren't dead.
If the key board has a Bluetooth button to make it discover able, tap it so that the iPad will recognize the key board.
Keyboard with a case or Keyboard case: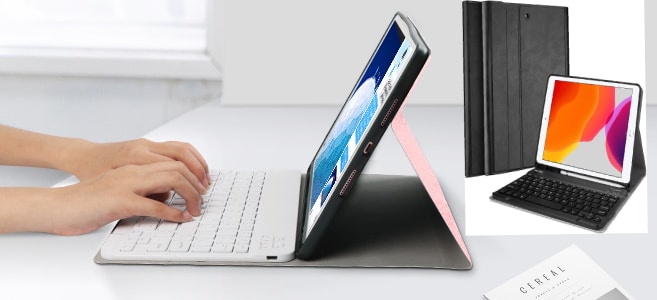 Several key board cases on the market offer different solutions to the typing problem.
One advantage of a key board case is that it offers better mobility than carrying around both an iPad and a wireless key board.
If you spend a lot of time typing on the on-screen key board when using your iPad, this can be a good choice. The biggest disadvantages are that it adds bulk, and it can be pricier than other solutions. And while you can remove it from the case when you want to use it as a tablet, it may be more hassle than its worth. Many people keep it in the case 90% of the time.
Wired Key board :
Most wired (USB) key boards can be hooked up to the iPad.This is a great solution if you want the ability to use a key board with your iPad, but you don't think you'll use it very often. You can unplug the wired key board from your PC and use it on your iPad.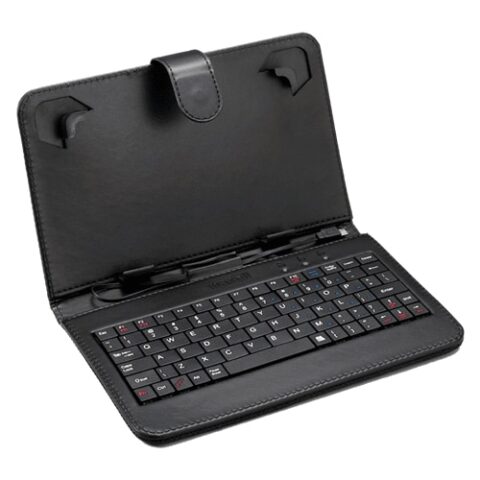 How to connect wired key board to your device?
The Lightning connector port you use to charge the iPad can also communicate with other devices like a PC or laptop.
Step 1 :Plug the Lightning to USB Camera Adapter into the iPad.
2:Connect the wired key board to the adapter.
Step 3:Test the key board in an app like Notes.
Step 4 :If it doesn't work, connect the devices in reverse order by first connecting the wired key board to the USB Camera Adapter and then connecting the adapter to the iPad. You might also restart the iPad while everything is in place to see if it works.
To use the iPad as a PC, pull up the on-screen key board and type away.
Discover best rated keyboard cases for :
Mini series
Genreation iPad series
Air series
Pro series
That's all for now!If you have any query regarding the keyboard cover,feel free to comment.Leave a reply !Regards!