The iPad Air 4 has been on the market since late 2020, and it is one of Apple's most popular iPads. It works well with a keyboard, has a great display for movies and video chats, and is the ideal Apple Fitness + exercise partner. You've arrived at the correct spot if you're looking for a solution to prop up your iPad Air 4 and to get the best iPad Air 4 stands.
The best iPad stand may be a simple and cost-effective method to extend the functionality of your iPad. If you use your iPad for a variety of tasks, from watching TV to making Zoom calls, from making a grocery list to answering emails, an iPad stand might be a great purchase.
It's important doing some research on which iPads will give you what you need in order to get the most out of your iPad. Different iPads work in different ways; some are designed to stand on a desk, while others are designed for automobiles and even free-stand on the floor.
Here's a list of the top iPad Air 4 stands available right now.
Lamicall tablet stand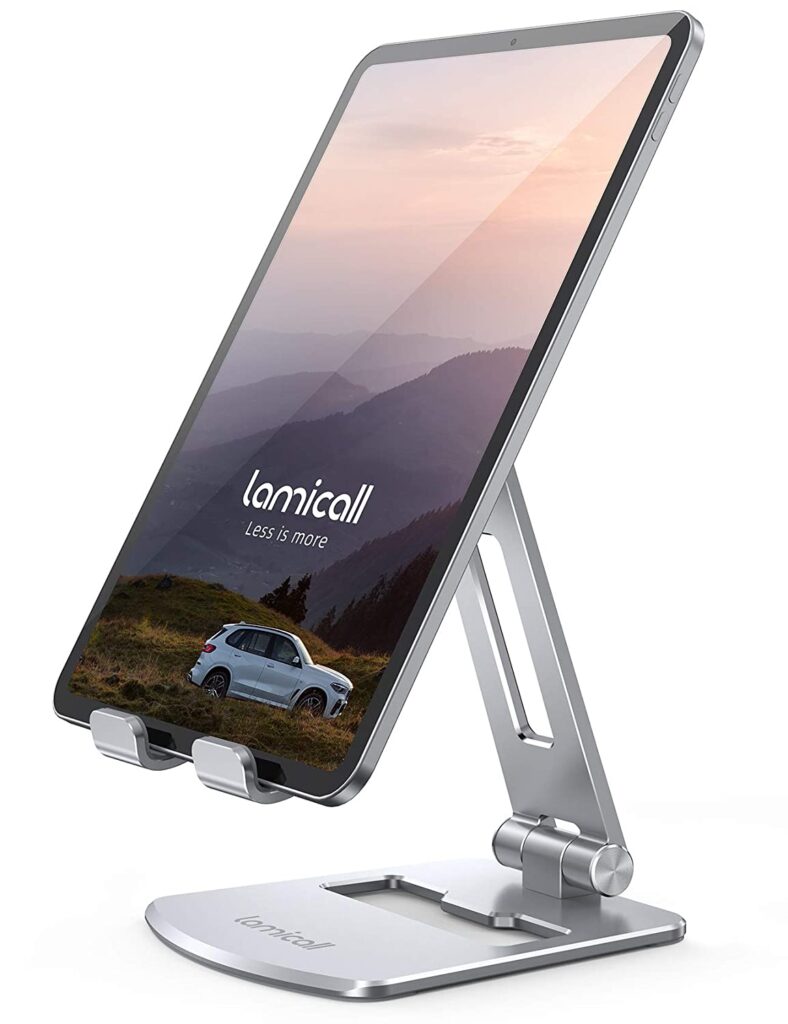 The Lamicall S tablet stand is so attractive that it seems like it was designed by Apple's engineers. Also, the inside of this iPad holder is lined with rubber cushions to protect your desktop from scratches, and the steel frame is strong enough to handle landscape and portrait views. There's also a cord hole in the rear to keep unnecessary items out of the way. In fact, the Lamicall S stand fits the iPad Air 4 perfectly.
UGREEN tablet stand holder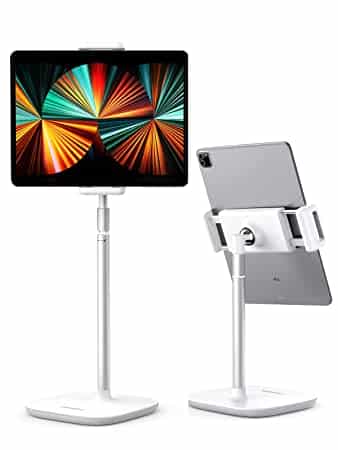 The iPad holder from UGREEN is small in size but huge in functions. However, it sticks to desks, surfaces, and even your bed linens thanks to its anti-slip construction. Also, this stand rotates a full 100 degrees, providing the ideal viewing angle irrespective of what you're doing or where you're seated. 
OMOTON T1 iPad Air 4 stand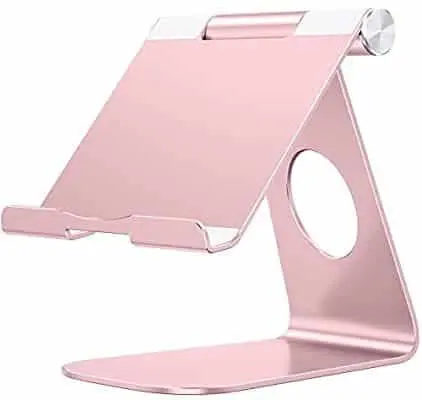 You'll appreciate everything about OMOTON's T1 iPad stand if you want your iPad Air 4 stand to match your tablet or if you want anything other than technical grey. Also, it's a solid aluminum cradle with adjustable viewing angles and a non-slip bottom. It also comes in a variety of stylish colors. Moreover, it comes in a variety of colors, including gold, black, grey, pink, and silver.
Tryone gooseneck tablet holder stand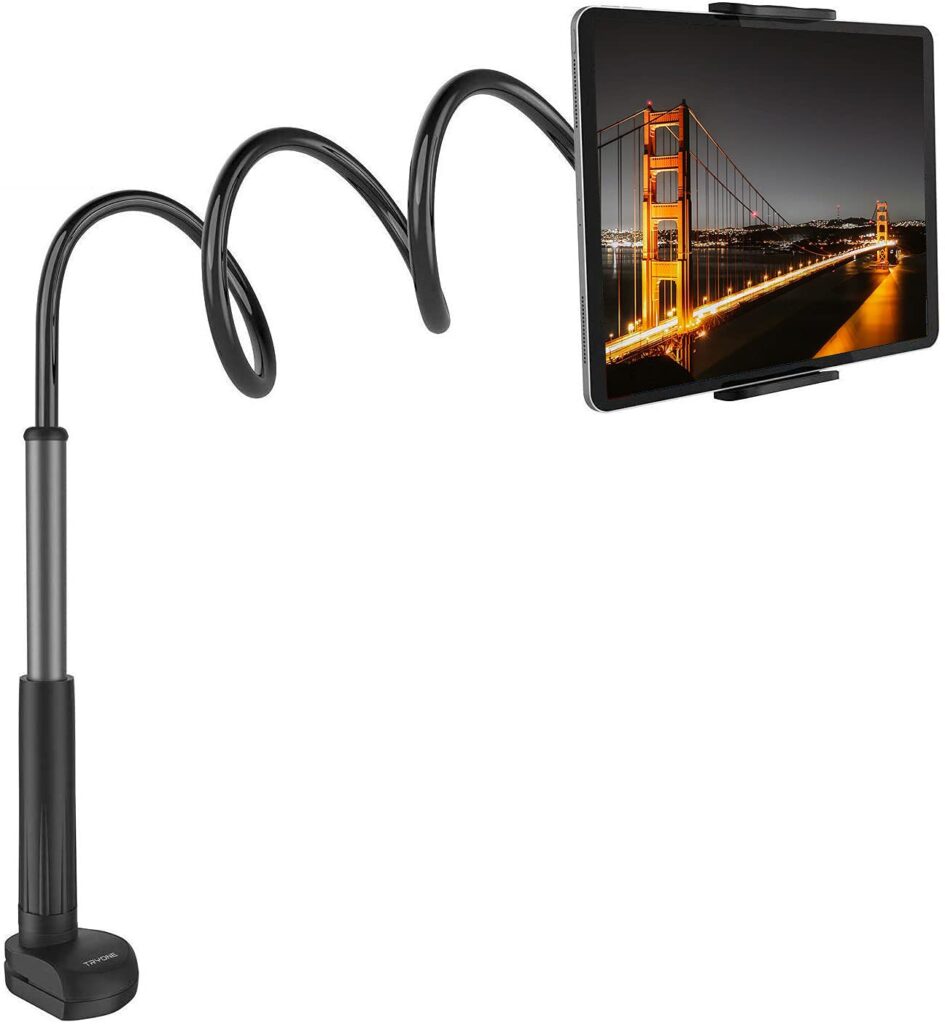 This gooseneck tablet stands from Tryone is ideal for keeping your iPad Air up and out of the way during Apple Fitness + sessions or watching movies. You can adjust the viewing angle for movies and calls indefinitely with a long, flexible arm. In black or white, the Tryone gooseneck connects to the edge of a table, your bed frame, or your workplace.
Lamicall tablet pillow stand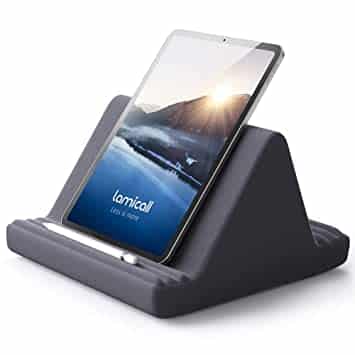 Lamicall's pillow stand supports and cradles your iPad Air 4 in one of six viewing positions. It's ideal for reading e-books, viewing movies, editing images, sketching, and typing. There's even a place to put your Apple Pencil. This one-of-a-kind iPad holder comes in five colors and includes a pillowcase that can remove.
SAIJA tablet iPad stand holder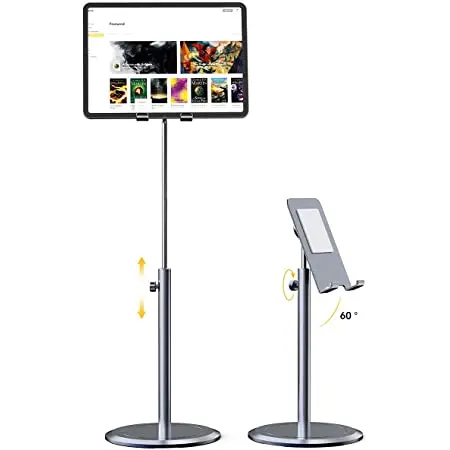 The iPad holder by SAIJI is a tablet stand that can be adjusted in height. Its screen can go 360 degrees and its size may be set from 11.4 to 18.1 inches. This is the greatest iPad Air 4 stand for those who need to be hands-free. It's tough and solid, with a weighted round base. Put the black or white variant in your shopping basket right now.
Satechi Foldable Aluminum Stand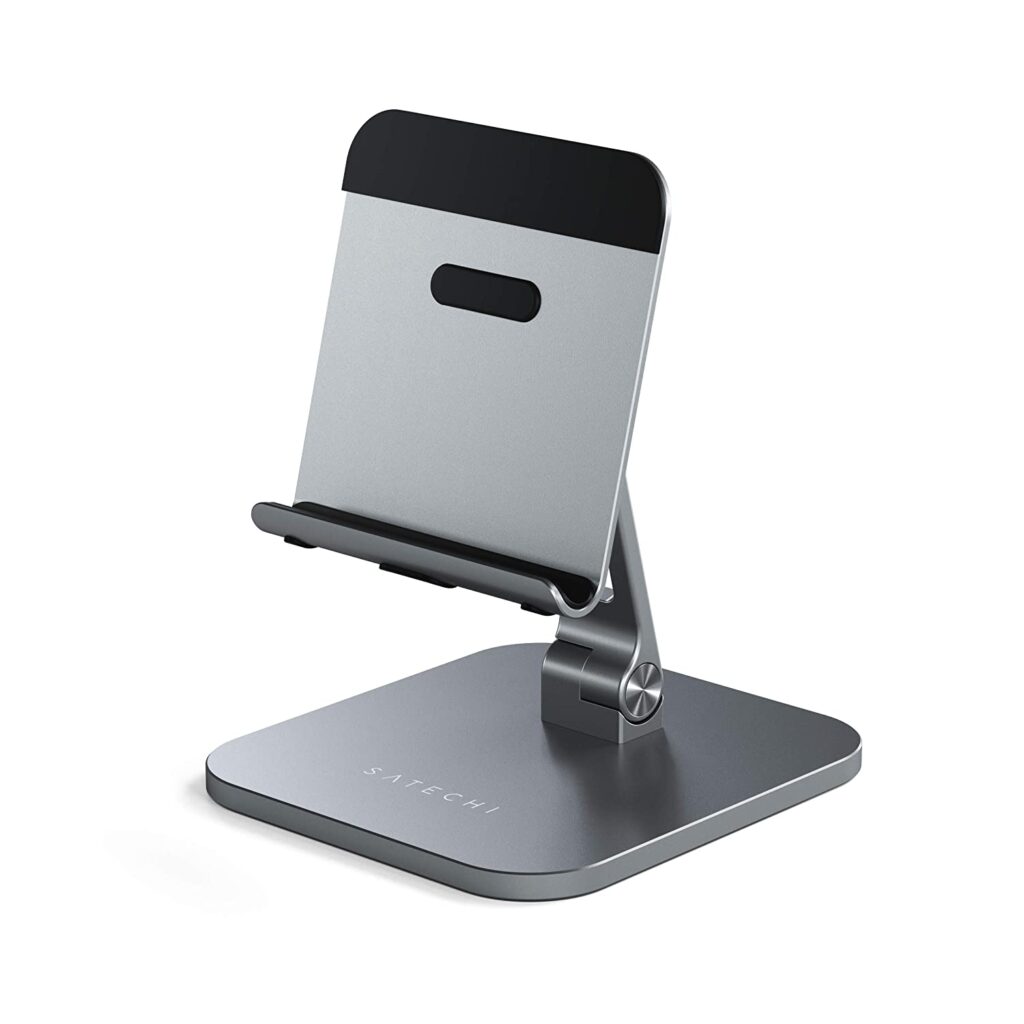 This flexible stand from Satechi is one of our favorites for its sleek style and surface area to volume ratio. It's built of solid metal and is plush in all the right places with protective padding. The adjustable viewing angle of this stand is ideal for work or pleasure, and it folds up into a little package for travel or storage when not in use.
Twelve South Compass Pro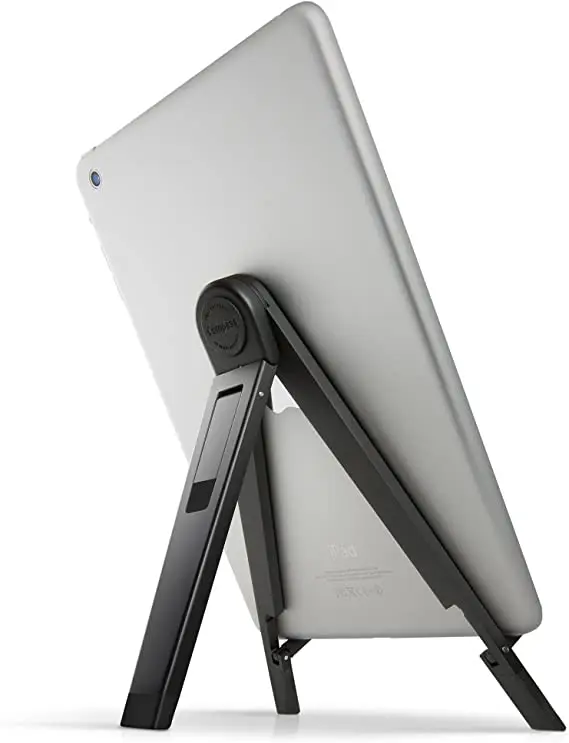 Firstly, Twelve South is well-known for producing high-quality Apple accessories. This compact display stand looks like a tripod, but it's actually a durable iPad stand. The back leg of the Compass Pro maybe gone to give three different angles of view. This aluminum and silicone iPad Air 4 stand is soft but strong, and it slips into a protective case for travel.
SAMDI wood tablet stand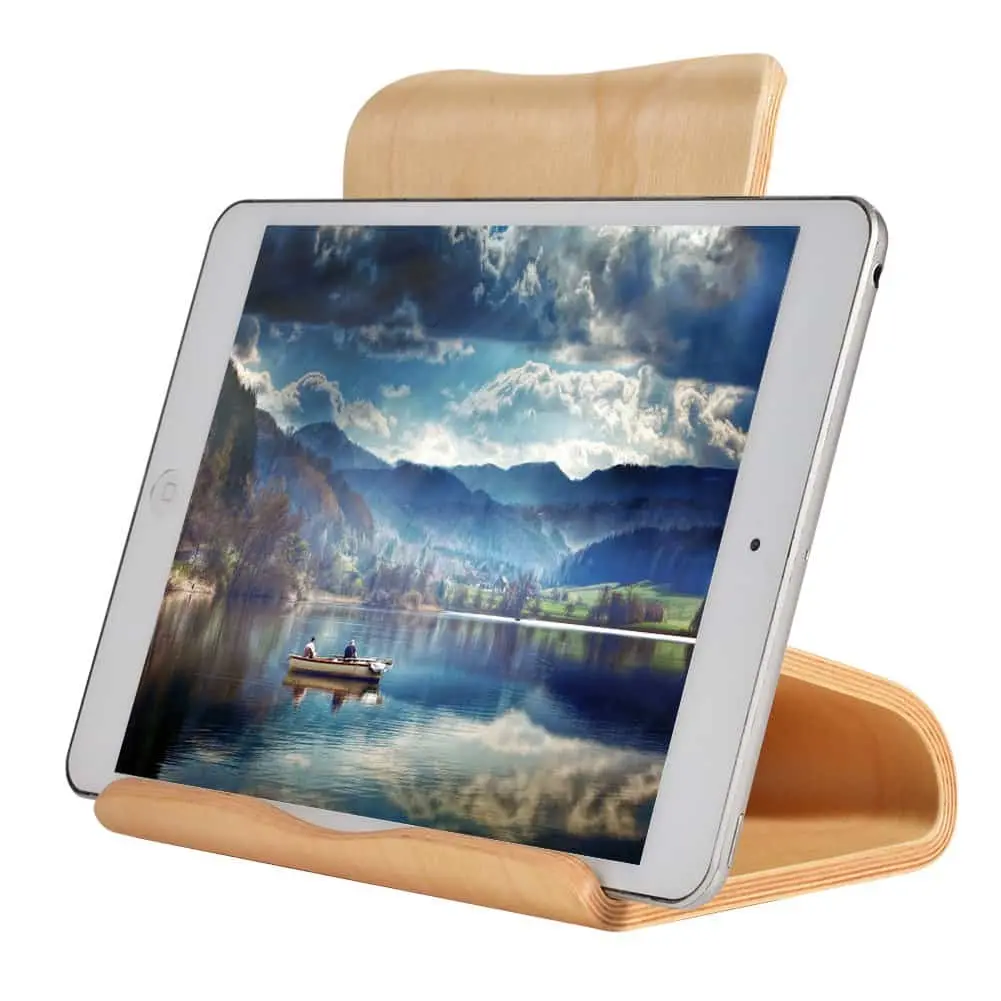 With this stunning modern wooden iPad holder from SAMDI, your iPad Air 4 may stand vertically or horizontally. SAMDI fits your iPad Air perfectly and contrasts nicely with any environment, thanks to its gorgeous walnut finish and geometric shape. SAMDI is the stand to choose if you need a strong stand for your kitchen counter, corner of your desk, or bedside.
CTA Digital 2-in-1 mount stand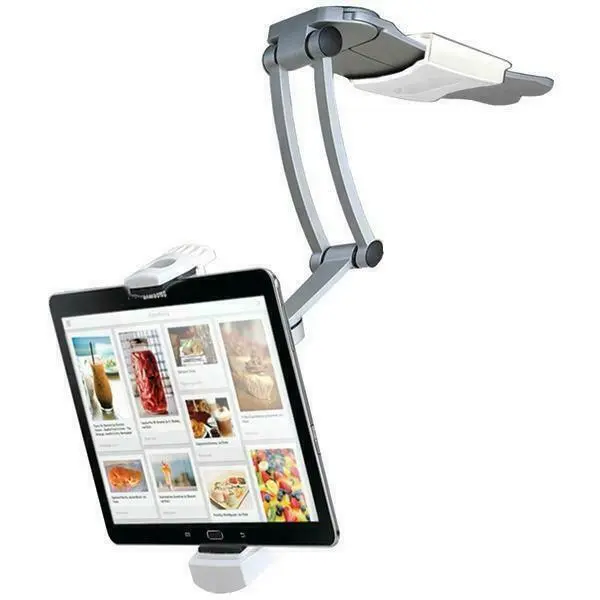 Although, this CTA Digital kit includes two mounting bases. One allows you to spin your iPad Air in any direction while placed on a flat surface. The other secures your iPad to a wall or behind a kitchen cabinet for excellent viewing while cooking or exercising, Genius!
AboveTEK long arm aluminum iPad Air 4 tablet stand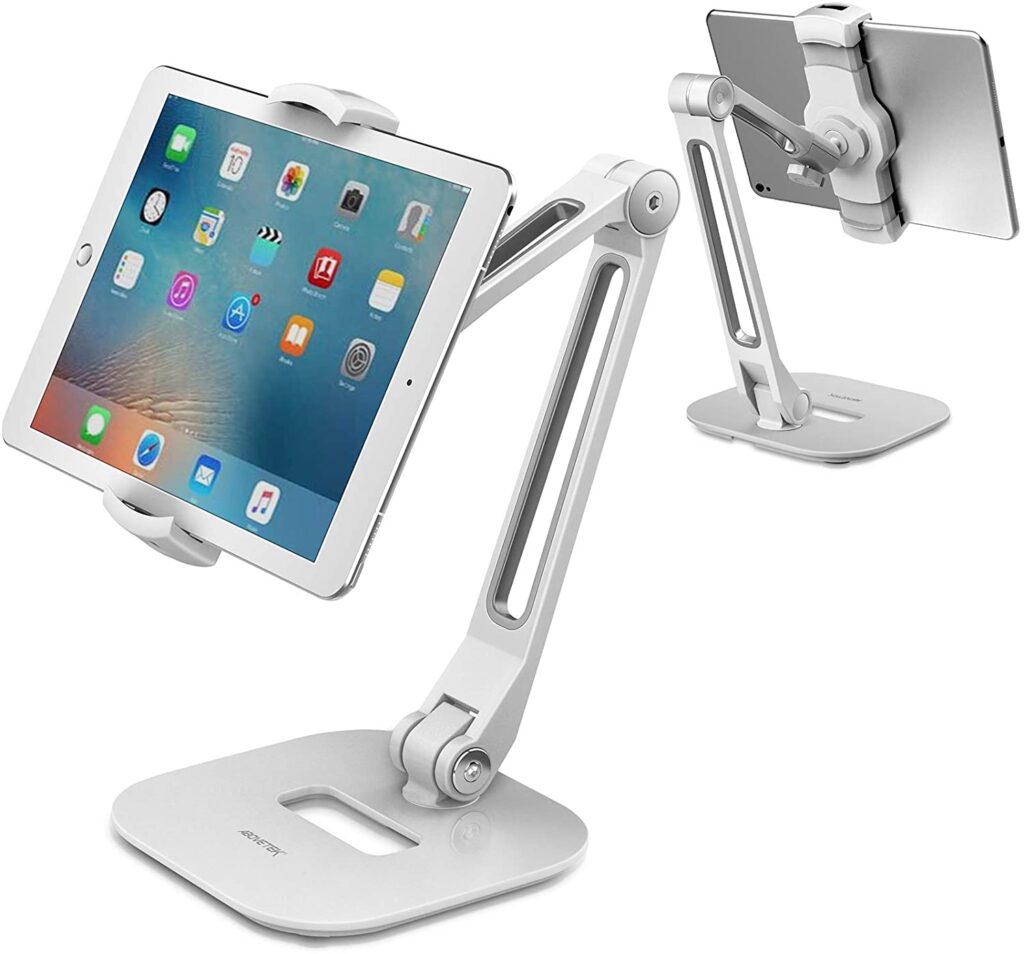 Firstly, AboveTEK's heavy-duty iPad Air 4 stand features an extra-long arm to assure you always have the best view. This iPad stand provides you with the height and reaches you need to obtain the greatest view, whether you're cooking in the kitchen, working at your desk, or relaxing on the couch.
Conclusion
The iPad Air 4 is one of our favorite Apple products, and it includes many of the same features as the iPad Pro. The Lamicall tablet stand is the finest iPad Air 4 stand. Its attractive design is well-made and allows you to use your tablet in both portrait and landscape mode. The stand shrinks into a sturdy plastic shell that protects your tablet when you're done. When it comes to value for money, these iPad stands are the best.
Read More!