Laptops and tablets are far handier than desktop PCs for the obvious reason of portability – you can't (or shouldn't) schlep a desktop PC between your home and business or on vacation. The portable computer's restriction is screen size and, in many cases, a lack of ports to hook things into. Some laptops come with only one or two ports as normal, and one of those is required for charging. Tablets, on the other hand, have even fewer connectors for device extension. Many individuals prefer a mouse to the laptop's touchpad, as well as a full-size keyboard to tap away on. Of course, Bluetooth keyboards and mice do not require a side connector on the laptop. A USB-C dock or docking station, which incorporates all of these connections and allows you to connect your laptop or tablet to it with a single wire, is the solution. There are various types of Thunderbolt docking stations available.
The setup is straightforward. Simply attach your laptop or tablet to the dock, and it will have instant access to all of the dock's connections, just as if they were on the laptop itself – except that having so many ports would make your laptop as thick as a brick.
Anker 577 Thunderbolt Docking Station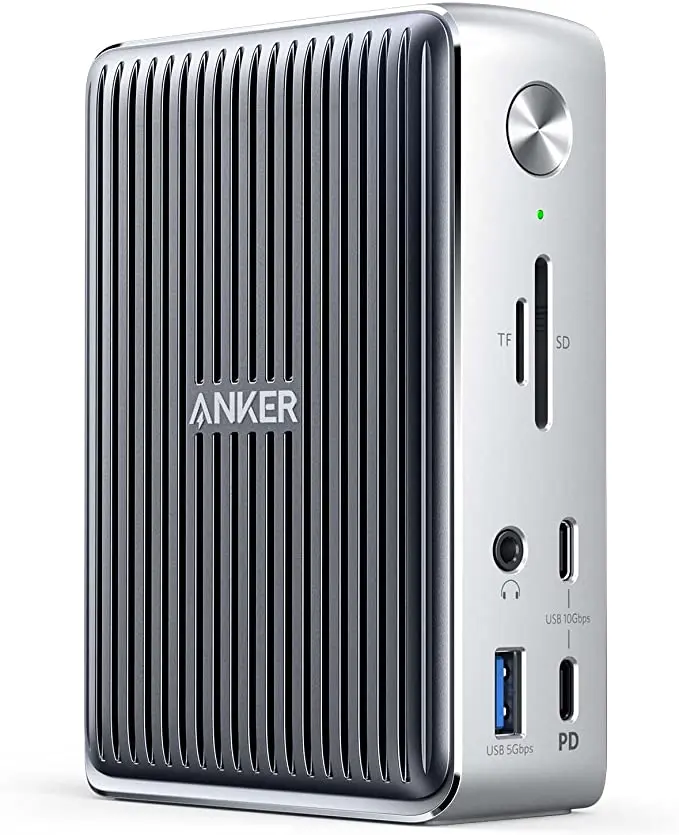 Anker 577 Thunderbolt Docking Station has 13 ports, which is more than the Caldigit USB-C HDMI or Pro Docks.
It supports USB-C and is a tidy and small vertical dock thanks to its Titan Ridge processor.
Because macOS does not support MST, the PowerExpand Elite can only link up to three external screens on Windows laptops (Multi-Stream Transport).
The HDMI and Thunderbolt/USB-C connectors would link two monitors, while one of the USB-C ports would connect a third external display (4K at 30Hz). You'll need an adaptor to use the Thunderbolt and USB-C connections unless your display has a USB-C connector.
The easy-to-reach on/off switch saves energy, extends the life of your device's battery, and prevents the dock from becoming too warm once left unused overnight.
Both USB-C ports are Gen 2 and operate at 10Gbps, although other docks only have 5Gbps C-type connectors.
Plugable's USB-C Triple Display 4K Docking Station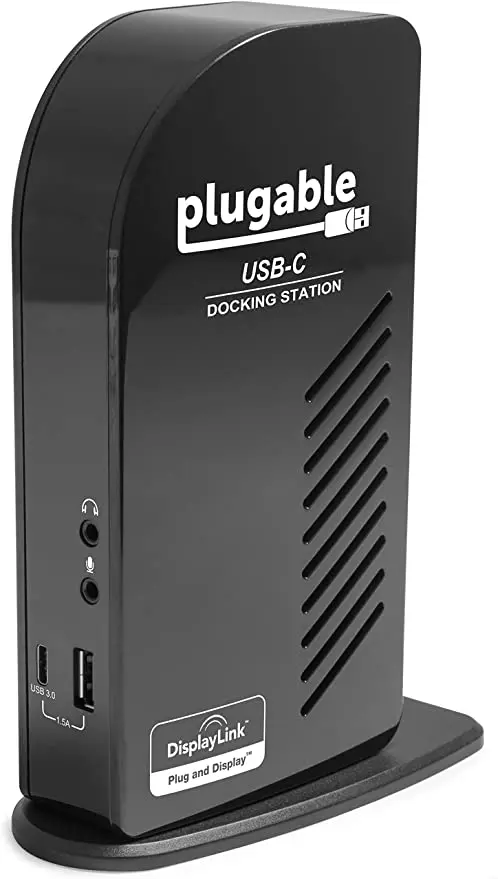 The Plugable USB-C Triple Display 4K Docking Station accomplishes exactly what its name implies: it is packed with sophisticated technology that allows it to operate three external displays from a USB-C laptop, two of which are full 60Hz 4K.
It has an HDMI connector that uses USB-C DisplayPort Alternate Mode and two DisplayPorts that use DisplayLink USB graphics.
This adds additional complexity and compatibility difficulties on specific versions of macOS, but with a driver loaded, everything should be OK.
Apart from the displayed magic, it's a tad wimpy as a dock, with only a 5Gbps USB-C 3.1 Gen.1 interface to the laptop. That significantly reduces the bandwidth of a Thunderbolt 3 laptop, and we'd like 10GBps for USB-C computers.
However, you'll be purchasing this dock for its triple-display or twin 60Hz 4K USB-C capabilities.
Twelve South StayGo USB-C Hub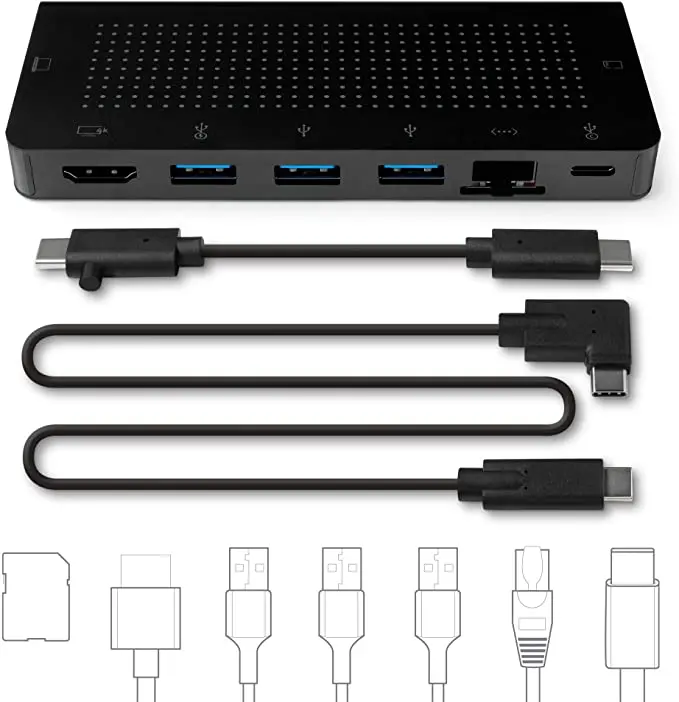 By calling itself a hub, this lightweight and tiny USB-C dock undersells itself. The Twelve South StayGo is a powerful portable dock that fits in your pocket.
Although it lacks its own power supply, you may link it to your laptop's charger for passthrough charging at up to 85W.
It contains HDMI for attaching an external monitor, three USB-A ports, an SD card reader for simple and affordable backup storage, and Gigabit Ethernet – everything you need and more.
It also has its own compact, short travel USB-C cable for safety, as well as a 1m USB-C cable for standard desktop use. It's also available in black or white.
Kensington SD5700T Thunderbolt 4 Docking Station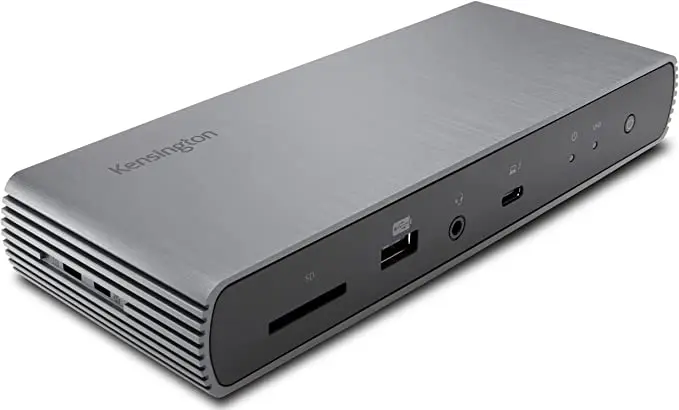 The Kensington SD5700T Thunderbolt 4 Docking Station has everything a dock should have and is compatible with the newest Thunderbolt 4 connection technology, which is backward compatible with Thunderbolt 3 and USB-C – giving you the best of both worlds.
If your laptop supports Thunderbolt 4 connections, connect it to a ThB4 dock like this one.
The power supply is the most we've seen in any hub or dock test, at 180W – ideal if you're running many devices connected to the dock.
Caldigit USB-C SOHO Dock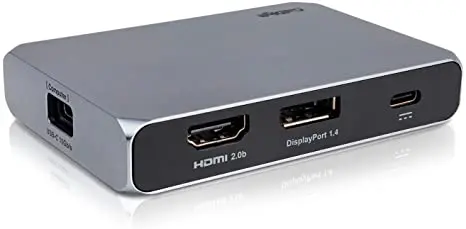 Caldigit has outdone themselves once more with their compact SOHO Dock, which outperforms previous USB-C docks by enabling an external 4K monitor at 60Hz rather than the lower-quality 30Hz constraint often found with USB-C.
It accomplishes this by having distinct video and USB lanes, allowing it to produce a steady 4K 60Hz display while still enabling 10Gbps USB throughput.
10GBps is correct. The SOHO Dock has the fastest USB ports available: both the USB-A and USB-C connectors are rated at 10Gbps bandwidth when other docks only offer 5Gbps ports.
It also includes both DisplayPort and HDMI connections for adding an additional monitor to your laptop.
The SOHO Dock doesn't offer as many USB ports as the similarly portable Twelve South StayGo. However, if you just need one of them and speed is vital, it's hard to beat.
Because this dock lacks its own power source, power delivery to the laptop would be obtained by connecting your wall charger to the dock, which is dependent on the charger's capabilities.
HyperDrive GEN2 12-Port USB-C Dock
USB-C is available in a variety of speeds and bandwidths, ranging from the Gen1 5Gbps standard to the Gen2 10GBps standard.
With 12 connectors, the HyperDrive Gen2 USB-C Dock delivers excellent value. Because there is no power source with this docking station, you must provide your own USB-C wall charger (up to 100W).
It has the same pro-look compact aluminum form factor as Thunderbolt 3 docks, but it brings that degree of multiple-port versatility to the world of USB-C.
Two of its USB-A ports enable 10Gbps speed, whereas the other two are 480Mbps USB 2.0 connectors.
There are several video alternatives. However, Mac users should keep in mind that via USB-C, they can only have one external monitor unless they acquire third-party DisplayLink drivers.
OWC USB-C Travel Dock E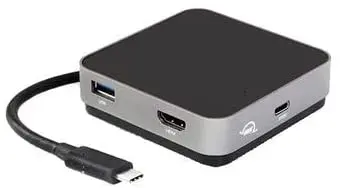 This compact USB-C dock offers six connectors and at least one of everything you could ever need. The E stands for Ethernet, which is a port that is missing from the majority of USB-C adapters.
A 15cm wire connects it to the laptop. If you want a longer cable, a dock without an integrated cable is preferable. However, for travel purposes, a dock with its own cable eliminates the need to bring an extra one with you.
The USB-C & USB-A ports are 5Gbps; 10Gbps USB and other similar connectors are available on some docks, but not in this small size.
The pass-through charging is amazing at 92W, and if you don't have a wall charger or access to an outlet, you may use the laptop's bus power.
It is small enough to put in a trouser pocket and weighs just 174g (6.1oz). When you're not traveling, it takes up very little desk space.
Conclusion
Most Thunderbolt 3 or 4 docks will not function with plain USB-C laptops. However, there is a handful above that will. As a result, they are ideal for hot-desking and mixed-workflow scenarios. Office IT doesn't have to acquire separate docks for different use cases because one dock works on everything and doesn't require adapters or drivers.
Thunderbolt laptops can utilize any of the USB-C docks evaluated here, although the lower-spec docks will lose a few of their bandwidth and display benefits.
Read More: