Apple removed all legacy ports from these MacBook Pros. Connecting ANY device to any MacBook Pro with Touch Bar now requires a properly-equipped peripheral or a dongle. USB-C-based peripherals aren't very common yet, and dongles make computing messy and complicated. Displays – actually multiple displays – are a particularly large problem. The best way to solve this is with a docking station. Now wat exactly does docking station means. Here we have listed the Best MacBook Pro Docking Stations!
What is a Docking Station?
Alternatively referred to as a universal port replicator, a docking station is a hardware device that allows portable computers to connect with other devices with little or no effort. Docking stations enable users with a laptop computer to convert it into a desktop computer when at the office or at home.
What is purpose of Docking Station
A base station for a laptop that turns it into a desktop system. Instead of plugging multiple devices into a laptop to make it desktop ready, the keyboard, mouse, monitor and printer are permanently plugged into the docking station. In order to switch from portable to desktop use, the laptop snaps into the docking station via USB or a single special-purpose connector. In addition, the docking station may have built-in peripherals such as an optical drive and speakers.
We have listed out some of the best Docking stations that might be beneficial
LandingZone USB-C Dock

The LandingZone USB-C Dock for MacBook Pro with Touch Bar is a non-Thunderbolt-based dock with a USB-C passthrough. This dock is meant for 15″ MBPs only and won't work with Windows Machines.
Ports:
One dual HDMI/MiniDisplay Port and a second HDMI port.
Allows you to use at least two monitors.
Also, has one SD and one microSD card slot, three USB-C ports , three USB 3.1 Type A ports and a gigabit Ethernet port.
Plus, one of the few with dual display connections.
You can connect at least two displays directly to the dock,
Can also connect a third via the passthrough on the right side of the dock.
Build Quality:
The device is made of plastic and unfortunately, feels cheap.
Docking is done by manually inserting both USB-C ports on the left side of your MBP into the available adapters on the dock and then sliding the audio jack and third USB-C adapter into the ports on your Mac's right side.
The process slides adapters into three of four USB-C ports and effectively squeezes the dock together.
The dock has a dedicated release lever to assist with undocking.
Sometimes you need to sit and resist cables to ensure everything fits tightly.
Of all docks in this roundup, this dock provides the right mix of legacy ports and display supports.
Most importantly it provides the best overall mix of features.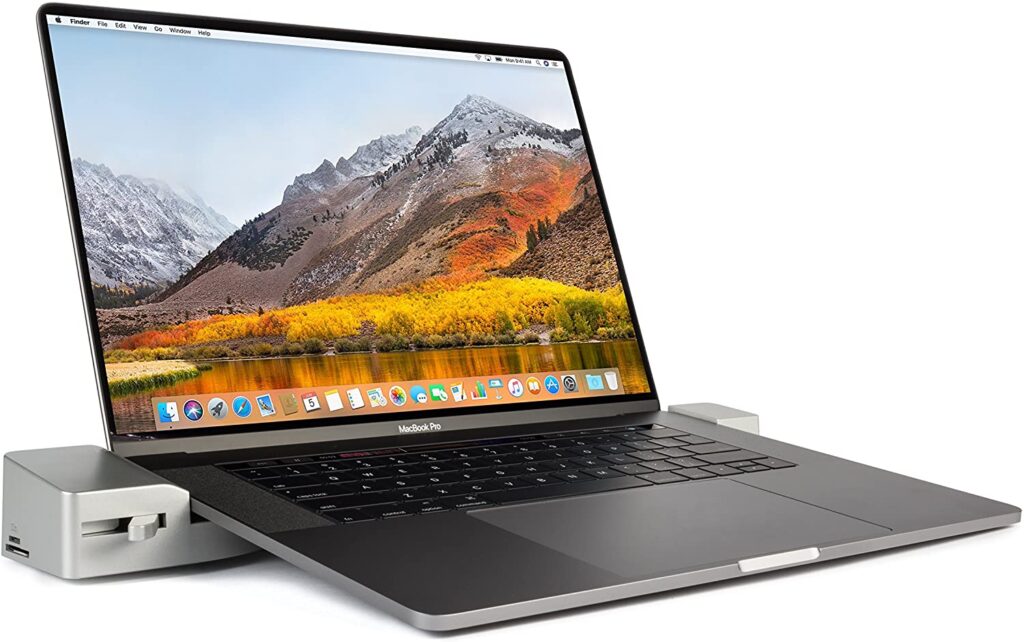 OWC Thunderbolt 3 Dock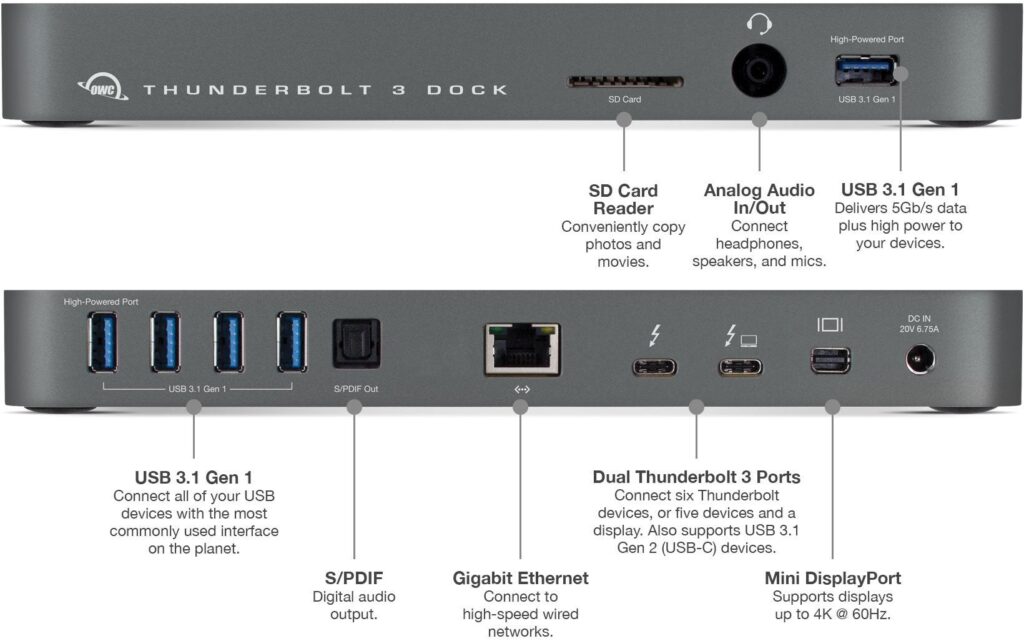 OWC has always produced quality products, and the OWC Thunderbolt 3 Dock is one of my favorite Thunderbolt docks.
Ports:
This dock has thirteen different legacy ports
It includes five USB-A 3.1 ports, one FireWire 800 port, gigabit Ethernet, two TB3 ports, one MiniDisplay Port, one SD card reader and one audio out port
It can connect multiple displays to this device via the MiniDisplay Port and a TB3 port
USB-A ports don't offer Thunderbolt compatibility
Build Quality:
This is far one of the BEST-built docks.
It's solid, well-built, and easy to use.
Coming in two versions – one with Firewire 800 support and one without – the dock works with both Mac and Windows machines.
Elgato Thunderbolt 3
Designed to rest alongside your MacBook Pro like the sleekest of sidekicks, the Elgato Thunderbolt 3 Dock isn't the cheapest docking station out there, but it's one of the best. It also comes with a two-year warranty, which gives it an edge over the default one year you get with most other docks. Finally, it delivers a solid 85W of power to charge your MacBook Pro.

Ports:
Three USB 3.0 ports with Qualcomm Quick Charge, two Thunderbolt 3 (USB-C) ports, 50cm Thunderbolt cable, DisplayPort capable of 5k resolution, 4k at 60hz (2x 4K display possible via USB-C), Gigabit Ethernet, audio in and out.
Build Quality:
One of the best things about this dock is its tiny stature.
At 3.2 x 7.9 x 1.1 inches, it has one of the smallest footprints for a dock.
Its shape means that it can't slot right under your MacBook like other options listed here, but it certainly doesn't get in the way.
The chassis is made of sturdy aluminum, giving it a nice elegant look that complements that of your MacBook.
StarTech.com Mini Thunderbolt 3 Dock
If what you're looking for is multiple display support out of a Thunderbolt 3 dock, StarTech.com Mini Thunderbolt 3 Dock is the dock for you. It supports dual Display Port connections and also provides some additional legacy ports. With its cable attached, it really looks like an oversized dongle, but it's also the most affordable dock in this roundup.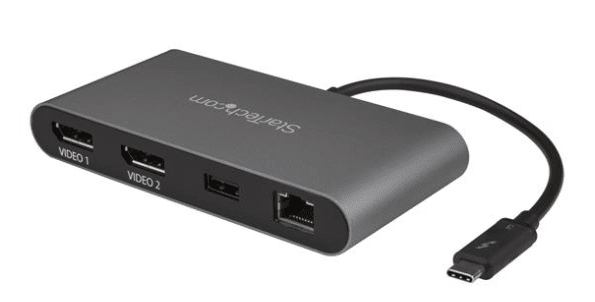 Ports:
While this dock makes it easy to connect more than one display,
it contains only four ports in total – two Display Port ports with support for dual 4K 60Hz displays or a single 5K 60Hz display, a USB3.0 port and a gigabit Ethernet port.
The dock does not need any kind of external power source.
It is bus-powered, so all you have to do is plug the USB-C cable into your Mac.
Build Quality:
It is mostly made of plastic,
So like the other docks in this roundup, it's small and compact and easily fits on your desk.
It has no moving parts and its size makes it easy to take with you,
Moreover you have a need to connect to displays outside of your home or office.
Henge Docks Stone
The elegantly named Henge Docks Stone is one of the few docking stations to take the rather brave decision to omit an HDMI port altogether, based on the fact that it's easier and cheaper to find adapters going from Mini DisplayPort or USB-C to HDMI rather than the other way around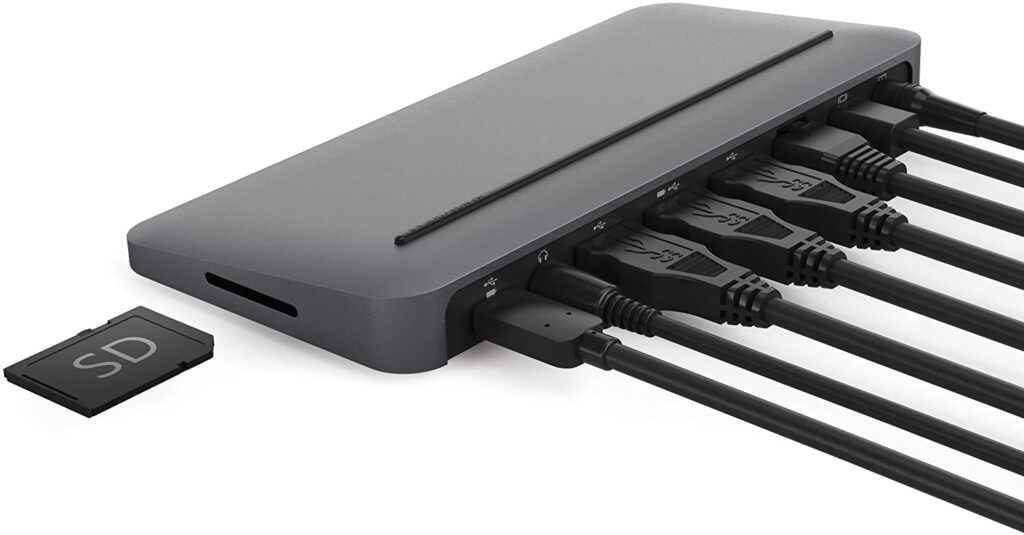 Ports:
3 USB 3.1 ports, Ethernet, mini DisplayPort, audio/mic, SD card reader, 2 USB-C ports
Build Quality:
One of the best-looking docking stations on this list
Including a gunmetal finish to match that of many MacBook Pros.
It has a nice wedge shape that makes it look unobtrusive on your desk
And one of the smaller docking stations around at 8.2x17x2.35cm.
And can also learn MacBook Pro on the Stone .
Kensington SD5200T Thunderbolt 3 Docking Station
The Kensington SD5300T TB3 Docking Station is another cross-platform dock, supporting both macOS and Windows 10, that provides support for a single 5K monitor or dual 4K displays at 60Hz. As an added plus to the whole package, the dock can be mounted to the back of any VESA-compatible external display (via a mounting plate, sold separately), allowing for a cleaner, less-cluttered desk.

Ports:
The device has a single 15w power providing USB-A and USB-C/TB3 ports on the front of the device.
On the rear of the dock it has a gigabit Ethernet port, USB-A 3.1 port, audio in/out ports, support for Kensington lock, one TB3 port, one TB3-in port, a Display Port and DC in.
It gets the job done and support both 4K and 5K displays
Build Quality:
The Kensington SD5200T is wrapped in both plastic and brushed metal.
It connects to your TB3-enabled Mac via a TB3 cable on the rear of the dock.
It also supports 85W charging, so it will power your device while it's plugged in.
Docking station, center point, or connector: Which one is appropriate for you?
Docking Stations
MacBook Pro docking stations are intended for multi-show use with charging support—and that is the reason they regularly use Thunderbolt 3 rather than just USB-C. They typically have their own force supply and can charge your PC and cell phones while likewise giving quick information move and 4K or 5K presentation uphold. Generally, they're intended to be fixed to give your work area work process greater flexibility and accommodation.
Hubs
Hubs are fundamentally the same as docking stations. They generally have a ton of ports yet don't generally have their own force source. They likewise will in general be more versatile on the grounds that they're lighter and more modest (and needn't bother with their own divider plug). On the off chance that the Macbook Pro docking stations listed here seem like a lot for you, you may go with a hub.
Adapters
Adapters are the most straightforward peripherals for port flexibility. They are quite often a solitary port changeover, as USB-C-to-USB-An or USB-to-Lightning, however some of the time they may have a couple of extra ports, as HDMI. They're the most affordable yet additionally the most un-flexible. You may not need 4K or 5K presentation uphold, fast information move, or 12 distinct things connected to your MacBook Pro simultaneously. A basic single-port adapter might be a superior arrangement.
Check out our more informative guides!