The Amazon Glow has the feel of a premium product; it's created so that kids can play with Amazon Kids+ content while also sharing their experience with someone looking from afar.
A grandmother, for example, may use the Glow app on a tablet to read books, play games, and draw; the Glow then projections that screen onto a huge white mat, which is also motion-sensitive, allowing the grandchild and grandparent to draw pictures together or flip pages of the same book. However, a small display on the Glow allows the youngster to see the grandparent's faces and interact with them, just like any other video chat.
The Amazon Glow joins other trial devices, some of which have gone to become easily accessible, whereas others have never left the test phase. As you can see from our Amazon Glow review, this gadget has a lot of potentials, but it still has a lot of challenges to solve.
Specs at a glance:
| | |
| --- | --- |
| Device Size | 5.6" x 5.4" x 14.2" (141 mm x 138 mm x 361 mm) |
| Projected Display | 19.2" touch-sensitive projection |
| LCD Display | 8" high-definition touchscreen (1280 x 800 resolution) |
| Cameras | 720p HD profile and projector cameras with built-in shutter. |
| WiFi Connectivity | Dual-band, dual-antenna WiFi (MIMO). Supports 802.11a/b/g/n/ac (2.4 and 5 GHz) WiFi networks. Does not support connecting to ad-hoc (or peer-to-peer) WiFi networks. |
| Bluetooth Connectivity | Bluetooth 5.0 |
| Audio | 10W speaker, 3.3" x 1.3" size(83.8 mm x 33 mm) |
| Alexa built-in | No |
| Parental Controls | Glow offers parental controls, including kid-appropriate content and the Amazon Parent Dashboard. |
| Age Range | Ages 3 and up. |
| Language | English; Kids+ may provide access to Spanish-language books |
Price, availability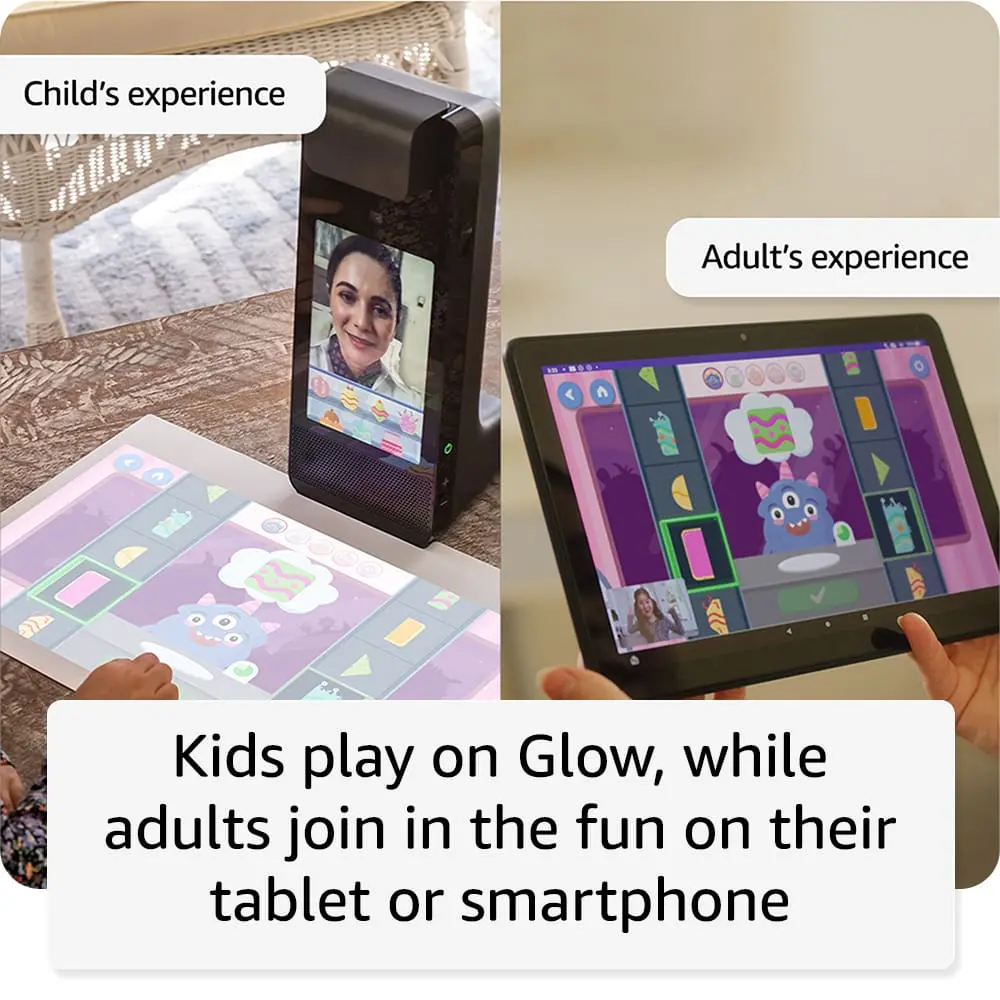 The Amazon Glow is now on sale for $249, but it's a "Day 1 Edition" product. It means Amazon is still saying out the issues. As a result, you won't be able to buy it directly; instead, you'll need to seek an invitation. Glow's pricing will rise to $299 after the trial time.
The Amazon Glow includes a one-year Amazon Kids+ membership. Thousands of kid-friendly books, movies, TV series, educational applications, and games, as well as films and Tv shows, are available through the subscription, which can be accessed not just on the Glow, but also on compatible Fire, Fire TV, Android, iOS, and Kindle devices. The software divides content into age groups — 3 to 5, 6 to 8, and 9 to 12 — based on the information you provide while creating a profile for your child.
The Glow, like the Fire Kids tablets, has a two-year worry-free warranty. It means that if it fails, Amazon will replace it for free.
Which version and device do you need?
You'll need an iPad running iOS 14.0 or earlier or an Android 8.0 or later to use the Amazon Glow app. It allows you to video chat with anyone is in front of the Glow. The Amazon Fire HD 10 Tablet, which will be released in 2021, will also support the app, according to Amazon.
Design of Amazon Glow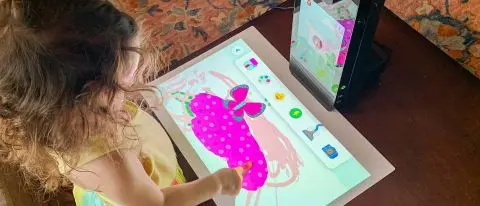 The Glow is a uniform-like gadget that is completely black and stands about inches tall and 5.5 inches broad. When viewed from the side, the Glow has an S shape: the growth at the top contains the projector, and the bottom of the gadget juts backward to form a type of foot. It is 19" projected touchscreen"
An 8-inch touchscreen display is in the middle of the front, with a camera directly above it; below the screen is a speaker, and on the right-hand side is a power button and two volume buttons. A physical slider covers the camera straight up; the shutter is white, so you can tell not when the camera is covered at a look.
The Glow includes a white rubber mat that is 18 by 12 inches and has a sticky texture on the bottom that helps it stay in place on a coffee table or other hard surface.
The interface of Amazon Glow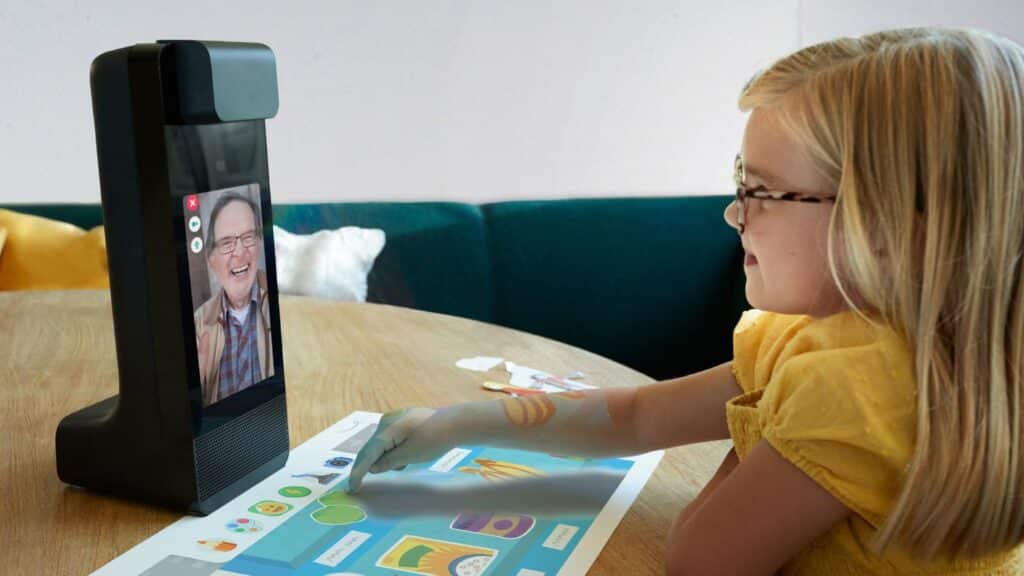 The home screen is bright and colorful, with categories such as Featured, Games, Art, and Suggested Books, as well as Disney, Mattel, Nickelodeon, and Sesame Street branding. However, you won't be able to customize the screen with your favorite books or games. And you'll be stuck with branded material whether you want it or not. You can, however, conduct a search for certain titles.
You may use a clever feature that allows you to "scan" things that are placed in front of it. It basically takes a picture of anything you put on the mat and then allows you to edit that picture by resizing and dragging it about the screen; you can also use it to make virtual jigsaw puzzles. It's entertaining, although the scanning motion is a little confusing. When you press the scan button, a series of purple laser-like lines run across the thing you wish to scan. The display then turns white, giving the impression that the procedure is over. However, the item must be scanned for an additional second or two.
Glow Bits, a little triangular plastic piece with a small magnet in each corner, is another creative game. A youngster may snap them together on the Glow's mat. Which the Glow will scan and turn into a virtual model that a parent can control on their tablet.
Content – Amazon Glow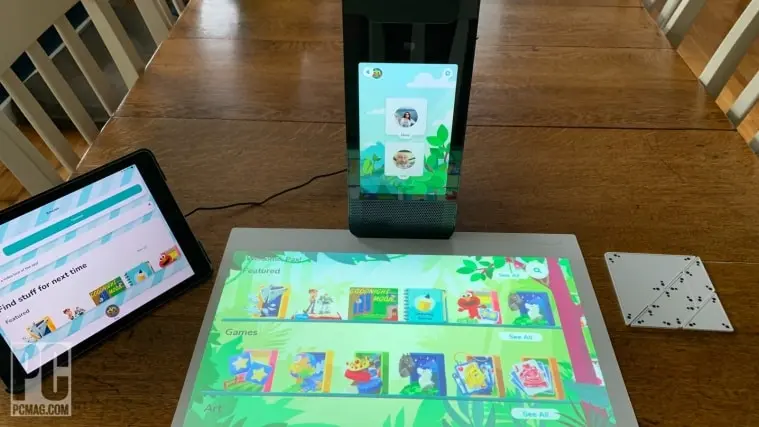 There were just four options in the Sesame Street category as well. You'd think that a three-year-old would have more options.
E-books, Glow's active games, visual arts activities, and Animated Storybooks are the only Amazon Kids+ material available on the Glow. As a result, you won't be able to view films, applications, audiobooks, or Alexa skills that you could with a Fire tablet.
Draw Together would be a fun little scratchpad that allows you to collaborate on a drawing. You may choose from a variety of brush types, colors, and stickers.
Suggested Books has a good collection. However, that appears to be a mashup of selections from a number of the branded content categories. The Incredibles and Luca shared a seat with Pete The Cat and Goodnight Moon. There are two sorts of books: standard books with simply page-turning and animated storybooks with interactive components on each page. A Toy Storybook, for example, allows you to move Woody about on one page while activating Buzz Lightyear's alarm on another.
Other FAQ
Kids will utilize the Glow and family members can jump in and have a good time from compatible mobile devices.
Remote friends and family essentially download the free Glow app on their current mobile device and can interface with the kid once added as an approved contact by the parent.
Glow is worked with parental controls upfront. Kids can call pre-approved contacts that parents upfront. With the Amazon Parent Dashboard, parents can see who their kids are reaching. Parents can quickly debilitate cameras and receivers on the device by essentially shutting the noticeable privacy shutter.
Amazon Glow isn't Alexa-enabled or compatible with Echo Glow.
Conclusion
The Amazon Glow is a fresh take on an old concept that basically succeeds. The active play experience is innovative, and it's lovely to be able to see the person with whom you're playing. However, to be honest, you'll spend more time staring at the huge projection than Glow's 8-inch screen. For a different take on nursery lighting, check out Amazon Glow. This unique light projector not only helps soothe your baby to sleep but also projects beautiful images of stars onto the ceiling! It's a great option for a calming bedtime routine.
Read More: