Acer's premium gaming laptop, the Predator Triton 500 SE, comes with an Intel Core i7 CPU, an Nvidia GeForce RTX 3060 GPU, 16 GB RAM, and a 512 GB SSD. On the surface, the Predator Triton 500 SE appears to have all the beginnings of a top-tier laptop, especially with its 165Hz 16-inch display.
However, once you get beyond the appealing design and impressive specifications. The Predator Triton 500 SE doesn't provide much in the way of gaming performance. Despite a slightly faster framerate, the benefits aren't considered even with an additional Turbo button to keep fans spinning at maximum speed. However, the 512GB SSD is becoming an issue as the top PC games continue to grow in size.
Aside from basic program usage, the Acer Predator Triton 500 SE provides some decent production efficiency for the Adobe Suite creative community, which is enhanced by the stunning display. Look elsewhere if you're searching for something that emphasizes superior all-around gameplay.
What will you see here?
Price and Availability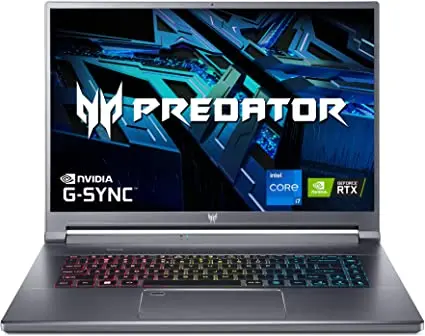 The Predator Triton 500 SE laptop starts at $1,749 for the base model, which is the configuration seen to the right, although it comes in four different configurations. Each configuration includes the identical 16-inch WQXGA display with a 165Hz refresh rate, as well as a similar port, Turbo, and keyboard layouts.
The $1,999 setup adds 1TB of SSD storage and an NVidia RTX 3070 with 8GB VRAM for $250 / £215.55. The same 1TB upgrade & Nvidia GeForce RTX 3080 are included in the $2,399 configuration. If you want to get the most out of the Predator Triton 500 SE, it'll cost you $2,699, but you'll receive the latter storage and GPU improvements, as well as an Intel Core i9 CPU and 32 GB of RAM.
The Predator Triton 500 SE has a product page on Acer's UK and Australia websites, but no purchase options are presently available. All variations are now exclusive to Best Buy, with the exception of the top $2,699 trim.
The Acer Predator Triton 500 SE competes with the MSI Stealth 15M for $1,699 and the Asus ROG Zephyrus G15 for $1,799. The Predator Triton 500 SE doesn't stand a candle to the Asus options, especially when compared to the typically inferior MSI Stealth 15. You can get more memory and better performance somewhere for the same price.
Design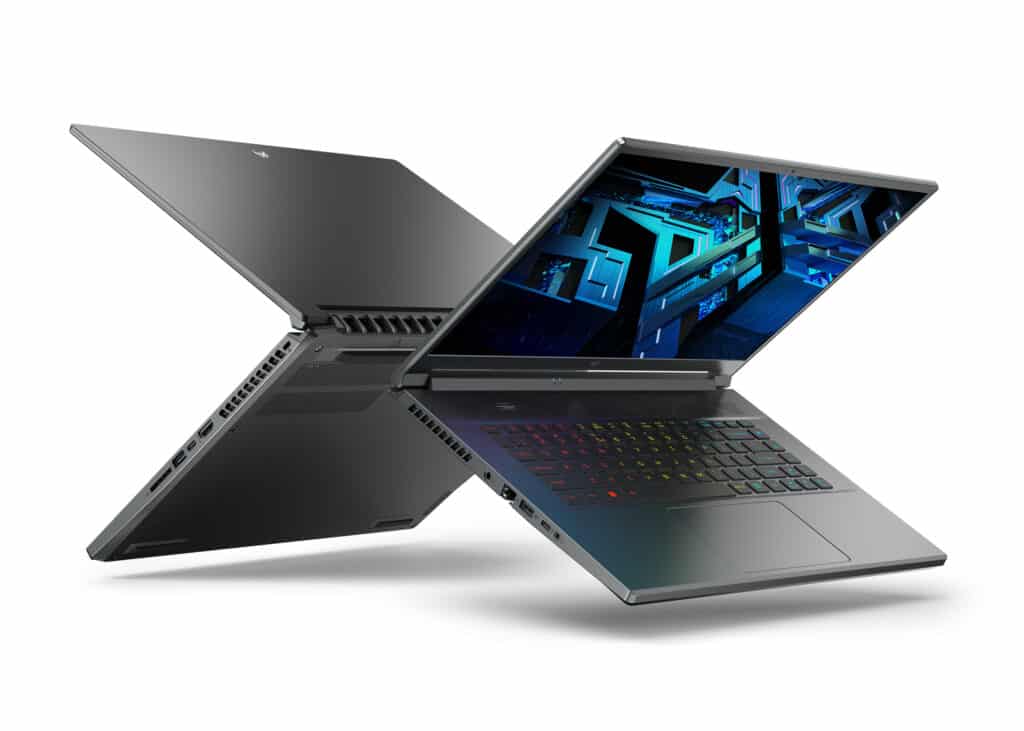 The Predator Triton 500 SE's look is everything it's good at. Whether open or closed, this is unquestionably one of the most attractive gaming laptops on the market. The aggressive angular chassis is elegant where it counts and doesn't go crazy with the hypercar aesthetic that many other gaming laptops utilize.
When closed, the display hinge does not protrude or protrude in any way, giving the laptop a more consistent appearance. The display can almost fold flat on its back when opened, which is astonishing. The 16-inch WQXGA screen is a sight to see whether you're viewing a movie, playing games, editing media, or simply getting work done. Colors pop and blacks are deep when needed, in addition to having a greater refresh rate.
Camera
A normal 720p camera is also located at the top of the display. The camera resolution is enough for video calls and similar tasks. However, professional streamers will most likely need to purchase an extra webcam. The touchpad is buttery smooth and feels fantastic to use in general. However, it would be lovely to have the fingerprint scanner in a different place. Clicking, scrolling, zooming, right-clicking, and other common actions are straightforward and reliable.
Keyboard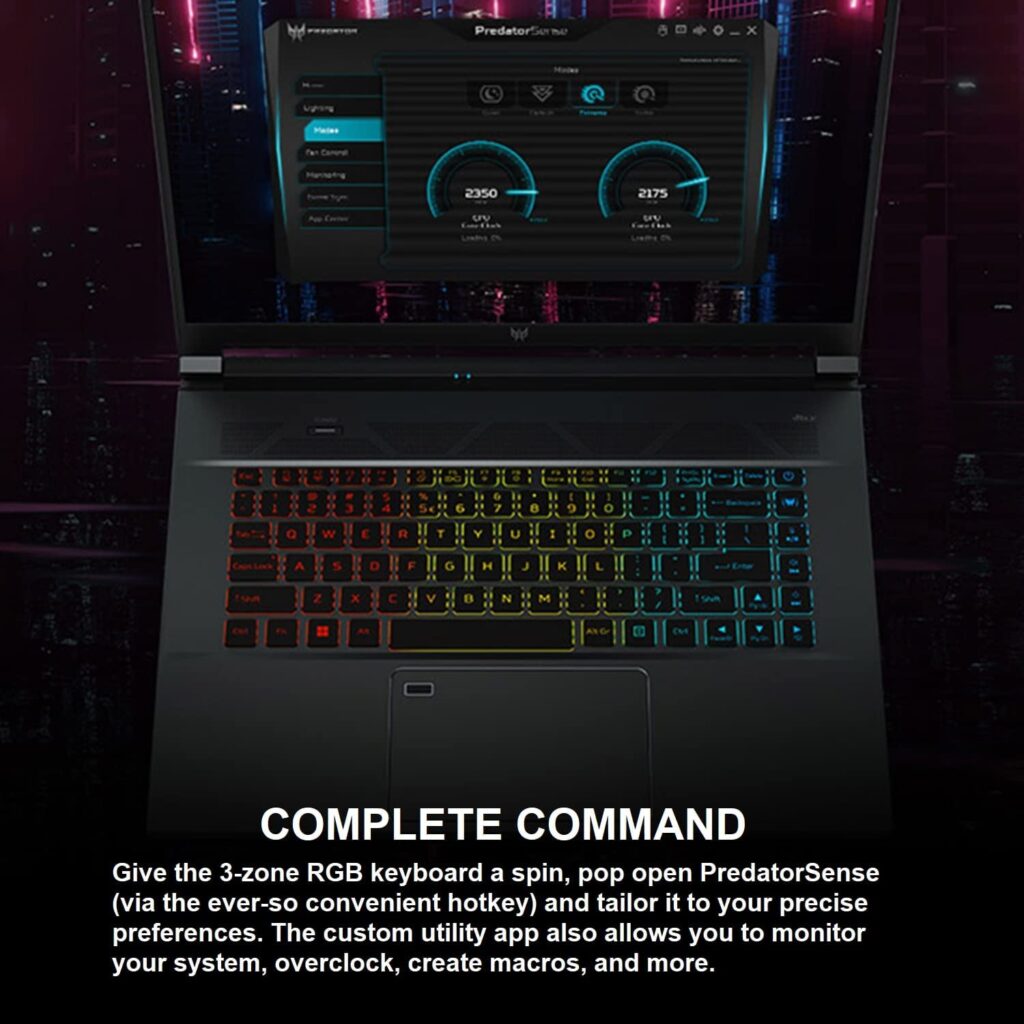 The keyboard is likewise excellent, with tactile and bouncy keystrokes and an excellent button arrangement. The location of function keys, including a dedicated button for accessing the Predator Sense program, is responsible. Users may adjust the three-zone RGB lighting features available on the keyboard, as well as other choices that will be discussed later in the review, using that app.
Ports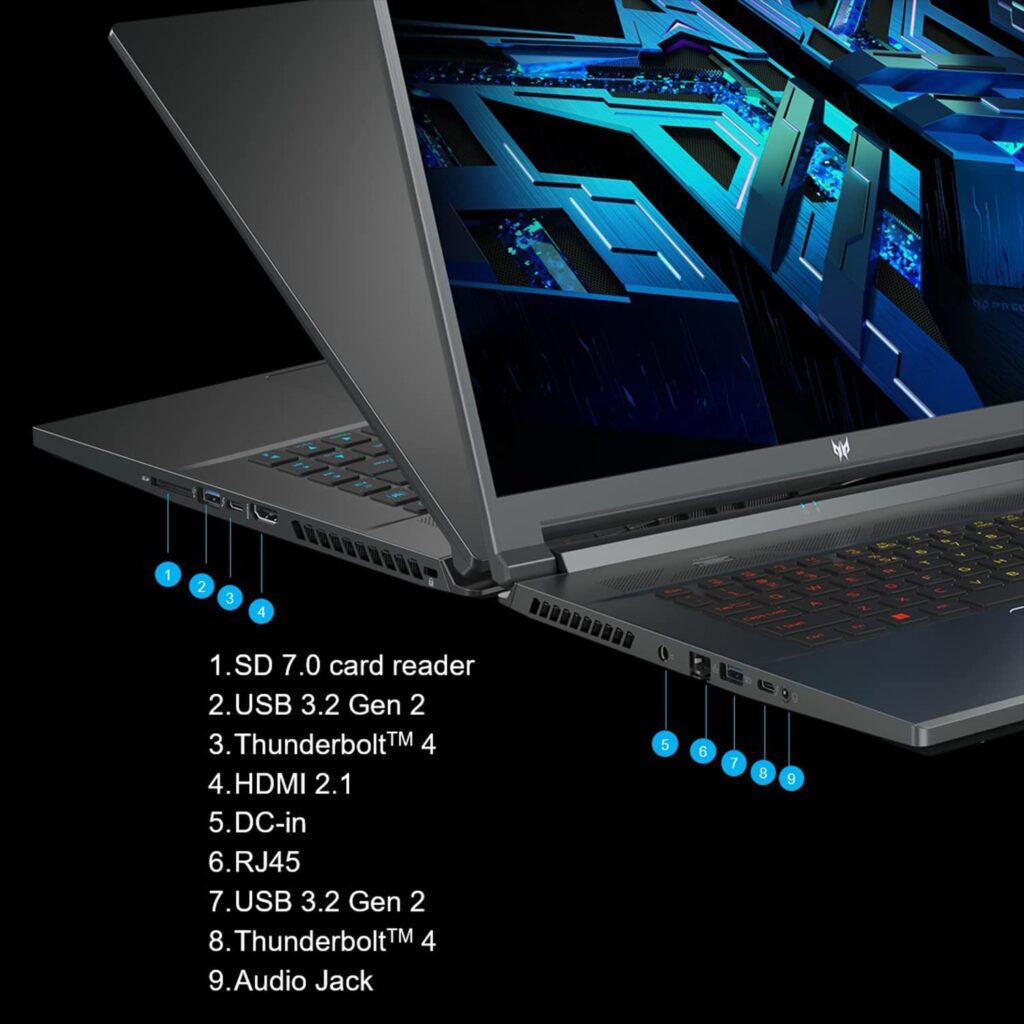 The location of the port is also appropriate. The Kensington laptop lock, SD Card slot, USB-A port, USB-C connector with Thunderbolt 4, and an HDMI port are all located on the right side. An A/C power jack, ethernet port, 3.5 mm audio jack, USB-A port, and another USB-C port with Thunderbolt 4 are located on the other side. Everything from media production to streaming should be possible with this setup.
Audio
DTS:X Ultra Speakers are located at the top of the gaming laptop's bottom half and sound average. They sound considerably worse when you use the neighboring Turbo button, which revs up all of the fans. Headphones are strongly advised.
Performance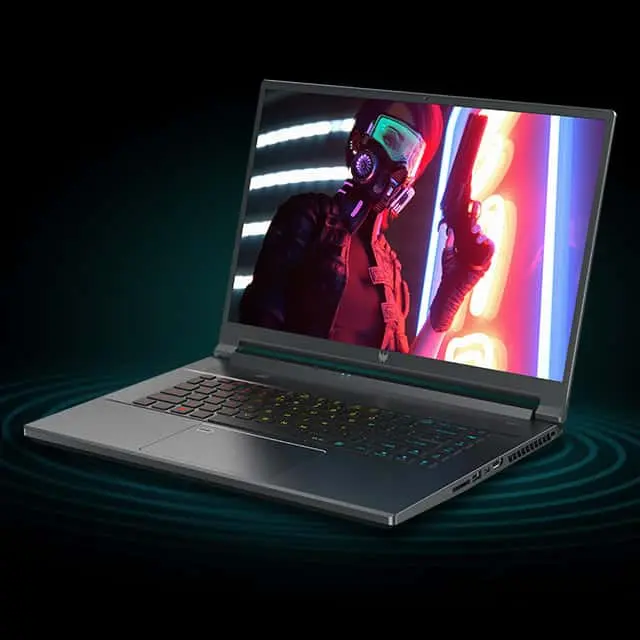 The Acer Predator Triton 500 SE is ideal for anything that requires creativity, such as picture and video editing. While it's fantastic, keep in mind that this is a gaming laptop. When it comes to overall gaming efficiency, the laptop falls short where it counts the most.
A gaming laptop that can't manage a locked-in 50-60 in older games on Ultra presets at 1080p resolution is underwhelming. On average, neither of them could make it through the low 50s. It's even more frustrating since the Asus ROG Zephyrus G15 can get 65-70 frames per second on the same titles with identical visual settings and hardware.
Other visually demanding games, such as Dirt 5 and Deathloop, can't operate at 60 frames per second without lowering video settings. Even the extra Turbo button doesn't do much more than give you a modest frame rate bump and a cooler lap but at the cost of an annoying auditory experience. Keep in mind that if the laptop isn't plugged into a power source and the battery level is above 40%, the Turbo button won't operate. It's also a good idea to avoid ray-tracing, as this would reduce frame rates even further.
What's the sense of utilizing a gaming laptop with a 1,600p resolution for gaming if it can't even run top-tier titles at high frame rates? In fact, esports like Fortnite, PUBG, and Rocket League is performing better in the Acer Predator Triton 500 SE. It easily handles such games, and the increased 165Hz refresh rate gives it a competitive edge.
Battery life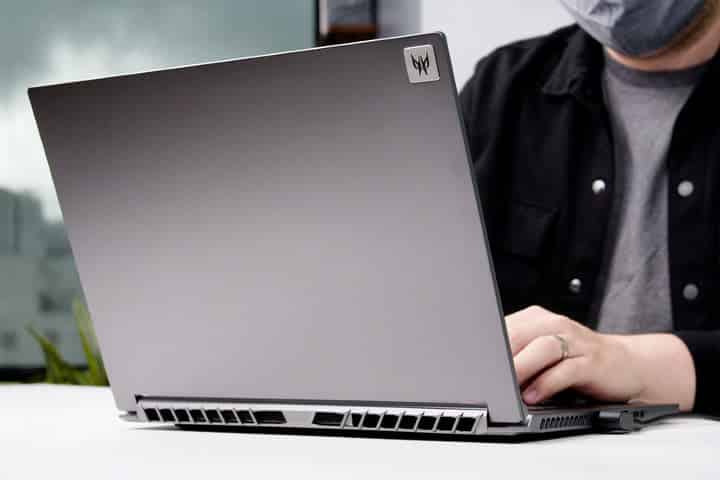 The battery life of the Acer Predator Triton 500 SE isn't the best for a gaming laptop, but it's still adequate. Without the A/C port plugged in, gaming at high settings will take roughly two hours, which is about typical. During flights, bicoastal travelers shouldn't have anything to worry about. However, it pales in contrast to the Asus ROG Zephyrus G15's almost 9-hour battery life. Although you can recharge the Predator Triton 500 SE using the available USB-C ports because they both support Thunderbolt 4, charging to maximum battery life takes roughly two hours.
Software and features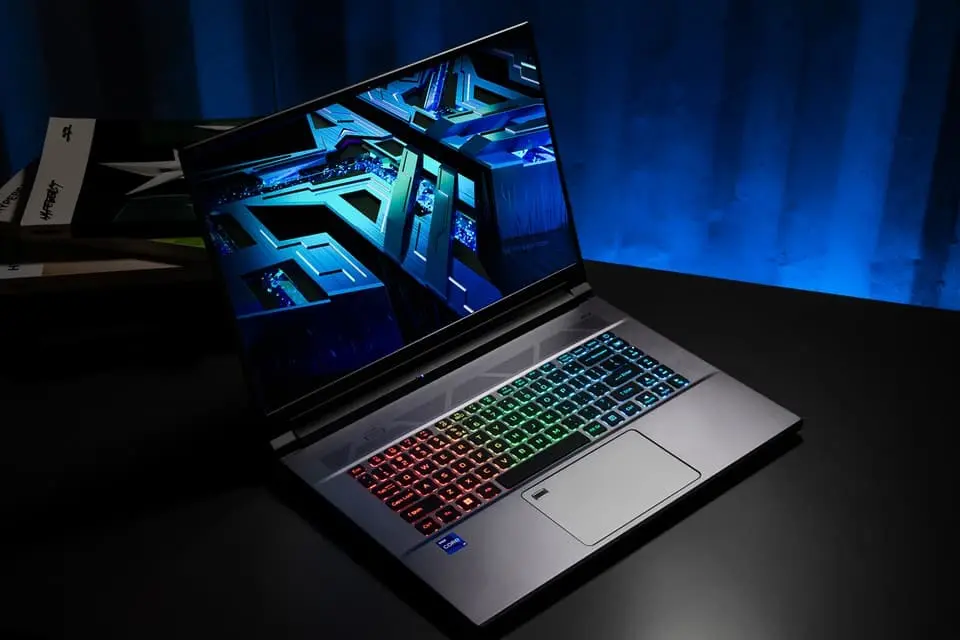 The Predator Sense software package that comes with the Predator Triton 500 SE laptop is at its heart. You may use it to check out a variety of customizing possibilities. As previously indicated, this encompasses all from fan control and CPU/GPU power control to RGB lighting settings for the keyboard. Beyond being a connection to additional software packages like Killer Control Center, DTS:X for music, and Care Center to check general laptop health, Predator Sense also gives specific gaming settings controls through Game Sync.
The amazing DTS:X software compensates for the poor built-in speakers. Users may adjust numerous audio and EQ parameters that work well with headphones in this section. Personalization choices are also available for users who desire different settings for different purposes, such as listening to music, viewing movies, or gaming.
Planet9, which serves as a networking center for esports gamers, is also available, as is the case with many Acer gaming laptops. Its purpose is to assist gamers in locating companions with comparable skill levels. It should be advantageous to aspiring esports gamers wishing to connect and start along that path.
Conclusion
The Acer Predator Triton 500 SE is an excellent upgrade to a solid gaming laptop line. It includes an unusual screen size and cutting-edge hardware to create a strong, yet portable gaming experience. Although the performance won't blow you away for the price, and the mediocre keyboard and 512GB SSD limit it from feeling completely unique, it approaches the power of very high-end gaming systems for less money, so it might be precisely what you're looking for in the middle category.
Because of its aggressively built body, gorgeous WQXGA display, and excellent specifications, the Acer Predator Triton 500 SE has the appearance of a top-tier gaming laptop. However, underneath those appealing specifications is a hollow gadget with below-average gaming performance, limited storage, and poor speakers.
Read More: