If you have recently started your fitness journey, then sore muscles are something you experience almost every day. With regular exercise comes aches and pains, but it is a good sign that you are going on the correct path. This is where foam rollers help you, they help you to iron out knots and massage muscles back into action. If you want to get back to action with the JAXJOX Foam RollerConnect, here is everything you need to know about it before you buy it.
What is foam rolling?
Foam rolling is like manual therapy designed for sports massage, especially for athletes, fitness trainers, etc. It helps to warm up the muscle fascia before exercise or improve blood flow in the region after intense exercise. This, in turn, reduces muscle soreness that you experience from exercise. Although it is not good to just get a foam roller and aggressively pummel your muscles as this could lead to injury. You need to follow proper techniques to get the best from the foam rollers.
JAXJOX Foam RollerConnect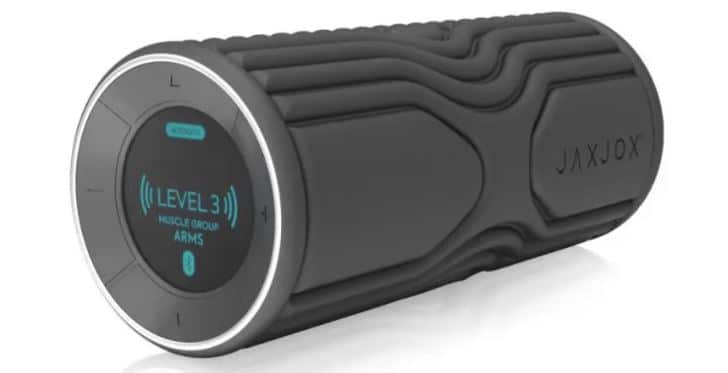 JAXJOX Foam RollerConnect is one of the most advanced foam rollers available in the market. It is a high tech model with five different vibration intensity levels. Moreover, you even get a number of workout specific programmes that automatically massage the correct areas. This speeds up recovery and increases the range of motion. The featured app has recovery workout guides. It works with both iOS and Android devices, also you can control it with your Apple Watch.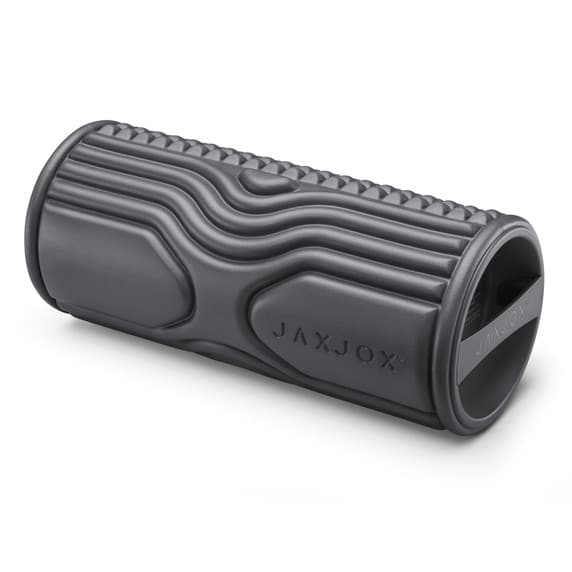 What features to like?
Intelligent recovery
The JAXJOX Foam RollerConnect uses a proprietary algorithm. This algorithm recommends duration and intensity according to the activity. It analyzes your workout exercise then the algorithm calculates the time and intensity level of vibration that will help you relax your sore muscles. For this, you have to select the activity and the target muscle group. Then the foam roller will automatically provide you with the most effective way to recover. You can choose from deadlifts to tight hamstrings from biking uphill and much more.
Mode of operation
You can choose from either automatic mode or manual mode from the Foam RollerConnect. With the automatic mode, the foam roller will take you through the pre-programmed routine with a preset duration and intensity level. This mode will help you more efficiently to relieve the soreness in muscles. Whereas, you can even use the manual mode. You can set the duration and just the intensity throughout the session.
Connect with Apple Health
If you connect the JAXJOX Foam Roller app with Apple Health, you will be able to monitor your recovery. It can track your recovery at one centralized point. You can even control your foam roller with your Apple Watch for easy access. Also, this will optimize your recovery by collecting more accurate data.
Prevent muscle injury and relieve tension
The JAXJOX Foam RollerConnect has a sleek exterior and operates with advanced technology. It can be set at varying vibration frequencies to relieve the pain from sore or injured muscles. It helps to break the scar tissue and ease muscle soreness and stiffness.
What you might not like?
Although the JAXJOX Foam RollerConnect is one of the most advanced foam rollers to help your sore muscles, there are still a few things you might not like. One of them being the noisy operation. During the vibration, the foam roller makes quite a noise that might not feel quite relaxing. This may interrupt your relaxing time and end up giving you a headache. Other than that, you might feel that the foam roller is quite expensive. You might feel that you can get a good foam roller at a lower price in the market. But if you are ready to pay the price then this roller provides quite a good service.
Conclusion
If you want to opt for a smart way to recover your muscles, go for the JAXJOX Foam RollerConnect. You can choose from five vibration intensity levels for your sore muscles. Moreover, if you choose from the pre-programmed workout exercises, then the foam roller can automatically set the duration and intensity for you for efficient pain relief. If you connect to the featured app you can choose from manual or automatic settings. You can even select the target muscle and track your recovery by connecting with Apple Health.
If you have any questions you can ask us in the comments section below.
Read More!