Though, it seems like iPhone 14 Pro Max is similar to iPhone 13 in design and mostly has the same cameras. However, it is not identical; the iPhone 14 Pro Max has an upgraded version of cameras, all-new safety features, and several other features.
The new iPhone 14 Pro Max features a 6.7-inch super Retina XDR display. Apple has introduced a fantastic new method of interacting with the iPhone called "Dynamic Island". iPhone 14 Pro Max has upgraded its cameras with a 48MP primary camera for up to 4x more excellent resolution, a cinematic mode in 4K Dolby Vision up to 30 fps, and an action mode for smooth, steady, handheld videos. Additional safety features include crash detection and Emergency SOS via Satellite. Moreover, industry-leading durability features with Ceramic Shield and water resistance.
You should consider the following points of the iPhone 14 Pro Max before purchasing!
Overall Summary
iPhone 14 Pro Max
The iPhone 14 Pro Max, released on September 16, 2022, is a well-rounded, slick, and expensive device capable of handling any work thrown at it. The iPhone 14 Pro Max has the same design as earlier iterations. It now boasts a 48mp primary camera, a significant upgrade over the 12-megapixel wide lens it had previously. The sensor is physically larger to collect more excellent light in a single shutter. Additionally, it has Dynamic Island, an expressive notch that houses the FaceID sensor and front camera on the iPhone. On one full charge, the battery lasts 14 hours, 42 minutes on average.
Pros:
Enhanced efficiency

Thrilling dynamic island feature

Modernized cameras
Cons:
It's pricey

Absence of sim card slot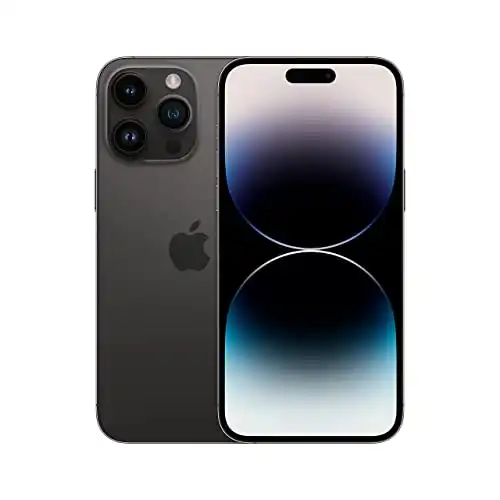 Price and Availability
The iPhone 14 Pro Max, with all new upgraded cameras, safety features, splash, water, and dust resistance, improved battery life, and impressive specifications, can be purchased for as little as £1,199.00, which was released on September 16, 2022.
Key requirements
The cellular technology used by the iPhone 14 Pro Max is 5G, the operating system is iOS 16, the display size is 6.7 inches, and the port type is lightning. The storage capacity is 128 GB. The iPhone 14 Pro Max dimensions are 6.33 inches tall, 3.05 inches wide, and 0.31 inches deep. It weighs 240 ounces. It comes in deep purple, silver, gold, and space black as its available vibrant colors.
Camera specifications
The iPhone 14 Pro Max sports a pro camera system with a 48MP primary sensor, a 12MP ultra-wide sensor, and a 12MP telephoto sensor. It also has 3x optical in and out, a 6x optical zoom range, second-generation sensor-shift visual image stabilization, and digital zoom equivalent to 15x. It also boasts a deep fusion, photonic engine, smart HDR 4 for photos, an adaptive true tone flash, portrait mode with sophisticated bokeh and depth controls, Night mode, photographic styles, night mode portraiture, and more.
A portrait lighting feature with six effects is also included, which are as follows:
Stage mono
Natural
Studio
High-key mono
Stage
Contour
Audio Recording
Spatial Audio
You can play three-dimensional sound from appropriate videos that play on your iPad or iPhone by using spatial audio. Unquestionably, spatial audio produces a more immersive experience. It effectively mimics a scene from a movie in which noises seem to be coming from all directions—above, ahead of, and from behind you. However, iPhone 14 Pro Max has spatial audio playback, and it is worthwhile if you are prepared to spend and can track down spatial audio music and movies.
Dolby Atmos
First of all, Dolby Atmos is an audio system that improves current surround sound systems by including height channels, enabling sounds to be perceived as three-dimensional objects. As iPhone 14 Pro Max supports Dolby Atmos, it is worthwhile to invest in it if users want to upgrade the entertainment by improving the audio quality.
Dynamic Island-Feature
On the iPhone 14 Pro and iPhone 14 Pro Max, users can see notifications and ongoing activity in the Dynamic Island on the Main Screen or in any app, including playing music, an AirDrop connection, your timer, and instructions from Maps. Every time your iPhone is unlocked, Dynamic Island is displayed.
Apple has updated the TrueDepth selfie to use less display space to include this Dynamic Island. By utilizing the black space the notch requires rather than trying to conceal it, this adaptive region can enlarge, decrease, and change in size as it conveys information to the user through transitions and animations. Apple has installed a proximity sensor underneath the display for the first time.
Perks of iPhone 14 Pro Max
The iPhone 14 Pro Max features the most significant screen ever made for an iPhone, a brand-new 48MP primary camera, an action mode for films, a luxury design, a stunning display, the fascinating Dynamic Island feature that improves performance, numerous camera upgrades, and power that is immediately apparent.
Drawbacks of iPhone 14 Pro Max
The iPhone 14 Pro Max is more expensive, has a similar design to last year's model, has a more prominent camera bump, doesn't have a SIM card slot, still only supports 20W charging, and requires 256GB for ProRes 4K recording.
Characteristics
Resistant to Splash, Water, and Dust
The iPhone 14 Pro Max has been rated IP68 under IEC standard 60529 with a maximum depth range of 6 meters up to 30 minutes. This means they can be dipped in fresh water up to a depth of six meters 19.7 feet for half an hour. IP68 certification also means that iPhone 14 Pro Max is dust resistant.
Display
The iPhone 14 Pro Max has a super Retina XDR display featuring ProMotion technology, adaptive refresh rates up to 120Hz, and a wide color display.
The iPhone 14 Pro Max screen features rounded sides that fit inside a typical rectangle and follow a lovely curved design. The display is 6.69 inches diagonally measured as a regular rectangle, although the actual viewing area is smaller.
Featuring eSIM
Only the American version of the iPhone 14 series will go away with the physical SIM card; the model will still be available in other markets. However, Apple's switch to eSIM shows that the business believes eSIM is the coming, so it's crucial to understand how that can affect you in the future.
However, eSIM cards have a huge drawback, as SIM cards are made to be difficult to copy and impossible to access remotely. Accordingly, if a user's device breaks and they need to transfer their information to a new device, they simply need to move the SIM physically.
Charging specs and their consumption
The iPhone 14 Pro Max has a built-in lithium-ion rechargeable battery and Qi and MagSafe wireless charging. Charging is possible through a USB connection to a computer or power supply. When using a separate 20W charger or higher, the iPhone 14 Pro max charges to 50% capacity in 35 minutes.
Battery consumption
Apple states that the iPhone 14 Pro Max has the following consumption:
Playback of video:
Till 29 hours
Video playback (streamed)
Till 25 hours
Audio playback:
Till 95 hours
All New Safety Features
Crash detection
According to Apple, crash detection technology identifies serious auto accidents, including sedans, SUVs, pickup trucks, minivans, and other passenger automobiles, such as frontal, side, and rear-end rollovers or collisions.
The high-dynamic range accelerometer, gyroscopes, microphone, barometer, and GPS are all used in the function. The device employs sophisticated algorithms to determine when a significant auto accident occurred using the supplied data.
If you don't cancel the automated emergency call within 20 seconds when your iPhone senses a severe motor accident, it will feature an alarm.
Emergency Satellite-based SOS
You may quickly and conveniently call for assistance and notify your emergency contacts with Emergency SOS. Apple has also made satellite-based emergency SOS available. The system combines specialized parts tightly linked with software to enable transmitters to connect to a satellite directly and aims to bridge the gap with emergency services when cellular or Wi-Fi coverage is unavailable.
Conclusion
The iPhone 14 Pro Max is expensive but worth purchasing as it features an upgraded camera with all new safety features like Emergency SOS and car crash detection. Additionally, the fascinating Dynamic island feature is the new way to interact with the iPhone. The iPhone 14 Pro Max is splash, water, and dust resistant, and the display follows a lovely curved design.
Read More
iPhone 14 Pro Max- Gigantic, Bold, and Magnificent!