If you are looking for a robust hosting solution for your business, Liquid Web might interest you. It is packed with features and has excellent customer service. If you are not sure about it, here is a review of Liquid Web for you to understand better.
Liquid Web
Businesses want reliable web hosting services to maintain their online presence, and Liquid Web is a trustworthy hosting service. However, expect to pay a premium price for this fantastic, managed, enterprise-class service. Liquid Web does not provide a low-cost shared hosting option. Although, Liquid Web excels at managed hosting. A company that uses managed hosting does not have to have its servers on-site. Instead, the servers are housed in the data centre of a web host. That may sound like a description of every web hosting service, but Liquid Web goes well beyond simply delivering data over the internet. Regardless of the site's complexity or scope, the organisation can manage all administrative and support obligations. Even though Liquid Web's managed hosting is extremely expensive, it comes with a lot of features.
Pros
Robust dedicated, VPS, cloud, and reseller packages
Prorated VPS plans
Powerful, high-end server specs
Terrific customer service
Excellent uptime
Powerful servers for mission-critical sites
Big introductory discounts
Server management is included
Cons
Lacks shared hosting plans
Expensive, with few refund options
Advanced solution for tech-savvy
Pricing
Liquid Web is a high-end hosting company that offers a variety of services. The costs for its daughter firm, Nexcess – Managed WordPress plans, start at $12.67 per month. However, Liquid Web's VPS hosting, which starts at $25.00 a month, is the most popular option. There are even more advanced options, such as dedicated servers and the Public Cloud. The rates vary greatly, with Managed WordPress and VPS solutions costing upwards of $600 per month. Nonetheless, VPS hosting is the most popular Liquid Web option. Liquid Web offers four different VPS hosting plans.
If you're prepared to pay a little more, you can purchase Bundle & Save hosting packages. It includes extra features like professional email, a 100GB backup capacity, server security, and a Threat Stack Oversight Detection system. All plans, regardless of price, include 10TB of bandwidth, DDoS protection, monitoring, and a firewall.
Plans
| | | |
| --- | --- | --- |
| Plan | Features | Price |
| 2GB RAM | 2 GB RAM, 2 CPUs, and 40GB SSD disk space. | $25.00/mo |
| 4GB RAM | 4 GB RAM, 4CPUs, and 100GB SSD disk space. | $35.00/mo |
| 8GB RAM | 8 GB RAM, 8 CPUs, and 150GB SSD disk space. | $45.00/mo |
| 16GB RAM | 16 GB RAM, 8 CPUs, and 200GB SSD disk space. | $105.00/mo |
The plan you should choose depends on the requirements of your project. Only you or your developer can estimate the number of server resources required. If you're still in the early stages of development, choose the cheapest package and scale as needed. The only disadvantage is that the price rises after each renewal. It's back to the standard monthly fee, which is more than twice as much. Renewal rates are common in the web hosting market, and Liquid Web is no exception. Finally, there is the issue of returns snd the policy is complicated. According to Liquid Web's refund policy, no service is eligible for a refund unless it is specifically stated in the service's SLA.
While no official information is available, several Liquid Web reviews indicate that contacting support will result in a prorated refund for unused VPS services. While the issue is problematic, the overall user experience is positive. After all, paying for a service like this without the ability to cancel it isn't ideal. Overall, Liquid Web offers an enterprise-level solution.
Hosting Management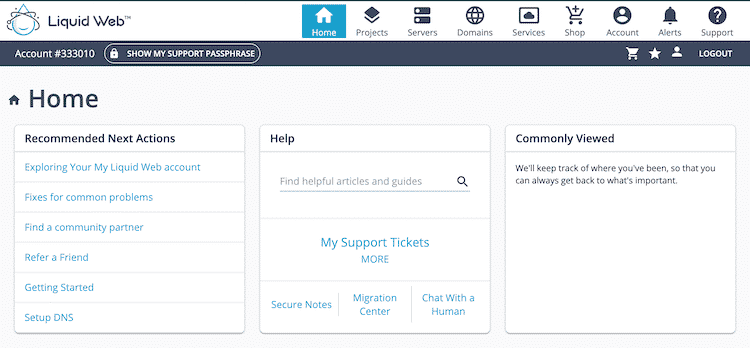 Because Liquid Web is a more complicated solution, it is not as simple as shared hosting. Regardless, the marketed plans include a fully managed control panel from InterWorx, cPanel, or Plesk. This means you only have to worry about application installation and general settings. Whereas Liquid Web takes care of the rest, launching the server, preparing it for use, and maintaining it. After you purchase, you will see that server is "being constructed." The status changes to Running after a few minutes. The main account management screen, displays your services, invoicing information, support, and more.
Although it is pretty old, Liquid Web is working on a new interface. By going to My Liquid Web, you can already view it. My Liquid Web will eventually replace the existing interface. Some menu options are fully functional, while others revert you to the previous interface. If you do not purchase a domain from Liquid Web, you will be responsible for pointing it to your server. Unless you purchase extra Liquid Web services, you are responsible for performance and speed enhancements. Despite the fact that Liquid Web is a managed service, site-level management is left up to you. This includes domain, performance, and application-level security. Everything is handled using the account management interface.
User Interface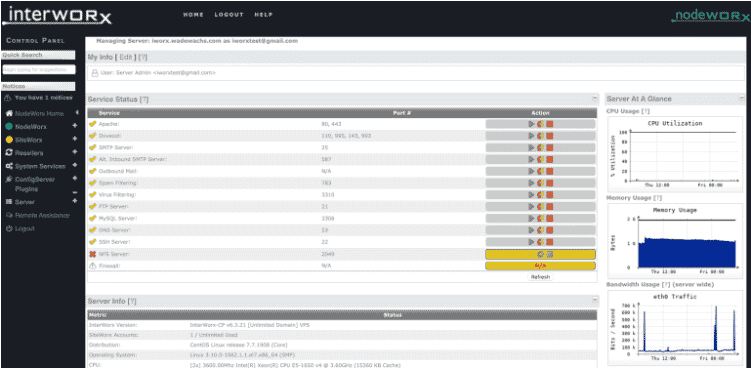 NodeWorx and SiteWorx are the two administrative regions in the InterWorx control panel. SiteWorx is responsible for individual website chores, while NodeWorx is responsible for server-level management. You'll initially arrive at NodeWorx, where you'll be able to assign website space. You may find it by going to your server listing in either the old or new management section and looking for the InterWorx button. This interface displays all of the data associated with your service. All management choices, such as reseller hosting management, system services, and plugins, are located on the left side menu. In the middle, you can observe if all services are up and running, as well as reboot or stop them.
SiteWorx
The SiteWorx option features a component called Accounts. Here you can assign server space to your website. To access SiteWorx, you must first establish an account for yourself. Simple stuff like the main domain, email, and password are set up during the creation process. You can also allocate server resources, which you can keep infinite or slice up. Moreover, you may utilize this as a shared hosting service to host your clients' websites. They'd have their own SiteWorx control panel and a chunk of your VPS server. You can go to SiteWorx once you've finished setting up that account by filling out all of the details. SiteWorx is used for a variety of tasks on a daily basis, including:
Softaculous's one-click installer library to install WordPress or any other program.
Option of creating email accounts using your domain.
Domain administration for adding new domains and subdomains. You can also get free SSL certificates from this location.
PHPMyAdmin and database management.
File manager, account preferences, backups, and other website-related choices.
Overall, Liquid Web is simple to use because it automatically configures the server and provides a graphical interface for managing the services. On the other hand, among the many management modules, it's simple to become lost. As a result, newcomers may require some time to overcome the learning curve.
VPS Web Hosting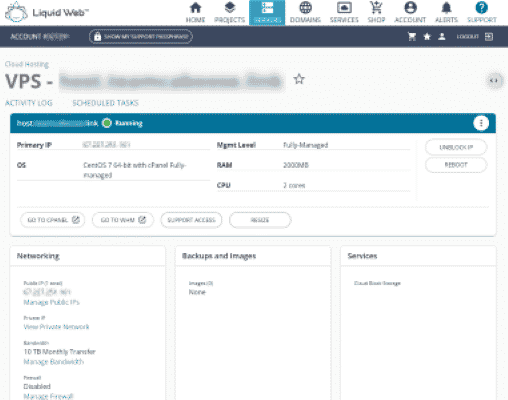 You can check Liquid Web's VPS servers if you need a server with a lot of power but don't want to pay the exorbitant price of a dedicated server. VPS hosting is a more advanced version of shared hosting, with significantly more powerful and guaranteed system resources. The entry-level VPS plan provides 2GB of RAM and 40GB of solid-state drive storage. You even get 10TB of monthly data transfers, unlimited domains, and unlimited email, beginning at $35 per month for a 12-month plan. Liquid Web's high-end option, beginning at $115 per month, offers 16GB of RAM and 200GB of SSD storage. You even get the choice of Linux or Windows-based servers for $20 more per month.
If you need a more powerful server, you can also contact Liquid Web. The RAM and storage totals offered by Liquid Web are the finest. Liquid Web is definitely worth a look if you're looking for enterprise-level hosting. In addition, unlike many of the other VPS providers, Liquid Web only charges you for the number of days you utilize the service per month. This is useful if you decide to terminate your subscription.
Dedicated Web Hosting
However, if you want to construct your website on the strongest possible foundation, you should look into Liquid Web's dedicated server options. Dedicated hosting allows your website to use all of a server's system resources rather than sharing them with other websites. In terms of hosting, this is one of Liquid Web's main offers. The dedicated servers are available in a variety of configurations. This ranges from a single quad-core processor, two 240GB solid-state drives (with a 1TB backup drive), 5TB of monthly data transfers, and 16GB of RAM (starting at $169 per month) to a server with two 480GB solid-state drives (and a 1TB SATA backup drive), 15TB of monthly data transfers, and 128GB of RAM (starting at $549 per month). Liquid Web's dedicated servers are for companies that want their websites to operate well and have the financial means to do so.
WordPress Web Hosting
Through its Nexcess brand, Liquid Web also offers seven tiers of managed WordPress web hosting. It starts at $19 per month for a single domain, 2TB of monthly data transfers, and a 15GB solid-state drive. Liquid Web's Fantastico library, like those of other managed WordPress hosting, offers one-click instals, automatic upgrades, and access to hundreds of apps and WordPress plug-ins. The managed hosting environment provided by Liquid Web is specifically built for the installation of WordPress and its accompanying plug-ins. Moreover, the CMS comes preloaded, so you won't have to do anything.
You may create posts, pages, and galleries in WordPress just like any other self-hosted WordPress site once you've logged in. The back end of your WordPress installation offers various themes that you can apply to your site to give it a more appealing appearance or add functionality. Moreover, you can utilise a WordPress theme that you've already paid for.
Cloud Web Hosting
Liquid Web also offers cloud hosting in addition to shared, VPS, dedicated, and WordPress hosting. The resources that your site requires to run are shared across numerous servers with cloud hosting. Cloud hosting from Liquid Web is available in a variety of tiers. This includes CentOS 7 Linux or Windows operating systems. Prices range from $149 per month for 15GB of RAM, 452GB of storage, and 5TB of monthly data to more than $1,100 per month, depending on your configuration. If you need to increase server resources, you have a lot of options.
Reseller Web Hosting
You can check out Liquid Web's outstanding reseller web hosting packages if you want to go into the web hosting business for yourself but don't want to deal with managing servers, bandwidth, and other infrastructure issues. The plan starts at $139 per month and includes an exclusive WebHost Manager Complete Solution (or WHMCS) plug-in and rapid provisioning. The dedicated and VPS reseller packages are available in both Linux and Windows. Moreover, they include the same quantities of RAM, monthly data transfers, and storage as Liquid Web's own offerings. There is no shared reseller hosting plans available. Liquid Web also allows you to trademark the servers you rent, as well as provide 24/7 technical assistance.
Security Features
Firewalls, Secure Socket Layer (SSL), virtual private networks (VPN), virus screening and removal, and much more are all available from the organization. Some features are included in specific packages, while others must be purchased separately. Liquid Web also offers free nightly backups. This will protect your site in the event of a major disaster. Liquid Web employs sophisticated security and protection features on its servers. Nonetheless, you'll have to handle some of the tasks on your own. Liquid Web takes care of all of this for you:
Standard DDoS protection – the service monitors traffic and safeguards against unexpected attacks.
Standard ServerSecure security package – this solution configures the optimum security settings to protect your website from common dangers such as malware. This is accessible by default on all servers.
From your dashboard, you may activate an integrated firewall. It will act as the initial line of defense against malicious traffic reaching the server.
While these procedures are advanced and address frequent attacks, you will need to patch some security gaps. This is what you'll have to deal with:
Although Liquid Web does not automatically install SSL certificates, free Let's Encrypt certificates are accessible in your control panel. So make sure to generate and activate them manually, as well as change your WordPress URLs from HTTP to HTTPS.
The provider will handle server backups, but you will be responsible for secure storage.
By setting up and configuring a web application firewall on your own, you will be responsible for application security.
Liquid Web security is extensive in general, although it focuses mostly on the server level. This is what server monitoring and threat prevention is all about. You also get free SSL certificates and automated backups. Meanwhile, you are solely responsible for the security of your application.
Performance
When it comes to hosting, performance is the most important factor to consider, and Liquid Web confirms its worth. It produced consistent and quick results in all of the tests. Furthermore, the servers are capable of handling large volumes of traffic.
Uptime and Response Time
Uptime is one of the most critical performance measures, and Liquid Web does not disappoint. In fact, the company is so confident in its abilities that it offers a service level agreement that guarantees 100 percent uptime. This means that if there is a lot of downtimes, you will be paid. Of course, 100 percent uptime is a like dream, and the provider will almost certainly have to experience some downtime for maintenance or other reasons. In terms of response time, Liquid Web falls short. The average response time of 521ms is slightly faster than the industry average. You would have anticipated something more flashy from a provider like this.
Nonetheless, with no optimizations or speed-boosting technology in place, a bare server gets this outcome. As a result, Liquid Web's server performance is deserving of recognition for its dependability and quick reaction time.
Speed
Liquid Web has an LCP of only 666ms in the United States. The best result is in the United States, where this site's server is located. The longer it takes to load, the further you go. In the United Kingdom, the time is 912 milliseconds. This result isn't the best you will see, but it's still impressive considering how much you can manage to squeeze into those 2.5 seconds. As the server instance is fully yours, you can use web server software or the Cloudflare content delivery network to optimize it. The latter is free and will attempt to reduce latency. Thus, possibly speeding up website load times in remote places as well.
The first checkpoint is TTFB, which reflects the time when the server responds to the request to open the page for the first time. It takes only 186 milliseconds and is almost as quick as it gets. Visitors initially notice that the website is loading in 774 milliseconds, and the page is fully loaded in 1.2 seconds. Such a loading time is extremely fast. Many speed-conscious website owners want their sites to load in less than a second. Overall, Liquid Web is quite quick, even without any tweaks. And, because this is a VPS, you have complete control over all optimizations and options.
Customer Service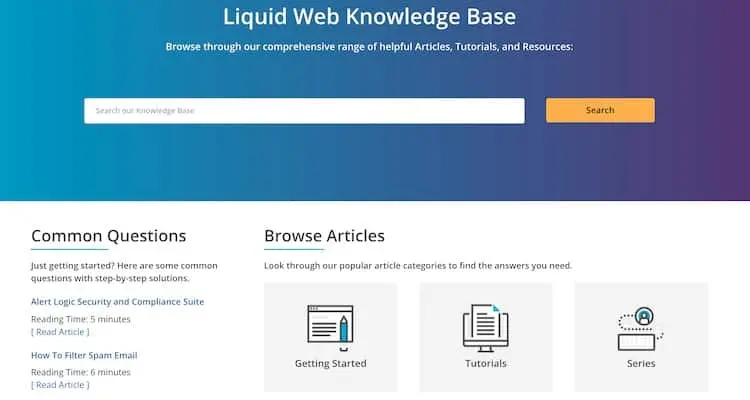 Liquid Web has a fantastic Support customer service staff. It has a group of skilled individuals that can help you in under a minute if you call, under 30 minutes if you submit a help desk ticket, and in under 59 seconds if you chat. The speed and completeness of the response are really amazing. Because Liquid Web is so expensive, it's a shame that it doesn't offer the customary 30-day money-back guarantee seen in the web hosting industry. Only monthly cloud servers are eligible for pro-rated refunds, whereas the majority of the company's other services are non-refundable. Given the amount of money that a corporation is going to spend on Liquid Web hosting, more refund options would be welcome. However, according to Liquid Web, is difficult because most services are personalized to the individual user.
Liquid Web customer service is available 24 hours a day, 7 days a week via live chat, phone, or tickets. In addition, the knowledge base contains tutorials and manuals. Liquid Web refers to its customer service representatives as "the Most Helpful Humans in Hosting®." Liquid Web's knowledge resource is substantial, covering not only control panel documentation but also web security and administration guidance. Moreover, you'll be paid if Liquid Web is unable to reply within the time frame. If a support agent sends you to the knowledge base or you want to look for answers on your own, it's accessible and well-maintained.
Articles are updated on a regular basis and are rationally organized. There should be no problems locating what you require. In addition to the knowledge base, it offers case studies and webinars for those interested in learning more about web development, management, and security. Overall, Liquid Web provides excellent customer service.
Alternatives
Liquid Web, no matter how fantastic of a service it provides, can sound and appear scary. Especially if it's your first time using a virtual private server. It could also be that it isn't what you are looking for. So, if you want to view something new, there are a variety of various providers to choose from. WP Engine, for example, is a less expensive but still premium option for WordPress sites. Whereas Hostinger is cost-effective without losing performance.
WP Engine
WP Engine is the finest option right now for high-performing managed WordPress hosting without the technical aspects. The provider manages and secures the server and gives you a number of tools to help you manage your websites effectively. This includes staging, collaborative tools, and software that improves performance. To receive all of this, you'll have to pay $22.50 every month, which isn't exactly inexpensive.
Hostinger
Hostinger's inexpensive plans are on the opposite end of the spectrum. Semi-managed VPS plans start at $2.99 per month and have performance comparable to Liquid Web. At the same time, you'll lose the "fully-managed" element. This means that the server will be started for you, but you'll be in charge of the configurations. This is simply because a control panel is given, although it may be difficult for beginners.
Conclusion
Liquid Web is without a doubt one of the most powerful web hosts. It offers a number of products with truly incredible specifications. However, all these specs make it quite expensive. Although Liquid Web does not provide shared hosting, its exceptional dedicated and VPS hosting services are enough to rank it among the web hosting elite. If you are looking for more budget-friendly web hosting choices, you can go with some other alternatives available in the market. Still, if your company demands high-performance, managed web hosting, Liquid Web can do it well. Liquid Web is a managed web host with feature-rich plans, excellent uptime, and excellent customer service, but its overall greatness comes at a price.
Which web hosting solution do you prefer? Tell us in the comments section below!
Read More!